Bosanska kafa. Dovoljno rečeno!

(ENGLISH)
Iako sam kafu počela piti vrlo rano (sa 7 godina), tu pobjedu sam vrlo teško izvojevala. Moja majka (tatina mama, nana) je popustila tek nakon nekoliko mjeseci mog upornog insistiranja. Postojao je čitav arsenal priča kojima su odrasli plašili djecu da slučajno ne bi probali kafu u tajnosti. Ne samo da djeca koja piju kafu prestaju rasti i zakržljaju, kako je majka tvrdila, nego djevojčicama zna izrasti i rep. Mada sam bila skeptična, bilo je dovoljnao da naš cuko Buco prođe kroz kuhinju vukući za sobom svoju dlakavu pozadinu, da se strpim.
Majka je najzad ispred mene postavila mali fildžan. Moje usne su se skupile i oblikovale majušno slovo "o" kako bi se susrele sa ovom crnom tekućinom, a u ustima sam kolutala jezikom tragajući za rastopljenim šećerom. Osjećala sam kako mi je tijelo presretno ulaskom u ovu "zrelu" dob. "Neka ovo ostane između nas," rekla je majka.
Ako vas slučajno neko ko dolazi sa Balkana ponudi kafom, ne očekujte da ćete brzo otići. Kafa je dio kulture. Glagol. Aktivnost. To je ono što radite da biste ostali duševno zdravi, i način da drugome pokažete da vam je stalo. To je vrijeme koje ulažemo u odnose sa drugima, i ako vas neko pozove na kafu znači da vas je poželio.
Ako nikad ranije niste pili kafu na način kako se sprema na Balkanu, onda bih vam je opisala kao vrlo jaku i intenzivnu, sa dosta bogatom aromom, samo malo "tanja" nego tradicionalna turska kafa. Priprema se u tradicionalnom lončiću koji se zove "džezva", a poslužuje se u malim šoljicama za esspreso.
Nemojte odjednom piti više od šoljice ili dvije, i pijuckajte je polako.
Print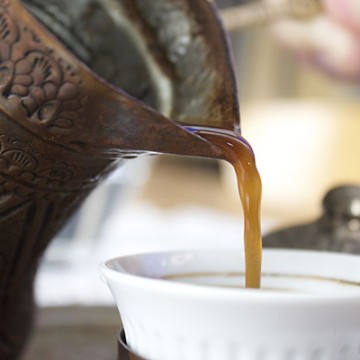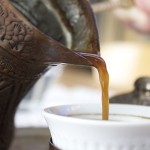 Bosanska Kafa
Author:

Balkan Lunch Box

Cook Time:

10 mins

Total Time:

10 mins

Yield:

2

1

x

Category:

Piće
---
2

i ½ šolje vode

1

i ½ kafena kašika mljevene kafe

1

džezva (ona korištena u ovom receptu ima volumen od šolje i pol)
Po želji: šećer/ mlijeko/ rahatlokum
---
Instructions
Stavite vodu da provrije u odvojeni lončić (kuhalo za vodu će poslužiti), a u džezvu ubacite kafu.
Sačekajte da voda proključa, zalijte njome kafu i dobro promješajte.
Stavite džezvu na vruću ringlu, ostavite nekoliko sekundi, pazite da ne pokipi. Kad kafa naraste gotovo da će preliti rub džezve, sklonite je sa ringle i sačekajte da se spusti nekoliko sekundi.
Zalijte sa ključalom vodom koja je preostala od ranije i dobro promješajte, zatim džezvu vratite na vruću ringlu. Kad je kafa ponovo blizu da pokipi, sklonite je sa ringle.
Ponavljajte postupak 3 i 4 par puta. Cilj je da se kafa nekoliko puta uzdigne, što će stvoriti kremasti sloj po vrhu.
Kad ste spremni poslužiti kafu, počnite tako što ćete kašikicom zagrabiti sloj pjene sa vrha džezve i dodati je u svaki filđan, zatim ćete dosuti ostatak kafe. Tako će se u svakom filđanu na vrhu stvoriti sloj pjene. Poslužite sa rahatlokumom, mlijekom i šećerom.
---
Notes
VAŽNO: omjeri će zavisiti od veličine džezve koju koristite. Omjer korišten u ovome receptu je kašikica kafe na fildžan vode. Nakon što napravite kafu nekoliko puta na ovaj način, otkriti ćete da li vam se više sviđa jači ili blaži ukus pa ćete se prema tome i voditi.