If you want to improve store ajvar (the famous Balkan roasted eggplant and red pepper spread), or you want to make it the easy way, here's the quickest "not from scratch" recipe. I call it cheat ajvar.
Ajvar is a deep, rich, spread famous in the Balkans. It's made by first roasting red bell peppers and eggplants, and then cooking them over low fire for several hours.
There are a couple of variations on the theme, and a few more additions you could include. Garlic, for one, gives ajvar an incredible taste, however it does cut down on the time it keeps. Chilis are also a great add-on, but a lot of people prefer the milder option.
Making ajvar takes a long time. It's something that's usually made over a weekend, or at least a day and a half. This is why today's version is of such importance.
However, today's recipe can only help you if you can buy ajvar at the store.
Non-homemade ajvar is generally of a lesser quality. Usually the ingredients are not roasted at all, and instead are only cooked. Sometimes some of these ingredients, such as the crucial eggplant, are even skipped. This gives it a very "manufactured" taste.
Although, if you've only tried the store bought version, you may think it's great. I promise you though, it's not even close to what it can be when it's improved a little bit. And today we're doing exactly that – improving.
(One exception is the brand Baš Ajvar, which is good without improvement. I'm not affiliated with them. I did notice, though, that their exported ajvar is tastier than the one sold in the Balkans.)
So grab a few larger jars (24-ounce +) of ajvar, as many eggplants as the jars, and meet me in the kitchen.
The rest of you can read up on last year.
2017 REVIEW & 2018 GOALS 
Last year I started a tradition where I review the successes and failures of the previous year, and set goals for the upcoming. (Check out last year's review here.) And today I'll do a review of 2017, along with setting the 2018 goals. 
Readership.

In 2017 there was a 450% total increase in users vs 2016. This is fantastic news!
Pageviews.
A 300% increase in pageviews. Again, great!
Session pageviews. 
Average number of pages readers checked out was 1.81 per session in 2017. It's a bit of a decrease from 2016 when this number was 2.31.  This could mean a few things. The quality of the articles (recipes) may have gone down, or people are not as entertained thus aren't clicking to another page.
Otherwise it's possible people still like to stay on the blog, but as the proportion of blog visitors increased, so did the proportion of people who may just come for one recipe without necessarily checking out other content. The reason is hard to establish, but the hope is it'll increase again.
Session duration.
Average session duration was 1:43 minutes. This again is a decrease from 2016. The reasons could be the similar as for the session pageviews number decrease.
Bounce rate.
The bounce rate went from 76% in 2016 to 81% in 2017. Again 2016 won out on this front.
Traffic goals for 2018: 1. Increase readership by 100%; 2. Increase session pageviews to 2.5; 3. Increase session duration to 2:00 min; and 4. Minimize the bounce rate.
Traffic sources: 
1. Social brought in 55% of all traffic in 2017. (FB was the surprising ingredient here. After introducing the videos and participating in video sharing with different bloggers, followers surged from 7K to 61K over the course of the year.)  
2. Google brought in 31.5% of traffic in 2017.
3. Direct was in third place with about 11% traffic total. This is great as our mailing list increased by 400% as well in 2017.
Traffic source goals for 2018: 1. Bring Google as the #1 traffic source.  2. Raise Pinterest to the #2 traffic source.  3. Continue with solid FB numbers.  
Pinterest.  
You may remember my goal for 2017 regarding Pinterest. If you're a food blogger, you know how valuable this platform is. It's an image based search engine that's very efficient at bringing people to blogs. Yet, it's been super hard for me to get a handle on.
Aleksandra and I took proactive steps to improve the situation in 2017. We created long pins for all articles, made them uniform and recognizable to go with our brand, changed descriptions to fit with Pinterest's search engine-y mode of operations, joined additional good group boards, and setup Boardbooster to schedule pins so there is continuous activity on the account.
Even with all that, the followers went from about 400 to only 1000 in the course of the year. Disappointing. 
Pinterest goals for 2018: 1. Take another Pinterest course and apply tips. 2. Assess what's currently working and do more of it. 3. Have it become the #2 traffic source.  
MailChimp. 
Very excited about the jump in readership. At about 400% increase in sign ups, it tells me we're doing something right. Most of the people who sign up for the list enjoy not only the recipes but also the stories.
It's rewarding to see the audience enjoying the work that goes into each post. And as this is currently the only platform where I share the stories about my life, it's personally rewarding to see these recognized and appreciated. 
Near the end of 2017,  there were technical difficulties with the sign-up freebie download. We are getting it updated and fixed now.
MailChimp goals for 2018: Increase sign-ups by 100%.  
Publishing & Translations. 
In 2017, BLB published 35 brand new posts. Although it is far below the 75 articles published in 2016, and below the 100 I planned to write, I am content. (See the reason below.)
I translated the remainder of articles from English to Bosnian (about 100). New articles are posted with translations right away so there is no backlog.
Publishing and translation goals for 2018: Publish 1 high quality, long post of about 1,000 words per week, along with translations, for the total of 52 articles (104 if you count translations). 
Videos.
In 2017, my sister Aleksandra joined me on BLB.
She was the major force behind Tasty-inspired food videos BLB produced this year. Neither of us has had any background in film. We took an online course, and along with a lot of sweat, swearing and sacrifice, we figured out how to shoot food videos.
Close to 50 videos were produced (each having an English and a Bosnian version), all of our very own BLB recipes. In a course of a year, we filmed 1/3 of all recipes on the site. This is one of the reasons for less content in terms of new recipes.
We're especially proud to be the leading Tasty-inspired video producers for Balkan food in Bosnian. We're also grateful for our wonderful international audience that has taken us in with open arms. 
A great mention: one of the coolest things that happened in 2017 was when Croatian band The Boys let us their stuffed peppers song for our stuffed peppers video. (Excuse me while I have a fangirl moment here. 🙂 ) Hvala Dječaci naši dragi!
Another great mention is that during the summer we finally met Marwah, one of our first and dearest BLB fans. She's even lovelier in person than we could imagine!
Collaborations & Mentions.
The greatest collaboration that happened in 2017 of course is Aleksandra joining BLB. As mentioned, you can thank her for the videos. She's in charge of most of the blog's marketing. Together we do videos, recipe development, and planning. I do photography, and write. 
For a while, I contributed to BalkanVibe, a Balkan tourist site. The collaboration was a good experience. Ultimately though, our business goals are different translating into each site having different audiences. So aside from the nice partnership experience, I'm not certain either one had huge benefits. 
A great mention BLB got this year was when a BBC journalist, David Farley, wrote about the Bosnian pot stew. David has a way of translating the cultural importance of different dishes, so it was rewarding to talk to him about Sarajevo, the current situation in BiH, and of course the stew. 
Photography. 
Again, there is always room for improvement. Happy so far though. Left 2016, right 2017.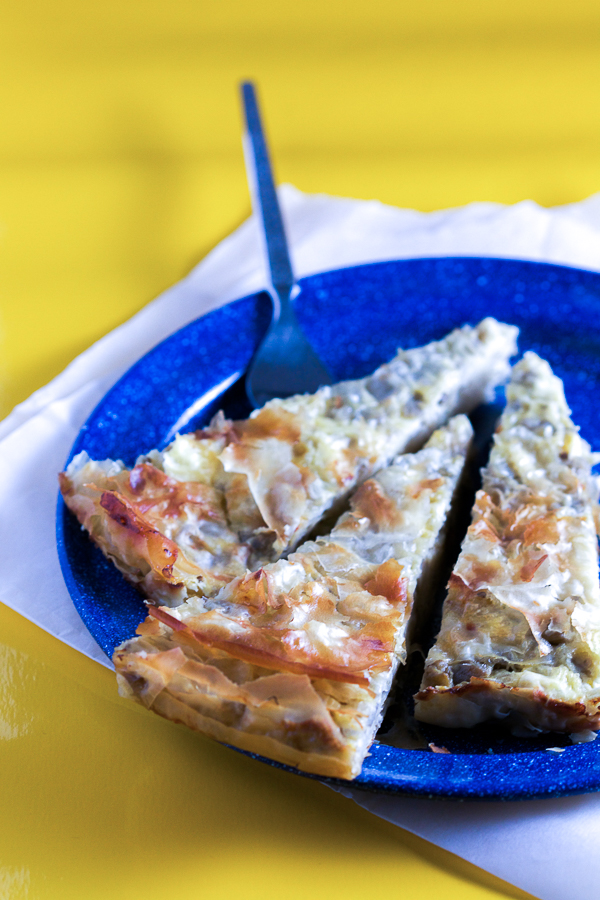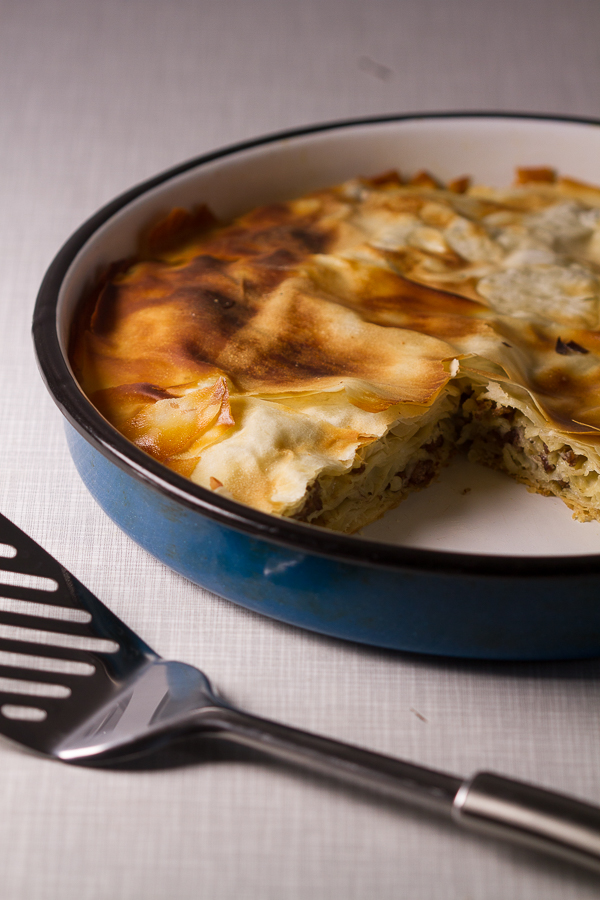 Goal for photography for 2018: continue improving. 
Page Rank. 
Still 1.  
Page Rank goal for 2018 is same as it was for 2017: raise it to 2.  
And with that we finish BLB review of 2017, and goals for 2018.  
We wish you a fantastic 2018!
We wish you much health!
We wish you love and sex!
We wish you prosperity and success!
And of course we wish you a lot of great food!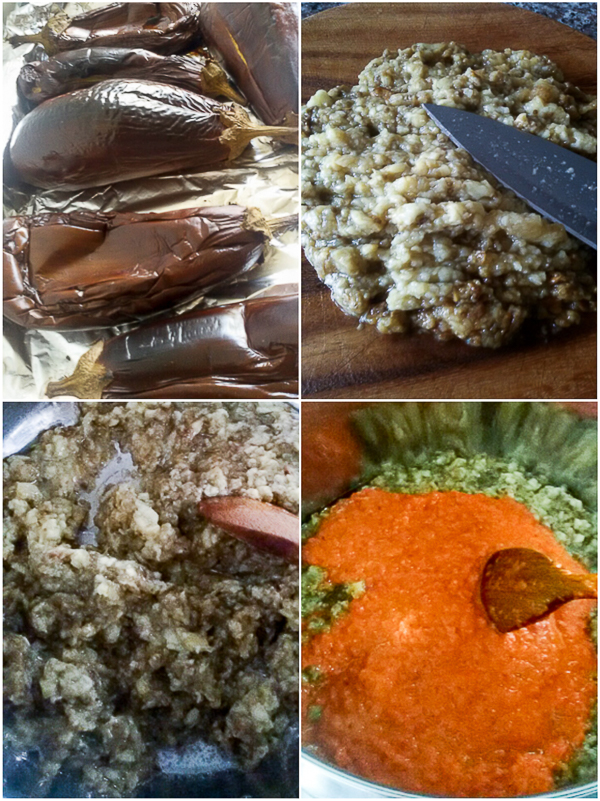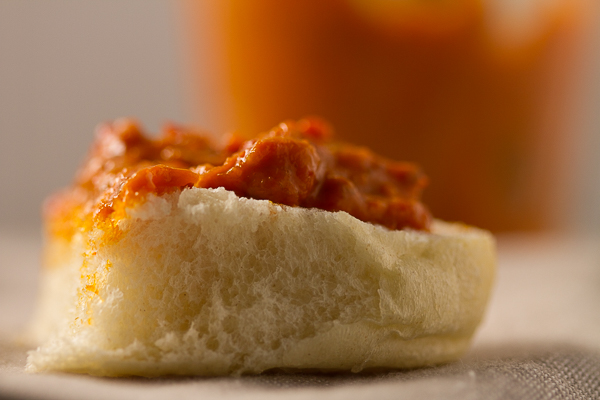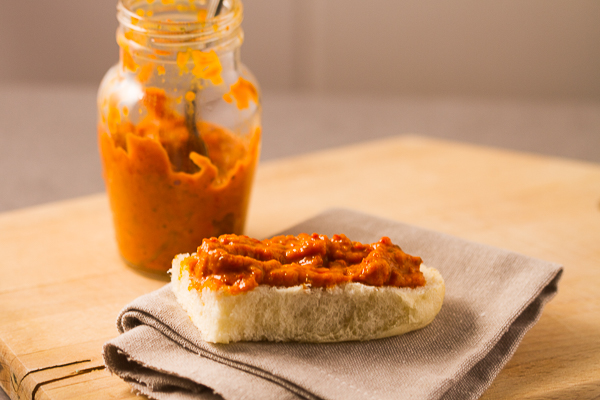 Print
Cheat Ajvar
Author:

Category:

Side Dish
---
Ingredients
AJVAR:
3-5 jars of store ajvar (approximately 25-ounces + per jar)
3-5 eggplants (medium to large sized)
2-3 cups vegetable oil (approximately)
1 tablespoon sugar
(Optional) 1 teaspoon salt
(Optional) 1-2 chili peppers
JARRING:
1-2 cups vegetable oil
EQUIPMENT:
Several jars with lids
Large pot
Foil
---
Instructions
Heat oven to 480°F.
Thoroughly wash, then pat dry whole eggplants. Cover a baking sheet with foil (or the rack itself if you don't have a baking sheet), and line it with eggplants. Roast for approximately 40-45 minutes, turning them around about halfway (don't be overly concerned with time, instead, watch that eggplants are roasted, but not burned). When done the eggplants will "raise" their skin, and will have a few brown-black patches. They'll be soft and moist.
Take out and place in a large bowl. Cover with a plastic bag, and leave to cool.
Peel each eggplant by cutting off the eggplant stem and discarding it. Then use a knife to take off its skin and black dots that formed while roasting while keeping as much meat and seeds in tact as possible.
Transfer to a cutting board and mince, keeping all juices. (Alternatively use a meat grinder.)
Take a large pot that will fit in all ingredients and still have a few empty inches on top. Fill it with oil the thickness of one finger. Warm up the oil until really hot on high, and add eggplant. Stir eggplant in really well, and simmer for 15-20 minutes. Stir frequently.
Bring down the temperature to low and add ajvar from the jars to the pot. Stir well. Cook for the following 1.5-2 hours on low.
The ingredients will essentially be boiling most of the time, and the air bubbles will be coming out. It's imperative to continue stirring ajvar throughout the entire cooking time, that's every few minutes, to prevent burning. You will also be adding about 2-3 cups of oil to the pan throughout the cooking process, a few tablespoons at a time (every fifteen minutes or so). Stirring is a tedious process, but if you skip it, your entire effort will be wasted. Basically, as you are stirring ajvar, you are making sure it's not burning, and you're adding some oil at regular intervals while stirring.
(If you are adding chilis, mince them and add at the beginning.)
At the very end of cooking, add in sugar, and (optionally) salt. You can taste ajvar to see if it needs more of each, but make sure not to burn yourself.
Meanwhile, heat oven to 250°F. Wash several jars in hot, soapy water and rinse well. Pat dry. Place on a baking sheet and put in the oven. Warm them up for fifteen minutes. This will sterilize them.
Once the jars are hot, and the ajvar is turned off (it's still extremely hot so be careful) you'll be transferring hot ajvar to hot jars. Use thick kitchen mittens to pick up jars to protect your hands and fingers. Be very careful while you transfer ajvar into jars. Do jars one by one, and fill each up to the top, leaving the part where the ridges empty (so fill up almost to the top, leaving the top portion empty).
After you've filled up a jar, take a spoon, and press ajvar all the way into the jar, making sure there are no air bubbles left in the jar. Air is what makes ajvar go bad, so do not skip this step. Do it meticulously and do it for every jar.
When all the jars have been filled up, place them on a baking sheet and return to the warm, but turned off oven, without lids. It's best if they're left overnight, or at least several hours. A crust will form on the top of ajvar in each jar. The crust is basically ajvar that's hardened and darkened. This will be a thin but hard layer. At this point, take out the jars, pour a few tablespoons of oil on top of the crust in each jar, and screw lids on tightly.
Keep ajvar in a dark and cool place. After you open each jar, keep in the fridge. (As you open a jar of ajvar for the first time, first pour out the oil that was on top, stir the ajvar in the jar, and then use it.)
Ajvar can last several months.
---
Notes
Ratio: 1 eggplant per 1 (25ounce+) jar of ajvar.
(Optional) Before serving, mince in a garlic clove for an even better taste.
If you're cooking on a gas stove, be mindful that ajvar make take less time. Look for the deeper orange hue and creaminess. You want to end cooking before it becomes darker.
VARIATIONS:
Gluten-Free: for a gluten-free version ensure you are buying gluten-free ajvar from the store. The remaining ingredients are gluten-free.