Chicken breast bologna sauce is a tasty, creamy and quick option for when you're out of lunch ideas.  Finished in exactly 12-minutes, it'll be done before the pasta. Kids love it!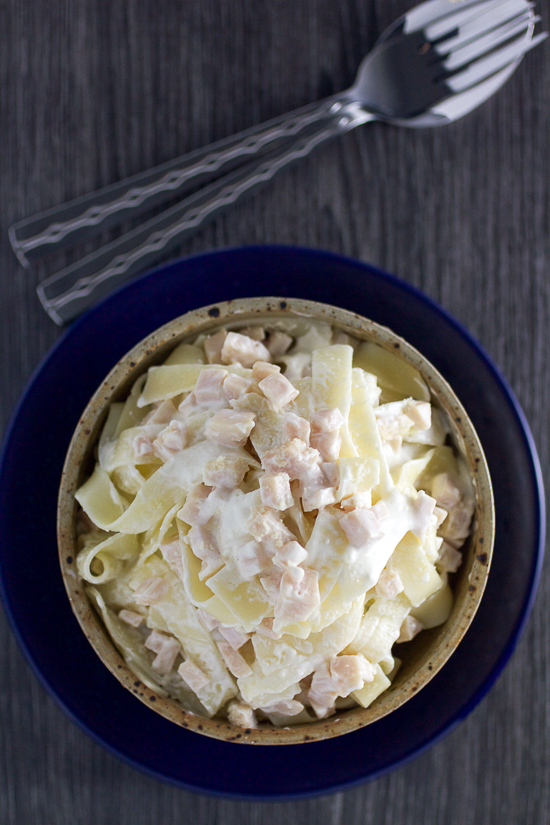 It is winter in Sarajevo. Real winter. The temperatures have gotten as low as -20C (-4F), and it hurts to breathe. The air is sharp as a razor.
A few nights ago my cheeks froze while I walked home. It happened gradually. I didn't notice. When the pain finally went over the threshold of recognition, it felt as if someone slapped me for several minutes. And when I took the gloves off to make a phone call, my fingers paralyzed from the cold. It took a lot of rubbing until they recovered their use and color.
It is frigid.
It's the lowest point of winter. The last rose in the garden behind the building died only recently. It held on all the way into December. I watched it from the window every day. I hoped it would survive the winter. The snow won though.
I am homebound. Except to classes, I don't go outside much. Instead I get up and work. Then I do homework and blog. I haven't gone out for longer than a couple of hours in a while. I don't have cabin fever yet, but I'd like spring to arrive soon.
But the spring is ways away.
It started snowing somewhere around New Year's. There is a lot of snow on the ground and rooftops. But it hasn't reached the height of 2012, or the one of 15 years ago. My sister recalled walking down the street lined with walls of snow two-meters high that year.
The danger we face today is slipping. The ice formed on the roads before the second snow fell. Now we have the beautiful, crispy, healthy snow, and a sheet of ice underneath. I admit, I am more comfortable with DC humidity, and its inability to keep the real winter around for longer than few weeks at most.
In Sarajevo even when it's sunny it's still cold. But the sunny days are welcome as they shoo away the smog. Sarajevo air quality has become equal to that of Beijing and Tokyo.
For one day only, there was a driving restriction based on license plates. If the last plate number was even you could drive. Or was it the other way around? Not sure. Not sure if the restriction helped either, but based on how quickly it was eliminated it probably didn't.
Luckily, we're well into January. Each day is a few minutes longer.
This stillness, this dead of winter blocks my cooking creativity. There are only potatoes and cabbage at the grocery store. And some lettuce too, but it's frozen and unappetizing. The markets are empty save for a few brave souls. Vegetables are scarce there too.
Due to these circumstances I am going easy on you today.
We're making chicken breast bologna sausage sauce with pasta. What you are looking for is the wide, mortadella-like chicken breast salami.  Look for it in lunch meats, cold cuts or deli sections of your store. If you can't find it, get the thick chicken breast bologna cut. It really has to be thick. Four-five pennies stacked together thick. Otherwise you might as well make a sandwich instead of the sauce.
Is it the healthiest meal you'll make this season? Probably not. Cured meats are not exactly the vision of wellness. But we are talking about comfort here. And this is a comfort meal if there ever was one.
The kids love this sauce. It's not surprising as kids love simple. Like pizza, pasta, candy. They can make it themselves too. My niece reaches for this recipe when she's alone and wants something warm quickly.
So the recipe is one you can make when you're out of ideas, the vegetables are lifeless, and you're bored to death with bread and soup combos.
This sauce requires you to fry the chicken in a skillet for a few minutes, and pour heavy cream over. When the heavy cream boils, it's finished. The sauce will probably take you less time to make than the pasta.
I recommend tagliatelle pasta.
Tagliatelle is the thick, long, flat kind. It's very similar to fettuccine, so you can use fettuccine instead. Or penne. Or bow pasta. Ultimately you can use any type with this sauce but I recommend thicker type of pasta. There is something soothing about rich pasta ribbons that hug the fork the way tight dresses hugged Marilyn Monroe.
The recipe serves 6, but you can easily halve it.
Meanwhile, it's time we finish this winter off.
Print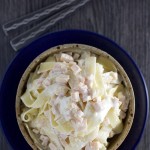 Chicken Breast Bologna Sauce With Tagliagelle
Author:

Prep Time:

2 mins

Cook Time:

12 mins

Total Time:

14 mins

Yield:

6

1

x

Category:

Main Course
---
Scale
Ingredients
1

bag tagliatelle (or other) pasta serving 6

2 tablespoons

oil

1 tablespoons

butter

14

–

15

ounces thick chicken breast bologna sausage

16

–

18

ounces heavy cream
Salt to taste
---
Instructions
Make the pasta based on bag directions.
While pasta is cooking, heat the oil and butter in a deep skillet on low. Dice the chicken breast.
When the oil is hot, add chicken to skillet. Fry on low for 5 minutes.
Pour heavy cream in skillet and stir. Continue simmering on lowest. Stir frequently. Add salt to taste.
When it starts boiling (5-7 minutes), turn the stove off.
Serve warm/ hot over pasta.
---