Lagane čokoladne kocke koje možete napraviti za manje od 45 minuta. Ako tražite brzinski dezert koji će vas ostaviti bez riječi, došli ste na pravo mjesto.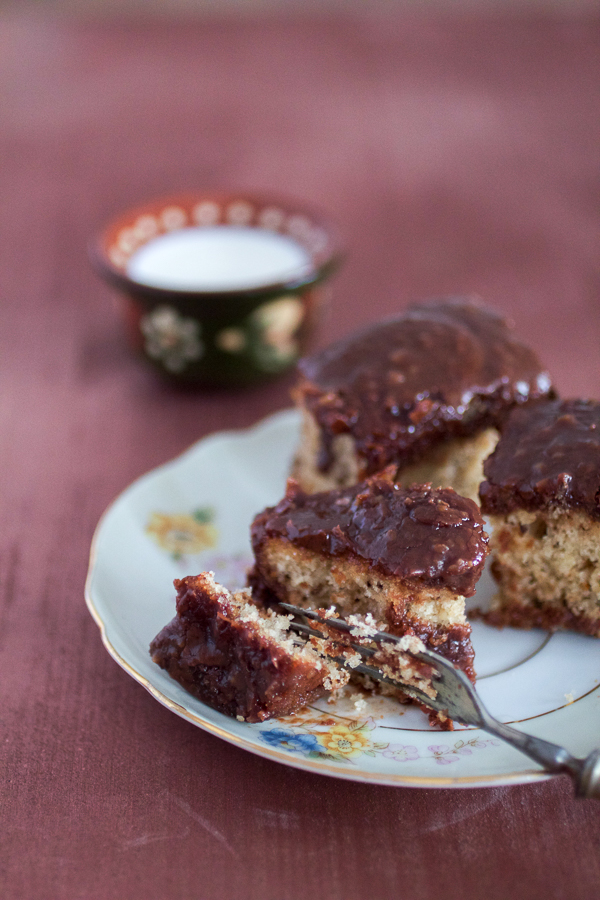 Teško je pronaći recept za ukusan, ali jednostavan, recept sa čokoladnom glazurom koji podsjeća na tortu. Recept koji će se svidjeti svima. Recept koji ne zahtjeva previše truda, već ga možete napraviti sa sastojcima koje već imate u kući (brašno, jaja, šećer, mlijeko). Najzahtjevniji korak je da otrčite do granapa po orahe, ako ih već nemate.
To je otprilike opis današnjih čokoladnih kocki.
(Balkanski dezerti se često prave sa orasima, tako da je dobra ideja uvijek ih imati pri ruci.)
Obećavam vam, kolač je prejednostavan za pripremu. Čak i početnici će ga od prve napraviti kako treba. Sa ovakvim dezertom možete impresionirati goste, jer je ovo ipak jedan domaći kolač. A to da je laganiji za pripremiti od onog kupovnog nećemo nikom ni spominjati.
***
Print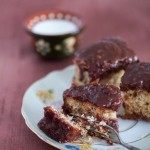 Čokoladne Kocke
Author:

Prep Time:

15 mins

Cook Time:

30 mins

Total Time:

45 mins

Yield:

8

1

x

Category:

Dezert
---
Biskvit:

4

jaja

200

grama šećera

1

kesica vanilije

300

grama brašna

200

mililitara mlijeka

120

mililitara ulja

85

grama oraha

1

kesica praška za pecivo
Glazura:

200

grama šećera

120

grama putera

100

grama čokolade za kuhanje

1

kesica vanilije

150

grama oraha

200

mililitara mlijeka
(Opcionalno) ½ teaspoon rum
---
Instructions
Zagrijte rernu na 200C.
Biskvit: u većoj zdjeli dodajte jaja, šećer i vaniliju i izmiksajte (mikserom) 30tak sekundi. Dodajte ostatak sastojaka i miksajte još nekoliko minuta. Smjesa treba da bude svijetlo žuta i glatka.
Premažite tepsiju uljem. Izlijte smjesu za biskvit i malo protresite tepsiju da bi se smjesa ravnomjerno raširila.
Smanjite temperaturu na 180C, i stavite tepsiju u rernu. Pecite 15 minuta, a zatim okrenite tepsiju. Pecite još 10 minuta. (Ako biskvit u počne previše da rumeni tokom pečenja prekrijte ga folijom.) Smanjite temperaturu na 160 i pecite još 5 minuta. Sa čačkalicom provjerite da li je biskvit gotov, i izvadite ga iz rerne.
Glazura: U manjoj šerpici sastavite sve sastojke i istopite ih na niskoj temperaturi, povremeno ih mješajući. Kad smjesa proključa, kuhajte još 2 do 3 minute, a zatim sklonite sa šporeta.
Prelijte glazuru preko biskvita i ostavite da se ohladi.
Narežite kolač na kocke prije serviranja.
---
Notes
Test sa čačkalicom: da biste provjerili da li je biskvit gotov, ubodite ga na nekoliko mjesta sa čačkalicom. Ako je čačkalica bez mrva kad je izvadite, tijesto je gotovo. Ako ne, onda pecite još malo, pa opet provjerite. Možete koristiti i viljušku.