Rich saffron shrimp sauce with pasta. Creamy shrimp sauce with subtle hints of honey achieved with a pinch of saffron. A 10-minute, 8-ingredient dish that tastes like a million bucks.
A little while before he closed himself in a room to write One Hundred Years of Solitude, Marquez took a trip on Greyhound through the deep south that was the Faulkner's United States. It was 60s America. Can't imagine what he, a Columbian man (not yet known for the jewels he'd give this world, at the time to the world he was just another olive skinned mystery) experienced in his mind, which senses reverberated the most. Even today, to me it seems you can't see much life through bus windows on the interstate, so I wonder whether he saw Faulkner's world. Did he get the same pinches of emotion? Did he breathe in the same smells? Did he understand him more? I wonder how many times he stopped along the way, and what he did when he'd get off the bus onto the hot asphalt and atmosphere of the 60s south. I most wonder what little town in Mississippi or Alabama or Georgia he liked, and in which ones he saw pieces of Barranquilla staring back.
I saw Sarajevo everywhere in America.
Dreams and dreams and dreams in the US were all about Sarajevo. Sometimes a melange of dreams. It was Sarajevo and Washington. Sarajevo and New York. Sarajevo and something else. But always Sarajevo. Always its streets. Always the two fishermen bridge I crossed back and forth a million times. A mix of cities, all my city. I deleted and built as I pleased. Immensity of new feelings arrived via dreams, and for hours after waking I couldn't shake them off. These feelings, they were not bad, some were even extremely pleasant, but they brought along a feeling that something was different, that I was living in a parallel. And somehow this parallel, well I didn't know a way to connect the past and the present you see.
I could never completely relax. Unbeknownst to me, a part of me remained in Sarajevo, and continued to live her life. I'd never meet her. From the looks in other refugee's eyes, they all had doubles too.  Our doubles live our second lives, but we'll never meet them. We'll never know what kind of lives these would've been had we stayed in one place. These immigrants old and new, they see their Banja Lukas and Brčkos and Baghdads in other countries, and other cities.
And even within a country, once you leave your home, you leave behind a you. So while you are in Santa Fe, another you is in Cincinnati running in the snow down those same streets you grew up. Even people that never move from their hometown are afflicted with doubles, although these are milder ones, and they mostly stay in the past.
I never had the same affinity for Faulkner and was always more of a Marquez girl. Which makes sense, really, as us Balkan souls are creatures closer aligned to magical realism, both in literature and life. Surrealism too. We're aligned with everything but realism. I can't tell you how many times I drove down US highways, attempting to see America Marquez saw, hoping a speck of something would rub off. Maybe I too would return,  lock myself in a room, and find a metaphorical Mercedes to empty my ashtrays as I write one of the most important pieces of literature.
What I did feel profoundly, was what I always feel, what I miss the most about the US, now that my feet have firmed up a bit back in my old town, are those highways.
All that space. The trees that rush by so quickly they're nothing but an impressionist painting. Hours in the car without a destination.  The Simpsons skies in the front, interrupted only by overhead bridges carrying people elsewhere into thousand directions, into thousand different lives. The wind, frivolously playing with one's hair. Four open car windows plus air conditioning, and me completely inoculated from the draft in this far away world.  The music. The absence of music. 180 degree exits into towns, and the easiness with which one can get un-lost. Yearnings to get lost. Hot, humid, draining East Coast sun that makes you feel you are a fisherman in a town without people. The slight stink of the sea, for one is never too far from the sea on the East Coast. And America of the East Coast is where I feel the most comfortable in America.
Today, while you patiently wait for me to gather my thoughts, pull up my pants, and scratch my ramblings of the highways into the safe safes of my mind, we do saffron shrimp. This saffron shrimp sauce is a recipe I got from a Bosnian woman who lived in Belgium and worked in a  Portuguese restaurant. I wonder in which places in Belgium Sarajevo stared at her.
I see America everywhere in Sarajevo.
 If in doubt when making this saffron shrimp sauce, get yourself more shrimp and add a little more heavy cream. You can never have too much as far as I'm concerned. The sauce is simple and seriously good tasting.  The shrimp gives it a lightness that can only come from seafood. (Another favorite is the white wine seafood risotto,  hake aka European cod with the classic potato salad, and finally there are the breaded Dalmatian calamari. Just don't make me help you choose!)  Meanwhile, the saffron gives it a splash of new, almost honeydew-ish taste. The splash of lemon juice, added at the very end, intensifies and seals the taste in.
Print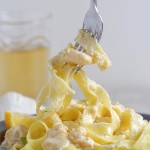 Creamy Saffron Shrimp Sauce
Author:

Yield:

4

1

x

Category:

Main Dish
---
Scale
Ingredients
16 ounces

shrimp (frozen)

1

box of pasta (spaghetti or tagliatelle)

5 tablespoons

olive oil

2

garlic cloves (large)

1/2 teaspoon

saffron
Pepper and salt to taste

1

lemon (juice only)

8 ounces

heavy cream
---
Instructions
Take the shrimp out about 30 minutes before making the sauce.
Cook pasta based on box directions.
Parallel to pasta, heat olive oil on medium. When hot, add the shrimp in. Sizzle for 1.5-2 minutes on each side.
Mince garlic and add to the shrimp together with all the seasonings. Stir, and top everything with heavy cream. Bring to low and stir. Simmer for 4-5 minutes then remove off heat. Pour lemon juice in and stir again.
Serve over pasta.
---
Notes
Total cook time will vary depending on pasta. Shrimp sauce is ready in 10 minutes.