I hope today's crispy and sensational, Dalmatian fried calamari will inspire you to put some seafood on this week's menu.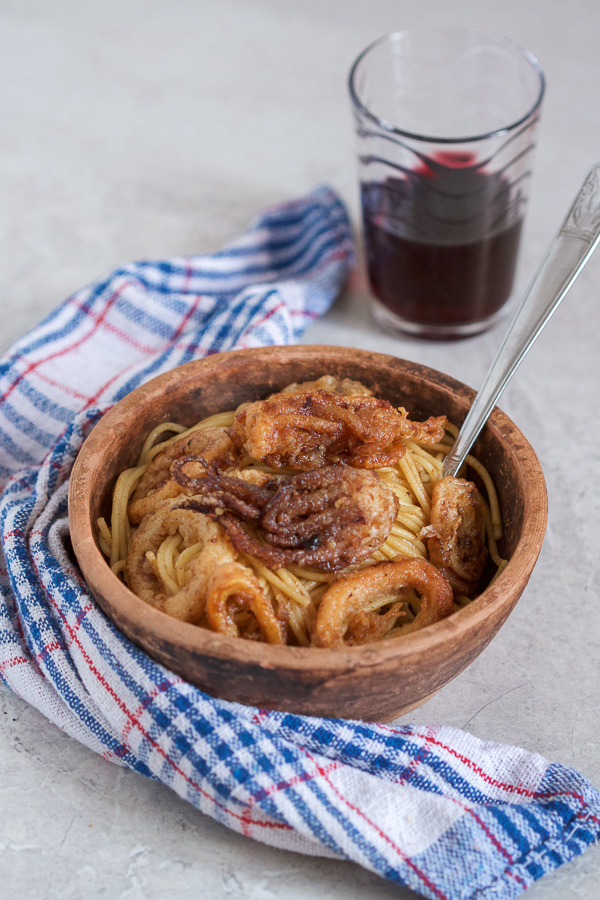 Today's recipe and text were authored by Samir Hajdarević.
***
As a child I had a problem with certain seafood, for example I'd eat only a few types of fish, while creatively avoiding everything else served at the table. I especially disliked mollusks (except mussels, I loved them). Not due to their taste, which is exceptional, but more because they never looked appetizing on the plate. Still, due to the creativity of my grandmother, who attempted to decorate meals as much as possible, very soon I outgrew my childish ways.
Fried and grilled calamari are specialties coming to us from the Mediterranean cuisine. I absolutely love them as they are incredibly flavorful, and so I make them often. As the saying goes, the food you prepare yourself tastes the best, and as my many Dalmatian (people from the Dalmatian part of Croatia) friends would add, the food you catch yourself tastes even better.
Calamari are spread out over the entire Mediterranean, therefore they are also present in large quantities in the Adriatic as well. Even so, the pursuit of these squid is not at all simple. They generally live deep in the open sea, their life expectancy is short (about a year), in addition, they're a larger predator's favorite food. But due to their exceptional taste, almost every Dalmatian who owns a boat, also possesses a tool for catching calamari in their fishing arsenal.
My dundo Ivo spent his entire life near the sea, therefore fishing was something he naturally grew into. He owned a variety of fishing equipment. He generally fished for calamari at the end of one or at the beginning of the following year, somewhere from October to February, when squid come near the coastal area to spawn. At that point they're perfectly matured size-wise. He'd catch them in the evening before sunset (or during the moonlight), when they're the most active as that's when they also go out to hunt. When he'd determine the optimal depth, he'd throw in the rod with a lure called peškafondo. He'd never even anchor the boat as it'd disrupt fishing. Instead, he let the bait float and be carried by the current, or would slowly move it with the boat paddles. This technique gives bait the most natural movement and makes it look like a real prey. Squid is not easily fooled. It's very careful. It moves around the bait and touches it several times before biting. And when it does bite, it has to be taken out very carefully. Otherwise it'll spray you with its ink which it releases when in danger. Many squid fishermen return back painted in black.
Squid caught that day would be placed into buckets filled with water, and only the following day would they end up on a plate after being grilled over the flame, or fried in oil.
As most of us don't fish and our encounters with the sea come down to swimming or suntanning on the beach, I recommend you stop by your closest grocery store or a fishery, get some calamari and enjoy the exceptional aroma of this sea delicacy.
Bon Appetit!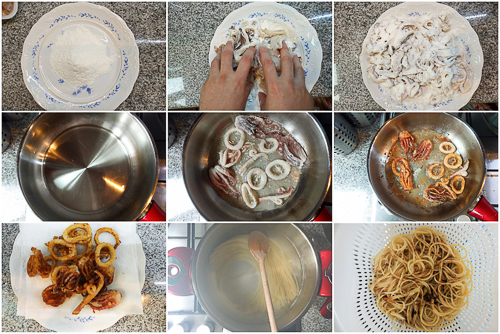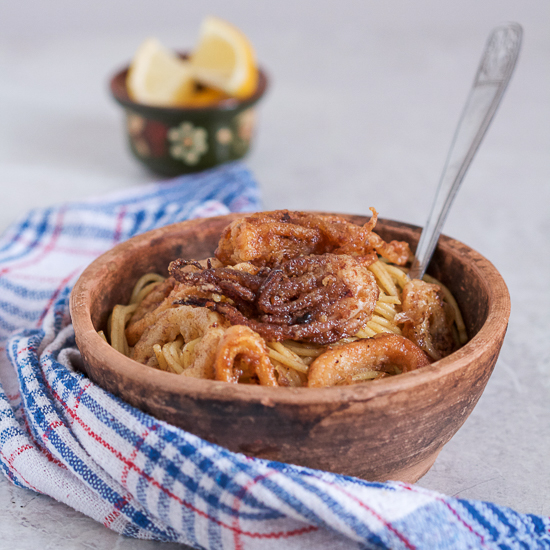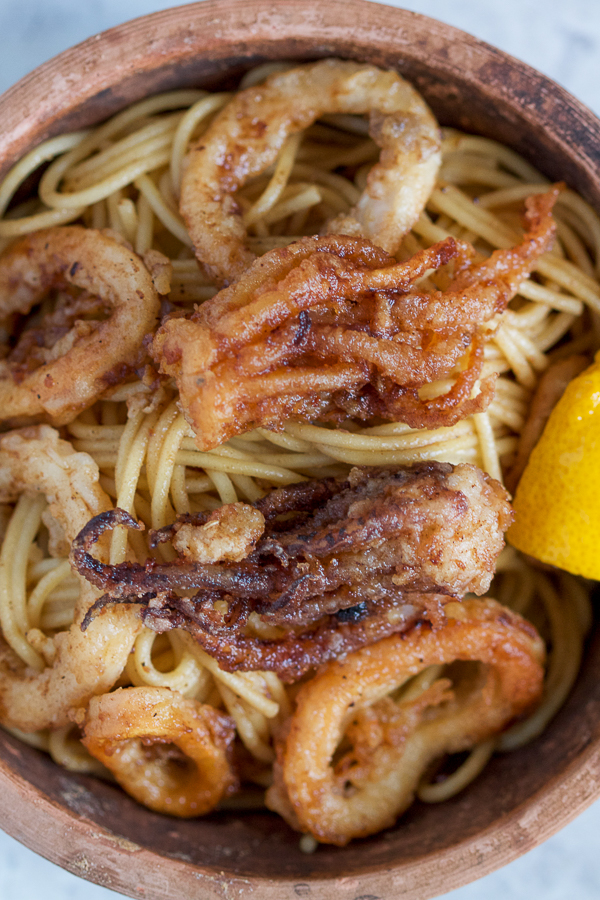 RECIPES SIMILAR TO DALMATIAN FRIED CALAMARI
Admittedly, I don't do enough seafood on the blog.
Every now and then though, something catches my eye. Like the perfectly breaded hake paired with the typical regional seafood potato salad.  Hake can be fresh or frozen for this no-frills recipe. Because sometimes the simplest things really are the best.
There is also a colorful tuna and egg salad for those times when you just want some fish out of a can.
Creamy saffron shrimp definitely hits the spot. Smooth, heavy cream based sauce, with just the right touch of spices. Neither exotic nor bland, this is a gateway shrimp sauce if you're just dipping your feet in the strange land comprised by the sea and river creatures.
Print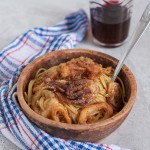 Fried Calamari
Author:

Prep Time:

5 mins

Cook Time:

15 mins

Total Time:

20 mins

Yield:

4

1

x

Category:

Main Course
---
Scale
Ingredients
1

pound calamari (fresh or frozen)

1 cup

white flour
Oil
(Optional) Pasta (spaghetti)
---
Instructions
Wash (and clean if necessary) calamari well. Place on a paper towel and pat dry as much as possible. (They keep some of the water inside, and you want to avoid water meeting hot oil.)
Heat oil on high in a deep skillet. Place flour on a plate and coat calamari with it generously.
Once the oil is really hot, throw the calamari on. Fry about 3-4 minutes on the first side, flip and fry another 2 minutes or so. Transfer onto a paper towel to soak up the oil.
(Option 1) Make enough pasta for 4 people according to the box directions. After draining, coat with the oil left over after calamari frying.
(Option 2) Make the potato salad from hake recipe on the site (link below).
---
Notes
You are welcome to eat these as an appetizer as well, without sides. Another few options include baked potatoes, mashed potatoes, or rice.
P.S. Click here if you opt for the potato salad as a side.