Super easy everyday chocolate squares you can make in under 45 minutes. If looking for a quick dessert that will leave everyone speechless, this is it.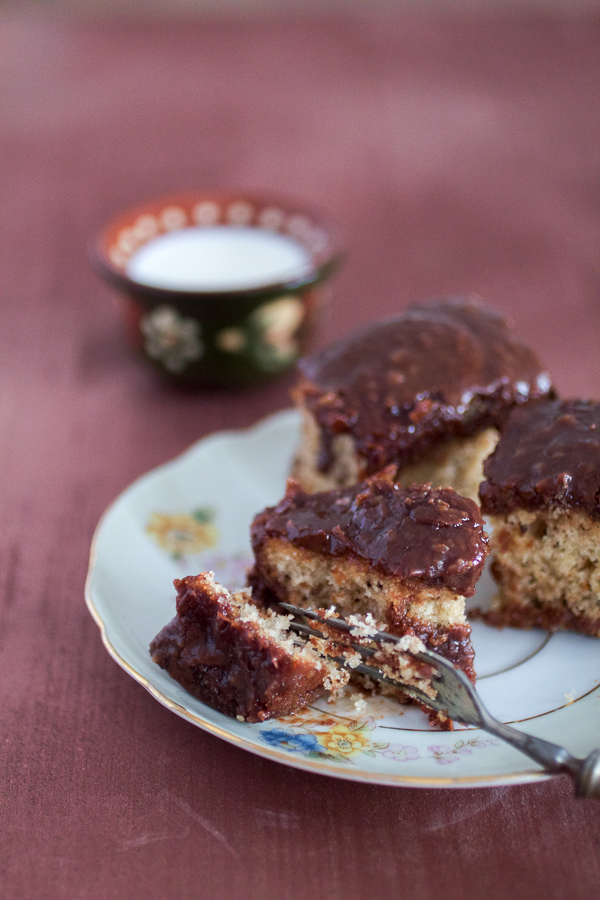 (BOSANSKI)
It's hard to find a recipe for a super simple cake-like dessert with chocolate glaze that's tasty. A recipe everyone will like. The one without too much hassle, made with things you already have in the house: flour, eggs, sugar, milk... And if you have to run to the grocery store for a little bit of walnuts that are easy to find, it's no big deal.
(Balkan desserts contain a great amount of walnuts, so it's smart to always have a stash of them.)
This description pretty much sums up today's recipe for everyday chocolate squares.
It's really as easy as promised, and even the 'novicest' of the novices will be able to make it. And make it well the first time!
This is a recipe you can run to when you want to impress your guests by making everything from scratch. (If you want to go all out with your dessert, try the chocolate and preserve squares.) The fact that it's as easy to make as a dessert from a box will be our little secret.
Chocolate is my second love. My first love is Sarajevo.
What follows is a little story of how I fell in love with it.
***
I didn't know it then, when as a little girl I sat on the radiator of the room I shared with my sister, while on the window I mapped the streets of my first love, that it rested in a valley of dangerous geometry. I only knew of its magnificence, and strong magnetism that, during any point that which I was not outside, glued my face to the window in our three sided building called the Star (three triangles really, connected by a vertebrae of stairs), inviting me to dissect every neighborhood I saw, and guess those hidden from my view.
My first love, this most persistent of all stalkers, sent intense yearnings for me to explore it during those Saturdays of premature nineties.
It was the mountains, those colossal giants, who when centuries ago they seized the city, decided it'd be a legged creature. Thus rose slender Sarajevo. A lady. Its bottom circled the City Hall, while hair spread by way of threadlike streets coming up and down the mounts and basins of its private parts. Emerald hills rose and released green waves crocheted with flowers. Down in the valley, the mountains allowed a river to pass through: brown and ugly Miljacka.
Neighborhoods fit in, if not spaciously then comfortably, like two sisters sharing one room. On occasion they overcrowded each other but all were deeply aware of need for proximity. From steepest curves burgeoned mahalas, those tight neighborhoods that hardly allowed for a breath, but hid in themselves the earliest history of the city.
In them, thousands of houses dotted with red roofs lowered down to the line where the city overtook those cobblestone streets, and instead asphalted the rest among the architecture left by Ottomans and Austro-Hungarians alike. In the distant corners, parks and clearings soothed my premonitions of the city's tragic predisposition. Around those spots mahalas finally lowered into the city to blend into modernity.
High rises, like new money, hid in the background of the city, ashamed of the clash they caused. They served the purpose of mass housing and were pardoned because they were on the periphery. Only one unfortunate building was hated with fervor, a building that interrupted the flow of the old part of town, so colorful and so ugly we called it the Parrot.
Crisscrossed miniature highways connected neigbhorhoods. Pearled along them on both sides, cafes, gardens as we called them, strutted new garden furniture and pretty city folk.
Murmur of the city excited me, the noises of trams and trolleys hurrying with loads of fashionable people. Hooked on the outside cords were wild teenagers I aspired to be one day. Or at least nine, when dad promised I could ride the tram alone. At certain hours the church bells rang, and hodžas began their symphonies. Sounds beautiful but unnoticeable because they were a part of the everyday.
The city was born long before my time, but I witnessed its Olympic past, and played in its generous gardens. The city, it held my belongings, my mosques and churches, my cafes and buildings.
I lived with my parents, my brother and sister in a big apartment on the fifteenth floor. Our Star was a modern building. All rows of oversized windows, lofty apartments, and two elevators. Seventy families lived there privately. We resided among polite neighbors who apart from a casual 'good morning,' refrained from useless chatter. But the building was brimming with life all the time until the lights, in no particular order, went off in the flats at night.
And that's when the life unraveled down below. More than anything I wanted to be outside.
Deep night is what my siblings counted on when they tampered with time. Every Saturday they set the kitchen clock back so they could stay outside longer. Every Saturday, until mom realized that eight o'clock news in our house came on at seven o'clock continuously.
Meanwhile, I eagerly awaited for the night my siblings would take me out with them. I wanted to walk the streets, to take in the sound of thousands of high heels on the pavement, to be mesmerized by a perfume of a lady that passed me by, or see an Elvis impersonator. I wanted more than anything to explore the city at night, to breathe in the nightlife, to discover Sarajevo's infinite amount of different lights, some streetlights, and some that came from its many buildings. I wanted to see from the outside in this time, and to watch the life develop like a film in a darkroom.
But brother and sister were about a decade older, and they never returned for me.
So from the same window I watched them come down the stairs outside the building, and then leave the neighborhood through the small uncovered tunnel made in between the buildings. When they were gone from my view I continued watching the crescents and crosses that interrupted, then disappeared from the panorama like hieroglyph'd tombstones.
This Saturday night repeated until unable to contain my feelings, I finally decided to go out after my siblings had left. It was already close to my bedtime, so I kissed my parents goodnight, and made up the bed so it looked as if someone was already asleep.
I'm not sure how it happened I went out undiscovered. I must have been careful, or my parents asleep. But I snuck out, even took the stairs down lest some annoying neighbor asked themselves what an eight year old was doing all alone at that hour.
There was a breeze outside, similar to a hundred other light breezes on a warm summer, except this one was fresher and freeing. I took it in with an open mouth and looked up toward the stars taking everything in. When I got ready, I ran  along the same squiggly roads I saw brother and sister. Suddenly I was on a bigger road which led to a bridge I remembered, which led to an even bigger few roads until I was in the center of the city, and a mass of excitable city folk engulfed me.
It was exhilarating. I was walking down the same streets, same city blocks I would walk down with my parents, but everything was more alive. Every corner I turned overwhelmed the senses in the most wonderful kind of way. There was a popcorn maker here, and a bookstore there, with inviting store windows carrying hundreds of knickknacks such as erasers that smelled like bubble gum, and games of yahtzee and monopoly. My view was quickly stolen back and forth by another scene unraveling, and then a second, and a third. I saw stolen kisses, and pairs walking hand in hand. I saw beautiful women, and handsome men. I saw teenagers in heavy metal gear, and beggars, real gypsies, playing the accordion on the corner, entertaining and counting on the coins in the instrument case to provide for another good night.
It was overwhelming in the perfect kind of way. Midst of murmur, chatter, midst of noise of the city I found myself completely seduced by it over and over again. Sarajevo opened itself up to me in the most intimate way. And I was in midst of it all, eating a chocolate square I got from a pastry maker that must have figured out I was on my own.
It didn't matter I was sharing Sarajevo with everyone who had fallen for her charms. In fact, I preferred there were an infinite amount of us and only one her. I loved the clammer, I loved the tightness of all of us sharing this imagined space together, sharing it equally in spirit and matter.
Sarajevo, it was the beginning and end of life.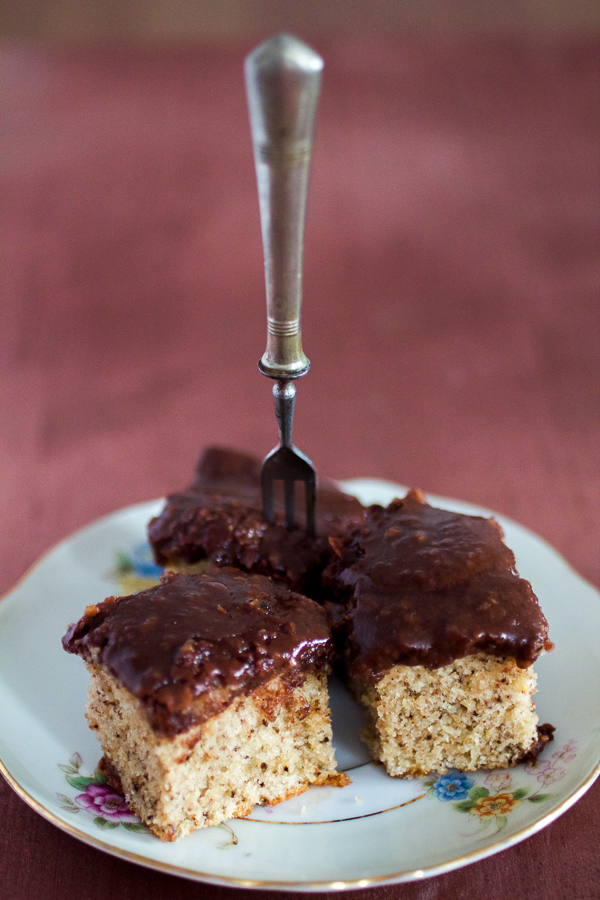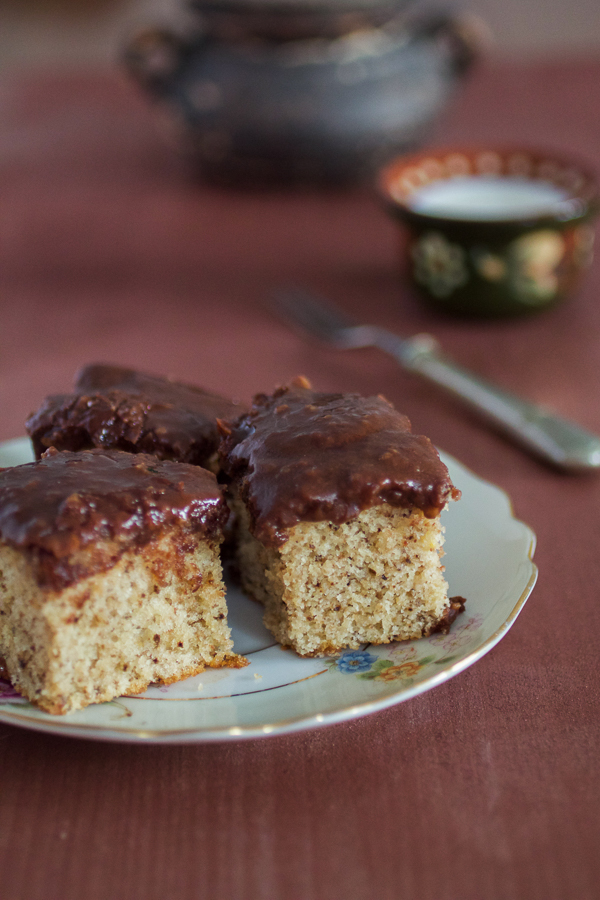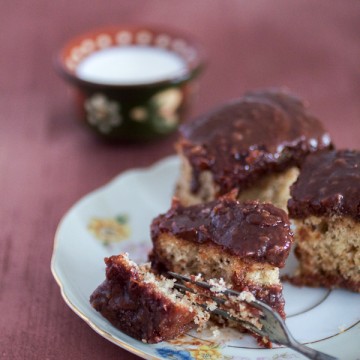 Everyday Chocolate Squares Recipe (Čokoladne Kockice)
Ingredients
Cake:
4

eggs

7

ounces

sugar

1

teaspoon

vanilla extract

10.5

ounces

white flour

7

ounces

milk

4

ounces

oil

3

ounces

ground walnuts

1

tablespoon

baking powder
Glaze:
7

ounces

sugar

4

ounces

butter

3.5

ounces

dark chocolate

1

teaspoon

vanilla extract

5

ounces

ground walnuts

7

ounces

milk

Optionally ½ teaspoon rum
Instructions
Heat oven to 390F

Cake: add eggs, sugar, vanilla extract and whisk with a hand mixer for 30 seconds. Add the remaining ingredients, and continue mixing until well blended.

Oil a pan (dimensions 10X14 or similar) and then sprinkle with butter. Pour the cake mass in evenly and place in the oven. Bring the temperature down to 355F and bake for 25 minutes. At this time, bring the temperature down to 320F and bake another 5 minutes or so. Do the toothpick test and take out of the oven if it's ready.*

Glaze: combine all ingredients into a medium pot and melt together over low and bring to boil. Boil together for 2 to 3 minutes stirring occasionally..

Once the cake is done, pour glaze over it, and leave to cool. Cut into medium squares and serve. Keep in fridge for a couple of days.
Notes
*Toothpick test: to check whether something is baked, prick it with a toothpick in a few places. If the toothpick comes out clean, it's done. If not, leave in for a little longer, and lower the temperature if needed. You can also use a fork for the test.