Krem supa od špageti tikve (bundeve) i krompira. Nešto neobičan jesenji klasik koji nam dolazi iz SAD-a.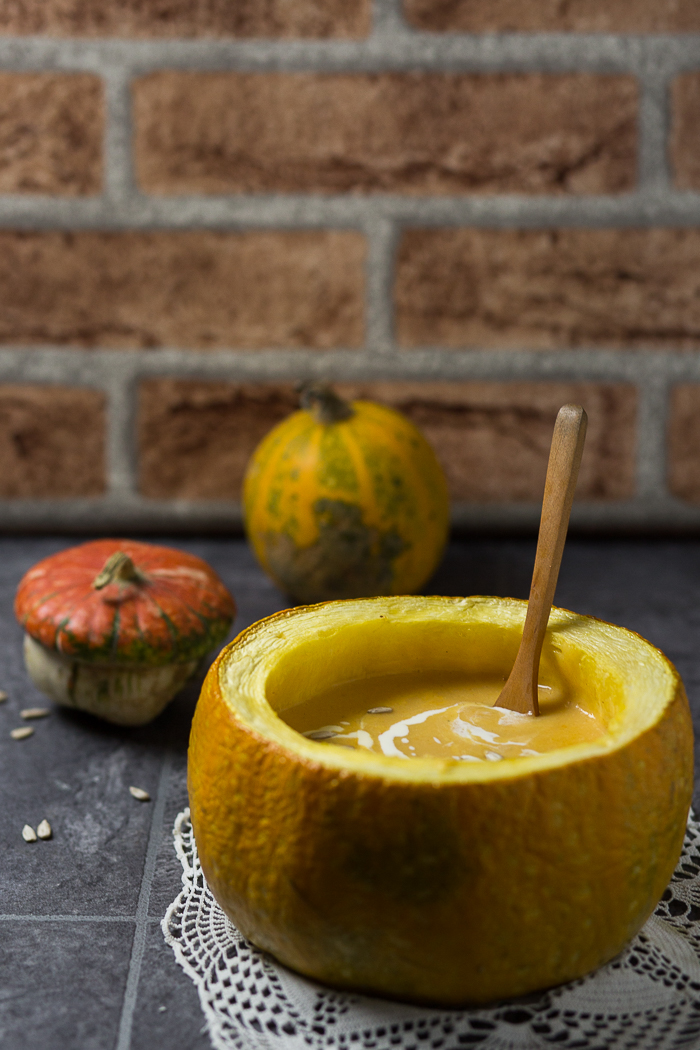 (ENGLISH)
Većina vas vjerovatno već uveliko priprema supu od bundeve (tikve). I vjerovatno je pripremate na sličan način. Ali htjedoh podijeliti sa vama jednu malo drugačiju supicu, a to je ova od špageti bundeve (tikve).
Vrlo je jednostavna i pravi se tačno onako kako očekujem da se pravi. Sastojci se kuhaju, blendaju, i obogate vrhnjem za kuhanje. I to je to!
Također, ova supica je tačno onog okusa koji očekujem od nje. Lagana aroma špageti bundeve obogaćuje ostale sastojke. Ali u međuvremenu je ti isti sastojci omekšaju.
Na kraju dobijete pravu i nezaboravnu krem supicu.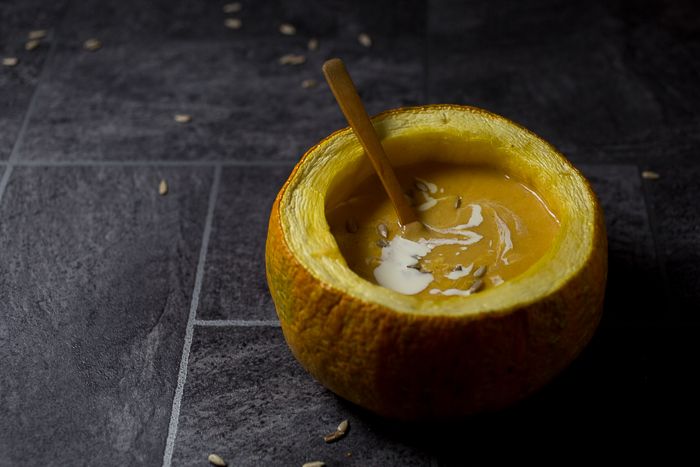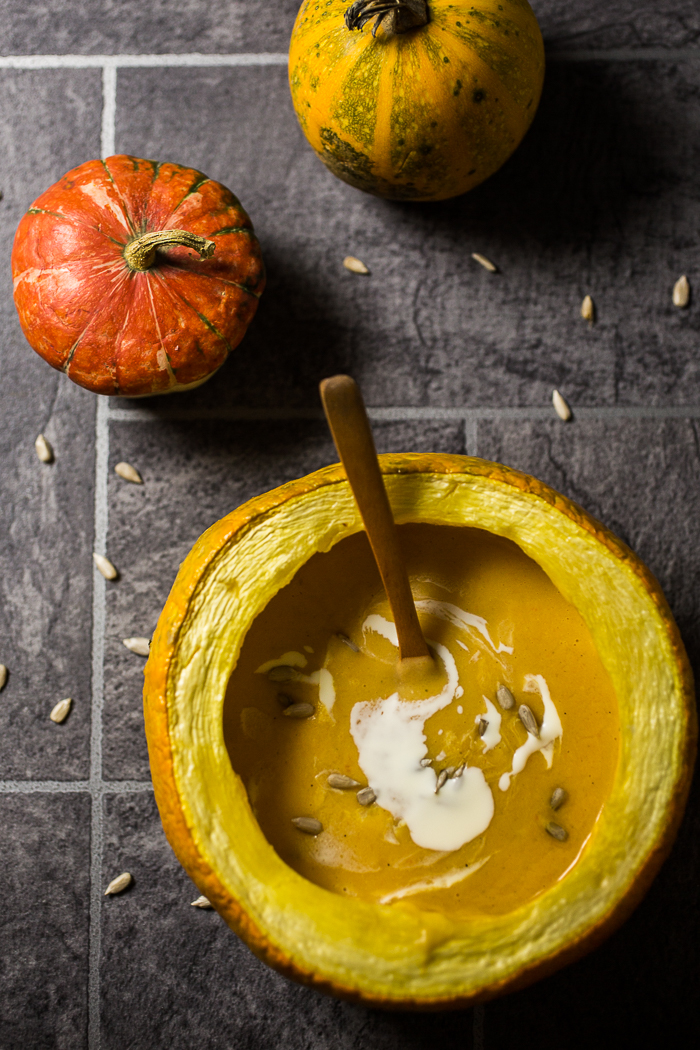 Print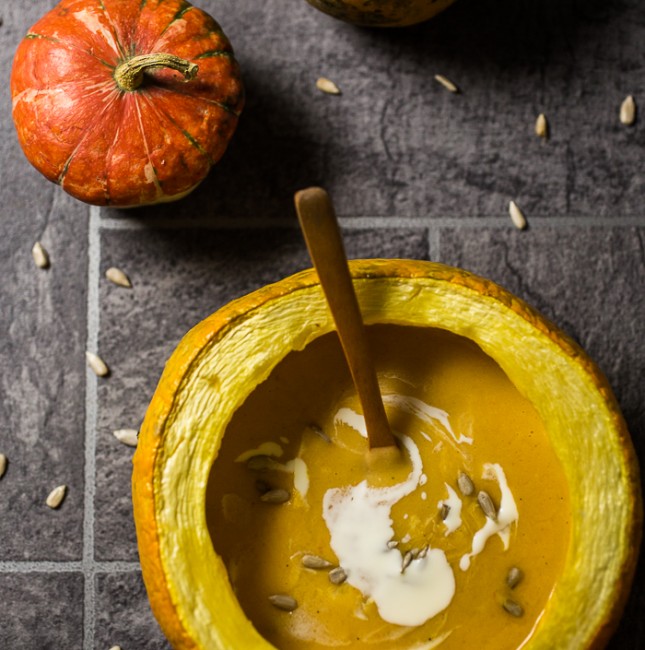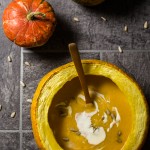 Krem Supa od Špageti Tikve i Krompira
Author:

Balkan Lunch Box

Prep Time:

10 mins

Cook Time:

100 mins

Total Time:

1 hour 50 mins

Yield:

4

1

x

Category:

Predjelo
---
Description
Krem supa od špageti tikve (bundeve) i krompira. Nešto neobičan jesenji klasik koji nam dolazi iz SAD-a.
---
500

grama špageti tikve (oguljene, nasjeckane na kocke)

250

grama krompira (stariji, oguljen, nasjeckan na kocke)

½

luka (oguljen, nasjeckan)

2

mrkve (oguljene, nasjeckane)

700

-

750

mililitara vode
So i biber po ukusu

100

mililitara vrhnja za kuhanje

1

-

2

supene kašike preprženih suncokretovih sjemenki
(Opcionalno) Preostala špageta tikva ili više (očišćena od sjemenki)
---
Instructions
(Opcionalno)  Ako pravite jestive zdjelice od tikve uzmite tikvu od 1,5kg ili veću za recept. Odrežite gornju trećinu i koristite je za supu. Ostatak očistite i pecite na 200°C oko 40 minuta. Ostavite sa strane dok supa ne bude gotova. *
U većoj šerpi sastavite povrće sa vodom i začinima. Kuhajte na niskoj temperaturi dok povrće ne omekša (oko 40 minuta).
Iscijedite povće i prebacite ga u blender, ali zadržite vodu u kojoj ste kuhali. Izblendajte povrće pa vratite u šerpu zajedno sa vodom. Dobro promiješajte, i pustite da provri na srednjoj temperaturi. Dodajte vrhnje za kuhanje, promiješajte i kuhajte dodatnih 5 minuta.
Supu poslužite toplu (opcionalno) u jestivoj bundevi.
(Opcionalno) Dekorišite supu sa sjemenkama suncokreta.
Notes
*Broj potrebnih špageti tikvi će zavisiti od toga da li pravite više jestivih zdjelica. Važno je da ova od koje pravite supicu bude oko 1,5 kg a ostale mogu varirati. Ostale ćete očistiti na isti način s tim da ih pečete i  'poklopčić' koji se kod prve špageti tikve koristio za pripremu supe.