Lazy apple pie is a three level (crust-filling-crust) dessert. It's perfect to serve with your favorite tea. For an under-an-hour, few ingredients you already have in the kitchen kind of dessert, this layered apple pie is quite impressive.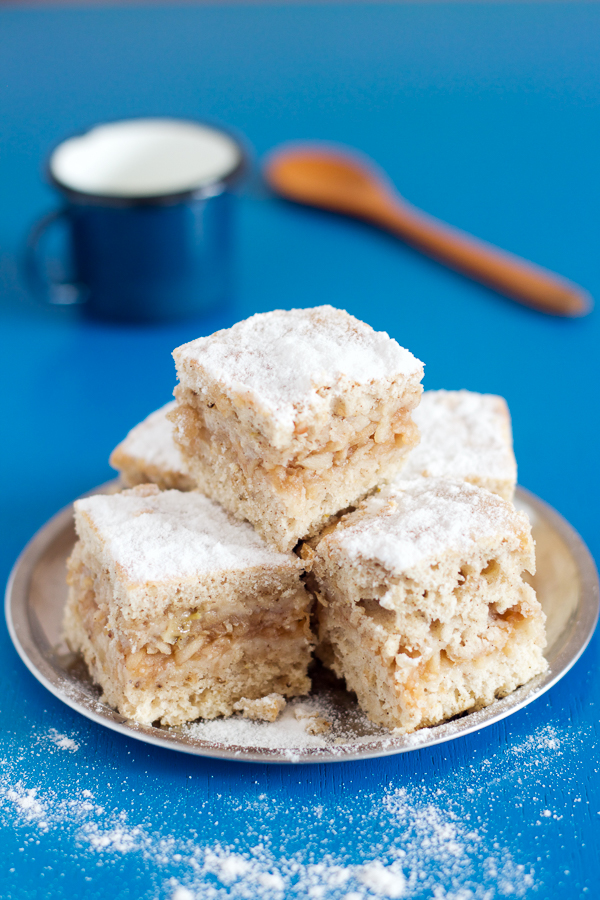 (BOSANSKI)

Balkan apple pie is a little bit different than the American apple pie. For one, it's not round, and the crust consists of sponge cake like two levels in between which is a generous amount of the grated and simmered apple filling.
What I love about the American apple pie is that it's a standard. Balkan apple pie isn't made the same way everywhere.  So this is one version, and I chose to share it with you because it's easy to make, and very soft and chewy. The type of dessert you'll make at least a few times.
Most of the ingredients you already have at home. One thing to remember is that the crust mixture you make will be divided and baked at different times. First we bake the bottom portion, add the filling, add the top portion, and bake again together.
Recipe and text below by Samir Hajdarević
***
When asked to comment his hometown, a well-known Sarajevo film director declared: "It's a magical city." And it's true, Sarajevo is a magical city or at least we Sarajevans like to consider it as such. We're probably a bit subjective in this assessment, a fact that causes people not from Sarajevo frown upon, but I believe ours is a characteristic shared by folks around the world, folks who are true fans of their birth city. Therefore, don't hold a grudge against us. People like to experience certain places as special, different from all others, magical. Places and periods. And the period most saturated with magic is certainly one's childhood.
I was born in Sarajevo, as you may have already guessed. As for most people my age, my childhood was marked by a carefree growing up, an easiness of existence in which each day was a new adventure, an affair into the big world that needed to be explored, recognized, and demystified from the mysteries it allured us with. Surrounded by the new developments, concrete complexes that sprouted and those about to, fenced up construction sites, but never fenced up well enough to prevent uninvited little guests to sneak into such interesting spaces, that's how the time passed. Cranes, bulldozers, hoe rock hammers and other heavy machinery to us looked like wild beasts fighting in an arena, workers handling them like Roman gladiators, and we were the audience fixated breathlessly on the fight. Fight that triumphed with a colossal buildings of modern time made out of armed concrete and steel into which poured a river of people once called the working class. We were in the epicenter of hurried urbanization. Former neighborhoods consisting of private homes surrounded by a little bit of working land were being swallowed by the city, and transformed into rows of high towers. Through my window I could see a few apple trees, once a part of someone's orchard, and now a part of the park between the buildings.
And everything was so perfect, the time that moved so slowly, days that never ended, filled with play and children's imagination. Only rarely would there be something to interrupt the harmony, such as the day when mom informed me I'd be going to school starting Monday. "You'll meet a lot of new friends there," was her unsuccessful attempt to make me see my new responsibility in a new light. I was not one to be tricked, and so I explained to her my existing ones were enough. However, something worse was arriving, something no one was ready for, much worse than the sound of a school bell, and much heavier than a backpack. A war started in my country!
And that's when everything disappeared. New heavy machines started to run on the ground, machines that spat fire and sulfur. Disseminated death. We turned into some pale, scared, underground people. Light of the day we exchanged with half-darkened underground hallways filled with dust and stifling air, while above us the colossal armed concrete buildings fell down under explosions of expelled projectiles. And time, the time still passed slowly, and it seemed as if it'd never end.
But life is unusual, stubborn, and exactly there, where you think total waste and nothingness took dominance, it resists, revolts, sprouts again. That's how it was in Sarajevo too. Life succeeded in finding holes in cruel reality and breaking through to the surface. The possibility of adaptation of living organisms to the outside forces is flabbergasting. We lived to see evolution or regression, however you look at it. Life in comfortable homes we exchanged for well thought out sheds. Underground rooms meant for storage of useless things we were sad to separate from, became cells for survival. Small space of a few squared meters needed to be used up to its limits of optimality. We resembled NASA engineers that design space capsules. To rationalize being cramped as the means to a more realistic simulation of life in an unfriendly environment. Every centimeter was important. To exchange blessings of civilization with adequate surrogates. Electricity with car batteries, electric stoves with wood stoves (generally improvised with metal cubes, made crudely by hands), normal combustible materials (coal and wood) with everything that could burn (furniture, window seals, doors, wood flooring, shoes, and what not…), light bulbs for lighting with cresset flames (traditional oil lamps whose flame represents a memory smouldering slowly for everyone who has left this world). We built an entirely new world, a world under the horror taking place on the ground surface.
Children got new heroes, earlier characters from animated movies and children shows, got thrown out by the real, average guys from the block now dressed in camo. Places where we played also changed, and wide playgrounds under the sun were exchanged with a labyrinth of half-dark cellar hallways, and even the games became a reality's reflex in children's imagination.
"Ta-ta-ta-ta, you're hit!" I screamed, leaning on sandbags protecting the entrance to the building, playing with a few of my friends.
"Who did you hit with that piece of wood?" A surprising voice behind me destroyed my illusion of a soldier on the battlefield. A large and smiling effigy encroached above me. A young man, barely legal, dressed in a camo shirt, ripped up jeans and Converses. Big, that was his nickname, given to him due to his above-average height. On his shoulder hung a Kalashnikov, unlike my wooden improvisation this one was the real deal.
"Look at you all dressed up, are you taking your girlfriend to the movies?" Was my acerbic comment.
"Samir, stop that!" I heard my mom who was in the building's hallway (the only other safe place next to the basement), sitting together with the rest of the building occupants, keenly watching us children so we wouldn't leave the safe zone.
"When are you leaving?" She turned to Big.
"Tonight."
"Do you have everything you need?"
"Yes."
Big was one of a few older teenagers from our building, legality caught up to him at the beginning of war. He was going to the front, and this was his first time. His older brother was already there.
"Wait a minute, I'll make you something. Something to bring with you. Something sweet. Let's see what we have. Come."
And we didn't have a lot. Almost empty jars holding the food, standing on improvised shelving in a cramped cellar room, lit by a flickering cresset light, and a small metal wood stove, bore witness to hardships of surviving the war. Famine ruled, there was nothing even for us. Only thanks to the cleverness of my mother were we able to survive by keeping a little bit of basic provisions we got through the humanitarian aid. Here and there there was a little bit more. This time it was a few apples that came who knows from where. And my mom made an apple pie, and only she knew how.
"Try it, I'll pack more for you."
It wasn't a real apple pie, with all the necessary ingredients. One made things with what was there. Flour, mostly wheat, watered down powdered milk, sugar that needed to be ground down even more, when there was electricity we used a coffee grinder but now we poured it into a kitchen towel and beat it with a hammer, it was a difficult job. But no matter how difficult the life environment was, we never even thought that we couldn't get through it, be more clever, be more innovative than any hurdles that got in our way every day. The war spreads destruction, razing, famine, hunger and illness, but something that all of us intuitively felt inside was that we could never allow it to spread waste inside our human spirit. That was the battlefront we could not afford to lose.
The time, no matter how it seems to us sometimes, and when you're going through hardship it looks as if it doesn't have an end, still passes and slowly leaves everything behind, stored in the memories. Here and there these memories come alive for a little bit, woken up with an unlikely trigger, people, actors in the past events, places, sounds, sometimes even tastes that bring with them magic of remembrance of survived events, those which now have a specific special aroma, like wine gaining quality with the passing of time, nostalgia we feel looking through old photo albums. These bring an answer to the feeling that overpowers me sometimes, that the magic of living didn't disappear, or got lost. It didn't. It's still there. In the memories.
Print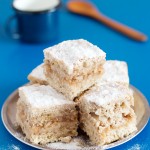 Lazy Apple Pie
Author:

Prep Time:

15 mins

Cook Time:

25 mins

Total Time:

40 mins

Yield:

8

1

x

Category:

Dessert
---
Scale
Ingredients
CRUST

2

eggs

1 cup

milk

1 cup

sugar

1/2 cup

oil

1

–

2

tablespoons butter

2.5 cups

white flour

1 tablespoon

cocoa

1/2 cup

ground walnuts

1 tablespoon

baking soda

1 teaspoon

coffee grounds

1

lemon
FILLING

12

apples (medium)

1/2 tablespoon

sugar

1 teaspoon

cinnamon
TOPPING

3

–

4

tablespoons powdered sugar
---
Instructions
Heat oven to 390F.
In a larger pot, mix two eggs with a hand mixer. Add milk, sugar, oil, butter, and continue mixing until it becomes one mass. Add flour, cocoa, walnuts and baking powder. Continue mixing with the hand mixer. Add coffee and grated skin of one lemon. Mix again until the mass is thick, but smooth and movable.
Peel and core apples, then grate all of them. Add 1/2 tablespoon sugar and simmer on low for about 7-8 minutes. When done, add cinnamon and mix. Set aside.
Pour one half of the crust mixture into an oiled pan (9-in X 13.5-in) and spread evenly. Place in oven and bake for 7-8 minutes. Do the toothpick* test to see whether the bottom crust is baked although not completely finished, just hard enough so that the filling and the mass for the second crust can be placed on top.
Take the pan out of the oven, and spread the apple filling over it evenly. Pour the second half of the crust over the filling, and again spread evenly. Return to the oven and bake for another 10 minutes. Do the toothpick test to see when it's finished. Take out of the oven and let cool.
Dust the pie with powdered sugar, and cut into squares. Keep in fridge for up to a few days.
---
Notes
*Toothpick test – prick the baked good in a few places with a toothpick. If it comes out clean, the baking is done. If you crumbs and stickiness on the toothpick, give it a little more time and repeat.