Salatica od rendane jabuke i mrkve je više dezert nego salata. Ova jednostavna jednačina rendanja jedne jabuke i jedne mrkve za jedan obrok je zdrav i ukusan odgovor na ono svakodnevno, dosadno pitanje "Ima li šta slatko u ovoj kući?"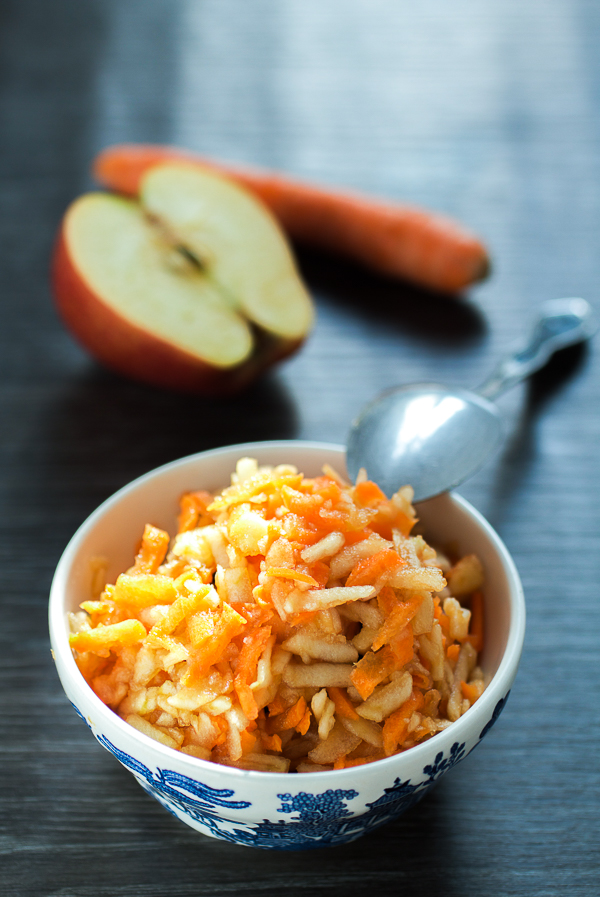 For the recipe in English click here.
Vjerujem da ste jeli jabuke i mrkve u kombinaciji. Ali vrlo je moguće da se niste sjetili da ih izrendate zajedno.
Ovih dana sam vam popustila sa jednostavnim, 30-minutnim receptima kao što su čokoladni mus, i omač. Ali nemojte se previše opustiti. Pripremam vam nešto fantastično.
Ali ne danas.
Danas vas opet častim sa jednim vrlo jednostavnim receptom. U ovom slučaju to je jedna salatica od rendane jabuke i mrkve. Ma nije to ni salata u onom smislu salate. Definitivno nije salata koju jedete uz glavno jelo. (Osim ako volite da miješate okuse.)
Rendane jabuke sa mrkvama su ustvari dezert.
Stidim se reći koliko je ovaj recept jednostavan za pripremiti. Izrendajte jabuku. Izrendajte mrkvu. Pomiješajte. Opcionalno dodajte malo šećera. I to je jednačina za jedan obrok ovog dezerta.
Ne bih ovu salatu ni stavljala na blog, ali su se desile dvije stvari koje su me inspirisale da to ipak uradim.
Pod jedan, vi ste, dragi čitaoci, poludjeli za salatom od cvekle i mrkve od prije neki dan. Nikad nisam imala toliko posjeta na blogu u jednom danu kao tog dana.
Ja slamam zglobove da bih vam donijela nabolje balkanske poslastice. Dam vam baklavu, burek, palačinke... a sve što vi želite je salata od cvekle. Pa dobro onda.
Pod dva, sinulo mi je da nisam vidjela puno rendane hrane osim sira i kupusa, dok sam živjela u SAD. To bi možda moglo objasniti popularnost salate od cvekle. 
Nisam sigurna kako ćete primiti ovu salatu, ali ako je jednom napravite, napraviti ćete je ponovo. Jako je slatka, i osvježavajuća, nećete ni tražiti čokoladu poslije nje.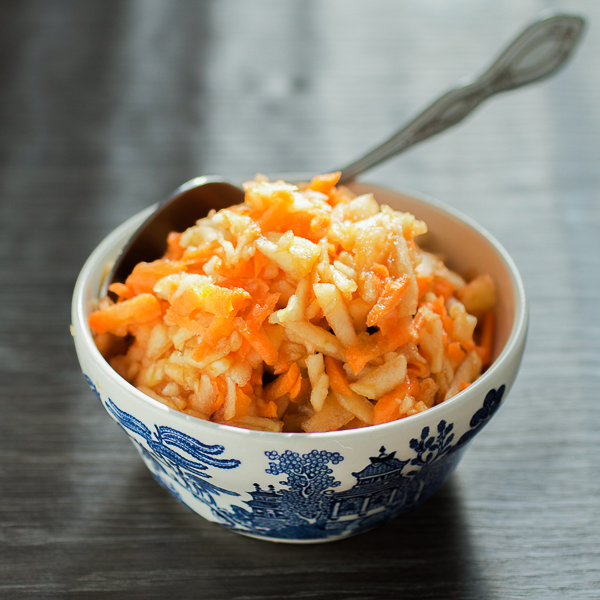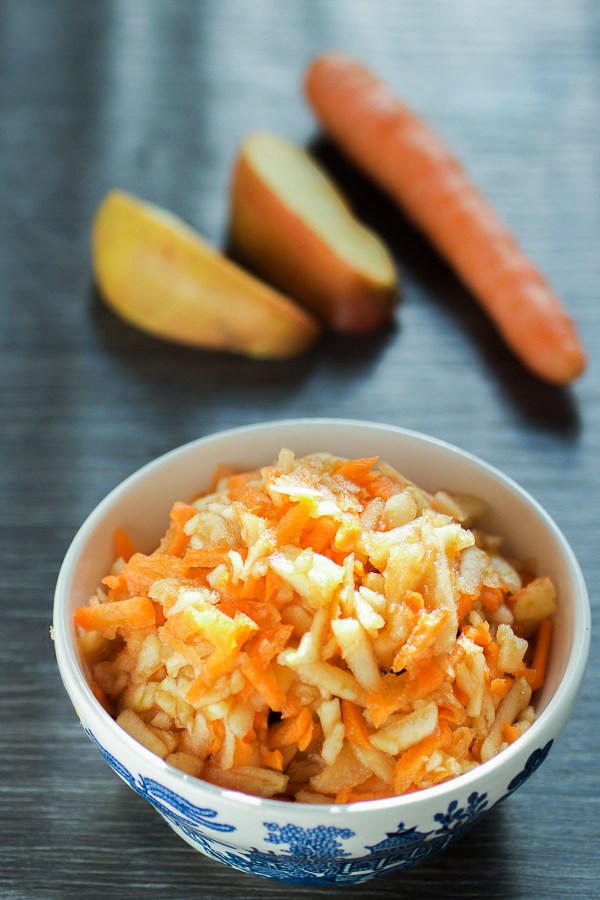 Print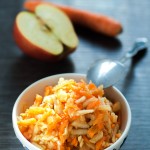 Rendana Jabuka i Mrkva
Author:

Balkan Lunch Box

Prep Time:

15 mins

Total Time:

15 mins

Yield:

4

1

x

Category:

Dezert
---
4

jabuke (male, slatke)

4

mrkve

2

kafene kašičice šećera (opcionalno)
---
Instructions
Operite, ogulite, i narendajte jabuke i mrkve. Pomiješajte. Dodajte šećer (opcionalno).
---
Notes
Ako ne namjeravate pojesti salaticu odmah, poprskajte je sa malo limuna i stavite u frižider. Pojedite je istog dana.