Slagana sirnica pripada porodici balkanskih pita. Ova pita je jelo iz "jedne tepsije." Pravi se tako što se kupovna jufka filuje sa filom od sireva i jaja.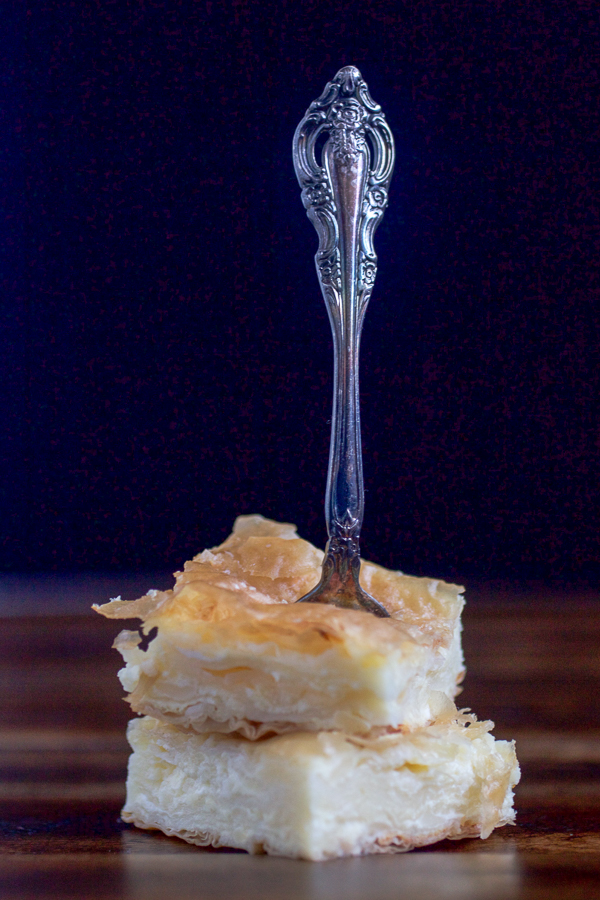 Današnja slagana sirnica je još jedna u seriji pita koje smo pripremali zajedno.
Ako se sjećate, pravili smo prvo jednu ukusnu tikvenicu. Zatim je na red došao šareni burek, a ubrzo poslije i neobična pita od patlidžana. Sve tri ove pite se mogu pripremiti sa kupovnom jufkom. Ali pripremali smo mi i domaću jufku za krompirušu i burek.
Od svih pita koje smo zajedno pravili, današnja slagana sirnica je najlakša za pripremiti. Trebaće vam oko pola kile kupovne jufke, dva ili tri različita sira, 5 jaja, i malo pavlake (milerama). Da bi ostvarili mekoću, svaki list jufke ćete premazati sa malo ulja prije nego sto ga namažete filom. Kad sve sastavite, peći ćete je na vrlo jakoj temperaturi. Završni čin nam dolazi u obliku mlijeka koje se popršće po vrhu pite.
I to je to. Imate gotovu večeru za otprilike sat vremena.
A možda i kraće, ako možete da dođete do jednog od onih ulja u bočici za prskanje. Nažalost, nisam ih još primijetila na Balkanu.  Neću ni da mislim koliko je to ulje moralo biti procesovano da bi bilo u sprej formi, ali ovaj mali detalj i te kako ubrza pripremu.
Slagana sirnica je pravo jelo za ponijeti na piknik. Odlična je kao doručak, ručak ili večera. Najbolja je uz malo supice, i obične salate od paradajza.
A sad malo o sirevima.
Kad sam na Balkanu, onda kukam zbog ulja, a u Americi kukam zbog sireva. Najbolja sirnica se pravi od domaćeg, mladog, kravljeg sira. Mladi kravlji sir je mekan, blag, i prilagodljiv. Odlična je podloga feti, ili drugim, jačim sirevima.
Nažalost, u Americi je lakše kupiti kravu nego domaći sir, tako da ako živite u SAD moraćete da izaberete nešto drugo. Ricotta je odlična alternativa. A što se tiče jačih sireva, i tu možete da birate. Kao što vidite u komentarima, neki ljudi čak koriste i gorgonzolu.
Ne brinite, sa sirnicom nema greške. Radi se o tome šta vi volite da jedete. Budite kreativni. I ako ste raspoloženi, napišite u komentarima koji ste sir koristili.
Print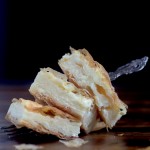 Slagana Sirnica
Author:

Prep Time:

15 mins

Cook Time:

35 mins

Total Time:

50 mins

Yield:

6

1

x

Category:

Glavno Jelo
---
Scale
Ingredients
400

grama mladog sira

250

grama feta sira (ili Travničkog)

250

grama pavlake

4

–

5

jaja

½

kašikice soli

500

grama kupovne jufke (oko

16

–

18

listova)

½

šolje mlijeka
(Opcionalno) 1 supena kašika putera
Ulje
---
Instructions
U većoj zdjeli dobro pomiješajte sireve, pavlaku, jaja i sol dok ne postanu jedna smjesa.
Odmotajte jufku, i pouljite tepsiju u kojoj ćete slagati pitu. Stavite dva lista jufke na dno, a da pritom premažete svaki sloj jufke sa uljem.
Zagrijte rernu na 200C.
Ravnomjerno premažite gornju jufku sa oko 4 supene kašike fila, a zatim stavite jedan list jufke na fil. Ponovo premažite uljem prije nego stavite sljedeći sloj fila.
Ponavljajte dok ne iskoristite sav fil i jufku, ali ostavite dva do tri lista jufke za vrh. Premažite gornji sloj i stavite u rernu.
Pecite 15 minuta, a zatim okrenite tepsiju 180 stepeni. Ako je jufka uhvatila puno boje, možete je prekriti folijom. Pecite još 15 do 20 minuta.
Izvadite pitu iz rerne, poprskajte sa mlijekom (opcionalno i puterom), i ostavite da se hladi 15 do 20 minuta.
Jedite pitu dok je topla.
---
Notes
Ako je jufka duža (veća) od vaše tepsije, možete je ili izrezati da stane u tepsiju, ili saviti (zgužvati) dio koji je višak dok filujete.