Strawberry cake: an easy, delectable, strawberry filled cake! Perfect for when you're running short on time, but want something sweet and spongy from the oven. 
(BOSANSKI)
There are days when I like nothing more but to experiment with new ingredients. Try out different cuisines. Be on top of my cooking game, so to speak.
But there are also days when I'm not up to making anything. This entire week has been one of those days. Just as the spring finally broke through the winter's strong grip and the blossom proliferated, the last bit of wet and heavy snow surprised us destroying most of the greenery.
In the words of a woman I know "I didn't even get to smell the lilacs!"
(As any (even a tiny bit) experienced cook knows, when you cook but you're not in the mood to cook, the food doesn't come out well. In those instances, if you must cook, really really must, go for a simple dish like hash brown pie. True and tried.)
On days like these I crave something sweet. Simple. Something to liven up the soul. This time, I reached for a version of this plain, but incredibly flavorful fruit (in our case strawberry) sponge cake. In my own mini-revolution of sorts, I tricked the winter by snatching the last bit of local strawberries at a stand before it returned with a vengeance. (Check out my strawberry sauce.)
So what's this sponginess all about?
It's the most basic cake you can think of. It's made of some eggs. Flour. Some milk. A little bit of baking powder. Similarly to bread, this is a basic ingredient cake.  Again similarly to bread, this simplicity allows it to take on whatever personality you'd like it to have. It's the basics of all cakes, which you can dress up or down as you wish.
You can make this cake with blueberries. Soak it in simple syrup if you want. If you're into layers, make a filling and you got a proper tiered cake. Endless possibilities exist.
But I like it just like this. A spongy, fruit filled, slice of sweet that I top with whipped cream and more fruit.
And in the words of another woman "I'm sitting by the wood stove, eating strawberries."
Print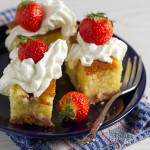 Strawberry Cake
Author:

Prep Time:

15 mins

Cook Time:

50 mins

Total Time:

1 hour 5 mins

Yield:

6

1

x

Category:

Dessert
---
4

eggs

12.5 ounces

sugar

1/2 teaspoon

vanilla extract

3.5 ounces

milk

9 ounces

yogurt

7 ounces

oil

1/2 teaspoon

baking powder

13.5 ounces

flour

14 ounces

strawberries (diced, divided)
Whipped cream
A few whole strawberries
---
Instructions
In a deep bowl mix eggs, sugar, vanilla extract, milk, yogurt, oil, baking powder, and flour with a hand mixer. Mix until well integrated. Add 4 ounces of strawberries and mix with a wooden spatula.
Heat oven to 355°F.
Line a 9×12 baking pan with baking pepper. Coat with a thin film of oil. Pour the cake batter into it. Add the remaining strawberries on top. Bake for 45-50 minutes. Check often. Turn once halfway in. If it starts to blush, cover with foil and add a few minutes to baking. Prick with a toothpick in a few places to check for doneness. If it comes out clean, it's finished. If it has batter on it, bake a little longer.
When ready to consume, top with whipped cream and whole strawberries.
---