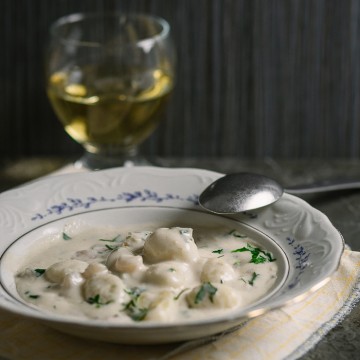 Dalmatian White Wine Gnocchi With Shrimp
Easy white wine gnocchi with shrimp come to us from Dalmatian coast in Croatia. Enriched with a thick heavy cream plus breadcrumb sauce, this shrimp gnocchi dish brings along the taste of Adriatic no matter where you are.
In a deep, large pan (or wok) heat olive oil on medium for 2-3 minutes. Add onion. Sauté and stir until translucent, about 3-4 minutes.

While stirring continuously, add shrimp and sauté 4-5 minutes. Add garlic and continue sautéing and stirring another 3-4 minutes.

Add gnocchi and water. Stir and simmer for 3-4 minutes. Stir in breadcrumbs, then add wine and seasonings. Simmer and stir for 1-2 minutes.

Stir in heavy cream and parsley. Simmer for another minute and take off heat. Garnish with remaining parsley.  
Sodium:
723
mg
Sugar:
2.9
g
Fiber:
1.8
g
Cholesterol:
493
mg
Calories:
990
kcal
Saturated Fat:
30.6
g
Fat:
61.9
g
Protein:
46.9
g
Carbohydrates:
50.4
g