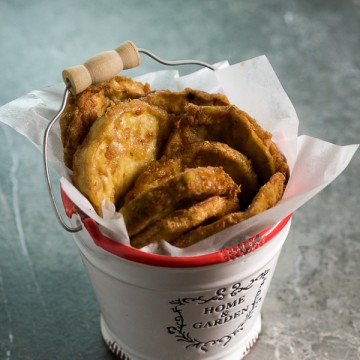 Breaded Eggplant and Zucchini
Breaded eggplant and zucchini: if you've ever had doubts about these two, now is the time to put them to rest. Tough but dewy eggplant and zucchini, dipped in flour and egg, then frizzled until they achieve a perfectly crunchy softness. 
2

eggplants

medium, peeled and sliced into ½ inch rounds

2

zucchinis

medium, peeled and sliced into ½ inch rounds

4-5

eggs

1.5

cups

white flour

Salt to taste if not using seasoned salt

Optional 2 tablespoons seasoned salt (or Vegeta, or 1 bouillon cube crushed)

Oil
In a medium bowl, beat eggs, and add salt (or seasoned salt). Take another medium bowl and add flour to it.

Take a deep pan and add a generous amount of oil for frying. Heat on high.

Dip vegetable rounds and slices first in flour then in eggs. Add to the pan. Fry the first few batches for two minutes on each side on high. (Later, as oil gets hotter lower it down to medium.) Later batches may need less time.

Transfer to a paper towel so it soaks extra oil.

Consume warm.