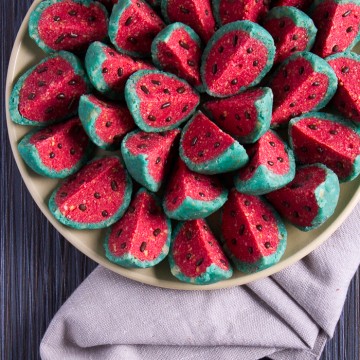 Watermelon Shaped Bites
When mom made these watermelon shaped bites for the first time, I was delighted at their vibrancy. But it was when I tasted them that I was really astonished. Walnut overtones combined with chocolate dots, and buttery dough goodness really took me on a trip of tastes. Yum!
Red part:
2.8

ounces

butter

room temperature

2.8

ounces

confectioner's sugar

5.3

ounces

ground biscuit

Petit Beurre or similar

2

hard boiled yolks

1

tablespoon

rum or vanilla extract

1

tablespoon

red food coloring

strawberry or similar
Green part:
5.2

ounces

ground walnuts

5.2

ounces

confectioner's sugar

4-6

tablespoons

milk

1

tablespoon

green food coloring

mint or similar
Topping:
1-2

tablespoons

chocolate sprinkles

*Wear Latex gloves

highly recommended
Red part:
In a large mixing bowl beat butter with a fork until smooth. Add yolks and continue mixing until well integrated. Add confectioner's sugar and combine well. Add biscuit and continue mixing. Add rum/ vanilla extract and mix again. Finally, add food coloring and continue mixing with your hands until the dough is evenly red.

Divide mixture into ten equal pieces and shape into little balls. Place on a plate and leave in the freezer until you make the green part.
Green part:
In a large mixing bowl combine ground walnuts and confectioner's sugar. Mix well. Add milk, and mix again. Add food coloring and combine the dough well with your hands until it's evenly green.

Divide into ten equal parts and flatten each into a thin round disk.
Combining:
Take one ball and place onto one green disk. Roll with your hands until the green covers the red and you have a small, green ball. Continue until you have made all ten.

Return to freezer for 15 minutes.

Take out and cut each ball into quarters. Decorate with chocolate sprinkles.

Leave covered outside at room temperature overnight. Transfer to a cookie jar or a box. Keep in a cool place.