When mom made these watermelon shaped bites for the first time, I was delighted at their vibrancy. But it was when I tasted them that I was really astonished. Walnut overtones combined with chocolate dots, and buttery dough goodness really took me on a trip of tastes. Yum!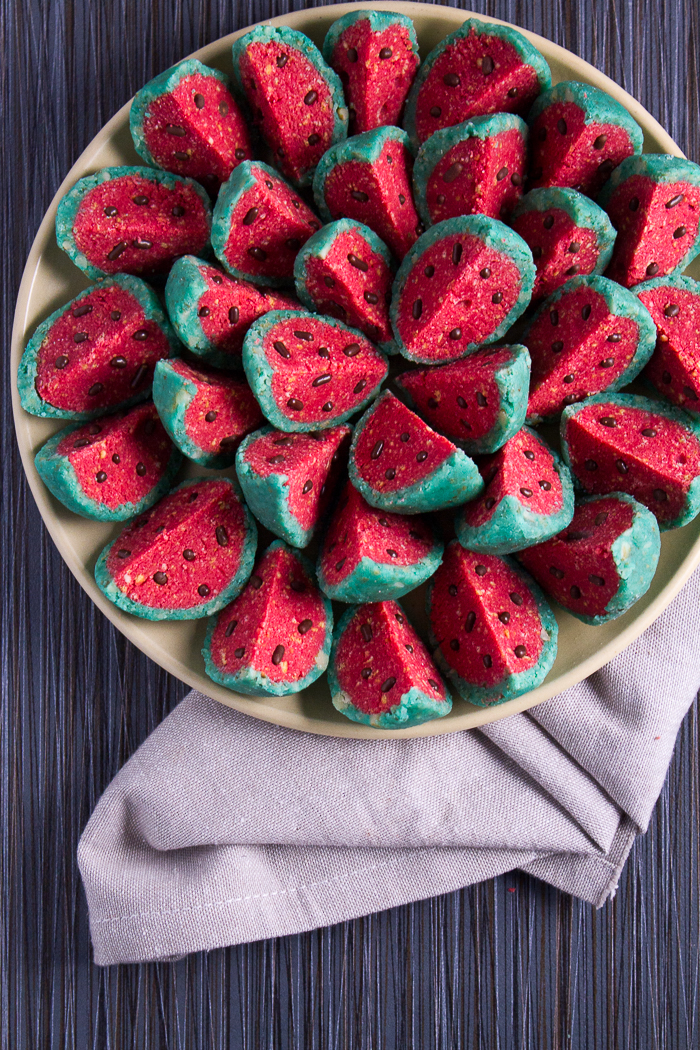 Every person that sees these inevitably smiles.
They are just so... striking. Perfect little watermelons. With a not quite watermelon taste. Well, perhaps a little bit of watermelon taste.
In any case this is the type of dessert that's a definite crowd pleaser. In form and substance.
And they're quite fun and easy to make. Just wear gloves. I learned my lesson!
P.S. Yes, some food coloring was used, but a tiny amount. And it's also the only recipe on the blog that has anything as artificial so I think you'll forgive us this once. Won't you?
***
STORYTIME
And just so you get an idea of how much we love watermelons in our family, here's a story about our grandparents. 
Watermelons
(Sarajevo, the summer of 1991)
Majka [mahy-kuh]: grandmother
Dido [dee-doh]: grandfather
Mrs. Halida, Mrs. H: [ha-lee-duh]: a terrifying downstairs neighbor
One late August afternoon, when she was getting ready to meet a friend at a coffee shop where they'd discuss the misbehavior of family members as they slurped on dessert, Majka issued Dido a warning.
"May Allah be my witness, if I find anything… a n y t h i n g… out of place when I return, I'll call Halida myself! "  She then took a mental picture of the apartment to remember its condition, and left.
Dido stood at attention during the tirade, but as the doors closed behind Majka, he pulled out his striped three-piece suit. He dressed fast and ever faster disappeared in the alley of buildings and willows that divided their home from the market.
He believed in a balance, that his old age would reward him with something, and curse him with something else. The reward he found in his watermelons. Alas he was cursed twice, once with Majka and then again with Mrs. Halida, two women who maximally minimized everything he enjoyed.
Take Majka, for example, and her Saturday cleaning derbies during which she took revenge on Dido for that week's misdemeanors. She'd get up before dawn, because why wait until 9 when she could vacuum at 6 am just as well? And still have time (while Dido bemoaned fate at the kitchen table) to send him subliminal telegrams as she stepped barefoot onto ridged radiators to wash the windows: "If I fall STOP You'll be sorry STOP Bastard STOP."
She kept everything impeccable, and suffered ulcers if a spoon was out of place. The immaculate furniture in their home sat under multihued covers for so long no one remembered its original color. Only the electronics were in the nude, but just while in use. At all other times they suffered in hefty cabinets, violated with crocheted tablecloths on which stood framed photographs of smiling relatives.
The happiest room in their place belonged to Dido. This room's windows faced two sides so it was always drenched in light. There was a big wall held hostage by a floor-to-ceiling bookcase. There was also a green sofa on which he slept, and next to it a yellow coffee table overflowing with books and insulin. It was Dido's few squared meters of peace, and while Majka did spare it from her full regimen, this concession was volatile and she could change her mind at any moment.
But while Dido navigated through life with Majka the way friends who are too old to know better do, he was petrified of Mrs. Halida.
Except for Majka, everyone was.
Oh the colossal Mrs. H!
From afar, she seemed innocent enough. Four grown children. One dead husband. She lived alone in the apartment below Dido and Majka's.
But something about her inspired a different degree of trepidation in each neighbor. Any mention of her, and like a set of boiling teapots they bubbled over into a worried discussion. They tiptoed around her door, and did whatever they could to avoid her. Yet there she was at any sign of a break or a leak, gliding on her cane out of the ether. Each roll of her skin, each gram of fat, her vertical stature… the grouping of these characteristics would disable any other body, but it only infused Mrs. H with power and agility.
It was as if Roald Dahl himself invented her.
It was an unspoken agreement that Majka held Dido and other neighbors in line, and in turn Mrs. Halida spared their lives.
But that late August afternoon, all Dido could think about was getting to the market.
Once at the market he walked by the rows of Eden's plucked children: the diminutive flower Camellias, seas of cabbage, bananas and pears... He stepped slowly but incessantly. He passed Gypsies who lined the sidewalks selling hand-watches they promised unsuspecting owners to fix, in a door-to-door operation completed earlier. He gave a few coins to the needy, and talked to the sellers. He knew old Sabina who grew succulent peppers in the front yard, whose arthritis gave her maybe another season of gardening. He knew Ivan who with his eggplants put his grandson Marko through university. Likewise, the sellers knew Dido's good humor and sharp mind.
Dido stopped fully only when he reached the watermelons and gazed at them with lust. He picked a couple of smaller ones and tossed them to the sky, catching each just moments before it reached the ground. He approximated the diameters, and compared each meridian to ensure that the green parallels were far apart yet close enough in shade.
Rotating watermelons between his arms, Dido orated to a growing audience of shoppers. He pointed to the good melons and eschewed the unlucky ones, those plucked too soon, or not soon enough. He shared his temperature vs. size formula for the most delicious gulps - different for each watermelon - and samurai'd angles for a perfect slice.
He knew from spending ten seconds with a watermelon more than some know after spending years with a lover. He had two university degrees, he spoke six languages, he raised four children, he was the kid that walked seven kilometers to school in deep winter… but the watermelon talent was, Dido thought, his most excellent achievement.
Without his watermelons, Dido was just another man.
*
For his excellent achievement, Dido brought home two watermelons for the price of one each and every time. So that late August afternoon, upon returning from the market he left the watermelons to cool off in the bathtub under a faucet of massive pressure that sprouted the coldest water in the city. Meanwhile he stripped down to his huge, white briefs and rubbed himself in olive oil. Then, this summer tourist without sea finally sprawled on the balcony to sunbathe forgetting completely about the faucet he forgot to close.
An hour later, when the sound of the doorbell woke Dido up, he remembered the watermelons in the tub, he remembered a faucet he forgot to close, and he remembered Mrs. Halida's wrath. Believing it was she at the front door, he frantically grabbed the newspapers around him, and started to sit them on the floor in a useless effort to collect water.
But it was Majka on the other side of the apartment door, and she remembered one thing only listening to Dido wrestle with the newspapers: he had a tendency – no, history – of flooding. She looked around for the neighbors, unlocked the door, and pulled herself inside with such speed that relatively little water escaped the apartment - a miracle considering this flood was the worst one yet.
There was water and then more water in the apartment, as far as the eye could see. It deluged the kitchen and subdued the hallway. The bathroom was already a submarine. Couches and chairs were in water up to their knees, while the kitchen table floated all the way to Dido's room.
Unconstrained for the first time, the furniture moved happily to different rooms. Some even reached the balcony to sunbathe topless. Big brown couch from the living room did a somersault, got stuck and now brazenly propped up its behind in the air. Its loyal companions, side chairs, armchairs, and the coffee table, all danced on top of the covers that subdued them for years. Those crocheted tablecloths, quilts and blankets now deservedly drowned under the pressure. Persian carpets disappeared like the treasure from the Titanic, while wet to the bone, Chubby the dog, climbed up on the highest ottoman and shook like a cat.
"You will be the end of me!" Majka hissed at Dido who at that moment swam by her on his way to the bathroom. After he turned the faucet off the next mission was to save the melons from Majka's wrath. But as he reached for them on one end of the tub, they playfully snorkeled to the other oblivious to the danger they were in. The chase went on until Majka grabbed both in one swift move, and it was in that exact moment that the doorbell rang.
"You," Majka turned to Dido "put a robe on and answer the door, and pray it's not Halida. She will kill you. Her walls must be dripping with water right now. And these," she pointed to the watermelons, "are going to the garbage."
"But" Dido protested "why not save them? The apartment's already flooded."
She looked at him, incredulously "Jesi li ti normalan? Are you crazy? Just… just go!"
Terrified, Dido expelled quick, staccato breaths of panic until he gathered enough courage to open the apartment doors. The water beat against him and the door, and some of it escaped down the building stairs. To his relief the visitor was their oldest son E. Before Dido had time to recommend that tomorrow may be better for visiting, E assessed the situation, removed his bowtie and grabbed the first bucket he could find requesting only that there be "a glass of little something" after the job was done.
But they had not even closed the door behind E when the doorbell rang again, this time sounding louder than before. For Dido, this was the third mild heart attack of the day. He swam to a corner in the hallway and shook with terror, leaving Majka with no choice but to open the door herself. She inhaled, straightened out her clothes as if that could somehow evaporate the flood, and opened the door ever so slightly.
This time it was the youngest son N, and his fiancé. N insisted they swim in for a moment. It almost went well, but then the fiancé tripped over a bucket and twisted her ankle. Not at all impressed with her future family, she grabbed N to lift herself up and fell again. Majka uttered a defeated  "Ah!" The wedding planned in September was not happening.
But Dido was too worried about the present to worry about September. He couldn't see the watermelons anywhere, but at least he had a slight chance to survive. To get there, the water had to be completely cleaned up before Mrs. Halida's inevitable arrival, whose stature grew into a demon in his mind. He quickly came up with a plan, passed out buckets and containers for water collection, and put everyone to work in a different room.
Soon they gained a rhythm of disciplined navy officers. They poured the water down sinks, chased it through the balcony, and onto the grass, rolled up the wet carpets and unbundled them on the windows to dry. After a while the water had stopped growing, and the long awaited dry land was finally starting to show. The furniture rested and shivered while wood-floors glistened. Even the baptized fiancé smiled, and Majka started to think that September might, after all, end up being a nice month.
Majka's mood changed for the better with each thing that dried until at last she turned to Dido, "What are you standing there for? They're on the balcony." She hadn't destroyed the watermelons after all.
But then the doorbell sounded for the last time that day. Everyone else already arrived, so it couldn't have been anyone else but Mrs. H. Dido ran a quick circle through the apartment and straightened the last few last details before opening the apartment door.
Indeed it was the terrifying Mrs. Halida.
"Is this a bad time?" she asked him, nose to nose.
"Never!" Dido said too quickly, then slowed down. "Of course not. Why?"
She continued to stare at him, and so out of nervousness Dido spoke again. "Will you join us?"
In lieu of an answer, she leaned her hips into him and glided in. Instead of going for the kitchen where she and Majka usually met, she continued on through the hallway casting detective glances around her. She walked from room to room, inspecting walls and furniture like a hawk. Dido ran around her wiping last remnants of perspiration on door handles and window seals. She finally opened the bathroom door, turned on the light, and gazed inside for minutes that were a century long.
She finally turned to him. "Of course I'll join. I haven't tasted a watermelon in a long time."
She knew. Yet he was still alive. Dido's posture came back, and clouds of worry were lifted from his regal brown eyes as he followed her to the balcony.
There, on a small picnic table stood two most scrumptious, succulent, and smooth watermelons, catalysts of the events prior. Around that sacrificial altar sat the family now joined by Dido and Mrs. H. Little did the present company know that it was the last summer they would spend in peace, and that it was the last summer for both Dido and Mrs. Halida.
No, at that moment in the time, as they sat around the picnic table, they were relaxed.
"Dear neighbor," Mrs. Halida called on Dido "You really know how to pick a good watermelon."
"What can I do, Mrs. Halida? What can I do, I was destined to!"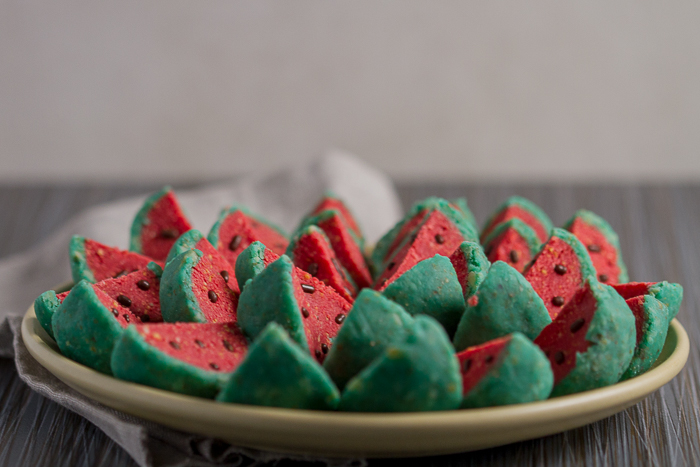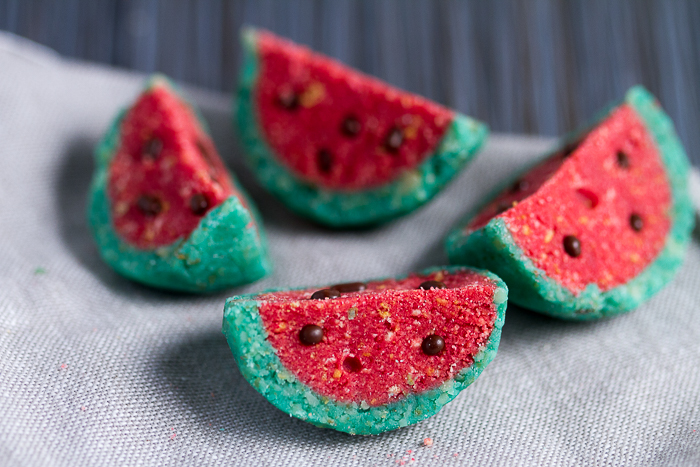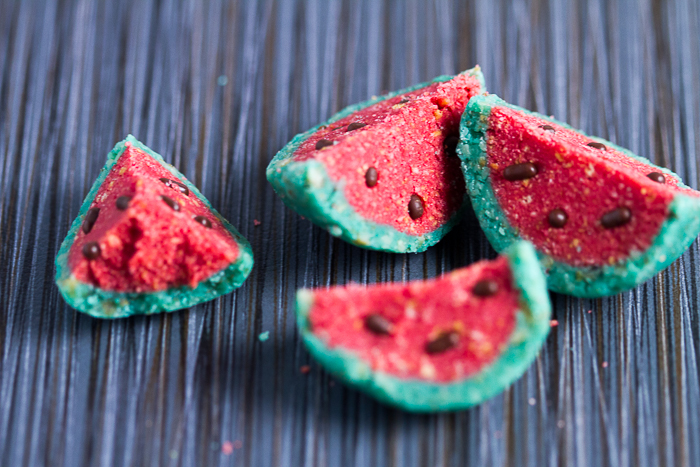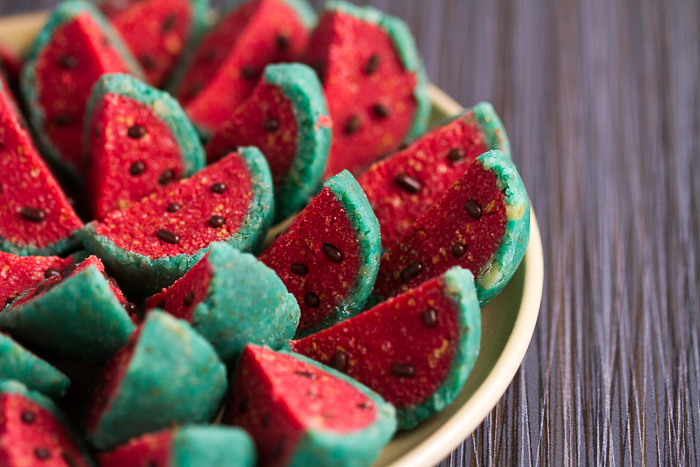 SIMILAR RECIPES ON BLB
If you're making a few batches of cookies, in addition to today's watermelons also try the fig truffles with rum. I cannot believe how the combination of figs and rum mates so perfectly. Did I mention these are cased in almonds?
Wanna go all out with flavors you'd never think of putting together? How about the no bake apricot walnut raisin cookie boats? Get your family around the table and start mixing the ingredients together.
And last but not least as you're already investing the time to make quality sweets why not go for a truly first-rate dessert? Mama's chocolate and walnut cake has been in our family for generations. I've asked around and it looks like most families around here have a similar recipe for this classic Balkan walnut cake. It's rich, flavorful and almost too heavy with flavor. The kind that leaves you full and satisfied for hours.
Print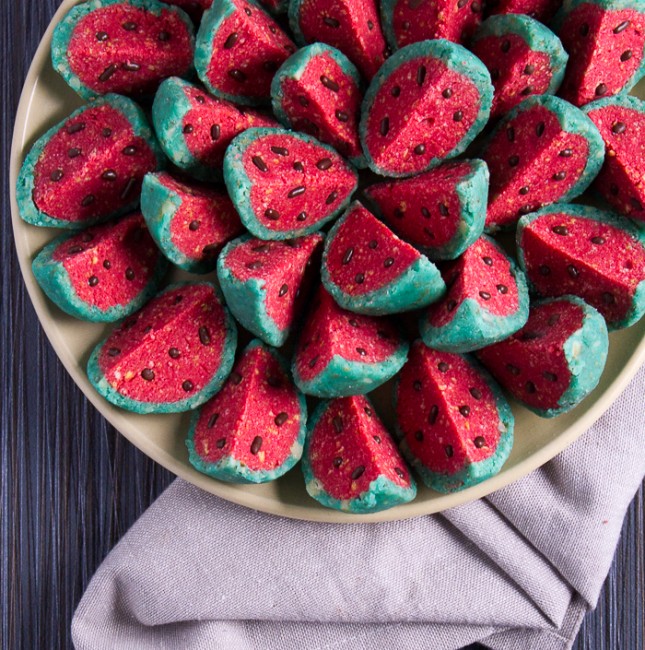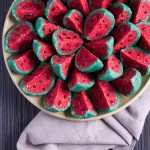 Watermelon Shaped Bites
Author:

Balkan Lunch Box

Prep Time:

80 mins

Total Time:

1 hour 20 mins

Yield:

20

1

x

Category:

Dessert
---
Description
When mom made these watermelon shaped bites for the first time, I was delighted at their vibrancy. But it was when I tasted them that I was really astonished. Walnut overtones combined with chocolate dots, and buttery dough goodness really took me on a trip of tastes. Yum!
---
Red part:

2.8 ounces

butter (room temperature)

2.8 ounces

confectioner's sugar

5.3 ounces

ground biscuit (Petit Beurre or similar)

2

hard boiled yolks

1 tablespoon

rum or vanilla extract

1 tablespoon

red food coloring (strawberry or similar)
Green part:

5.2 ounces

ground walnuts

5.2 ounces

confectioner's sugar

4

-

6

tablespoons milk

1 tablespoon

green food coloring (mint or similar)
Topping:

1

-

2

tablespoons chocolate sprinkles
*Wear Latex gloves (highly recommended)
---
Instructions
Red part:
In a large mixing bowl beat butter with a fork until smooth. Add yolks and continue mixing until well integrated. Add confectioner's sugar and combine well. Add biscuit and continue mixing. Add rum/ vanilla extract and mix again. Finally, add food coloring and continue mixing with your hands until the dough is evenly red.
Divide mixture into ten equal pieces and shape into little balls. Place on a plate and leave in the freezer until you make the green part.
Green part:
In a large mixing bowl combine ground walnuts and confectioner's sugar. Mix well. Add milk, and mix again. Add food coloring and combine the dough well with your hands until it's evenly green.
Divide into ten equal parts and flatten each into a thin round disk.
Combining:
Take one ball and place onto one green disk. Roll with your hands until the green covers the red and you have a small, green ball. Continue until you have made all ten.
Return to freezer for 15 minutes.
Take out and cut each ball into quarters. Decorate with chocolate sprinkles.
Leave covered outside at room temperature overnight. Transfer to a cookie jar or a box. Keep in a cool place.
Notes
This amount will yield 40 pieces. Serving size is about 2.