The most tender and soft chicken pie infused with homemade chicken broth. First the chicken is brought to boil until it gives its all to the broth, and then shredded. Shredded pieces are used in between crunchy phyllo (or tortillas even), which are furthermore softened with the chicken broth. You'll love this one, I promise!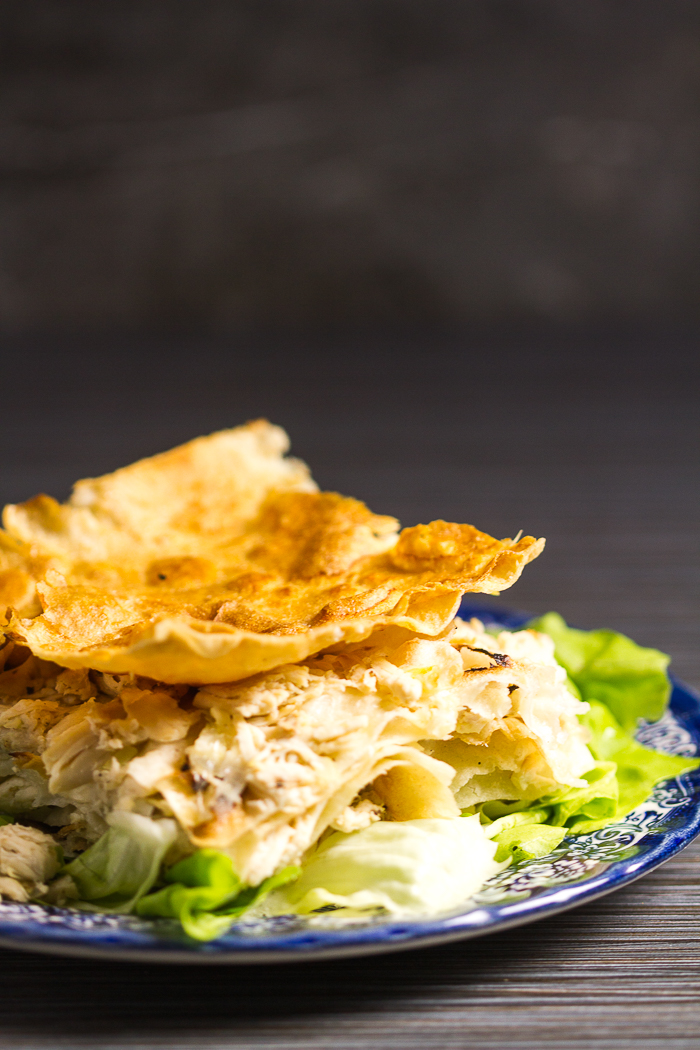 No article for today, just enjoy this wonderful recipe!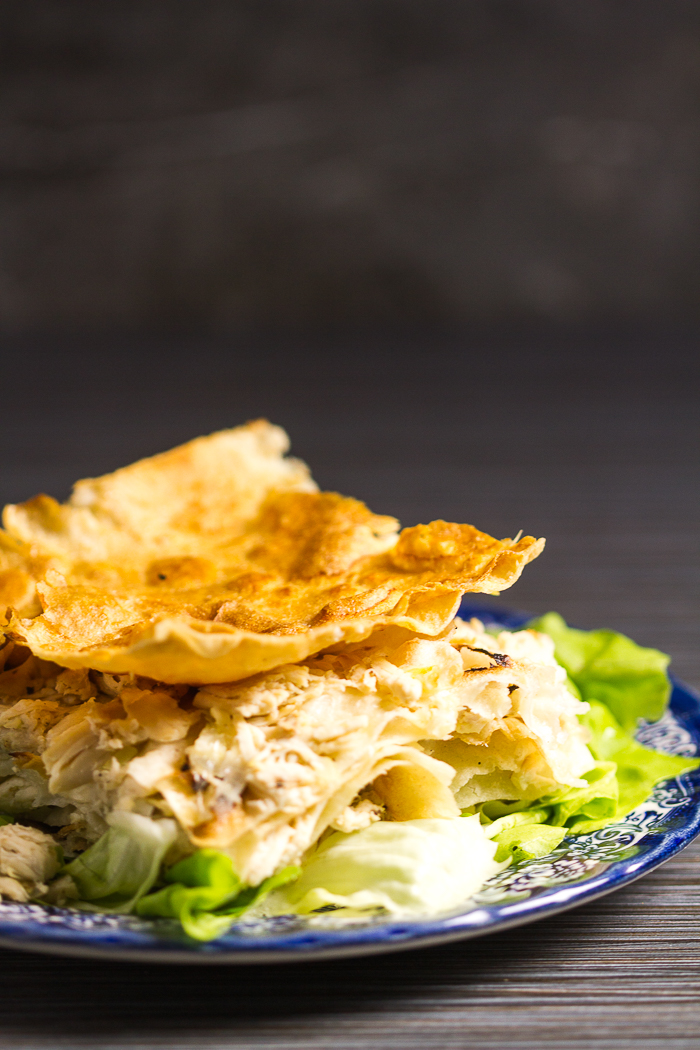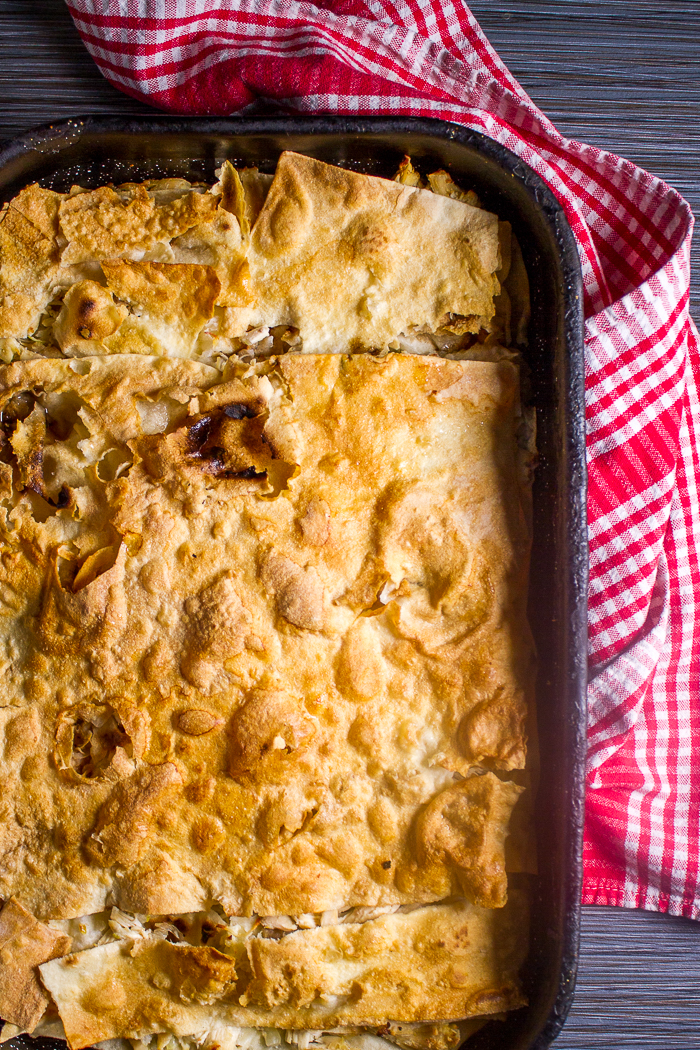 MORE CHICKEN RECIPES ON BALKAN LUNCH BOX
I can't imagine life without soup. The most basic soup of all, the most comforting, the one that heals best when we're sick or when we're sad, the one books are dedicated to, is of course the chicken soup. Instead of regular noodles, this one is made with delicious grits noodles. These melt-in-your-mouth, soft-yet-gritty noodles and slurp-worthy chicken broth belong together.
If you haven't seen or heard of BLB's chicken "bump" pie you really don't know what you've been missing. Easy to make dough/ batter, garnished with huge chicken pieces, baked and later smothered with sour or heavy cream. Can you say heaven? Although I was certain this amount of crazy only happened in the Balkans, I heard As of lately I heard this type of batter is called "Yorkshire pudding," except they make it with sausages. I won't blame you whichever way you choose to make it.
And of course there is the basic chicken and rice bake. Do you know how to make this plain chicken recipe? We're not getting sophisticated here at all, this is as basic as it gets.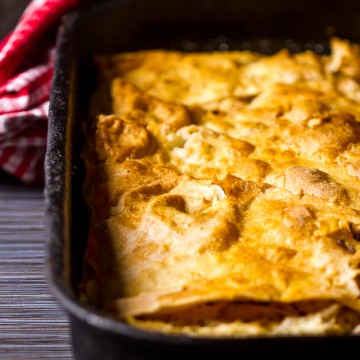 Chicken Pie
Ingredients
1

whole chicken

about 2 pounds

2

tablespoons

salt

1

onion

large, minced

1

tablespoon

ground pepper

1

package hard phyllo

or 12-14 flour tortillas

Oil

Chicken broth
Instructions
Fill a deep pot with water ⅔ of the way, and place the chicken inside. Season with 1 tablespoon salt, cover and bring to boil on high. Lower temperature to medium and cook for 45 minutes or so.

Remove off heat.

Take the chicken out, but keep the broth. Take the skin off the chicken, separate meat from the bone and shred it.

In a large mixing bowl, combine shredded chicken, onion, 1 tablespoon salt and and pepper. Mix well. Heat oven to 400°F (200°C).

(If using tortillas instead of hard phyllo, bake them for 5-7 minutes on medium rack, until they are tough. Take the tortillas out but keep the oven on.)

Oil a baking pan (one used was approximately 11x16 inches or 40x27cm). Make one layer from hard phyllo or hard tortillas (you may have to break it in parts to make it fit). Use a ladle to pour a couple of scoops of chicken broth onto the layer. Spread a few handfuls of shredded chicken filling over it. Cover with another layer of phyllo/ hard tortillas, and repeat.

Repeat until you're out of ingredients, making sure the pie has phyllo/ tortillas on top. Pour a few more scoops of broth on top and place in the oven.

Bake 20 minutes on 400°F (200°C), then lower to 360°F (180°C) and bake another 15 to 18 minutes. During baking, moisten the pie with a few more scoops of the broth once or twice.

Take out and cover with a kitchen towel. Let cool off for 15 to 20 minutes.