Creamy Chicken and Vegetable Pasta Sauce is EXACTLY what you need on a night like this! The creamiest and dreamiest sauce on the blog yet, chockfull of veggies (frozen, fresh or canned, the choice is yours), infused with yellow cheese melted to perfection. Did I mention it's heavily accented with perfect chicken chunks simmered on butter?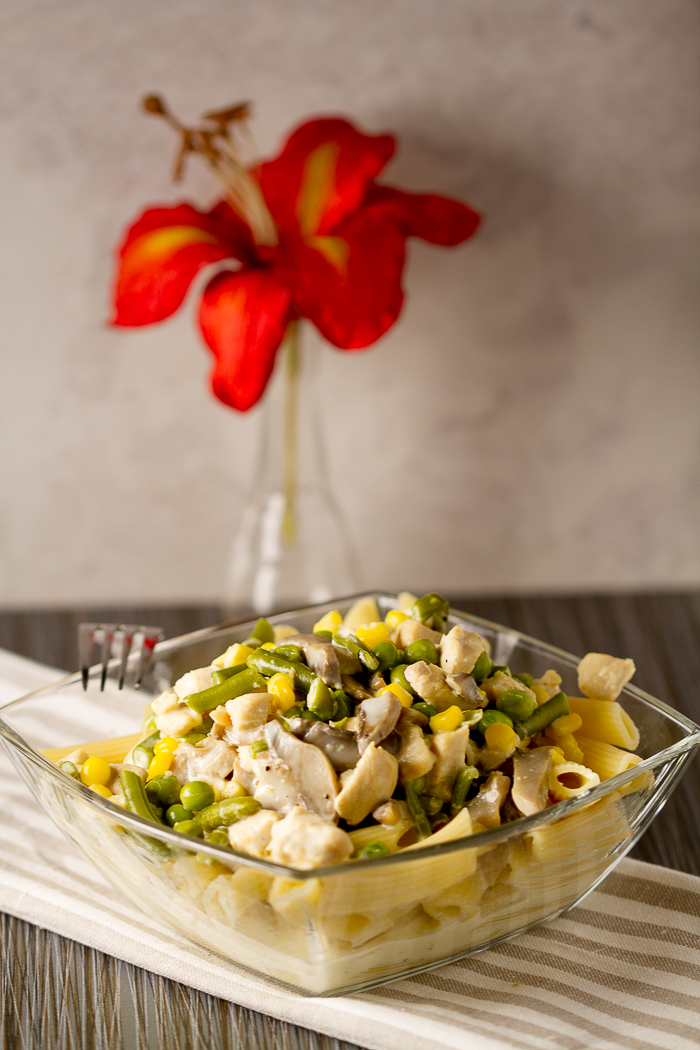 (BOSANSKI)
Only recently did I finally come understand the importance of heavy cream in sauces. (Thus the blog proliferation of heavy cream inspired recipes. Remember the creamy pasta vegetable sauce? What about the chicken sausage sauce also great over pasta? You can eat these with whatever else tickles your fancy such as rice, polenta, quinoa...)
This is surprising because I love creaminess. It simply never occurred to me to find out what makes them rich and thick. I mean what did I think these were infused with for such perfect texture?
But, when I realized the main culprit behind the creaminess in today's divine Creamy Chicken and Vegetable Pasta Sauce, I was apprehensive. I don't handle milk and some of its products well. Not fully lactose intolerant mind you, but intolerant enough.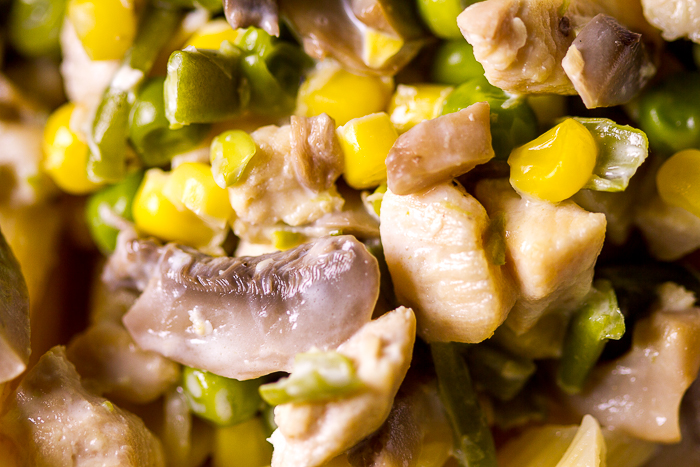 Milk, for example. In its purest form it's been my enemy for as long as I can remember. And so to use the milk based, heavy cream (which it turns out is the fat skimmed off milk) scared me. Until I realized I've been eating creamy sauces like this one for ages!
We're talking about the very creamy, sometimes thick meatball sauce, other vegetable sauces, creamy chicken, creamy shrimp, even soups such as the old school favorite, cream of pumpkin. Anything cream on here, has heavy cream base.
And these sauces haven't been a big problem for me at all.
HOW TO MAKE THIS CREAMY CHICKEN AND VEGETABLE SAUCE?
And yes, this chicken and veggie sauce really is as velvety, and creamy as advertised! You won't have any trouble making it. We've made a video (below), but if you're someone who prefers to read about it, here it is in a nutshell.
First you'll warm up the butter and simmer chicken on it with as little or as much seasonings as you'd like. For this sauce the chicken is only lightly salted and peppered due to broth that comes later. Just as the chicken starts releasing its juices there come the mushrooms.
As these two soften up together, you'll top them off with corn, green beans (cut into 2 inch chunks), and finish it off with corn kettles. There will be some chicken broth pouring ahead and nice, 20 min simmer. (Simmering time will depend on the type of veggies you are using for the sauce. Frozen and canned take a little less time than the fresh.)
Finally, what would the Creamy Chicken and Pasta Vegetable Sauce be like without the creamy part? This is the time when you'll add heavy cream and a yellow cheese, diced. You can use cheese Trappist if you can find it. Otherwise good old Edam or (non-smoked) Gouda will do the trick just fine.
Oh, and what would a recipe for vegetable and chicken pasta sauce be without pasta? So don't forget to get some carbs of your choice and cook them up along with the sauce. Or if you're one of those types that eats healthier (kudos!), there's always quinoa or brown rice.
Bon appetit!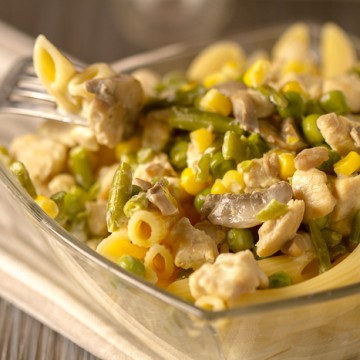 Frozen Mixed Vegetables with Creamy Chicken and Edam Cheese
Ingredients
2

tablespoons

butter

11

ounces

chicken breast

diced finely

Salt and pepper to taste

7

ounces

mushrooms

canned or fresh, diced

3.5

ounces

green beans

canned, frozen or fresh, diced into 1-2 inch pieces

3.5

ounces

corn kernels

canned, frozen or fresh

3.5

ounces

peas

canned, frozen or fresh

11

ounces

chicken broth

11

ounces

heavy cream

2

ounces

yellow cheese

edam or gauda, diced

1

box of pasta of choice for 4 people
Instructions
In a deep pan, heat butter on low for 1 minute. Add chicken and raise temperature to medium high. Season to taste and simmer with frequent stirring for 5 minutes.

Add mushrooms and simmer with frequent stirring for 2 minutes.

Add green beans, corn and peas and continue stirring and simmering for 5 minutes.

Add chicken broth and cover. Simmer for 20 minutes.

(Make pasta based on box directions.)

Add heavy cream and cheese to the sauce. Stir and simmer until cheese melts or about 2 minutes. Remove off heat and serve over pasta.