Flawlessly roasted, tender red bull's horn peppers in heavy cream-plus-cheese white sauce... This peppers sauce recipe is achieved by first roasting peppers (you can use bell peppers instead of Italian bull horn peppers) to a soft perfection, and then simmered in heavy cream, garlic and cheese. Does there exist a more perfect side dish?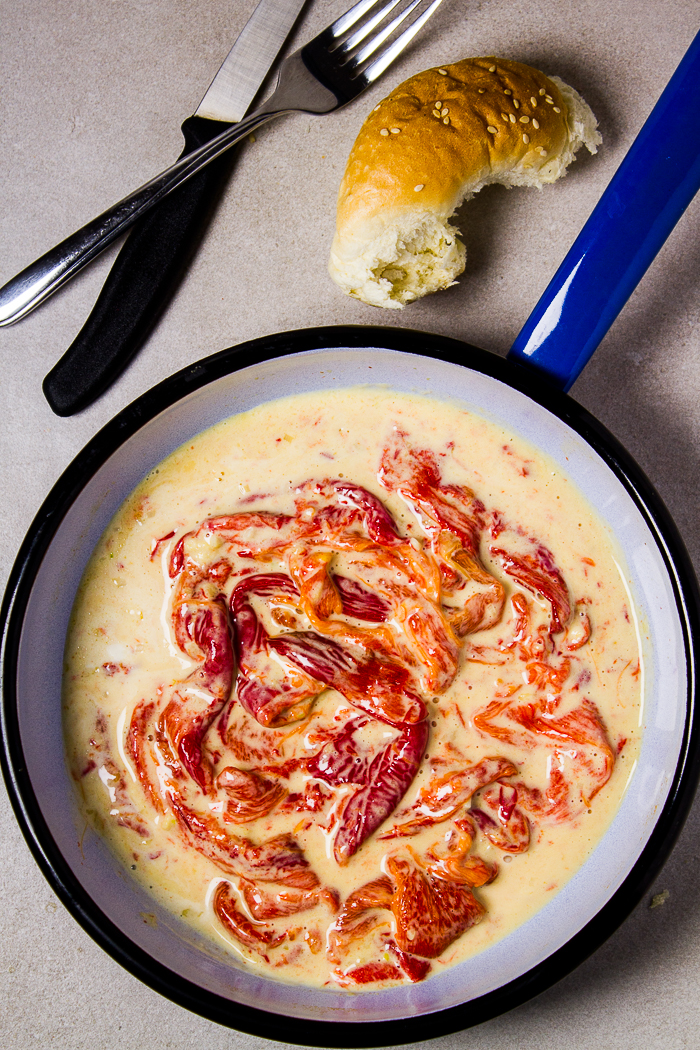 A couple of nights ago I had these Roasted Red Peppers in White Sauce for dinner. Sure, these bull's horn peppers (you can easily exchange them with red bell peppers) in cheese and heavy cream are just a simple and easy, vegetarian side dish. (Relatively fast to make too if you don't count the time it takes to roast the peppers. Although roasting takes only 20-25 minutes anyway.)
But to me this peppers sauce was creamy enough, cheesy enough, and hearty enough to become my entire meal that night.
Aleksandra got the recipe from one of her friend's. She wanted all of us to try it out. Unfortunately for everyone else, I was the fastest. Before they could sit down and get a plate, my darling family had the pleasure of watching me slurp up most of the cheesy and creamy white sauce, and the softest, reddest, most tender bulls horn peppers you can imagine.  Like I said, just make this a red bell peppers recipe if you can't find these pointy, long, sweet ones from Italy and the Balkans.
(Here's a fun fact for you. Did you know red bell peppers are the same as yellow bell peppers, that are the same as green bell peppers? They're just at a different state of ripeness, that's all.)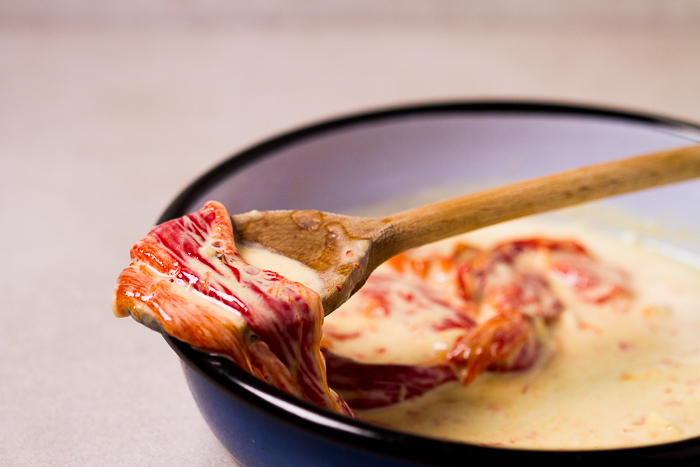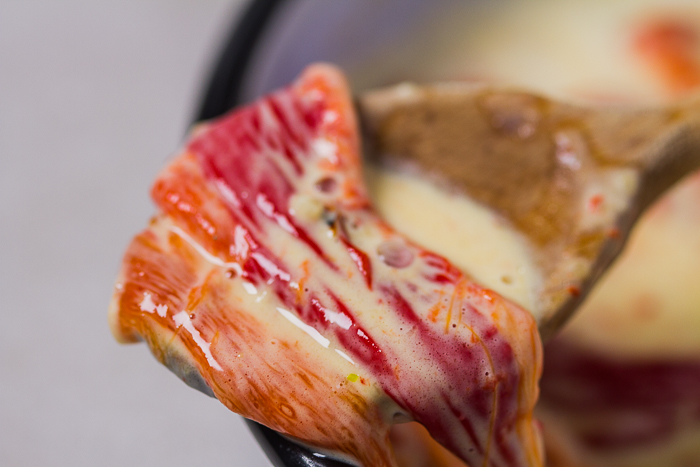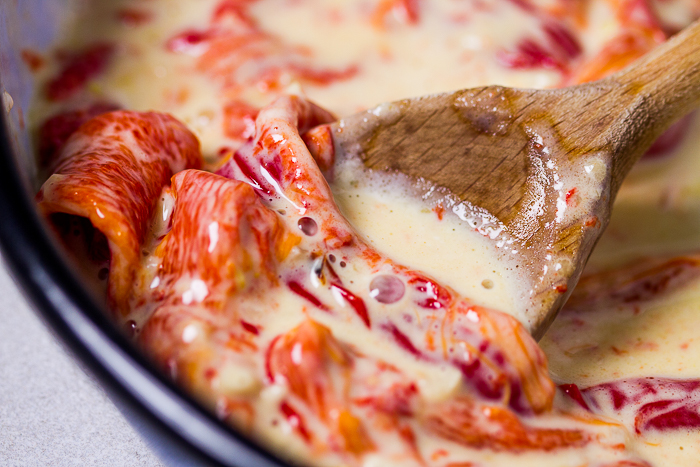 My Rule Of 3... OK 4
I have a rule about testing recipes for the blog.
Each recipe has to be prepared at least 3, often 4 times before they get a spot on the blog. (Many, many recipes on the blog are family ones tested hundreds of times and through generations.) Why do I demand this? I want to share the best with you. You value your time, and I value it too.  If I share a recipe with you I want you to be able to replicate it.
Scratch that. I want you to come out with a dish that's better than mine.
Most of you are experienced cooks, I get it. You don't need much direction. Many are with families of your own, and have this cooking thing down. You may even read through a recipe and wonder why I included so many details. You may think a step is too obvious to be pointed out.
But I also know there is a group of you that is not as confident. A group of you that is the beginning stages of this incredibly satisfying, frustrating, and rewarding love affair.  You who haven't had the time, or the inclination, or the resources until now. Now, when you're finally giving it your all, you sometimes aren't getting that love back. I haven't forgotten you. Because I was you.
Cooking did not come naturally to me like it did to Aleksandra and mom. Oh how I wish it did! But it took a long time for me to memorize even simplest of tips. Like the one about roasting peppers and other vegetables is best accomplished at high temperatures. Or that each pepper is different when it comes to peeling. And that it's best to keep roasted peppers in a paper bag for a little bit right after roasting as it makes that same peeling easier.
These are little things you pick up after a while. And it's those little things that allowed me to eat this white sauce, and these peppers only once, and decide the recipe was blog ready.
Why?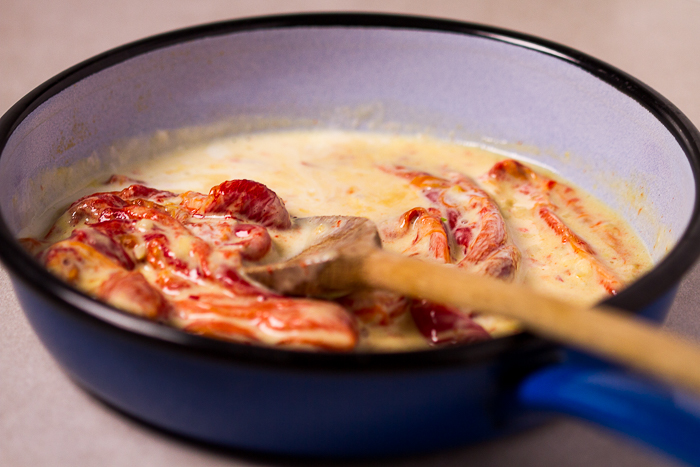 Roasted Red Peppers in White Sauce Done to Perfection
These roasted red peppers in white sauce are a sum of straightforward steps and tastes. It was immediately obvious it didn't need a second, or a third preparation to deserve being on the blog.
Let's get back to why.
Firstly because of roasted peppers. As long as you pay attention to them while roasting, bull's horn and bell peppers come out perfectly each time. Hike up the temperature (I go as high as 485°f/ 250°c, but watch you oven), and pay attention to them. Flip them around halfway through. They should be perfectly roasted in about 20 to 25 minutes. You'll notice a few black char blotches on the skin. The skin will wrinkle up and rise in certain spots. Take them out and leave to cool down for 10-20 minutes, and then peel. (Like mentioned, to get peel roasted red peppers you can even place them in a bag and close it for 10-15 minutes. This makes peeling easier.)
If you've been to this blog at least once, you'll recognize these red peppers have a special place on here.  They're all over the blog. They're in ajvar, that famous Balkan spread  you fall in love with if you taste it even once. (Seriously, I have never met a person who knew about ajvar and did not love it. Not like it. Love it!) There is a similar tomato and pepper spread known as pindjur. One could argue it's as good as ajvar itself.
But sometimes, I like red peppers just like that, roasted, dipped in olive oil, sprinkled with a little garlic.
Secondly, there is something about this pepper white sauce.
I've done several heavy cream inspired sauces on the blog. You may remember the very simple pasta with veggies in white sauce. Most of the base for this sauce was heavy cream along with basic seasonings. Heavy cream really lays on the thickness, and makes even the most boring of veggies taste deeper and more flavorful. Those of you who are a little bit more meat oriented may remember the typical Balkan meatballs in, yet again, heavy cream based white sauce. In short, I had enough experience with this type of sauce to know it would bring a deeper dimension to regular roasted peppers.
So combine the first with the second, add a little bit of cheese, and does it get any better?
I think not.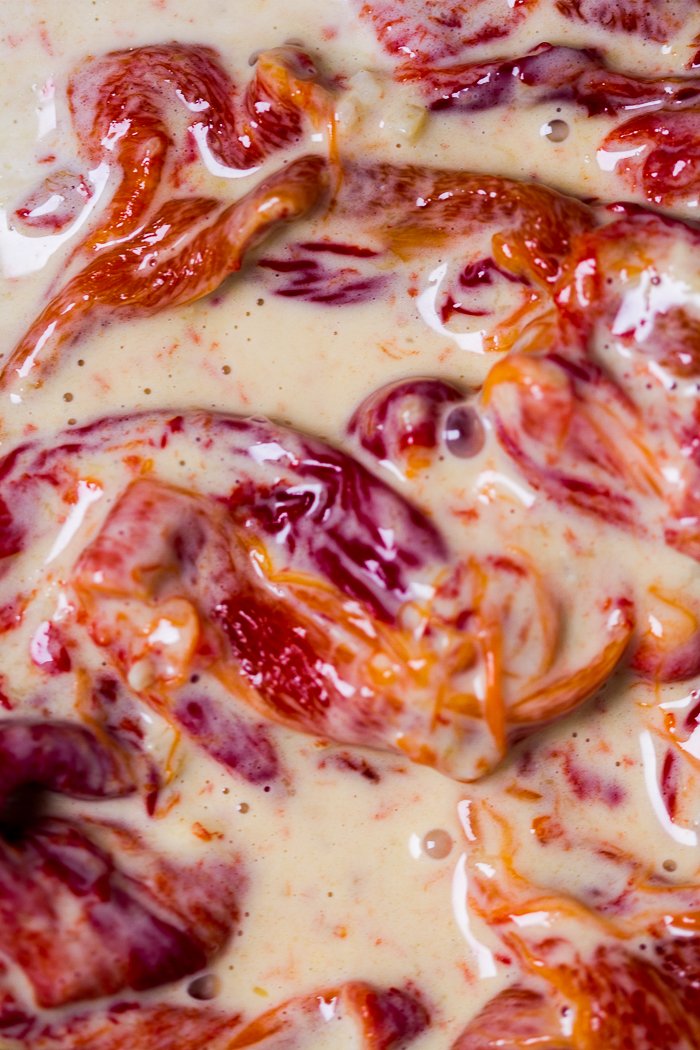 Print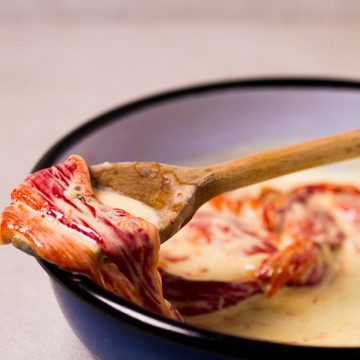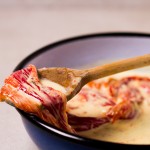 Roasted Red Peppers in White Sauce
Author:

Balkan Lunch Box

Cook Time:

50 mins

Total Time:

50 mins

Yield:

4

1

x

Category:

Side Dish
---
2

pounds red bull horn's peppers (or red bell peppers, washed, cored and seeded)

2 tablespoons

butter

3

garlic cloves (minced)

5 ounces

heavy cream

1.5 ounces

Edam cheese (or Trappist, grated)

½ teaspoon

salt
---
Instructions
Heat oven to 485°F.
Cover a pan sheet with foil and place peppers on it leaving a little bit of space in between. Roast for a total of 20 to 25 minutes. Check a couple of times, and turn peppers around halfway through. Take out when you notice the skin wrinkling, and the peppers charring a bit.
Place peppers in a bag and close it for 10-15 minutes. Peel and cut into 2-3 inch strips.
In a deep pan, heat up butter on medium temperature. Add garlic and simmer and stir for a minute. Add heavy cream and salt and continue simmering and stirring a few more minutes. Add cheese and again simmer and stir for a couple of minutes. At the end add peppers, stir, simmer and bring to a boil. Remove off heat and serve warm.
---