Čimbur, or poached eggs in ground meat (lamb or beef), is to Bosnia what shakshuka is to North Africa. This versatile dish varies across regions and can include cheese and veggies too. However, the meat kind is the tastiest yet. Shall we?
Jump to:
Background
Although eggs are usually considered a breakfast food in the US, in the Balkans eggs are often served for breakfast, lunch, and dinner. As an example, today we give you čimbur, a traditional Bosnian egg dish.
Like most Balkan dishes, the recipe for čimbur varies from region to region. While the egg is the main ingredient, it can also include cheese, meat, vegetables, or a mix of them.
(One famous cheese and egg type of čimbur even has its own event in the town of Zenica, called 'Čimburijada.')
The version we are doing today consists of eggs poached on a bed of perfectly seasoned ground beef. If you swap meat for tomatoes, čimbur made this way most closely resembles the North African shakshuka.
We like the meat version of čimbur the most because it's hearty and simple to do. (And in our opinion, tastiest!)
Reasons To ❤️ This Recipe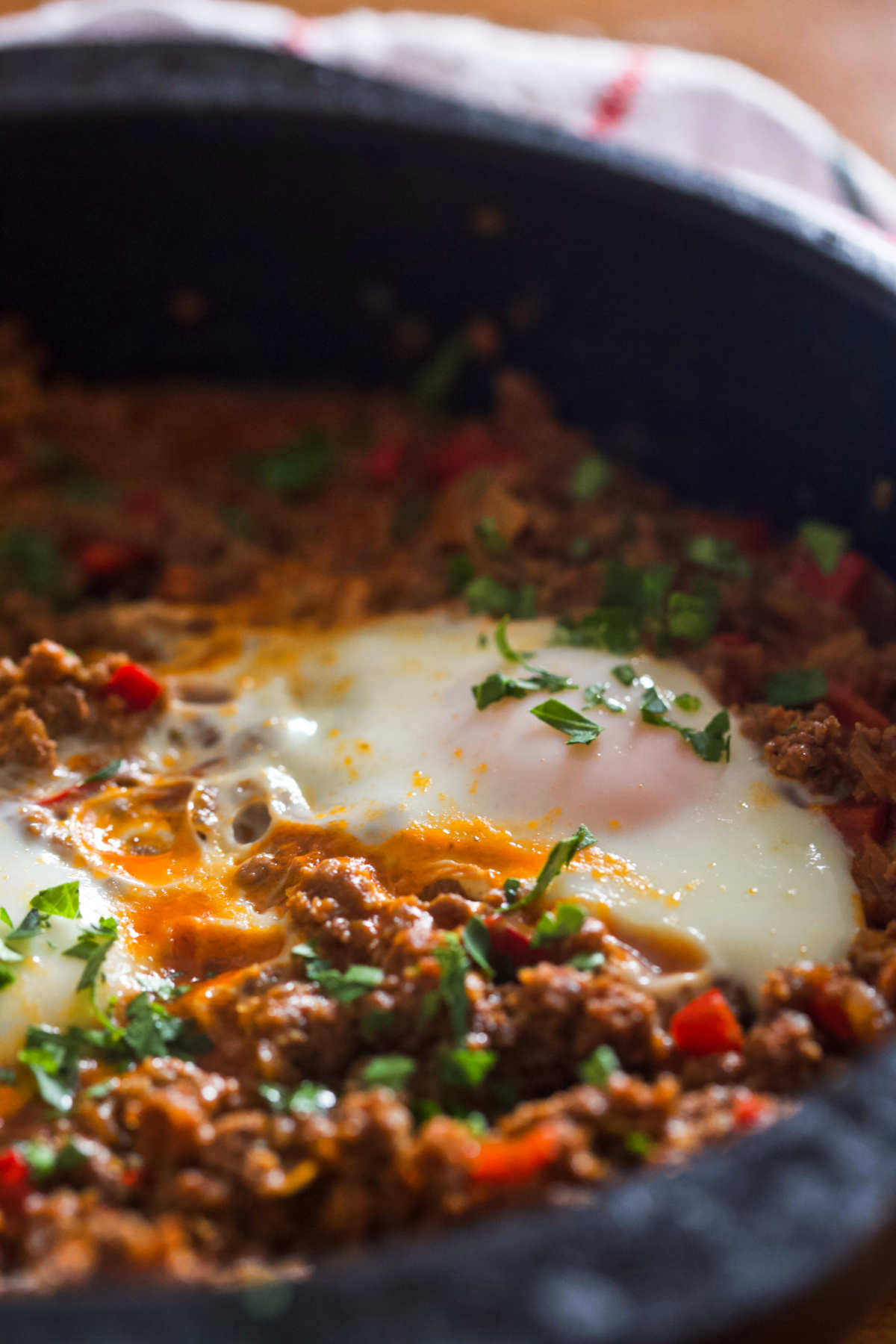 Poached eggs over ground beef is a brand-new recipe with ingredients you already have on hand!
The recipe is versatile: you can use beef, lamb, chicken, or turkey.
Poaching eggs has never been easier.
Ingredients
Main Ingredients:
Onion and garlic: while you can dice them in at the same time, we find the best flavor comes from adding garlic in later. Additionally, adding a pinch of sugar to onions while they cook brings out the onion flavor in the best way.
Oil and butter: while you can use one or the other, we find that the combo of vegetable oil and butter is the best choice. Substitute oil with avocado, coconut, or sunflower oils. Meanwhile, lard and ghee are good substitutions for butter.
Ground meat: traditionally ground lamb was the preferred meat for this dish. However, beef and pork are great substitutes. You can use turkey and chicken also. Do not overcook the meat. (You may have to use a little bit more broth or tomato sauce for the poultry.)
Eggs: chicken eggs are best. Substitute: quail eggs. Whichever eggs you're using, adjust the timing so you don't overcook them. We find 5-7 minutes to be plenty.
Herbs and seasonings: you can make your own mix. We prefer simple salt and pepper to taste. Paprika is also a good choice, as are Italian seasonings.
Optional Ingredients:
Pepper: bell peppers are the best choices.
Tomatoes: cut in one or two tomatoes for a more shakshuka flavor.
Cheese: grate it in at the very end, after the eggs are ready.
Broth: a couple of ounces of vegetable or beef broth is a great option to prevent the meat from overcooking.
Instructions
Here are quick instructions for our poached eggs and ground beef.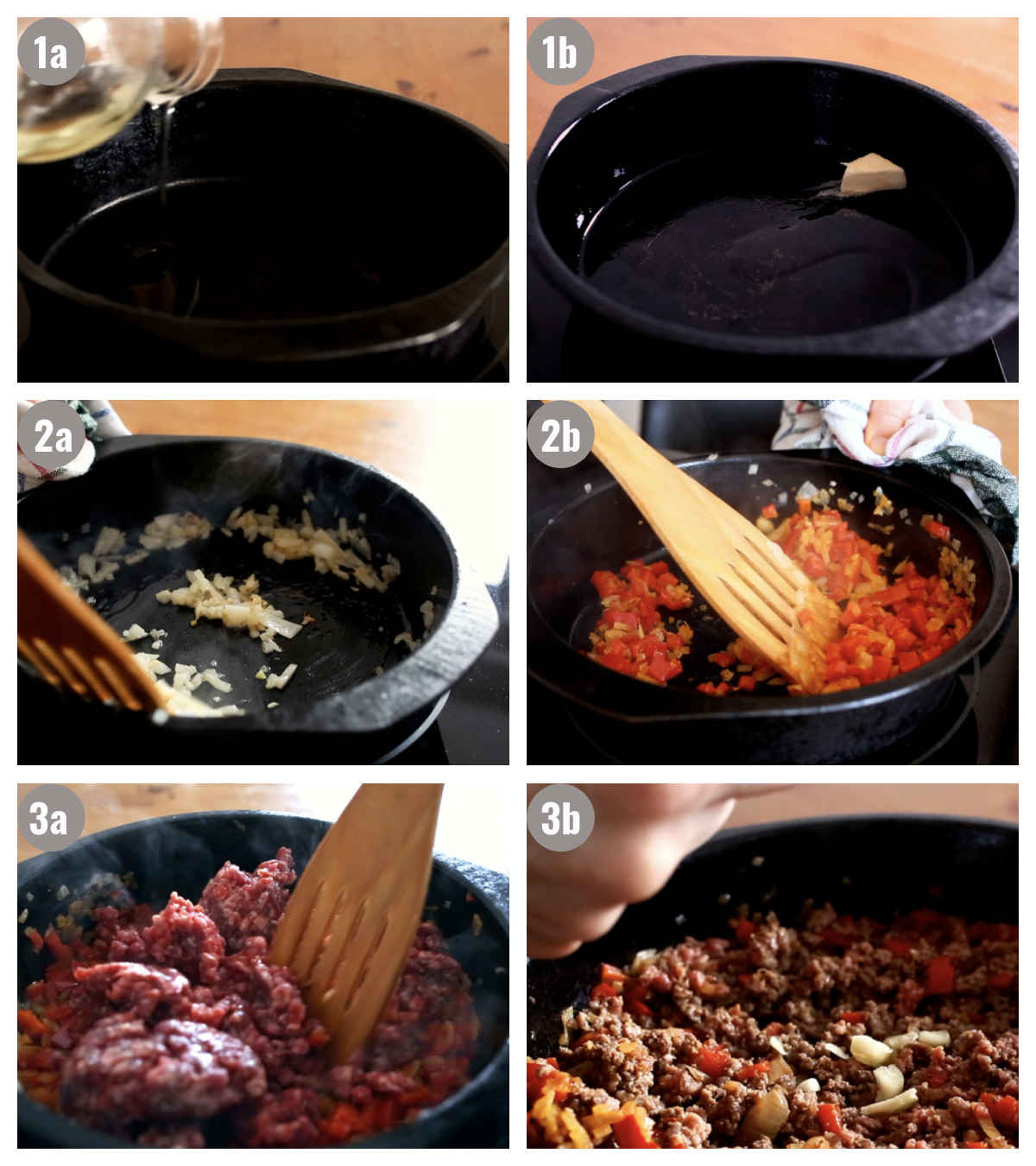 Step 1. Heat up the oil. Add butter.
Step 2. Add onion and pepper. Cook until translucent.
Step 3. Add meat. Cook until no longer pink. Add garlic.
Step 4. Add tomato sauce and broth. Form holes and break eggs into holes.
Step 5. Cover and cook. Garnish with parsley.
Other Ground Meat Recipes
(And if you're wondering how to use up eggs, here are 34 egg recipes, via Recipe Lion.)
Thoughts?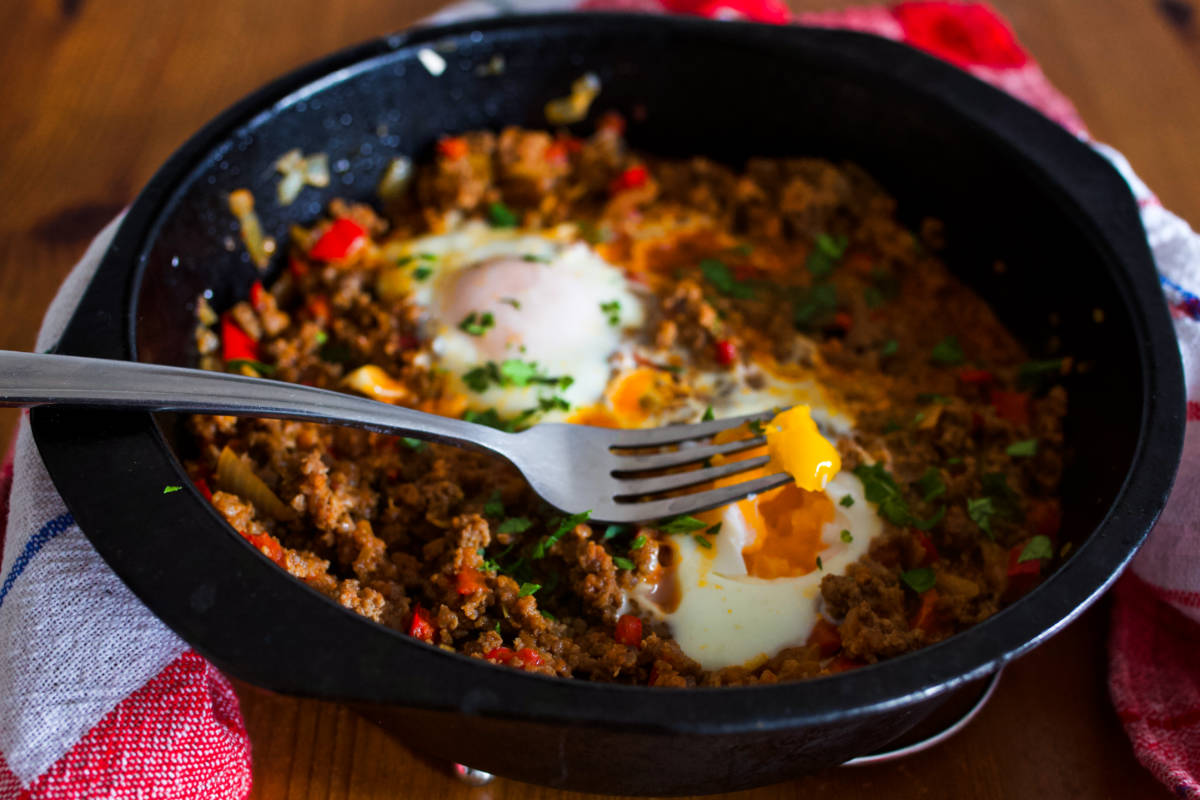 If you make today's Čimbur, aka Minced Meat and Poached Eggs, and enjoy it, please consider leaving a ⭐️⭐️⭐️⭐️⭐️ (5-star) rating. This will help others find the recipe more easily!
You can also leave a comment, I read EVERY one! Finally, if IG is more your thing, consider tagging us @balkanlunchbox.
Prijatno and bon appetit!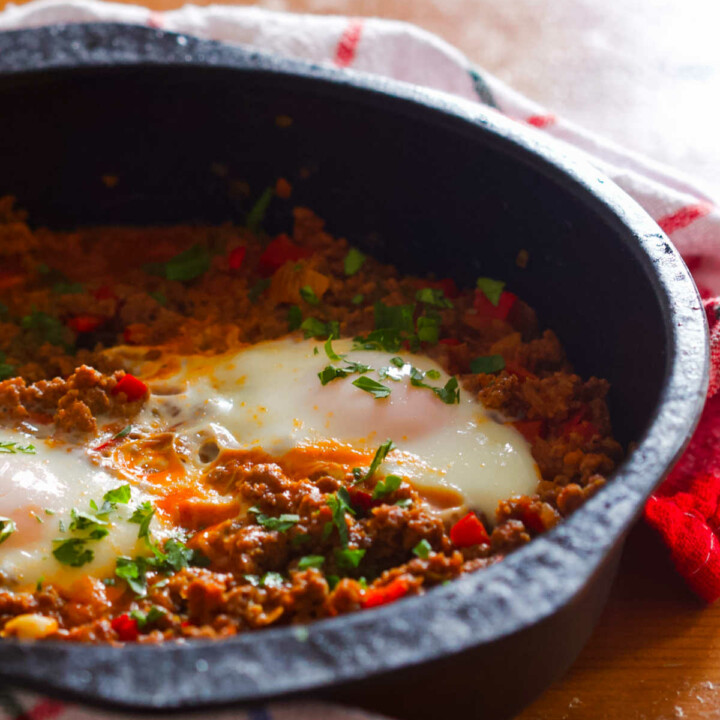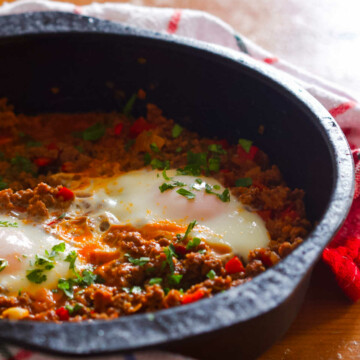 Poached Eggs and Ground Meat (Bosnian Čimbur)
Perfectly poached eggs on a bed of flavorful ground beef (or lamb).
Ingredients
1-2

tablespoons

vegetable oil

or avocado, olive, or coconut

1

teaspoon

butter

1

white onion

small, peeled and minced

(optional) a pinch of sugar

1

pound

ground meat (about 7-9 oz or 200-250g per person)

lamb, beef, turkey, or chicken

1-2

garlic cloves

minced

salt and pepper to taste

(optional) paprika to taste

3-4

eggs (about 1-2 per person)

2-3

tablespoons

tomato sauce

or ½ tablespoon tomato paste

(optional) 2-4 tablespoons beef broth or water

1-2

tablespoons

parsley to garnish

minced
Instructions
In a deep skillet heat the oil on medium. Add butter and let it melt.

Add onion (and, optionally, a pinch of salt), stir, and simmer for 2-3 minutes. Then add pepper (if using it), stir, and cook everything until translucent.

Add meat, break it up with a spatula, and stir everything together until integrated. Cook for 3-4 minutes or until meat is no longer pink, but don't overcook it. Dice in your garlic.

Bring the temperature down to low, then stir in seasonings, tomato sauce, and broth. With a spatula, create "holes" for the eggs to go in. Break eggs into them.

Cover the skillet, and simmer for 5-7 minutes. Garnish with parsley.
More Recipes To ❤️