Ground beef patties (šnicle): soft and versatile, pair these up with any side dish, and eat them for any occasion. Can you put them in some bread and make picnic sandwiches? Sure. Serve along with mashed potatoes for dinner? That works too!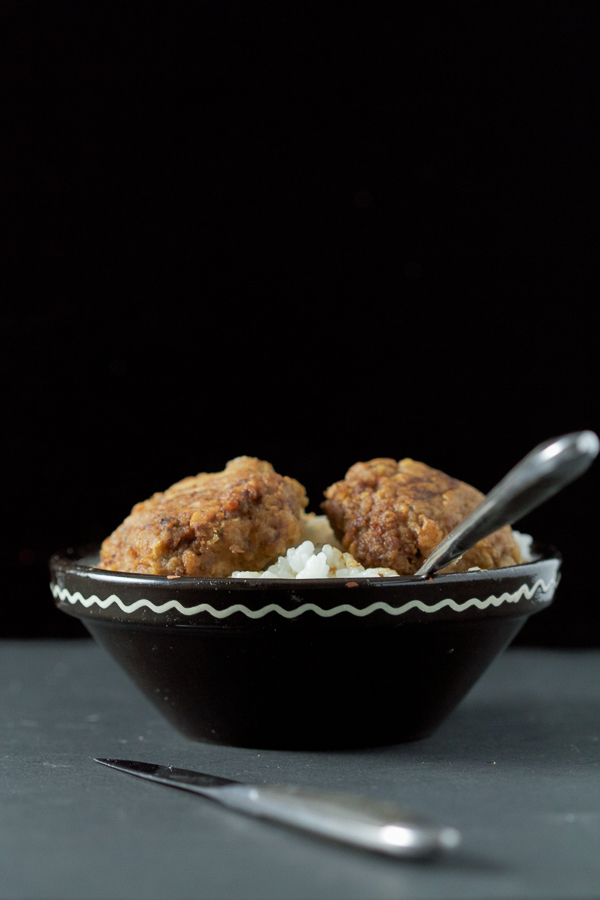 (BOSANSKI)
A ground beef patty outside the hamburger bun is a rare occasion in the US. Beef patties equals hamburger plus fries, it seems, so it may be hard for you to imagine eating them in a completely different setting.
However, as someone who has grown up on these, and eats them with gusto along with rice, mashed potatoes, in a tomato sauce, under Alfredo or in a baguette or bread along with some butter – I can vouch for their taste and softness.  I urge you to try these, and do not make it into a burger!
Today's (adapted) recipe and text below were authored by Samir Hajdarević.
***
Ground beef patties are one of those quick meals, exceptionally tasty – and served along with a side dish – good for any type of occasion. It's exactly this ease in preparation, and their versatility (you can take them on a picnic, or make a good dinner for your friends), why I love to make them. Ground beef patties, somehow, are the typical meal for Bosnia and the wider region. Out of some, unknown reason, people in Bosnia love to make meals out of old bread (when I say old, I mean dry, a couple of days old bread, that has lost all its softness and hardened instead). I know a few of these recipes. Maybe the reason is that Bosnians don't like to throw anything away. When I say this, I don't mean we are stingy, because that we aren't, in fact people in Bosnia are known for their unusual generosity and it is an unwritten rule to share everything with people we know and don't know. Still, here it is, like some form of tradition, a dislike of throwing anything away. Especially as far as the food is concerned. From the time I was a child I had to eat everything on my plate. And this is something typical, more or less, for all of us. Today also, I run into these customs all the time. Whether I'm at home with my family, or at a friend's house. Conversations such as these are unavoidable:
"C'mon, eat one last bite. It's a sin to throw it away."
"C'mon eat this too. Look, there is just a little bit left, eat it so I can wash the pan."
"Would you like that I pack this so you can take it home for later?"
But this type of behavior is not limited to food. On the contrary, it encompasses a wide net of various things that we buy at some point with a certain purpose in mind, and when we exchange it with a newer object with the same purpose, we hold on to the old one believing it will find its own purpose again sometime. We believe that every single thing, sooner or later, will be needed again when the right circumstance arises.
"Keep it. It may be of use in the future." That might as well be our life motto. Because of this, our living spaces become places where various unneeded things accumulate, from broken kitchen appliances, old electronics, computers from the last century, to auto parts. And there is a custom when something breaks down, or you need a new part for something, before going to the store you check with your friends and see whether they might have it.
You'll often hear things like "I'll check whether I have it at home." And there is a high probability they might. The exact thing you need.
People in every country have their own customs and habits that make them recognizable, and ours is not to throw things away, and instead to find a new life purpose for everything. If the road takes you to Bosnia sometime, or if you meet someone from there, pretty soon you'll see for yourself that even though all this may sound like a joke, it's not without foundation. Until then, enjoy your ground beef patties, and don't forget:
"You must eat everything! It's a shame to throw it away."  🙂
Print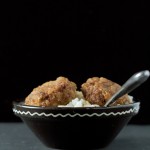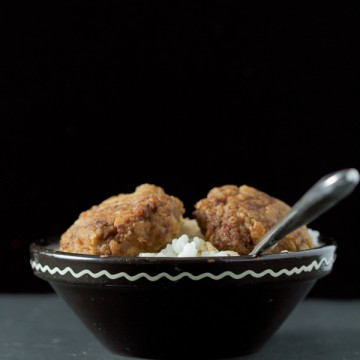 Ground Beef Patties
Author:

Prep Time:

10 mins

Cook Time:

20 mins

Total Time:

30 mins

Yield:

6

1

x

Category:

Main Course
---
1

pound ground beef

1

slice old bread (soaked and squeezed well)

2

garlic cloves (minced)

1

egg

1

bouillon cube (crushed, or

1 tablespoon

Vegeta, or

1 tablespoon

organic spice mix)

1/2 teaspoon

ground pepper

3

–

4

tablespoons white flour
Oil
---
Instructions
In a large bowl, combine ground beef with old bread, garlic, egg, and seasonings. Mix with your hands until well integrated.
In a pan, heat up a generous amount of oil on high. Once the oil is hot, lower temperature to medium high.
Shape beef patties into palm sized circles. You'll get about 10-12 larger or 12-14 smaller patties with this amount, depending on thickness.
On a large plate pour flour and dip each beef patty on both sides. Place in the pan and fry 3-4 minutes on each side, checking often to prevent burning.
Transfer to a paper towel to soak up extra oil.
Serve very warm.
Notes
Preparation technique: in between making each patty, run your hands under water. This will make the meat less sticky.
Make a side of rice, sautéed spinach, or mashed potatoes. The patties are great for sandwiches, or mini burgers as well.
Serving size is about 2-3 per person.