Classic Balkan baked stuffed peppers (punjene paprike) with ground beef and rice filling. These flavorful stuffed capsicums (bell or other sweet peppers), filled and then roasted on a bed of tomatoes, will delight your every sense. Shall we?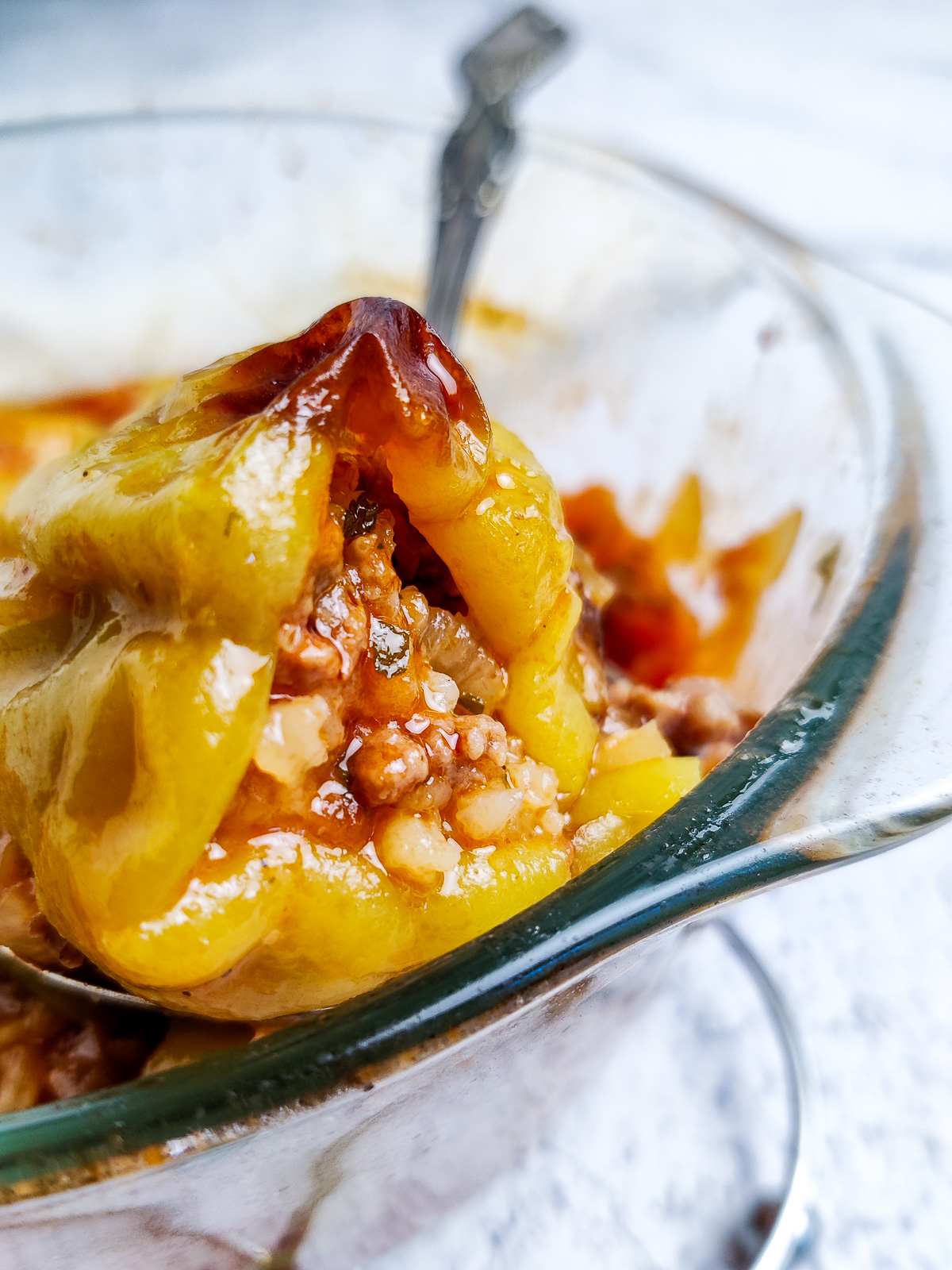 Jump to:
What Is It
Although there are several dishes based on stuffed vegetables in the Balkans, classic stuffed peppers, or punjene paprike, are everyone's favorite by far.
This is true for most of the Western Balkans - from Croatia, to Bosnia and Herzegovina, all across Serbia and Montenegro, and more. Everyone LOVES stuffed peppers!
You see, stuffed peppers are true comfort food, especially during cold months. There is nothing quite as nourishing as a few of them sitting in their juices on a plate, a dollop of sour cream on top, and a slice of homemade bread on the side.
Variations exist, but the basic stuffing for Balkan stuffed peppers is a mix of rice, ground beef, and seasonings. Except maybe the peppers, you probably have everything you need for this dish in your pantry right now.
Some stuffed peppers are cooked, but for today I decided to go with our grandma's oven-baked stuffed peppers. I love this version because baking gives them a deeper, richer taste. Peppers soften and exude their juice, while the stuffing bursts out with flavor.
I promise you, old-fashioned stuffed peppers are ten times better coming out of the oven than off the stovetop.
Ingredients

for Punjene Paprike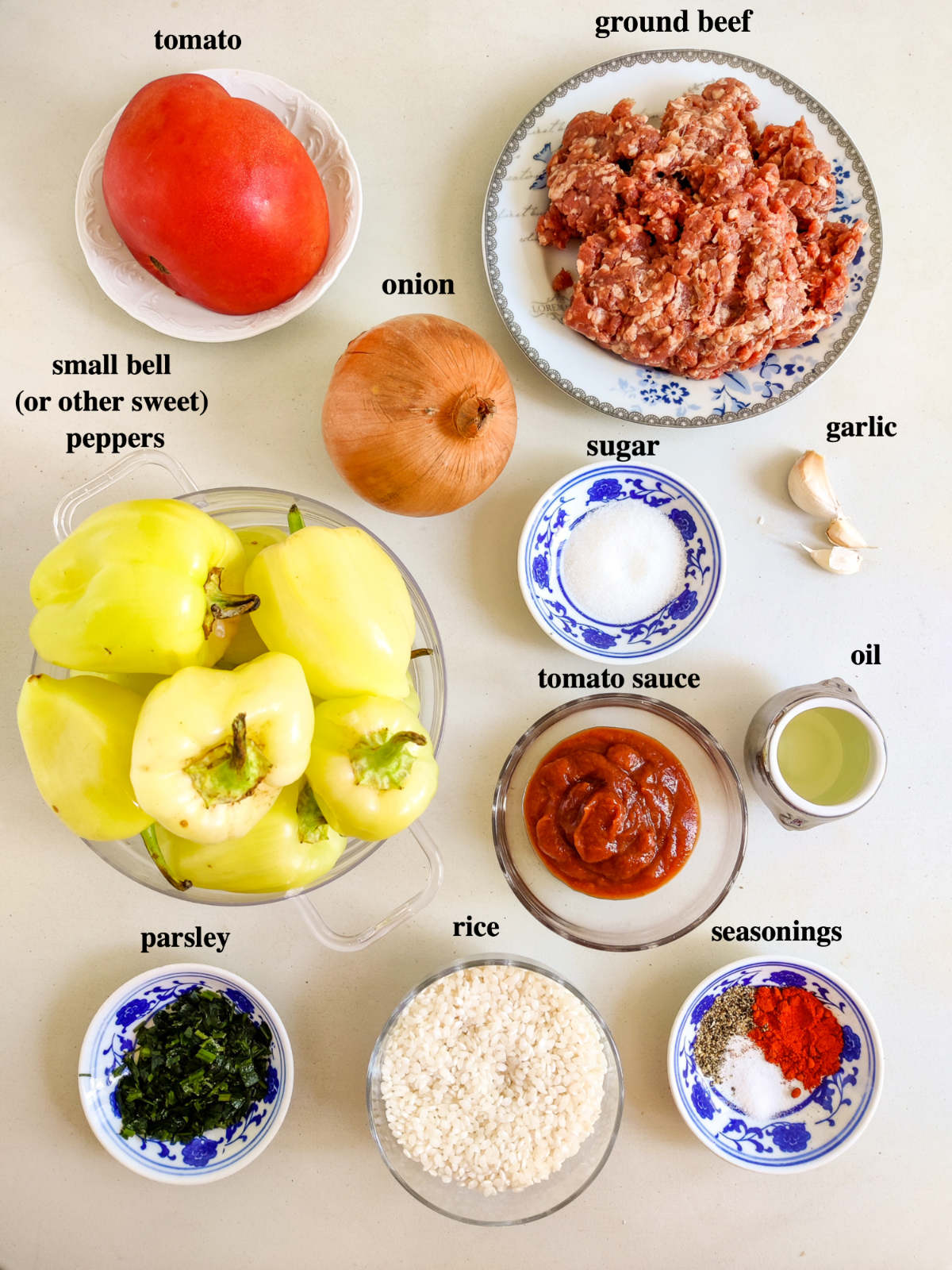 Ingredient

Notes
Please note that classic stuffed peppers are a dish for which we recommend you use the ingredients listed above (except these specific peppers which you may not have in your store). The dish changes in flavor greatly with each substitution.
Meat: Sub with ground pork or turkey. For a heavier flavor crumble in several baked bacon strips.
Peppers: sub with bell peppers, but use only yellow or red. Green are too sour for this dish.
Rice: Sub with quinoa or ground cauliflower. If using rice, only use round grain rice such as Arborio.
Which peppers to stuff?

Which rice to use?
In the Balkan region, a special kind of pepper called "paprika babura" is usually used for these stuffed peppers with ground beef and rice. (Check Cristina F1 and Blanchina F1.) These peppers are very similar to Hungarian sweet yellow peppers, or sweet alma chilies.
Baburas are yellowish-green and range from just a bit spicy to sweet. They resemble a thinner version of bell peppers. The thickness of their pepper meat is leaner also.
(Quick note: never stuff red peppers ("roge" or devil's horn peppers) used for ajvar with ground beef and rice stuffing. They're too sweet for this dish and too thin to stuff.)
If you live in the US bell peppers are probably the closest you'll come to good peppers for stuffing. If able to, choose only the yellow ones as they have just the right amount of sweetness. Green bell peppers are sour, while reds are too sweet.
Finally, look for peppers that are on the smaller side. Think the size of a small, organic apple. Those type of peppers make the greatest punjene paprike.
As far as rice, use the short, round grain rice such as Arborio. Long grain rice is too dry for this type of stuffing.
Serving and Storing
Serving: Serve warm. For an extra kick add a side of mashed potatoes.
Storing: Store in the fridge 24 hours. Do not freeze.
Lightning-fast Instructions
(Our lightning-fast instructions are here to give you an idea of how to make this dish. For more detailed information look at the recipe card below!)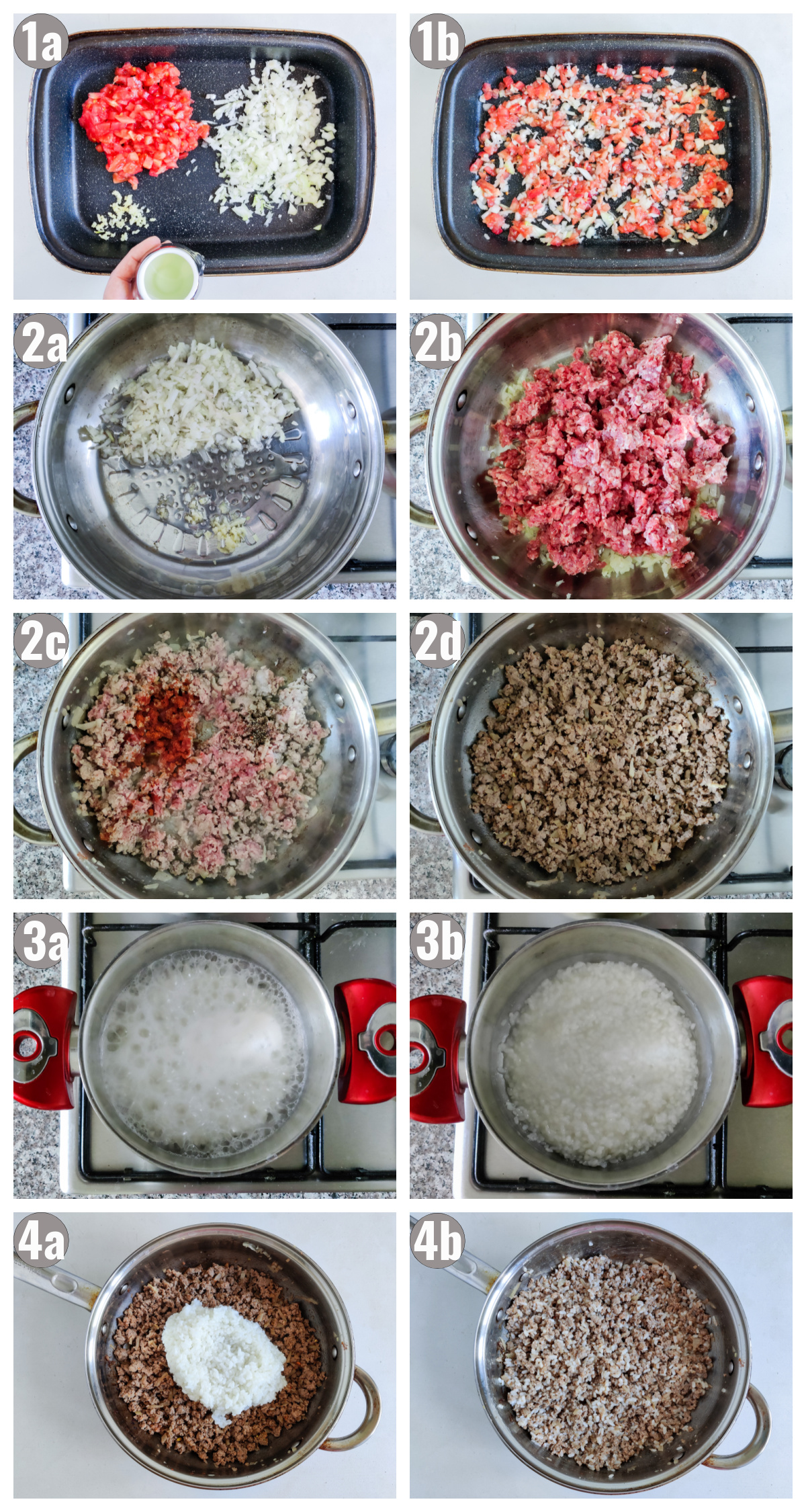 Combine tomato, garlic and onion in a baking pan.

Heat up in the oven.

Sweat onion and garlic.

Add meat and seasonings.

Cook halfway.

Cook rice halfway.

Combine meat and rice.

Take pan out of the oven.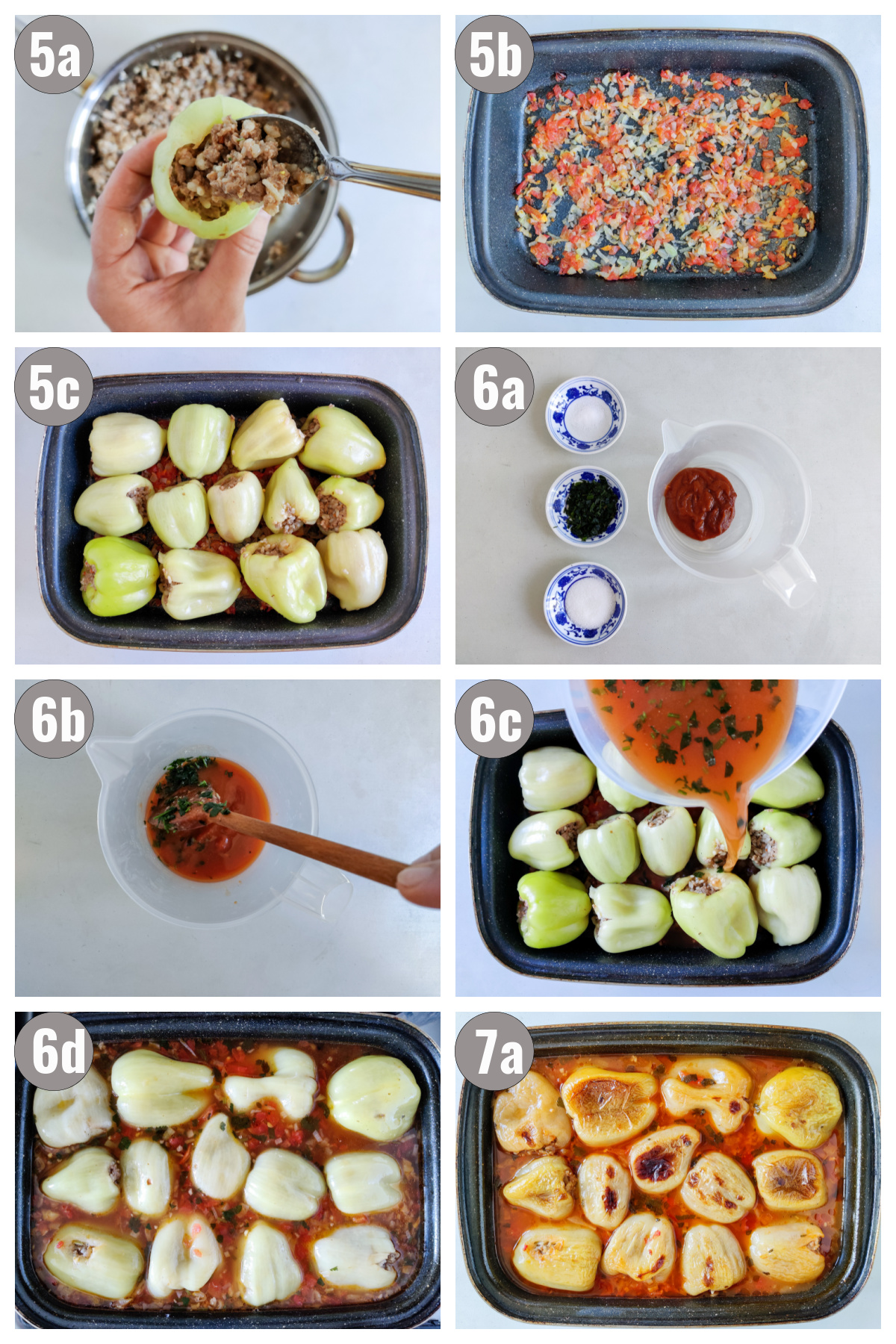 5. Stuff peppers. Place peppers in the pan.
6. Combine tomato sauce, sugar, seasonings, and water. Pour over peppers.
7. Bake peppers for an hour.
Recipe FAQs
Do you have to cook the meat before stuffing peppers?
It's best if you cook it halfway so it can expand its flavor from seasonings and the onion. If you decide not to cook the meat before stuffing then bake peppers a little longer.
Why do you parboil peppers before stuffing?
Parboiling helps the peppers keep their colors fresh, and to cut down on cooking time. However, this step is unnecessary as peppers do not lose their vibrancy with our method, and they are more flavorful the longer they bake.
How long does it take to soften peppers in the oven?
The longer you bake it the softer they become. We find that baking them for about an hour is perfect.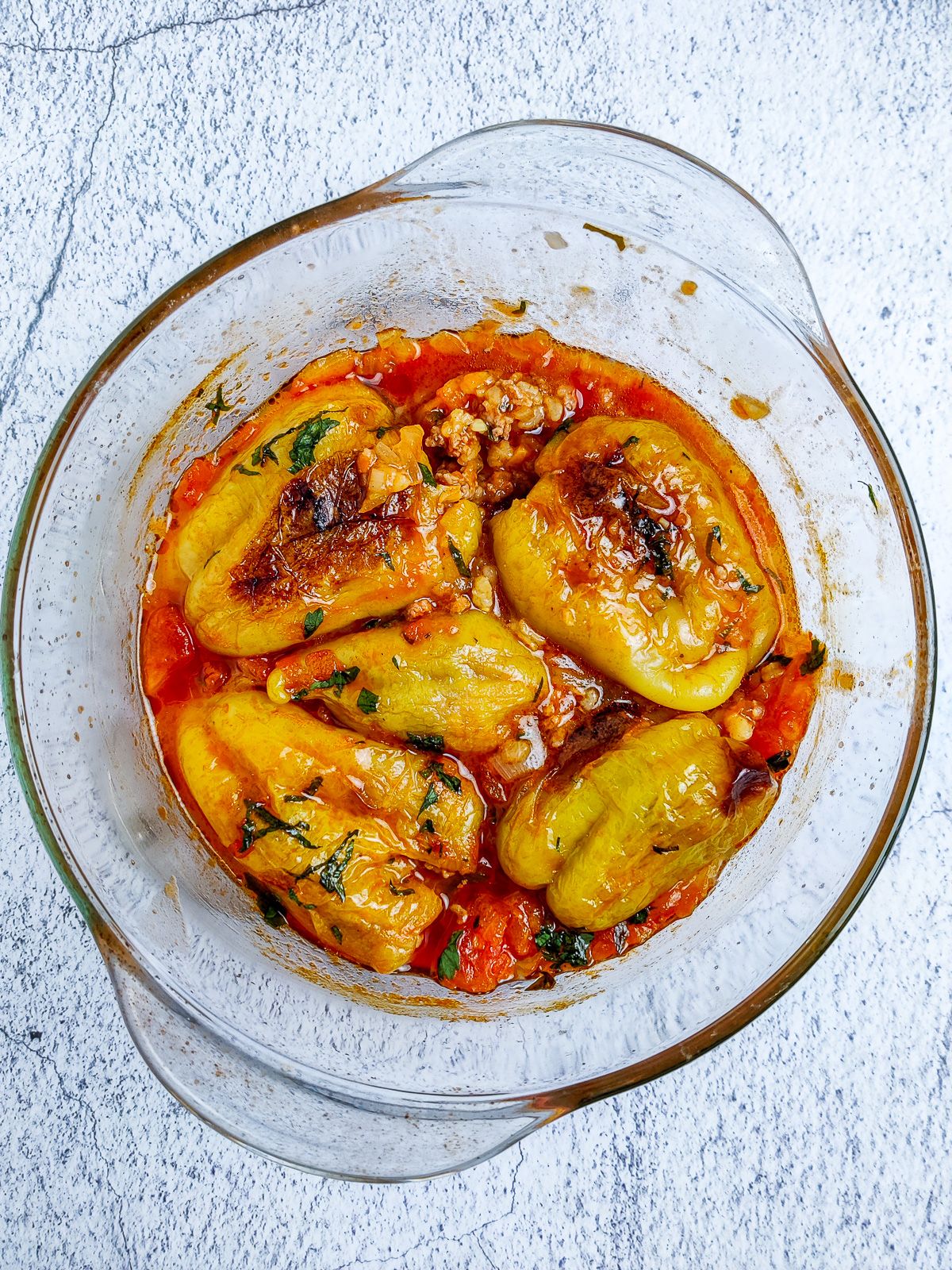 More Stuffed Goodies
Would You Do Me a Favor?
If you make today's Classic Stuffed Pepeprs (Punjene Paprike) and like them, please consider leaving a ⭐️⭐️⭐️⭐️⭐️ (5-star) rating. This will help others find the recipe more easily!
You can also leave a comment, I read EVERY one! Finally, if IG is more your thing, consider tagging us @balkanlunchbox.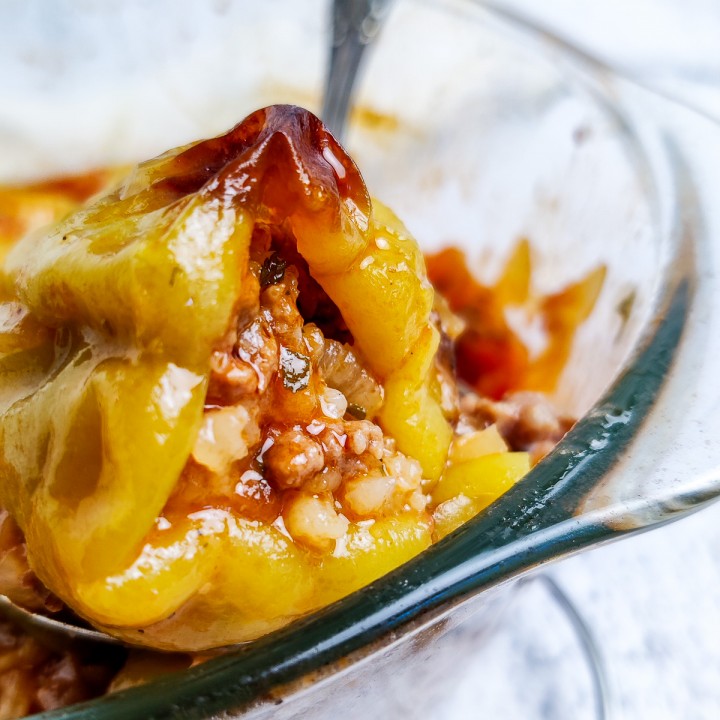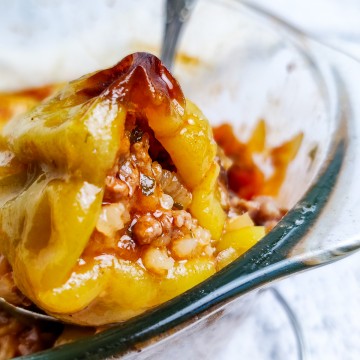 Baked Stuffed Peppers Recipe (Punjene Paprike)
Scrumptious easy stuffed peppers (punjene paprike) you can find on any menu, from Montenegro to Slovenia.
Ingredients
Pan Sauce:
3

tomatoes

skinned and diced

1

garlic clove

minced

1

onion

peeled and minced
Stuffing:
Oil

1

garlic clove

minced

1

onion

peeled and minced

10

ounces ground beef

1

tablespoon

paprika

1

tablespoon

Vegeta

or ½ bouillon cube, or salt to taste

Black pepper to taste

½

cup

rice

9

bell peppers

look for the smallest ones!, tops off, deseeded
Second sauce:
3.5

ounces

tomato sauce

1

teaspoon

sugar

Salt to taste

2

tablespoons

fresh parsley

minced, or 4-6 teaspoons dried

2

cups

water
Instructions
Pan Sauce: In a deep baking pan (or glass bakeware) combine tomato, garlic, and onion. Place in the oven and turn it on to 440°f (225°c). 

Stuffing: In a large pan heat oil over medium. Add garlic and onion and sweat. Add ground beef, seasonings, and simmer until meat is halfway done. Remove off heat. 

(Do parallel to step 2) In a small pot add rice and 1 to 1.5 cups of water. Cook on medium until rice is cooked halfway. Meanwhile, take the baking pan out of the oven and set aside. (Keep the oven on.) 

Add rice to the pan with meat. Stir until well integrated. 

Assembly: Stuff each pepper with a few tablespoons of stuffing until you reach the top of each pepper. (Peppers should be nicely stuffed, but not "exploding" with the filling.) Place peppers in the pan.

Second Sauce: In a pitcher combine tomato sauce, sugar, salt, parsley and 2 cups of water. Stir well. Pour evenly over the peppers in the pan. 

Bake peppers for 60-75 minutes, frequently turning the baking pan, as well as the peppers inside the pan. Serve warm. (Optionally) Add a dollop of sour cream on top.
Notes
Music for the video was kindly provided by Croatian band Dječaci (www.djecaci.net).
Nutrition
Serving:
1
of 5 servings
Sodium:
1034
mg
Calcium:
46
mg
Vitamin C:
293
mg
Vitamin A:
7602
IU
Sugar:
15
g
Fiber:
7
g
Potassium:
803
mg
Cholesterol:
1
mg
Calories:
181
kcal
Trans Fat:
1
g
Monounsaturated Fat:
1
g
Polyunsaturated Fat:
1
g
Saturated Fat:
1
g
Fat:
1
g
Protein:
5
g
Carbohydrates:
37
g
Iron:
2
mg