Spinach pie with phyllo dough (and feta and ricotta cheeses): the awe-inspiring traditional Balkan (Yugoslavian) pie created by several layers of soft filo pastry intertwined with a flawless filling. (Also known as pita zeljanica or pita od zelja.)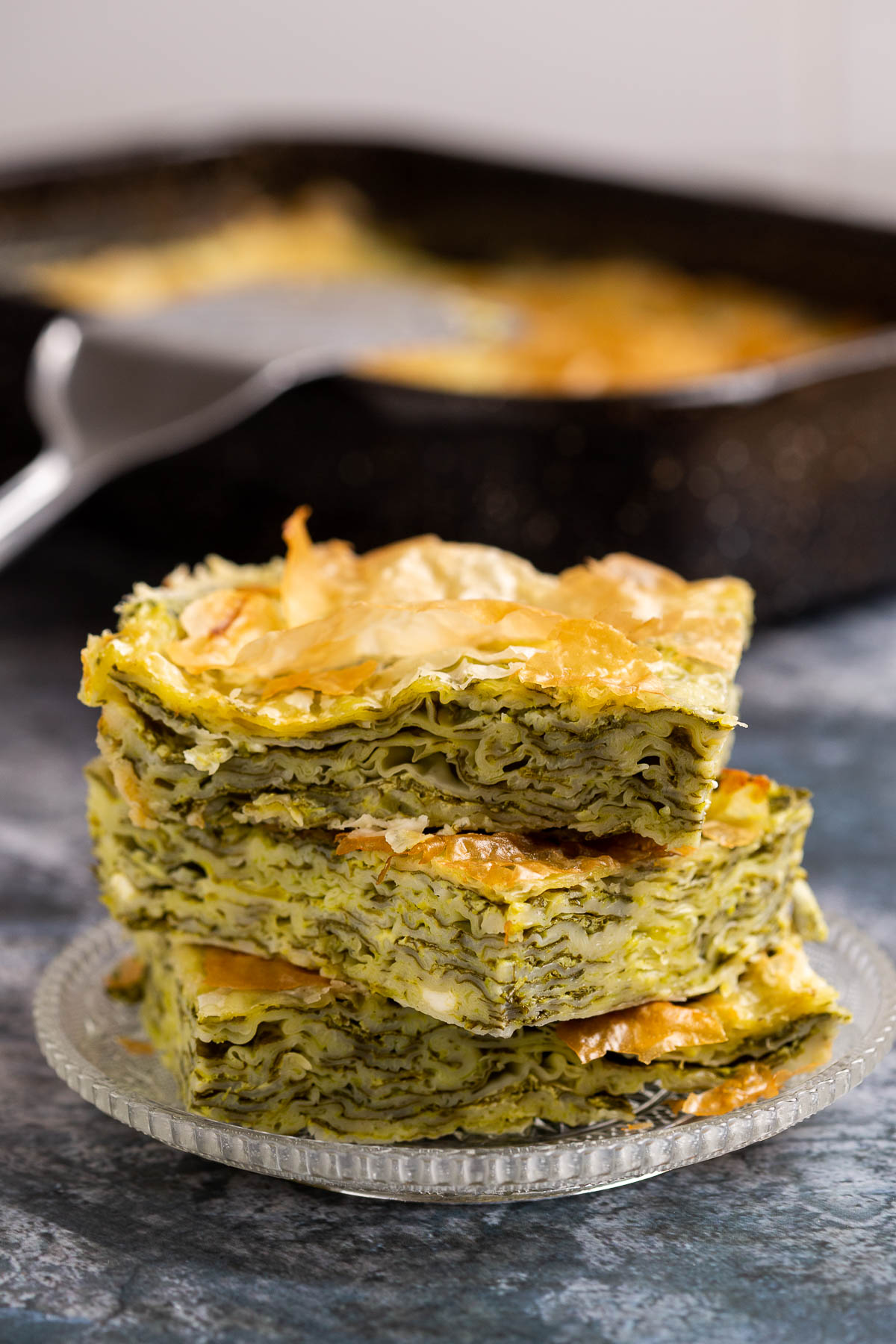 Jump to:
Background
If you've ever traveled there, YOU KNOW that stuffed phyllo dough pies are an unforgettable Balkan delicacy. Today's feta, ricotta spinach pie is a perfect example!
These traditional pies were introduced to the region by the Ottomans centuries ago. However, they have since evolved into something very Balkan.
Although many pastries fall under the umbrella of a pie (or pita, pronounced pe-tah, with a hard "t"), individual pies are usually named after their stuffing. Spinach pie is called pita zeljanica or pita od zelja, zelje being "leafy greens." In some Balkan regions (but definitely not in Bosnia) this pie is also known as burek with spinach.
What is it about these pies makes them so irresistible?
It's the union of, at the same time, flaky and soft phyllo dough layers and luscious fillings that bake together to golden perfection. And to top it off, a topping of butter and milk. Oh Mama!
Ingredients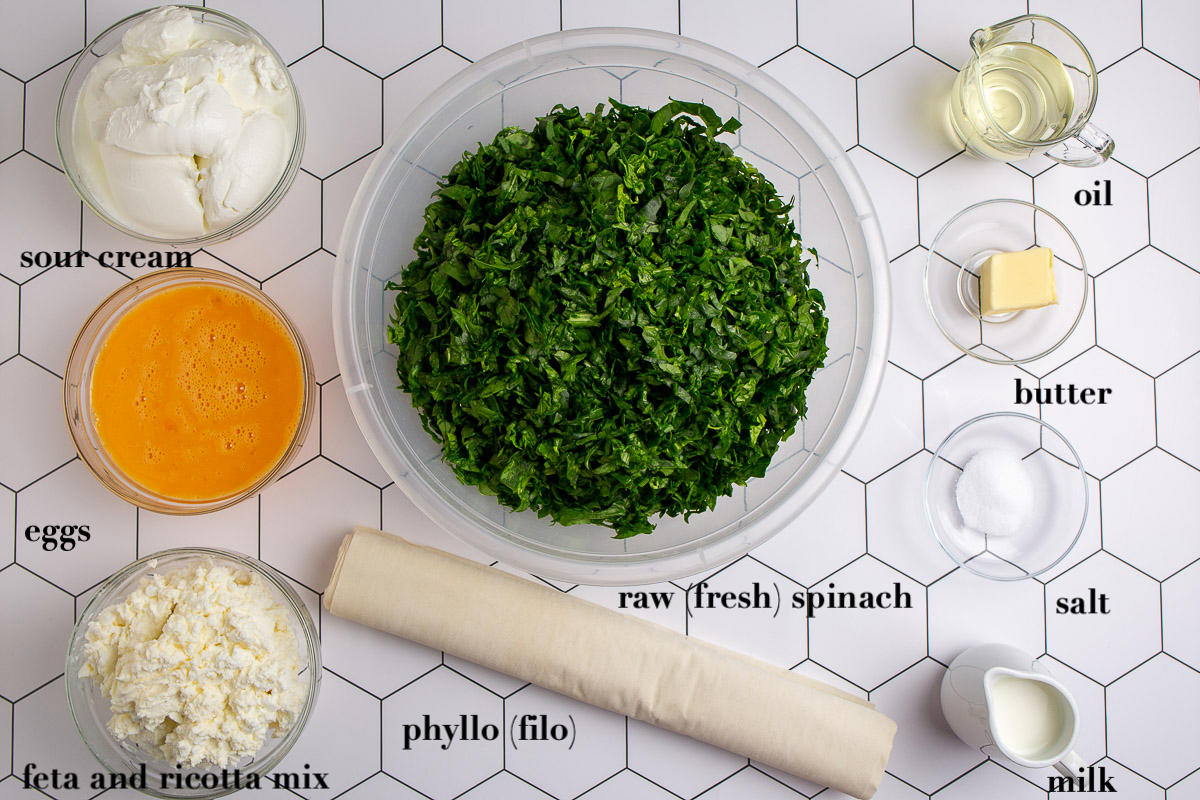 Ingredient Notes
Spinach: Use fresh (raw) spinach only! NEVER use frozen spinach for this recipe. Sub partially with swiss chard or nettle, it's a green pie after all! When cutting up spinach, mincing it will make the flavors come out in the best way.
Cheese: You can sub with goat cheese or queso fresco, but avoid strong cheeses so they don't overpower the spinach. (For example, ricotta and feta make a perfect combo because ricotta softens the harshness of feta, giving the spinach space to shine.)
Oil: Sub with sunflower oil. Don't use olive oil for this recipe.
Instructions
Our lightning-fast instructions are here to give you an idea of how to make this dish. For more detailed information look at the recipe card below!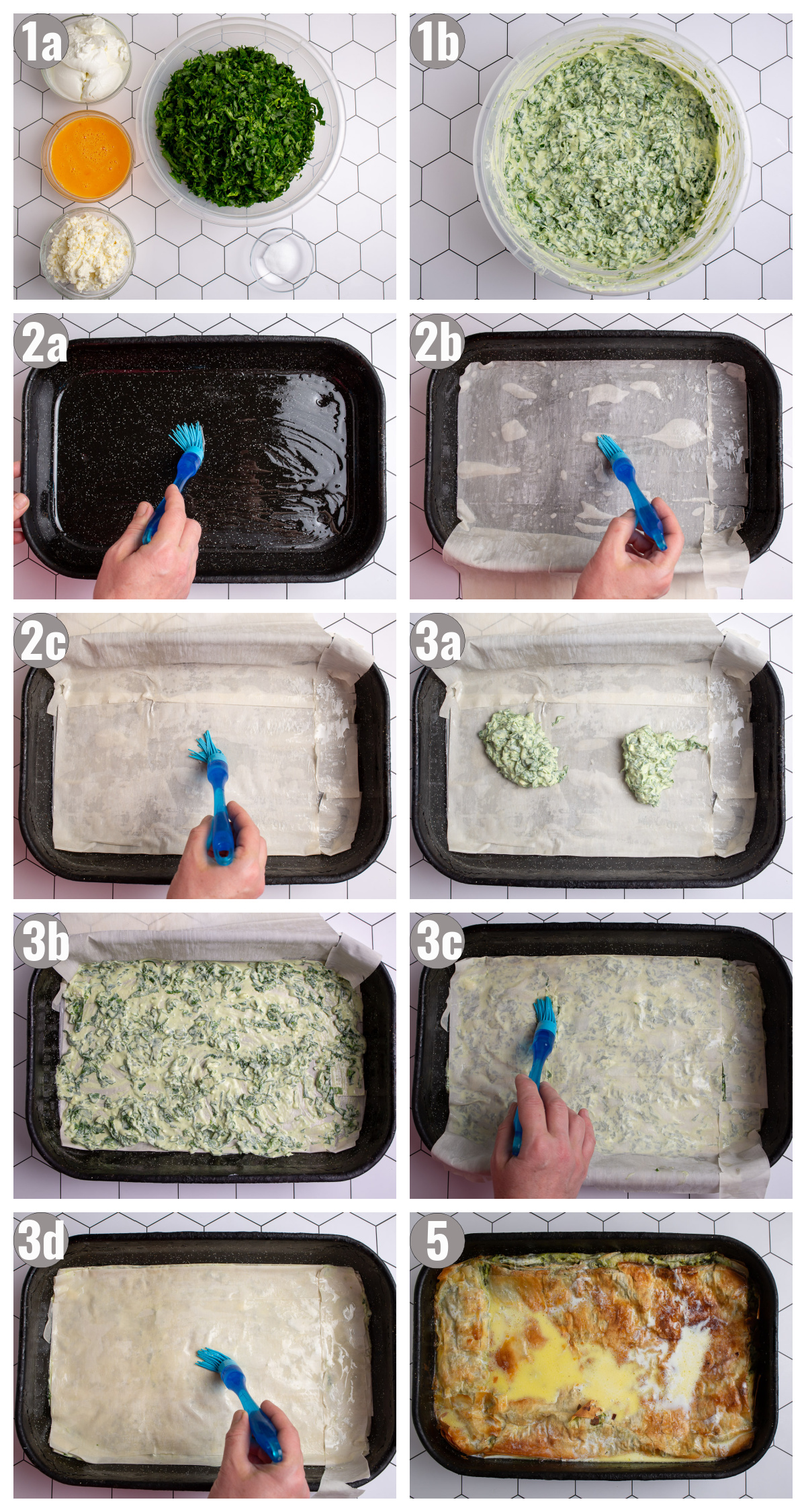 1. Make the filling. Heat oven.
2. & 3. Assemble phyllo, coating and filling into several layers.
4. Bake pie.
5. Coat pie with topping. Rest. Eat.
Serving, Storing, Assembly
Serving: Best to serve the pie 20-30 minutes after baking.
Assembly: Assemble just before baking.
Storing: Store in the fridge for up to 2 days. Do not freeze.
Recipe FAQs
Do you heat up spinach pie?
Spinach pie is best when it rests about 30 minutes before consumption. However, some people like to eat it cold. If you plan to eat spinach pie a few hours after making it, you can heat it up in the oven or microwave.
Can you freeze spinach pies?
Don't freeze your spinach pie if using store-bought phyllo (filo) like in today's recipe. If you are making your own dough then it's ok to freeze it after you stuff the dough with the filling, but before baking.
What's the difference between spanakopita and Balkan spinach pie zeljanica?
Most spanakopita recipes use frozen spinach, spinach pie uses fresh. Spanakopita is usually made in three thicker layers while filo spinach pie has many thinner layers of filo and filling. Spanakopita is tangier while ricotta spinach pie has a milder, softer, chewier taste. Spanakopita is flakier and crunchier. Spinach pie can be both, although the topping makes it more soft than crunchy. And finally, spanakopita usually doesn't have a topping. Spinach pie is topped with milk and butter, or some type of shortening with dairy.
Similar Recipes
Thoughts?
If you make today's Feta and Ricotta Spinach Pie and enjoy it, please consider leaving a ⭐️⭐️⭐️⭐️⭐️ (5-star) rating. This will help others find the recipe more easily!
You can also leave a comment, I read EVERY one! Finally, if IG is more your thing, consider tagging us @balkanlunchbox.
Prijatno and bon appetit!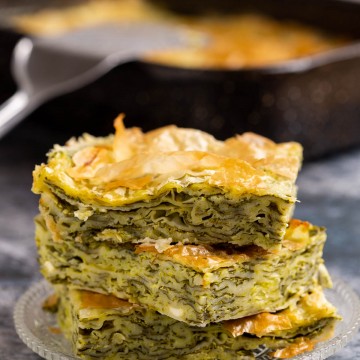 Feta, Ricotta and Spinach Phyllo Pie
Spinach pie made with phyllo dough, and stuffed with feta and ricotta cheeses. Also known as pita zeljanica this is an amazing, quick lunch the entire family will love. 
Ingredients
Filling:
16-18

ounces

fresh

raw spinach (minced)

4-5

ounces

ricotta cheese

4-5

ounces

feta cheese

shredded

16

ounces

sour cream

5

eggs

salt to taste
Phyllo and phyllo coating:
1

box of phyllo dough

16 ounces of phyllo, or about 18-20 sheets

3-4

tablespoons

butter

1

tablespoon

oil
Topping:
1

cup

milk

2

tablespoons

butter
Instructions
Filling: In a large bowl, combine filling ingredients. Whisk until ingredients are completely integrated. Heat oven to 450°f (230°c).  

Assembly: Grease  a baking pan.* Layer one phyllo sheet on the bottom of the pan. Brush a thin layer of (butter and oil) coating over the sheet. Add another sheet of phyllo on top of the first one and repeat the coating. 

Grab a generous amount of filling (about 4 tablespoons), and spread evenly over the top sheet. Layer two sheets on top of the filling, coating each before adding the next layer (just like in step two). Top with the filling again and spread it evenly. Repeat phyllo, coating and filling layers until you run out ingredients. Make sure the last, top, pie layer has at least 3-4 sheets of phyllo.* Brush it with coating put the pan in the oven.  

Bake 5 min. Lower temperature to 400°f (200°c) and bake another 30 min.* Monitor the pie so it doesn't blush too much (or burn). If it blushes too much lower the temperature to 355°f (180°c) or cover with foil. 

Topping: In a small pan combine milk and butter. Warm up the milk just until the butter melts. Take the spinach pie out of the oven. Using a teaspoon distribute the topping evenly over the pie. Turn the oven off and return the pie inside for a few minutes; alternatively, you can cover it with a clean kitchen towel. (If able to resist) Rest pie for 20-ish minutes, then serve. 
Notes
Notes for step 2: My pan is approximately 10.5x15.5 inches (27x39 cm), however, many similar, rectangular, pan sizes will work. If you use a smaller pan you'll have more layers and a thicker pie, and vice versa. You can cut phyllo to fit your pan, or shrivel it up a little bit. You may have to use just one sheet, doubled instead of two, per layer. The point is that phyllo is malleable and adjustable, while this recipe is forgiving.
Notes for step 3: Sometimes the top sheet will blush or even burn slightly. This way you can remove it once you are done with baking unless you like it a little charred.

 
Notes for step 4: As always, be mindful of your oven. If it runs on the hotter side, lower the temperature to 355°f (180°c) when baking and maybe add a few more minutes if necessary. If it runs on a cooler side, you can raise the temp to 410°f (210°c) but not much higher.

 
Nutritional information is a rough estimate based on 1 of 6 servings.
Nutrition
Serving:
1
of 6
Sodium:
601
mg
Sugar:
4.1
g
Fiber:
2
g
Cholesterol:
232
mg
Calories:
496
kcal
Saturated Fat:
23.8
g
Fat:
41.6
g
Protein:
17.8
g
Carbohydrates:
15.8
g
More Recipes