Spinach pie made with phyllo, is a tasty, 45-min and under quiche-like dish made by stuffing phyllo dough with spinach and cheese.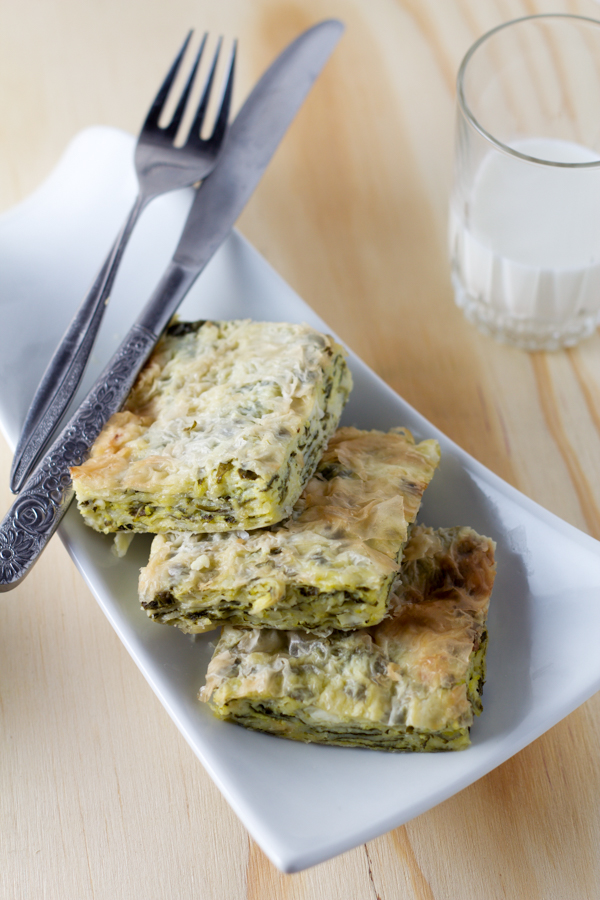 (BOSANSKI)
Let's say you're getting some coffee, and then strike up a conversation with a stranger who just happens to be Bosnian. You'll most assuredly end up getting invited for dinner at their house sooner or later. We're friendly, what can I say?
I can also guess with great certainty one of the meals they'll serve you will be pita.
Because pita!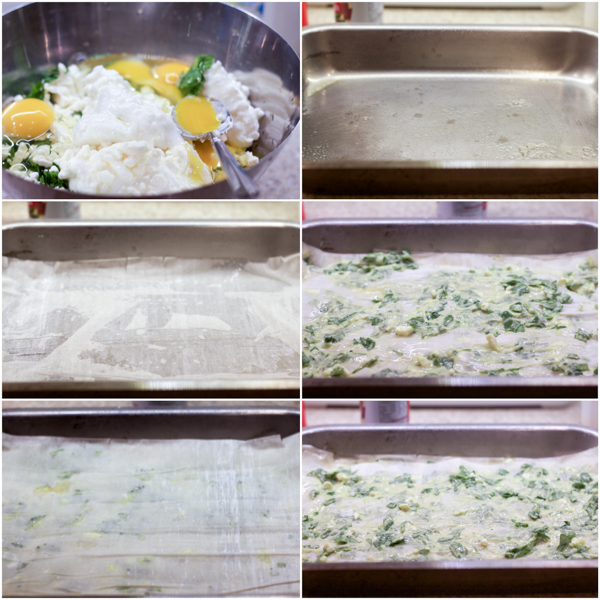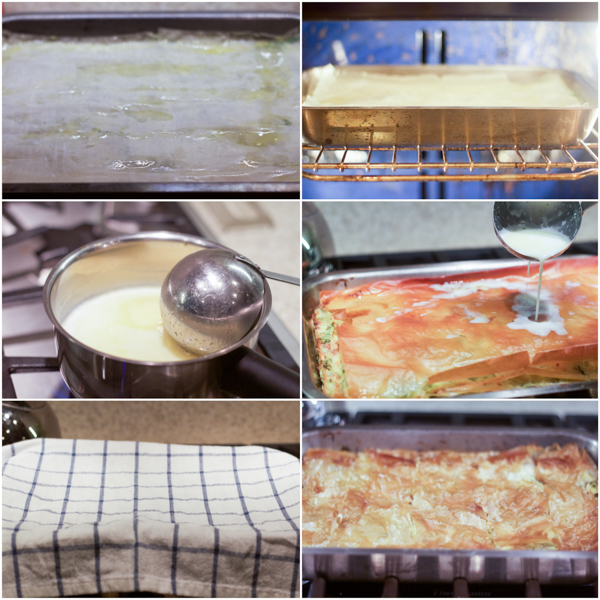 Pita, in addition to ćevapi, is a Bosnian national food, also widespread everywhere in the Balkans. So what is this pita? Pita (pronounced "pe-tah", with a strong, hard "t," not "pe-da") is a vegetable, meat, or cheese filled thin dough that's baked, and then sprinkled with milk or butter at the end.
The best pita is one made with homemade dough. However, I wanted to introduce you to making pita in the most painless way (which in this case translates to using store bought phyllo dough), so that you actually have the motivation to make it. If you've never tried pita before, you're probably skeptical.  However, you will not regret this meal, and that's a guarantee!
In fact, you'll get hooked! So hooked you'll eventually move over to making your own dough. This procedure is more time consuming and it takes some skill, but the taste is unparalleled. (If you are so inclined, you can check out pitas we made with homemade phyllo dough aka jufka. Here is a recipe for the potato one and the one with meat and potatoes. These are step by step recipes.)
I've explained where you can get phyllo dough in the baklava recipe. In short you'll be going to your store's freezer section. There you'll look for long phyllo sheets.
Most packages are 1 lb packages, and that's all you'll need for one meal. Most store folks will not know what you're looking for, so be ready to spend a few minutes going up and down the aisle until you zoom in on it. (Also, make sure you're not getting the phyllo shells, but the actual long sheets.)
Once you start making pita, you can cut down the sheets to fit your pan exactly. However, since pita isn't bakalva, you are also welcome to wrinkle the sheets a little bit until they fit. Both work fine. Another tip is to cut your spinach extremely fine, almost the size of parsley for the soup. This way you get all the goodness of spinach, without realizing you're eating a lot of it. Your kids will love you for this!
Happy spinach pie or pita zeljanica making!
***
SIMILAR RECIPES ON BALKAN LUNCH BOX
If you're not big on crust, an excellent similar, spinach-y option is our CRUSTLESS SPINACH PIE. Kind of kind of quiche really, but even better and simpler.
Also, if you're more cheese than spinach, then the CHEESE PHYLLO PIE is your answer. Just as delicious and a bit less green.
Want cheese with different vegetable? How about the EGGPLANT AND CHEESE PIE? Bet you haven't had that one before!
There are some of you that like spinach just by itself, and Aleksandra's SAUTEED SPINACH will knock you out. The perfect side dish if there ever was one. Make it along eggs, meat, or just by itself. Uh!
May we also recommend the beloved ZUCCHINI PIE?
And if you don't know what to eat it with, AJVAR (ajver) is the perfect side.
And if you're crazy about spinach as we are, check out How to Use Up Spinach: 41 Smart Ideas and Recipes!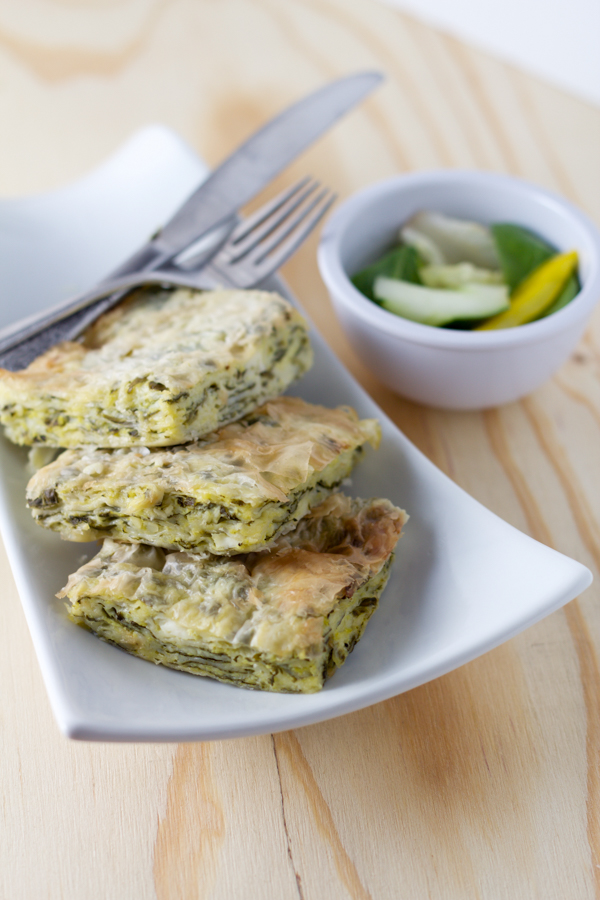 Print
Spinach Pie With Phyllo
Author:

Prep Time:

15 mins

Cook Time:

35 mins

Total Time:

50 mins

Yield:

4

-

6

1

x

Category:

Main Course
---
FILLING:

9

–

10

ounces fresh spinach (minced)

8 ounces

ricotta cheese

8 ounces

sour cream

8 ounces

feta cheese

5

eggs

1 tsp

salt
PHYLLO:

1

box phyllo dough (16 ounces phyllo or about

13

–

18

sheets)
Oil
TOPPING:

1/2 cup

milk

2 tablespoons

butter
---
Instructions
Heat oven to 450°F.
In a bowl, combine spinach, sour cream, cheeses, eggs and salt. Mix thoroughly until the ingredients are integrated.
Oil a 10X14 inch baking pan. Layer 2 phyllo sheets on the bottom of the pan on top of each other brushing each with oil before adding the next layer. (If phyllo is larger than the pan, fold it a little bit on the sides until it fits.)
Grab a generous amount of the filling (4 to 5 tablespoons), and spread evenly over the top sheet. Layer 2 sheets on top of the filling, and brush each with oil before adding the next layer. Repeat until you run out of the filling and phyllo, making sure to leave 2-3 sheets for the top of the pie.
Brush the top of the pie with oil, and place in the oven.
Lower temperature to 395°F. Cover with foil after the first 10. Bake for a total of 30-35 minutes.
Take out of the oven. Melt butter and milk together and pour over the pie evenly. Cover with a kitchen towel and leave to cool for 30 minutes. Cut into squares. (What you don't eat, keep in foil in the fridge for up to a few days. Reheat in microwave or eat cold.)
---