Vegetarian crustless spinach and cheese quiche (zeljanik) is a great, healthy dish that's nutrient-rich and nourishing. Choose between two versions (softer and fluffy or harder and hearty), and enjoy dinner in no time!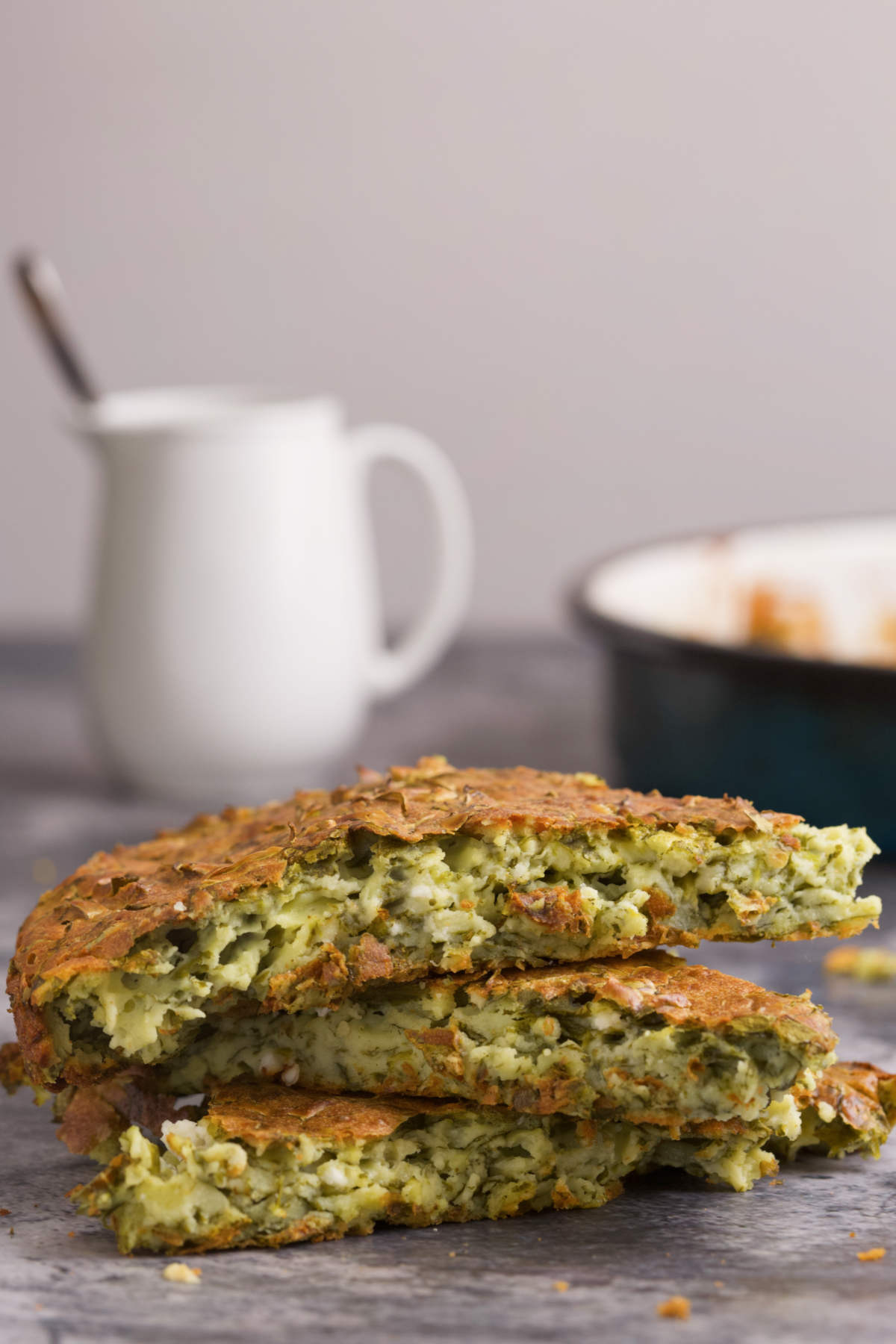 Jump to:
Background
We love Balkan pies and burek, but they take time to make.
Today's Balkan-inspired crustless quiche is a great vegetarian dish perfect for spinach lovers. Think of it as a spinach pie without phyllo.
In the Balkans, this dish is called zeljanik, where zelje equals greens.
There are two versions of this vegetarian quiche. They're almost exactly the same. The main difference is in the baking pan, baking temp, and some baking powder.
A larger pan will yield a crunchier quiche. Soft and fluffy quiche, meanwhile, comes from a smaller pan, a lower baking temperature, and a little bit more baking powder. (Top either with sour cream for that "extra" finish.)
(Note: crustless spinach quiche in the video is of the softer version.)
Benefits
Speed - From fridge to table in about an hour.
Versatility - This crustless quiche can be your breakfast, lunch, or dinner. Pair it with eggs, chicken, salad, or something else.
Side? Main course? - Yes and yes. You choose!
Crustless - Yet another reason why you'll love this quiche is that it's completely crustless. This greatly cuts prep time, while you still get the same great taste.
Ingredients
Spinach: Use fresh (raw) spinach. Mix with swiss chard or nettle for a "greener" taste. If able, mince spinach to get its flavor to come out in the best way.
Cheese: Think soft cheeses for this spinach and cheese quiche. Farmers or ricotta are great. Cottage cheese also works, but watch the water content. Sub with goat cheese or queso fresco. Avoid strong cheeses. (For example, gorgonzola would be a no-no.)
Milk: Sub with soy, or nut milk.
Flour: This quiche is often made with corn flour (cornmeal), or a combination of corn and white flour. Note that corn flour gives it a grittier taste.
Optional: Top with sour cream or yogurt.
Instructions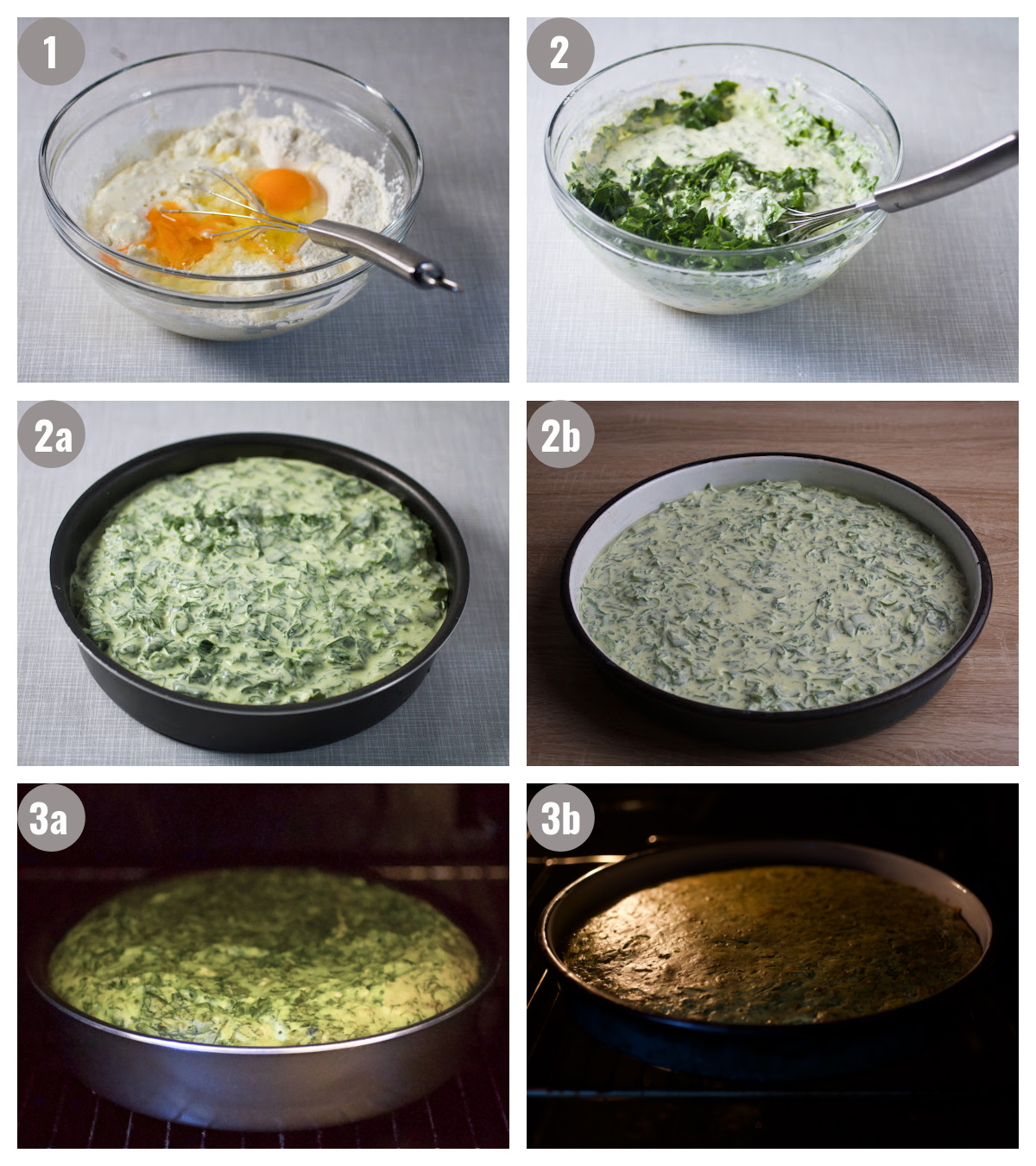 In a large bowl whisk ingredients. Add spinach last. Heat oven.
Transfer to an oiled pan based on your preference. (2a smaller pan, for the softer version, or 2b larger pan for a crunchier.)
Bake.
Note: if you take a look at the oven photographs you'll notice the difference between the softer and harder version. The softer version will rise up and be fluffier, while the harder version is flatter, and is slightly more blushed.
Handling
Storage: Keep leftover crustless quiche in the fridge for up to 2 days in tightly sealed plastic wrap.
Freezing: Put into freezer bags (or containers), then freeze. You can cut it up, or freeze it whole up to 1 month. To eat, thaw completely, then reheat using your preferred method.
Reheating: Heat in the oven (highly preferred!) or microwave. If it was frozen, let the quiche thaw completely before baking.
Recipe FAQs
What kind of cheese is good for quiche?
Soft (non-creamy) cheeses work best for quiche. Some examples are ricotta, feta, farmers, queso fresco, goat cheese, and cottage. Watch the moisture level. If the cheese has too much liquid, drain it.
Should spinach be cooked before adding to the quiche?
Cooking spinach before adding it to the quiche is not necessary. Baking the quiche for thirty to forty minutes is enough to soften the spinach that's been very finely diced. If you cook it ahead of time you run the risk of it being mushy and watery.
What goes good with spinach quiche?
Your side choice depends on what course you are making the quiche for. If it's for breakfast, you can combine it with plain yogurt for a refreshing start to the day. If making it for lunch, add a soup and salad. (Cabbage and tomato salad goes especially well with this.) Quiche for dinner? Add a side of meat and you're good to go!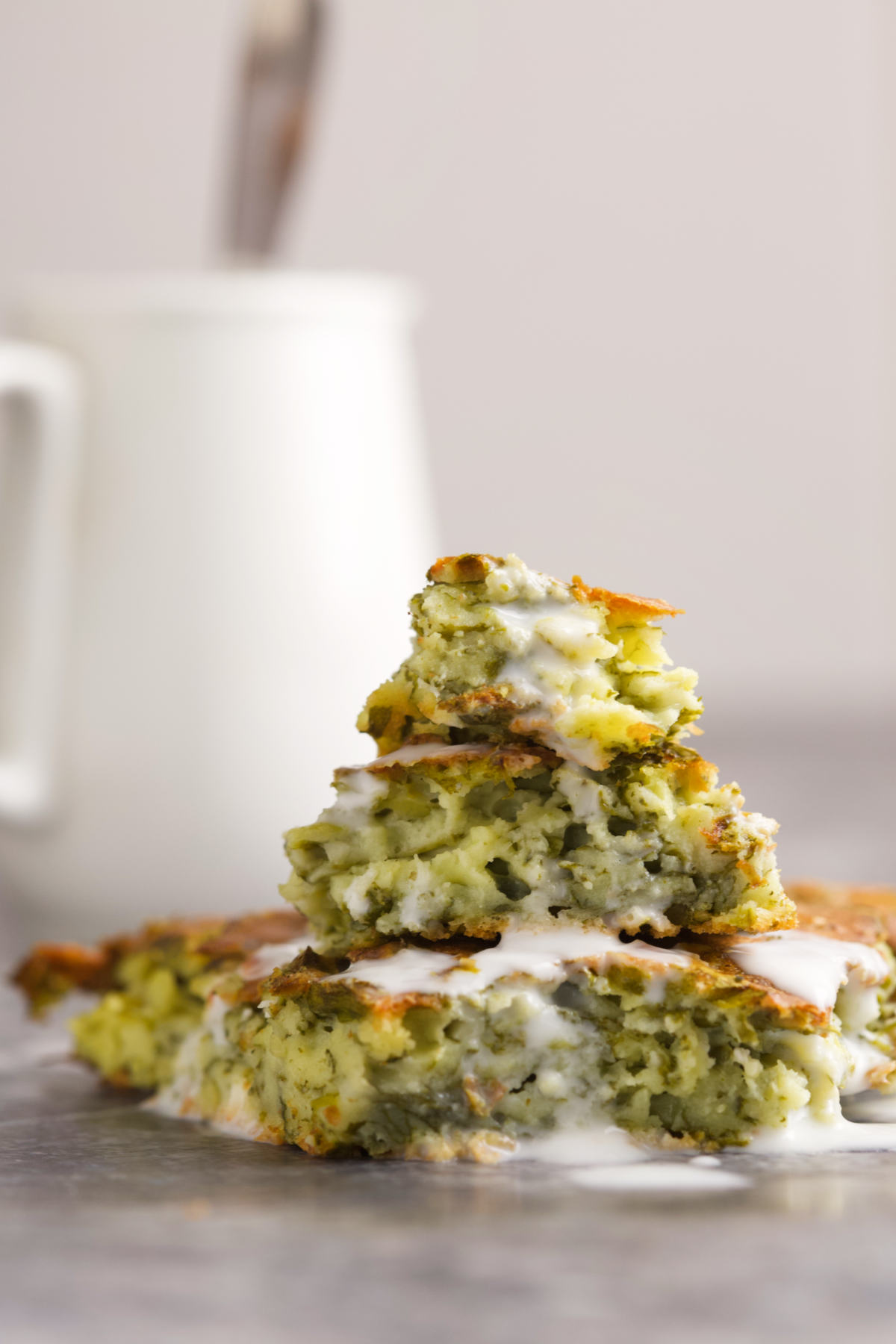 Similar Recipes
Thoughts?
If you make Vegetarian crustless spinach and cheese quiche and like it, please consider giving it a ⭐️⭐️⭐️⭐️⭐️ (5-star) rating. This helps others find the recipe more easily!
Also, feel free to leave a comment (I read each one!), and don't forget to tag a photo #balkanlunchbox, or us @balkanlunchbox, on IG.
Prijatno and bon appetit!
Adjusted from the recipe by Samir Hajdarević.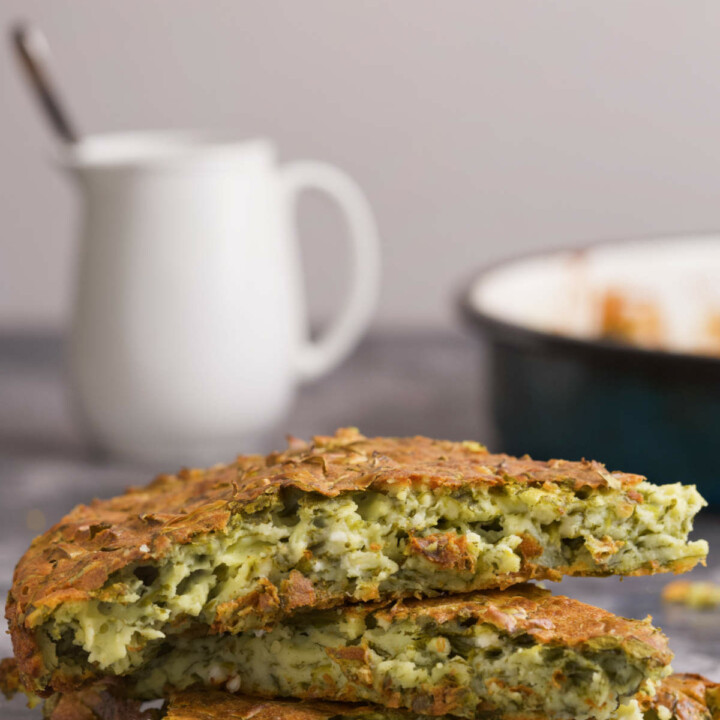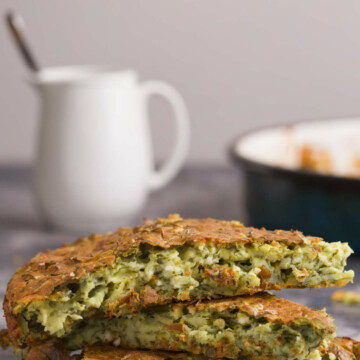 Crustless Spinach and Cheese Quiche
Crustless vegetarian quiche with cheese (zeljanik). Two different versions.
Equipment
(Option 1) 12-inch (30cm) round baking pan

for the fluffier, softer version

(Option 2) 10-inch (25cm) round baking pan

for the crunchier version
Ingredients
2 -3

eggs

2 if making the crunchier version of the quiche

4

ounces

milk

2

teaspoons

baking powder

1 teaspoon if making the crunchier version of the quiche

Salt to taste

7

ounces

cheese

feta, farmers, ricotta or cottage

7

ounces

sour cream

1 and ⅓

cups

white flour

or corn flour, or a combination of white and corn flour

10-12

ounces

spinach

washed, then minced, or cut very finely

Oil

to grease the pan

(Optional) Sour cream or yogurt.

approximately 4-6 ounces (120-150ml).
Instructions
In a large bowl combine eggs, milk, baking powder, salt, cheese, sour cream, and flour. Whisk until completely integrated. Heat oven to 450°F (250°C).

Add spinach to the batter and mix well until completely integrated. Transfer to an oiled pan and lightly shake side to side so the batter can evenly distribute. (Larger pan for crunchier, or smaller for the softer version.)

For a softer quiche lower the temperature to 350°F (180°C) and bake for 50-55 minutes. For a crunchier quiche lower the temperature to 390°F (200°C) and bake for 45 minutes. (Note that baking times are an approximation only. For the best results, follow your experience, and your oven.)

(Optional) Top with sour cream or plain yogurt.

Storage: Keep (sealed in plastic wrap) in the fridge for up to 2 days. Freezing: Freeze for up to 1 month. Reheating: Reheat according to your preferred method.
Nutrition
Serving:
1
of 4
Sodium:
1151
mg
Calcium:
524
mg
Vitamin C:
20
mg
Vitamin A:
7210
IU
Sugar:
3
g
Fiber:
3
g
Potassium:
576
mg
Cholesterol:
77
mg
Calories:
416
kcal
Monounsaturated Fat:
5
g
Polyunsaturated Fat:
1
g
Saturated Fat:
12
g
Fat:
22
g
Protein:
16
g
Carbohydrates:
40
g
Iron:
4
mg
More Dishes