Ground beef and potato pie with phyllo is a baked pastry with a filling, similar to the recent spinach pie. Pies (pite, sing. pita) are a group of filled pastries integral to Balkan cuisine. Ground beef and potato pie is an old favorite, and since we'll be using phyllo from the box, it can be on your table in one hour.
Šareni burek is my favorite pie. All it really is, is a filling made of meat and potatoes, baked in phyllo. To simplify, it's a meal wrapped in dough.
Balkan pies taste best with homemade phyllo. Phyllo from scratch is intimidating at first. What you need to do are baby steps. Some training wheels of sorts. Start with phyllo from the box. The pie won't be the same in taste to pies made from scratch, but it'll be pretty damn similar.
In Bosnia and Herzegovina, pies are called based on their filling.
Krompiruša is a potato pie, zeljanica is a spinach pie, while burek is a meat pie.
Šareni burek is translated as mixed or colorful meat pie, due to the potatoes added to the meat.
Regionally, to great dismay of everyone in BiH, people call all type of pies burek. They say burek with spinach, or burek with potatoes, or the worst offender, burek with cheese which is really sirnica or cheese pie.
Just remember is if you go to Bosnia, burek is a meat pie only. If you order burek and expect it to come with anything else you'll piss a lot of people off. So, when in Bosnia and you hear burek, think meat.
This naming is probably a moot point for you. I get it. But people get territorial about this issue. Recently a lady from Croatia ordered burek with cheese in Sarajevo, and she got round of a burek (with meat of course) cut in half and a slice of cheese on the side.
Things to remember when making this ground beef and potato pie is to ensure your baking pan is about the same length as the phyllo to prevent having to cut for fitting. I layered this ground beef and potato pie in a different way than the spinach pie to give you more ideas about what pies can look like.
Keep the pie in the fridge for a few days if you'd like, and then warm up before eating. Don't keep this specific pie in the fridge for too long, as potatoes are no good overnight. (And definitely do not freeze any pie with potatoes.)
These are great to take to work or school. My friend Sylvia loves making a few pans to take with her family when camping in wild lands of Colorado.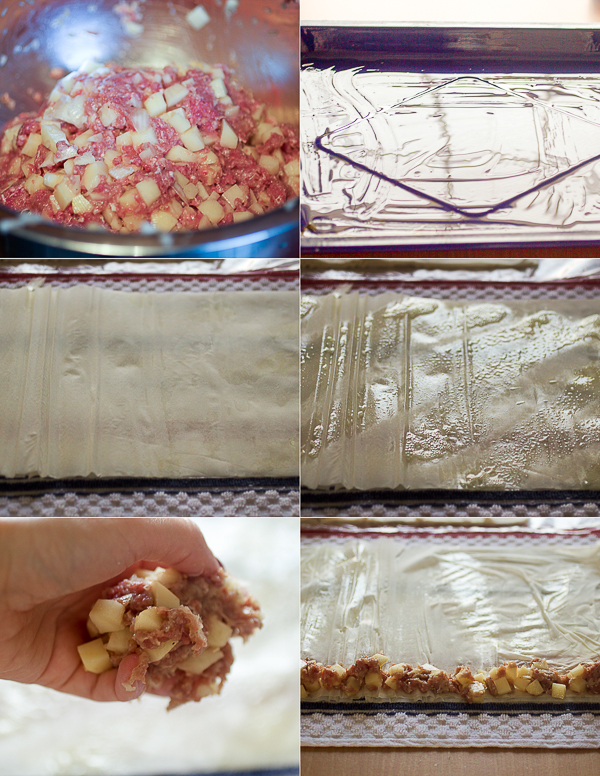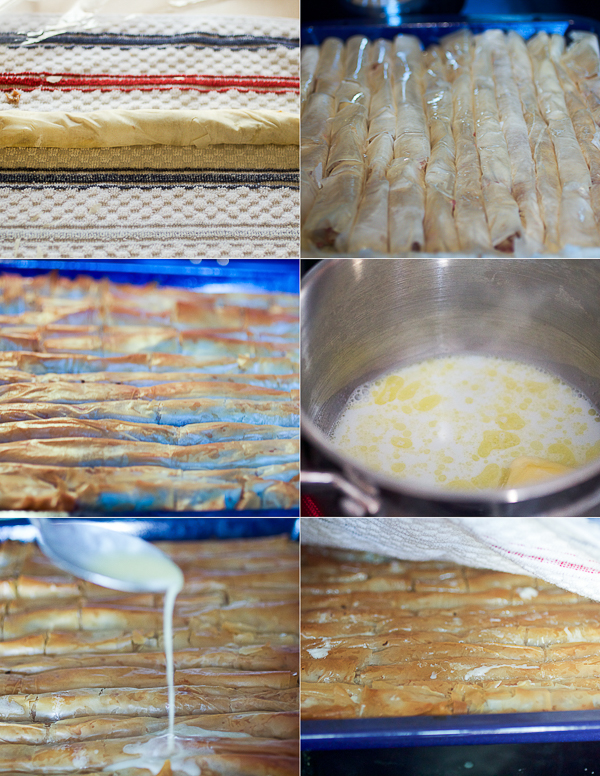 Meat & Potato Phyllo Pie
Ingredients
FILLING:
1

onion

large, minced

1

pound

potatoes

peeled, minced

1

pound

ground beef

½

tablespoon

ground pepper

½

bouillon cube

or vegeta, or salt
PHYLLO:
1

box of phyllo

1 pound or about 14-18 sheets

Oil

sunflower, canola or vegetable, preferably spray
TOPPING:
½

cup

water or milk

2

tablespoons

butter

½

tablespoon

salt
Instructions
In a large bowl combine onion, potatoes, ground beef, 1 tablespoon of oil, and seasonings. Integrate all ingredients well, and set aside. Heat oven to 490°F.

Take phyllo out of the box and unwrap. Take one sheet of phyllo, spread it on your working area and generously spray (or brush) with oil. Grab a handful or two of the filling and spread a line of it (the thickness of two thumbs) on one the longer end of stacked phyllo sheets. Roll the filling and phyllo up like a cigar. Spray (or brush) a dash of oil on the top of the rolled and filled sheets. Place in an oiled baking pan. Repeat the previous step for remaining ingredients. (Place the rolls tightly next to each other in the pan.) Place in the oven.

Lower heat to 450°F. Cover pie with foil after the first 8-10 minutes. Bake for a total of 30 minutes. Take the pie out of the oven. Melt butter in water (or milk) and spray the pie with it. Cover with kitchen towel and let the pie cool off for about 30 minutes.

Cut the pie perpendicularly.
Notes
(Optionally) Serve with a cold glass of buttermilk, and tomato salad.