Breaded eggplant and zucchini: if you've ever had doubts about these two, now is the time to put them to rest. Tough but dewy eggplant and zucchini, dipped in flour and egg, then frizzled until they achieve a perfectly crunchy softness.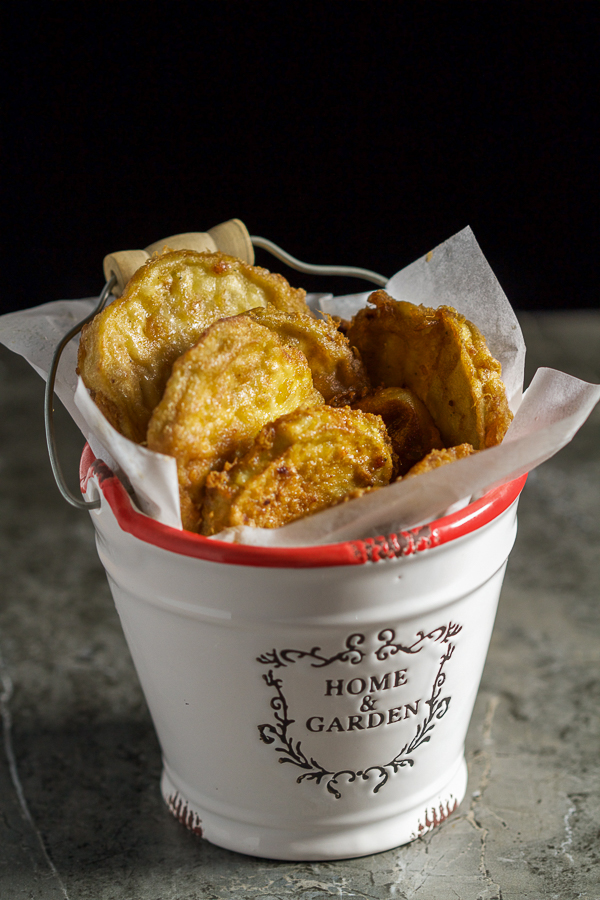 If there was a vegetable popularity contest, zucchini and eggplant wouldn't score high. This is mostly due to the texture (especially eggplant texture), which when placed against pepper crunchiness or tenderness of your everyday spinach, doesn't rank well. There is also the water content. Both zucchini and eggplant usually require a good sweat (zucchini due to water, and eggplant due to bitterness) before use, adding an extra 15-45 minutes to preparation time.
Well, not today!
This breaded zucchini and eggplant recipe circumvents the elaborate sweating. I've tried many breaded veggies, yet this version tops them all. You need maybe twenty, but definitely no longer than thirty minutes, to end up with an impressive bowl-full of crunchy yet soft vegetables. On the crunchiness scale, these fall between the breaded baked zucchini and breaded crepes. Additionally, the quick frying and avoidance of sweating help seal in the freshness. This results in a taste of compounded flavors, where from the initial crunch you get the eggplant and zucchini almost in their fresh state but with warm, softer overtones. These are a perfect appetizer (just dip them in ketchup, tartar sauce, hummus even), but you can serve them as a sophisticated side dish too.
A few of you inquired about what's been going on in the BLB headquarters in this first part of the year.
Let's start (again) with the winter. You remember cousin Avi from Snatch and how he feels about England? Well that's how I feel about winter.
I've never experienced a longer one in my life. Partially, this is due to me having been spoiled by mild DC winters. Partially, this is due to the atmosphere around me. Everyone is impatient for a lasting sunshine. Even people who lived in Sarajevo their entire life are sick and tired of this particular winter. Except for the few excitable skiers who love that the snow lasted from December into February, everyone's been dreaming of short sleeves and sandals.
Here and there comes a chain of a few sunny days in a row. I prohibit myself from enjoying them, knowing well that spring is nowhere near us. The remaining winter is furious and ready to unleash the last array of calamity at any moment.
There is a tradition in the US of letting a groundhog named Phil predict the winter's length. If the groundhog sees his shadow when it's taken out, the winter is supposed to last another six weeks. If not, the spring comes early. Although his success rate of prediction is apparently only 21% correct, and it's questionable whether even those 21% correctness apply to outside the US anyway, Phil did see his shadow this year. However, I didn't need a groundhog to tell me we have to endure at least a few more weeks of this.
In the words of cousin Avi, don't go to Sarajevo (in the winter)!
Other than that, I'm on spring break (the irony is palpable) from grad school, so I've had a little more time to make and share goodies with you. In the upcoming days we're doing a creamy shrimp pasta, and a vegetarian savoy cabbage stew.  To all BLB vegetarian readers out there, thank you for the opportunity to discover that there are plenty of vegetarian delicacies in the Balkans.  Vegans, I'm working on it. Meanwhile jump over to Nicole's fantastic blog, where she shares a lot of vegetarian and vegan wisdom as she makes her way through the Balkans.
The readership and the subscriber list have experienced a growth spur again recently. This tells me you're interested in the food and recipes, maybe even the stories. That's exciting! I'd like to take the opportunity to welcome all new readers, and give a virtual hug to the regulars. I do BLB for and because of all of you, and I'm grateful you've taken a moment out of your busy lives to come to this space.
If you've been following me on Balkanvibe, you'll see a couple of more recipes on there. If you're into veal, here's how to do your first veal roast. It's simpler than you think. And you'll impress the hell out of your guests. There is also some raspberry cake action as well.
There are a few more surprises coming your way within the next month or so. BLB has experienced a few very positive changes and I can't wait to share them with you! If you have suggestions, recommendations, questions and requests, please speak up! I love your comments and read each and every one.
Print
Breaded Eggplant and Zucchini
Author:

Prep Time:

5 mins

Cook Time:

15 mins

Total Time:

20 mins

Yield:

6

1

x
Category:

Side Dish
---
Scale
Ingredients
2

eggplants (medium)

2

zucchinis (medium)

4

–

5

eggs

1.5 cup

s white flour

2 tablespoon

s seasoned salt
Oil
---
Instructions
Peel eggplant and slice into 1/3 inch rounds. Peel zucchini, cut in half, and slice into 1/3 inch slices lengthwise.
In a medium bowl, beat eggs, and add seasoned salt. Take another medium bowl and add flour to it.
Take a deep pan and add a generous amount of oil for frying. Heat on high.
Dip vegetable rounds and slices first in flour then in eggs. Add to the pan. Fry the first few batches for two minutes on each side on high. (Later, as oil gets hotter lower it down to medium.)
Consume warm.
---