Ajvar: the world-famous Balkan roasted red pepper and eggplant relish. Smokey, deep, rich. Unforgettable.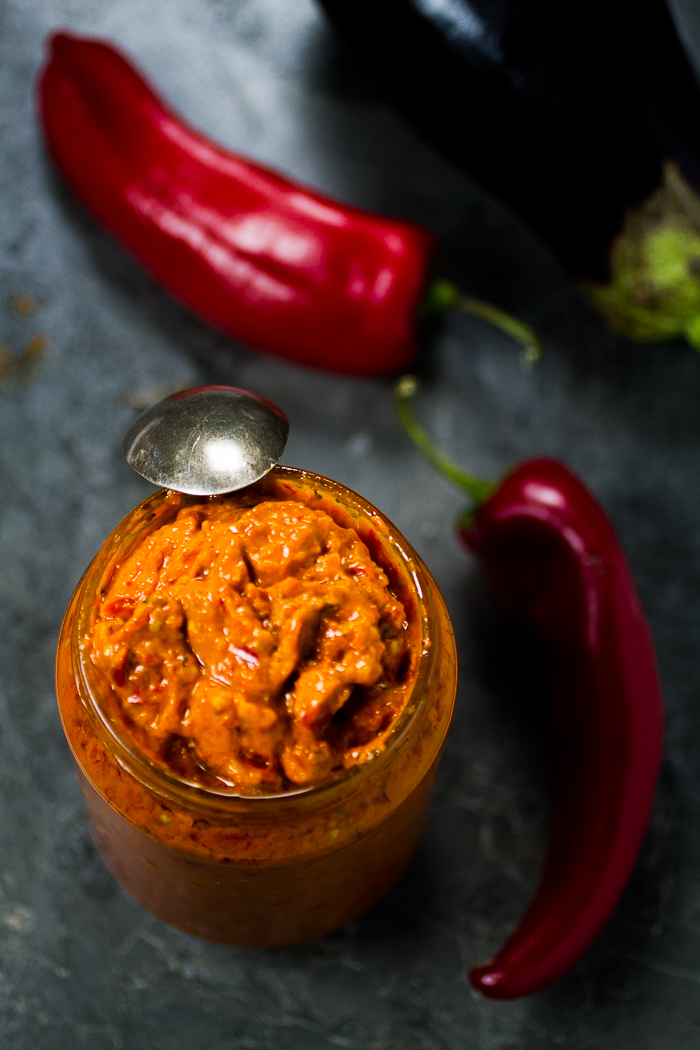 Even if you know very little about Balkan cuisine, you probably heard someone mention, ajvar (pronounced "AY-vahr").
Ajvar is a relish (spread, preserve) made primarily with eggplants and red, bull's horn sweet peppers, called so due to their long, thick, pointy appearance reminiscent of a horn.
These peppers are known as "roge" in the region. You may come across them under the name of Italian "corno di toro" - bull's horn - peppers. (Don't confuse them with hot cow horn peppers.)
Your best bet is to look for these peppers at the farmer's market. If you can't find them, go for regular bell peppers. They must be the red kind though.
(Some recipes call for more ingredients like garlic and chillies.)
Ajvar's sometimes referred to as chutney. But every chutney I've ever had had been sweet. Like jam or marmalade. And while ajvar can, and often does have sweet undertones, it more closely falls under the relish or spread category.
A relish is defined as a condiment made by cooking, pickling, or chopping a fruit or a vegetable. However, this definition is too simplified for ajvar.
For one, when we think of relish, most of us think chopped pickles in little bags at fast food places. (My dad loved relish. He used to ask for it at McDonald's. Except they rarely had it at McDonald's. They'd get annoyed. He'd get upset. His next step was to ask for a Pepsi. Then the war was really on.)
Secondly, a condiment is a sauce added to food to impart a flavor. Certainly ajvar can be, sometimes is, added to food to enhance its flavor. But ajvar is also independent.
It doesn't need anything to enhance it, nor does it need to enhance anything. It's most flavorful, most rich when spread in a thick layer on a piece of homemade bread. You can't do the same with sauces or salsas.
As evident, I'm not completely sold on categorizing ajvar.
One prepares ajvar by first roasting eggplants and peppers, and then peeling, chopping, and finally cooking them. Industrial ajvar (store ajvar) usually consists of ingredients which have only been cooked. Don't eat this kind.
I'd hate for you to miss out on its real taste.
On its richness, and smokiness. On all the effort peppers and eggplants gave roasting in the oven. On all the time that goes into preparation, returned tenfold in that final moment when, after spending several hours with only one goal in mind, you understand you just may have achieved your highest culinary point as of yet.
If you still decide to go with a store brand, there are two things you can do.
One is to look for the Baš Ajvar brand. (This is not an advertisement.) It's the best industrial ajvar although their quality declined in the past few years. What surprised me is that Baš Ajvar exported to the US is better than the one in Sarajevo stores.
It must be the Nutella effect. Did you know there are different quality Nutellas? Nutella you buy in Germany is better than the one you buy in Serbia for example. (It makes you a disappointed with humanity to find these things out.)
Secondly you can buy any ajvar and improve it.
A lot of people do it this way. They get several jars of ajvar and smaller quantities of peppers and eggplant. Then they roast peppers and eggplants, peel them, chop them, and cook everything together with the store ajvar. (I'll write up a recipe for this sometime.) This is the best way to make ajvar and control its taste without having to do it from scratch.
It's hard to pinpoint where ajvar originated, as it's made all over ex-Yugoslavia. If you want my advice, don't ask people from the Balkans where things come from. Especially regarding something as basic as ajvar, the spread for which each family has a preparation technique spanning over generations.
(A digression. I watched a documentary about Danes being happiest people in the world. They asked someone from Denmark why they thought this was so. The person said it was because everyone belongs to a club of some kind.
"If a few people got stuck in an elevator for twenty minutes together, they'd probably come out having formed a club for people who get stuck in elevators," they said.
On the other end of the spectrum we have people from different ex-Yu countries, who, if stuck on an elevator together, wouldn't all come out alive. Of course, this changes when you take them away from the Balkans. In other countries, they're brothers.)
Today's recipe for ajvar is my mom's.
The process is extensive. You'll need a weekend to do it. It's easiest to work over two days. For example, start on Friday evening, work into the night, and continue the following day until finished.
I don't recommend you go the easy way.
Why? Because the quantity of ingredients is too small to make real ajvar.
If you take anything from this article let it be this: you can't make fantastic ajvar with five peppers and an eggplant!
Food cooked in large quantities tends to be better. Why the food made at a scout summer camp, or in the army is better I don't know. Because of the huge pot in which it simmers for hours? Or something about preparing a larger quantity of ingredients all at once that makes it just right? It just is.
By the way, I chose mom's recipe because her ajvar tastes better than any other I've tried. Hundreds of people agree. If you make it her way, you'll never make it any other way again.
She cooks it longer. It's sweeter than most, has a smooth, consistent spreading quality, and is a deeper, darker orange. (When buying ajvar, one giveaway it's not particularly good is if it's bright orange.)
Also, mom's ajvar does not contain garlic, while many ajvar recipes do.
Garlic is like a dear friend you don't send an invite for every occasion. To your ajvar jar, for one. It overpowers it and it doesn't keep well.
It's best if ajvar making becomes a family affair. Get everyone involved. You'll make wonderful memories this way.
It's the memories of the falls before the war which inspired me to make ajvar with mom this year. A lot of change affected our family over recent years. We experienced many losses. One of them dad.
Profound loss led us to discover importance of traditions. Rituals which roll on after we're gone. For you it may be a book which when passed on to new generations, will be read by someone who by that very act will be getting to know you, the long gone relative who once pondered the same thoughts.
A tradition can also be making ajvar together each year, even if the family changed by circumstances beyond control.
Back before the war, every fall there was a period of time when moms and grandmas prepared zimnica; zima meaning the winter, and zimnica being the food for the winter. It was a way to conserve things we couldn't get to the following few months. It generally consisted of fruit and vegetables preserved, cooked, and fermented.
In that period you couldn't find strawberries in the store all year long. You ate them fresh in late spring, and in ice creams and desserts in the summer. During fall and winter, strawberries came as marmalades, jams and preserves.
The time for preparation, death, rebirth and bloom. Changing of the seasons meant witnessing nature's winter death and spring rebirth. There was the time to sow and the time to reap.
Going back to zimnica, it also meant preparing ajvar. Going to the large farmer's market, and picking up bright red, plump, bull's horn peppers that came in colorful threaded bags from which peppers protruded out like curious spectators. We'd pick out indigo, fat eggplants too, and the eggplants and peppers got acquainted in the car on the ride back home.
Then started the adventure that would finish up in small jars of ajvar, stacked on the kitchen counter like Tetris. The aroma of ajvar was one of comfort, of cooking, of a warm and inviting home, where good people lived.
A home, where no matter how cold it was outside, there was no winter.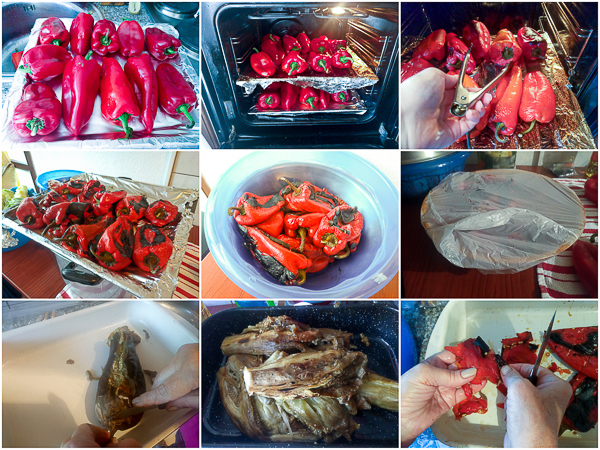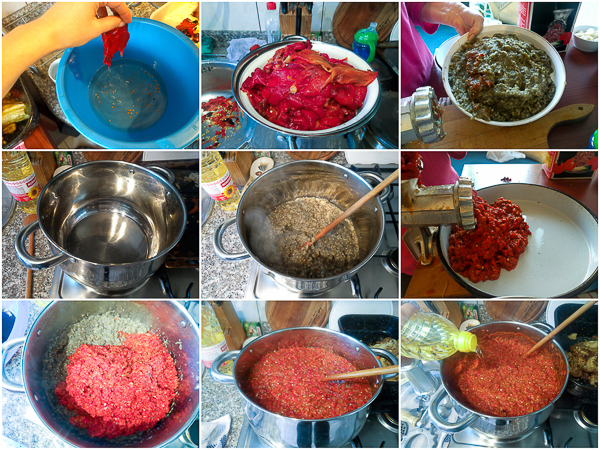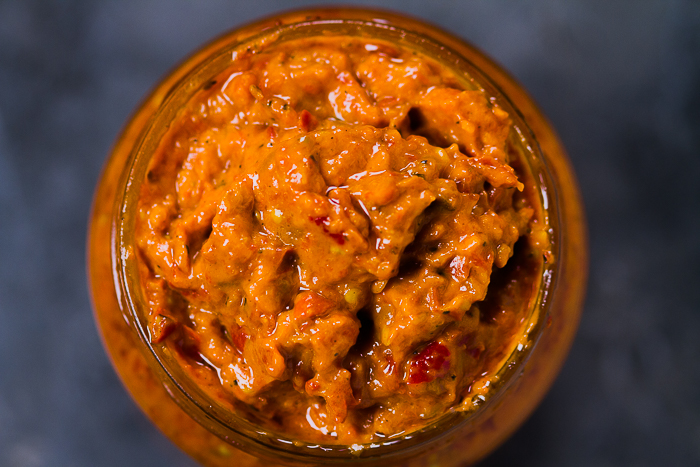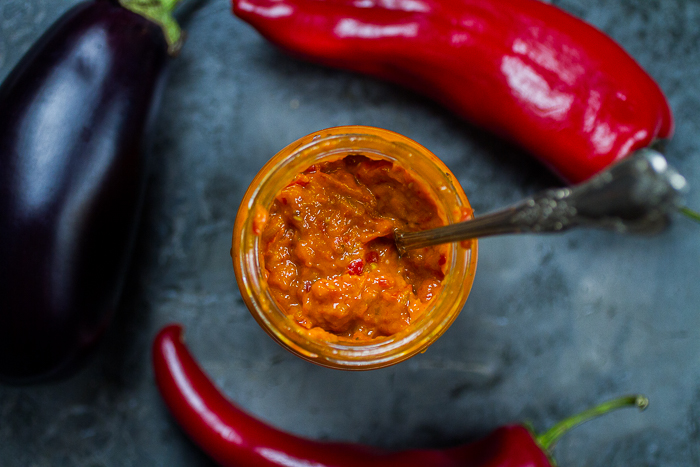 BLB APPROVED AJVAR RECIPES AROUND ON THE WEB
I'm a big fan of travel blogs. I'm an even bigger fan of bloggers who travel for food and pleasure. Anthony and Leila from recipehunters do exactly that! They pick a place and then immerse themselves in local food and customs.
They did a great ajvar recipe when they visited Imotski in Croatia. I am linking to it because the preparation method is different. Peppers and eggplant aren't roasted but are cooked, first in water then oil.
However you can immediately see by looking at it that it's good ajvar. Trust me, once you make ajvar few seasons in a row you'll be able to recognize how good it is just by sneaking a peek. So if you're not into roasting, theirs is an excellent ajvar option for you.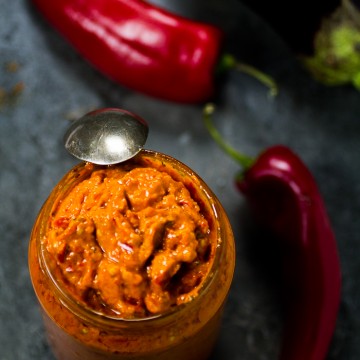 Ajvar: The Ultimate Guide to Balkan Roasted Red Pepper And Eggplant Spread
Ingredients
AJVAR:
23-25

pounds

red bull's horn peppers

or red bell peppers

8-9

pounds

eggplants

medium to large

3 to 4

cups

vegetable oil

about 1 liter bottle

1

tablespoon

sugar

2

tablespoons

salt
EQUIPMENT:
Few pairs of latex gloves

optional but recommended

Meat grinder

Large pot

Several jars with lids

Foil
Instructions
Heat oven to 480F, or if you are using a wood stove, heat it up high.

Thoroughly wash, then pat dry whole eggplants and horn peppers. If you are using a wood stove, place foil on top of it and roast the peppers first. If using a regular stove, use both racks. (If you only have one rack then use the rack plus the bottom of your oven.) Cover a baking sheet with foil (or the rack itself if you don't have a baking sheet), and line it with as many peppers as you can, leaving a bit of space between them, then place inside. Repeat for the second rack, or bottom of the oven. You'll have to do this in two to three batches for the peppers.

Roast peppers for about 25-30 minutes (check once or twice), then turn them over if they're done on the bottom end. They should have little black patches here and there, and the skin will be coming up. They'll also be soft, and will exert some of their fluid. For the next 20-25 minutes frequently check the peppers, and turn them to the side if necessary to make sure they're roasted on all sides. At about 50-55 minutes of roasting, they should be completely roasted. Don't be overly concerned with time, instead, watch that peppers are completely roasted, but not burned. It's possible that one rack will be done, while the other still needs a little bit of time. So the timing here is only an indication. All depends on your oven and peppers.

Take the roasted peppers out. Place them in a couple of different bowls, and cover bowls with plastic bags, making sure to seal really well. Leave to cool overnight.

Repeat the previous two steps for all peppers.

At this point roast eggplants the same way as peppers. They may need a little bit less time, but it'll depend on your oven. When done the eggplants will also "raise" their skin, and will also have a few brown black patches. They'll be soft and moist. After you're done, place them in bowls and cover with plastic bags (optionally you can leave them in a bowl overnight uncovered). Leave to cool overnight. (This is a good stopping point. You are welcome to peel the same day, you can even cook ajvar the same day. But it'll tire you. Also it's good to give the veggies some time to cool off. It'll be easier to peel them, and you'll protect your hands from burns.)

The following day, start peeling eggplants and peppers. This part is messy, so protect your working area, whether it's the floor or the table or the counter. Prepare a large bowl with water, and one to two large bowls in which you'll place peeled peppers and eggplants. Also prepare a few plastic bags you'll use for trash. (If ever, this is the time to get your family involved. Peeling is a long and tedious process.) Put on your gloves. Start peeling peppers by removing the stem and discarding it. Then flatten out the pepper so you can see its insides, and dip in water to remove the seeds. The next step is to peel off all of the skin, and black dots that formed while roasting. This is a tricky part as you may lose some of the pepper meat, and even some of the peppers, as they might be of a bad quality and are too thin to peel. You can peel them with your fingers or a knife. You'll find you have a preferred way of doing it. Once a pepper is peeled, transfer it to a dry bowl and repeat this process until all your peppers are peeled.

Move on to peeling eggplants by cutting off eggplant stem and discarding it. Then use a knife to take off its skin and black dots that formed while in the oven, while keeping as much meat and seeds in tact as possible. You will be using seeds from the eggplant, so no need to remove them. After peeling, transfer to a dry bowl that's separate from peppers.

The next step is to either cut or grind down eggplants and peppers. Keep them separate. Start with the eggplant first. If you choose to cut them down, ajvar will be tastier and chunkier. But will take a long time. If you opt for this, cut the vegetables (separately, and eggplant first) into stripes first, and then dice into smallest possible pieces, while keeping the juices. If you use the grinder, grind each vegetable down into a separate pan, again keeping the juices.

Take a large pot that will fit in all ingredients and still have a few empty inches on top. Fill it with oil the thickness of one finger. Warm up the oil until really hot on high, and add eggplant. Stir eggplant in really well, and simmer for 15-20 minutes. Stir frequently.

Bring down the temperature to low and add grinded peppers in. Stir well. Ajvar will be cooking for the next four and a half to five hours (please see my note about stoves regarding the time). The ingredients will essentially be boiling most of the time, and the air bubbles will be coming out. It's imperative to continue stirring ajvar throughout the entire cooking time, that's every few minutes, to prevent burning. You will also be adding about 3-4 cups of oil to the pan throughout the cooking process, a little at a time every fifteen minutes or so. Stirring is a tedious process, but if you skip it, your entire effort will be wasted. Basically, as you are stirring ajvar, you are making sure it's not burning, and you're adding some oil at regular intervals while stirring.

After about four hours of cooking, add in sugar and continue stirring.

At the very end of cooking, after about four and a half to five hours, add in salt. Meanwhile, heat oven to 250F. Wash several jars in hot, soapy water and rinse well. Pat dry. Place on a baking sheet and put in the oven. Warm them up for fifteen minutes. This will sterilize them.

Once the jars are hot, and the ajvar is turned off (it's still extremely hot so be careful) you'll be transferring hot ajvar to hot jars. If you have another pair of gloves this is a good time to wear them. Use thick kitchen mittens to pick up jars to protect your hands and fingers. Be very careful while you transfer ajvar into jars. Do jars one by one, and fill each up to the top, leaving the part where the ridges empty (so fill up almost to the top, leaving the top portion empty).

After you've filled up a jar, take a spoon, and press ajvar all the way into the jar, making sure there are no air bubbles left in the jar. Air is what makes ajvar go bad, so do not skip this step. Do it meticulously and do it for every jar.

When all the jars have been filled up, place them on a baking sheet and return to the warm, but turned off oven, without lids. It's best if they're left overnight, or at least several hours. A crust will form on the top of ajvar in each jar. The crust is basically ajvar that's hardened and darkened. This will be a thin but hard layer. At this point, take out the jars, pour a few tablespoons of oil on top of the crust in each jar, and screw lids on tightly.

Keep ajvar in a dark and cool place. There is no need to it in the fridge until you open the jar. However, as soon as you open each jar, when not eating ajvar, it will have to be in the fridge. As you open a jar of ajvar for the first time, first pour out the oil that was on top, stir the ajvar in jar, and then use.

Ajvar can last several months like this. Of course, it won't last that long because it's too delicious.
Notes
In absence of bull's horn peppers, use red bell peppers. (Make sure to only use the red kind.) Do not make the mistake of buying how cow hot peppers.
The original recipe calls for 22 pounds of bull horn's peppers to 7 pounds of eggplant. I always buy more ingredients because you never know if the peppers will be easy to peel. Some aren't, and you lose a portion of them. Even within bull's horn peppers, it is hard to determine which batch of peppers will be good for ajvar and easy to peel.
If using oven rack instead of a baking pan, just know it'll be faster but the rack will get a little damaged during the process.
For ajvar with smoky aroma and taste, roast peppers and eggplants on a wood stove (if you have one). Otherwise, a regular stove will do great. However there is a difference in time if you are cooking on a gas stove versus electric. Electric stove in this case is better for ajvar, and you will cook on the low setting. Gas stoves on the low setting still end up giving off a higher level of heat and thus the cooking time is cut short (to about 2.5 hours). Although this seems like a better deal, for the this recipe you really want to cook longer, to give the ingredients a chance to really achieve a certain deep taste. Therefore if you have one of those stoves with both gas and electric, cook ajvar on the electric range. You've already put in so many hours of work, what's a couple of more?
How to recognize your ajvar as being done? Look for the deep orange hue, making sure it's not moving over to the brown tones. Check with a spoon or a spatula that it is creamy. Try it, and test if it's to your liking.
Obviously it would be faster to just use one rack. However you'd have more batches of peppers and eggplants to do. In the long run, you're better off using two racks, or a rack and bottom of the oven.
You don't have to wear latex gloves, but you'll protect your fingers if you do.
Keep smaller kids away from the kitchen while cooking ajvar. The ingredients are essentially boiling the entire time, so you want to prevent any accidents.
It's hard to give an exact amount of jars needed. Just have about 10-15 smaller jars ready. The smaller they are, the better, (and obviously you'll need more if you have very small ones). Why? If you put ajvar in a big jar, and leave it in the fridge and then forget about, it'll go bad after a while and you'll be wasting all that effort. When you have a small jar (we're talking 12-ish ounces or so, you can even use baby food jars) you'll use up that ajvar quickly, and you'll use up all of it. Smaller jars are also great as gifts.
You can double the amount of ingredients and make a larger batch. It'll take a little bit longer during peeling and roasting, but the cooking process stays the same. If you're feeling adventurous I urge you to try doing this.
If you have any questions, please do not hesitate to ask. This is a time consuming project, but it's one the best things you'll make in your life. That's a promise.