Do you know how to make homemade bread? If yes, great! If not, now is your chance to learn. 
(BOSANSKI)

I'm making this ridiculously easy. Yeast, sugar, salt and flour easy. Remember play-doh?

The idea behind this blog was to share Balkan cuisine with the English-speaking world. The more I elaborated on this concept, however, the more surprised I was at how familiar all cuisines are at their core. (After all, people prepare what they have on hand in their region, and these are usually vegetables, fruits, grains and meats.)
What this means for you, dear reader, is that nothing on here will be completely foreign.
Starting with the homemade bread.

Somewhere between our parents' generation and ours, it became normal to suck at making food. We're busy, and food takes time and planning. What if, after putting in the effort, it doesn't come out well?
So what?
I threw away many "firsts." I still do. What keeps me going is that making food is one of those cumulative skills - no knowledge gets lost. Did you know once you get a hang of making dough for bread you pretty much know how to make pizza and pastries? A little more practice and you're on your way to making pita.
But first we do bread because it's fundamental!
(Please note that while the prep+cook time of bread itself is about 1 hour, there are a couple of hours in between while we wait for the bread to rise. I recommend you make your dough early on a Saturday, go about your business for 2 hours, come back and re-knead, go about your business for 45 minutes, and then bake.)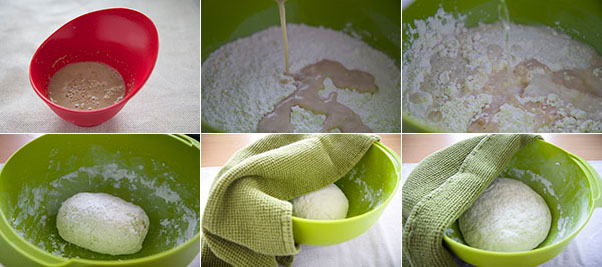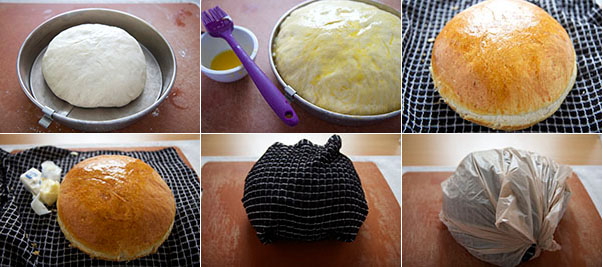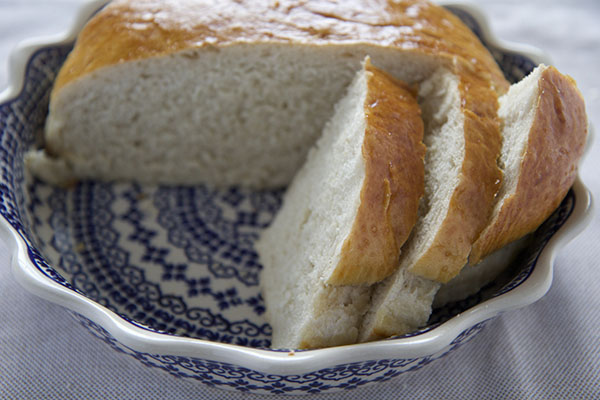 Print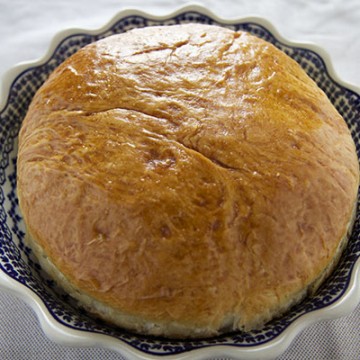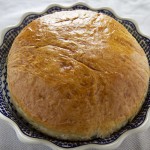 Homemade Bread
Author:

Balkan Lunch Box

Prep Time:

20 mins

Cook Time:

40 mins

Total Time:

1 hour

Yield:

4

1

x

Category:

Bread
---
1 tablespoon

baker's yeast (instant yeast)

1 tablespoon

sugar

1 teaspoon

salt

2.5 cups

white flour plus a little more
About

1

to

1.5

cups warm water (volume may vary)

1

egg yolk
(Optional) 1-2 tablespoons butter
---
Instructions
Combine baker's yeast and sugar with a few tablespoon of warm water and leave until it bubbles up (10-15 minutes).
In a large mixing bowl combine flour with yeast and salt. Gather dough into a pile and start adding water while you knead. Work the flour into a ball while you keep adding water. (At first the dough will be difficult and sticky to maneuver. Continue kneading it, and watch that you don't add too much water.) The dough should be lump and elastic, not fluid. Cover the bowl with a kitchen towel, and leave to rise in a warm place for 1 to 2 hours, or until the ball doubles in size.
Transfer to a lightly floured surface and knead another 10 minutes, shaping it into a ball again.
Oil a pan (the one used was a 10 inch diameter cake pan), and transfer the dough into the pan. The dough will be smaller than the pan. Leave to rise additional 40-45 minutes, or until it fills the pan. Heat oven to 475°F.
Mix egg yolk in a smaller bowl and brush the bread with it on all visible sides.
Lower the oven temperature to 400°F and place the pan on the top rack. Bake for 10 minutes (turn the pan 180 degrees once after 5 minutes).
Cover pan with foil, and lower to 300°F. Bake for another 25-30 minutes. Turn the oven off and leave the pan in the oven for an additional 5 minutes.
Soak a clean kitchen towel in cold water, and wring it out well. Spread it out and transfer the bread onto the towel.
(Optionally) Smear the butter generously on all the bread's sides.
Cover the bread with the towel. For best results, position the bread vertically when waiting for it to cool.
(Optionally) Place in a plastic bag securing the bag tightly.
Leave to cool for at least 15 minutes, then serve.
---
Notes
Quick dough rules: to make it sticky add water, and to make it hard add flour.
Please note while the total preparation and baking time is about an hour, there are two waiting periods for the dough to rise. Once after it's made, and the second time after it's placed in the pan.