Do you know how to make homemade bread? If yes, great! If not, now is your chance to learn.

I'm making this ridiculously easy. Yeast, sugar, salt and flour easy. Remember play-doh?
Balkan Homemade Cornbread From Scratch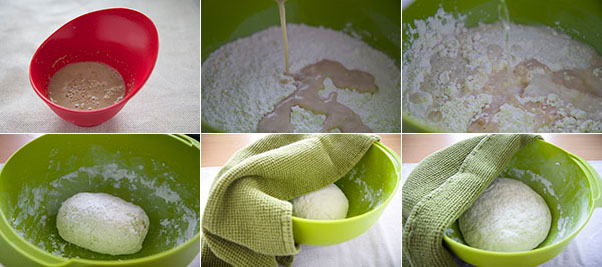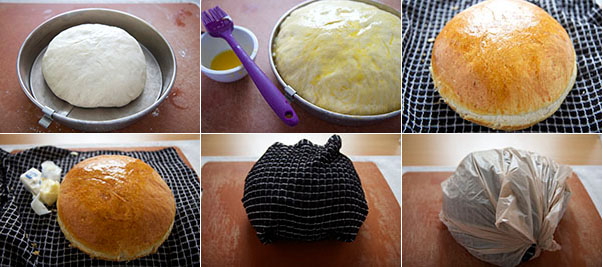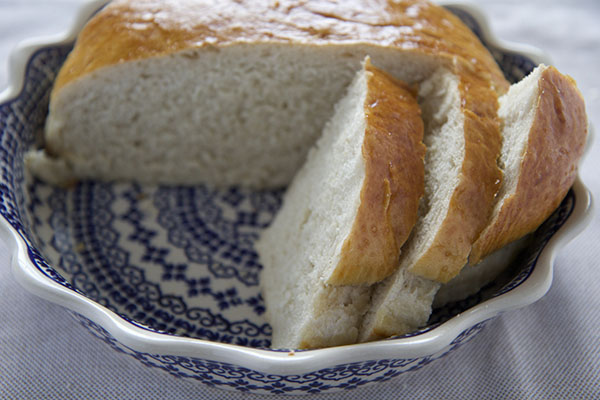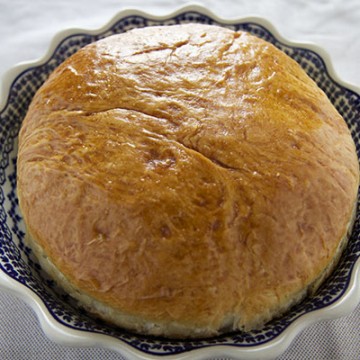 Homemade Bread
Ingredients
1

tablespoon

baker's yeast

instant yeast

1

tablespoon

sugar

1

teaspoon

salt

2.5

cups

white flour plus a little more

About 1 to 1.5 cups warm water

volume may vary

1

egg yolk

Optional 1-2 tablespoons butter
Instructions
Combine baker's yeast and sugar with a few tablespoon of warm water and leave until it bubbles up (10-15 minutes).

In a large mixing bowl combine flour with yeast and salt. Gather dough into a pile and start adding water while you knead. Work the flour into a ball while you keep adding water. (At first the dough will be difficult and sticky to maneuver. Continue kneading it, and watch that you don't add too much water.) The dough should be lump and elastic, not fluid. Cover the bowl with a kitchen towel, and leave to rise in a warm place for 1 to 2 hours, or until the ball doubles in size.

Transfer to a lightly floured surface and knead another 10 minutes, shaping it into a ball again.

Oil a pan (the one used was a 10 inch diameter cake pan), and transfer the dough into the pan. The dough will be smaller than the pan. Leave to rise additional 40-45 minutes, or until it fills the pan. Heat oven to 475°F.

Mix egg yolk in a smaller bowl and brush the bread with it on all visible sides.

Lower the oven temperature to 400°F and place the pan on the top rack. Bake for 10 minutes (turn the pan 180 degrees once after 5 minutes).

Cover pan with foil, and lower to 300°F. Bake for another 25-30 minutes. Turn the oven off and leave the pan in the oven for an additional 5 minutes.

Soak a clean kitchen towel in cold water, and wring it out well. Spread it out and transfer the bread onto the towel.

(Optionally) Smear the butter generously on all the bread's sides.

Cover the bread with the towel. For best results, position the bread vertically when waiting for it to cool.

(Optionally) Place in a plastic bag securing the bag tightly.

Leave to cool for at least 15 minutes, then serve.
Notes
Quick dough rules: to make it sticky add water, and to make it hard add flour.
Please note while the total preparation and baking time is about an hour, there are two waiting periods for the dough to rise. Once after it's made, and the second time after it's placed in the pan.