Balkan Homemade Cornbread is a savory, slightly sweet, and solid bread from scratch. Not to be confused with the Southern cornbread, our easy recipe tastes the best a day later, dunked in a bowl of hot milk or a stew.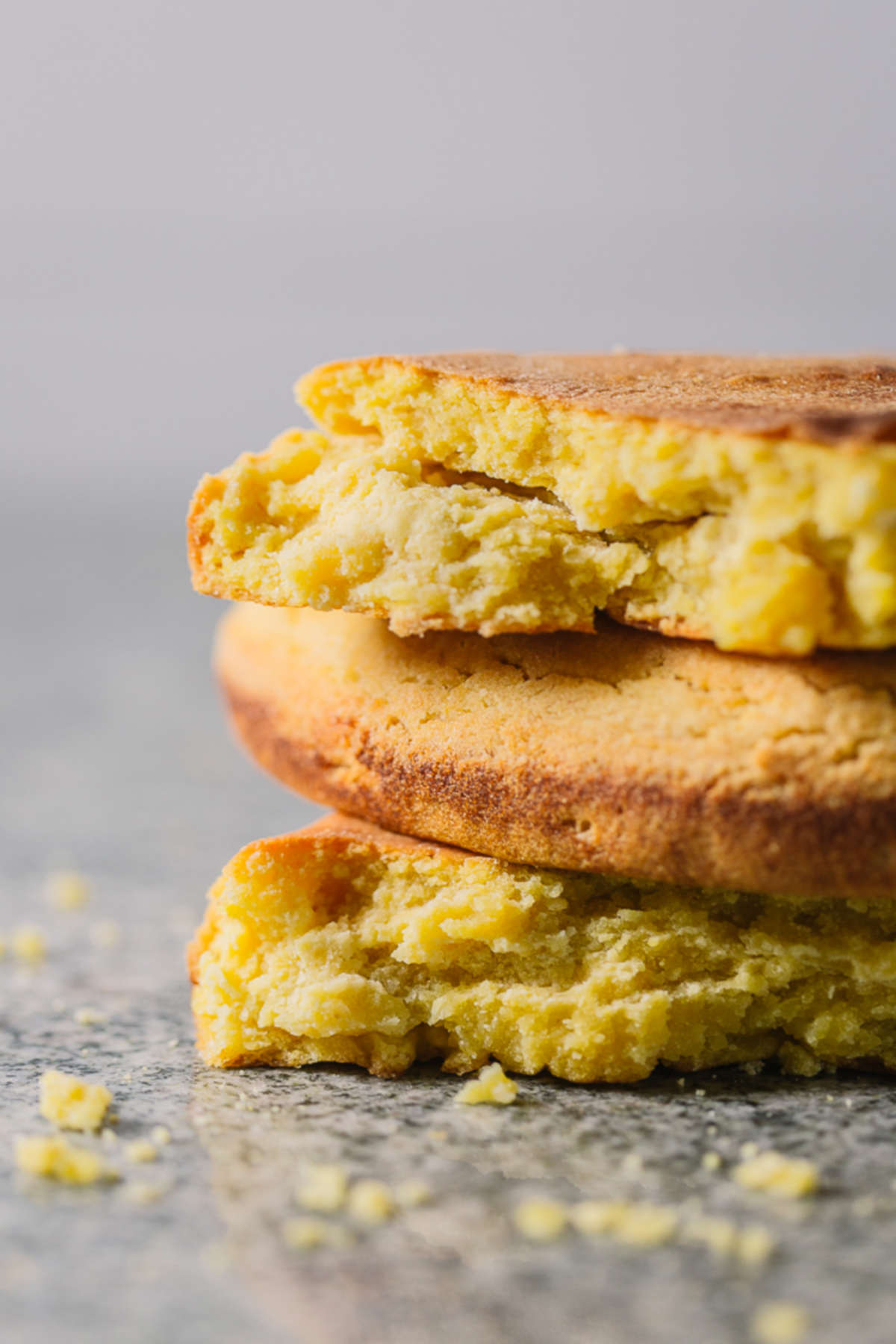 Jump to:
Background
Balkan homemade cornbread is a type of tough bread very popular in Serbia and Bosnia and Herzegovina.
It may surprise you that this little bread has at least four names regionally: proja, proha, kukuruza or just kuruza.
Like the Balkan traditional bread loaf pogacha, homemade cornbread is made in many different ways.
Here are a couple of facts about cornbread typical for the Balkans:
It's stiffer and crumblier than international cornbreads;
Corn flour, also known as finely ground cornmeal is used to make it;
It's kneaded with super hot water;
This cornbread from scratch tastes savory and slightly sweet;
Although loved, locally it has a not-so-nice reputation of being a "peasant's" bread.
(Not to confuse our Brit readers, by corn flour used to make homemade cornbread we mean ground maize, not cornstarch!)
Warning!
Due to its hardness, kukuruza isn't the best bread for sandwiches!
Instead, this is the type of pleasure bread you enjoy best by dipping it into a stew, or a bowl of hot milk.
Ingredients
Homemade Cornbread ingredients.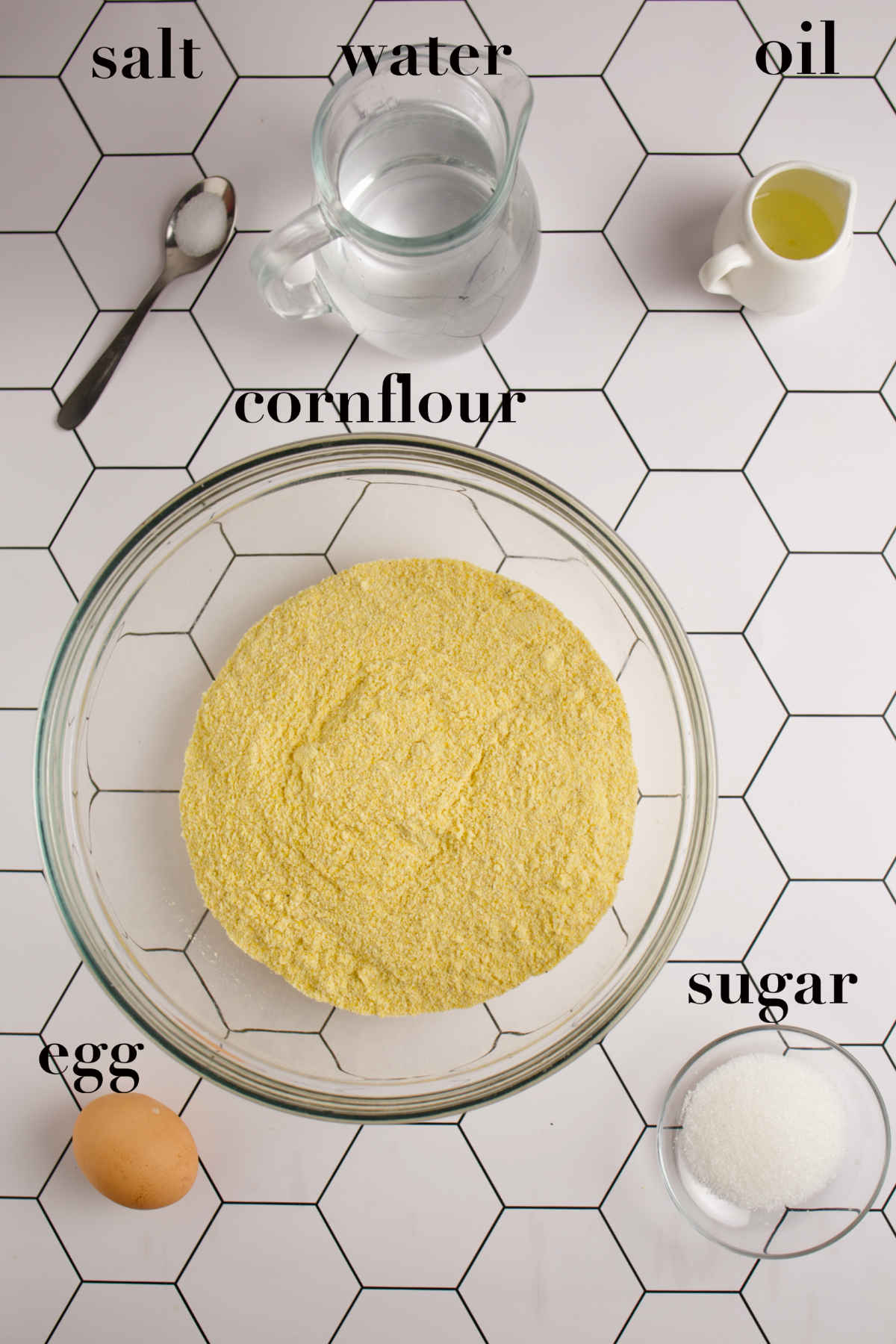 Note: as this homemade cornbread from scratch is very specific in look and taste (and made using ingredients you probably already have in your pantry) there are no ingredient substitutions.
Corn flour: We mean ground cornmeal. It should be as close in consistency to regular flour as possible. If it isn't, grind it in a coffee bean or seasonings' grinder. Note for our British and Australian readers - this is maize flour, not to be confused with cornstarch. (You can use fresh mill flour if you can get it.)
Hot Water: Use boiling or super hot water. Watch your fingers!
Sugar: Adjust the volume if you like it less sweet.
Instructions
Here are quick instructions on how to make homemade cornbread from scratch. For more detailed information look at the recipe card below.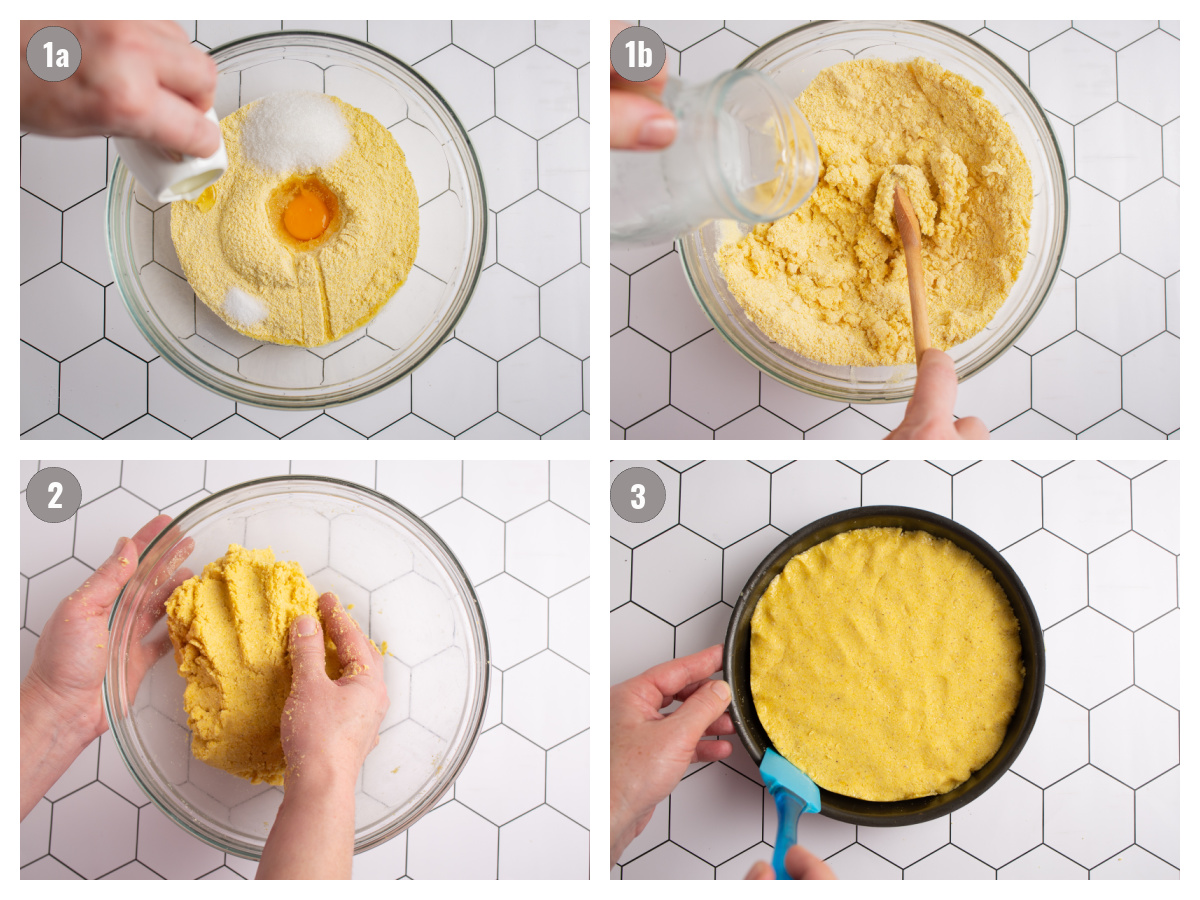 Heat oven. Combine ingredients and mix with a spatula.
Knead with your hands until you get a ball.
Transfer to a baking pan. Flatten. Separate from walls.

4. Bake. Turn pan. Bake. Do a toothpick test.
5. Place in a wet kitchen towel for 30 min.
Expert Tips
Balkan Homemade Cornbread Do's and Don'ts
Sweetness: Today's homemade cornbread is on the sweet side. (Put less sugar if you prefer, but don't omit it completely.)
Toughness: Kukuruza (proha) is made to be tough, because, unless warm, cornbread is almost never eaten solo. There is always a dip of some kind or an accompanying dish. It's not a substitute for a sub or a roll.
Breaking bread: Homemade cornbread tastes best when broken into pieces with your hands.
Corn flour tips: Although some types of flour can be kept in a pantry or cupboard, corn flour is prone to going bad earlier. It's best to keep it in a plastic or glass container (or jar) in the fridge.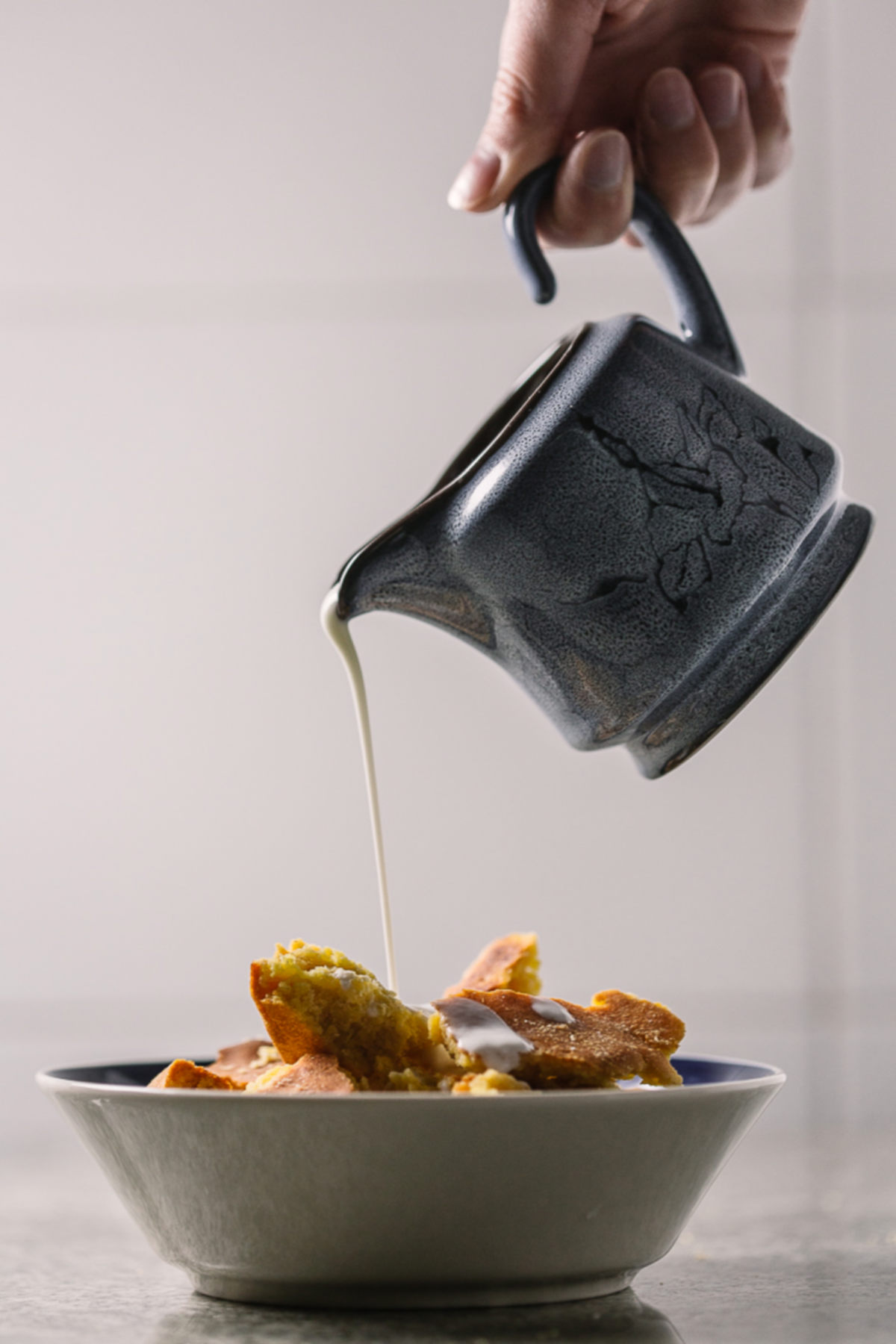 Handling
Baking: Respect your oven! My oven is on the weak side, so baking the cornbread at 480°F (250°C) for 30 minutes and then an additional 15-20 with a cover, made sense. You may lower it to 425°F(220°C). You get the point.
Storing: Wrap homemade cornbread in a kitchen towel, then place it in a plastic bag. Store outside at room temperature. It keeps up to 2-3 days.
Serving: Serve warm with butter, honey, yogurt, or pate. If serving cold, consume with anything "stew-y" like stuffed cabbage, ratatouille or stuffed peppers. Alternatively, dip it in anything from milk or European-style yogurt to jam and sour cream. Yum!
Carb Inspired Recipes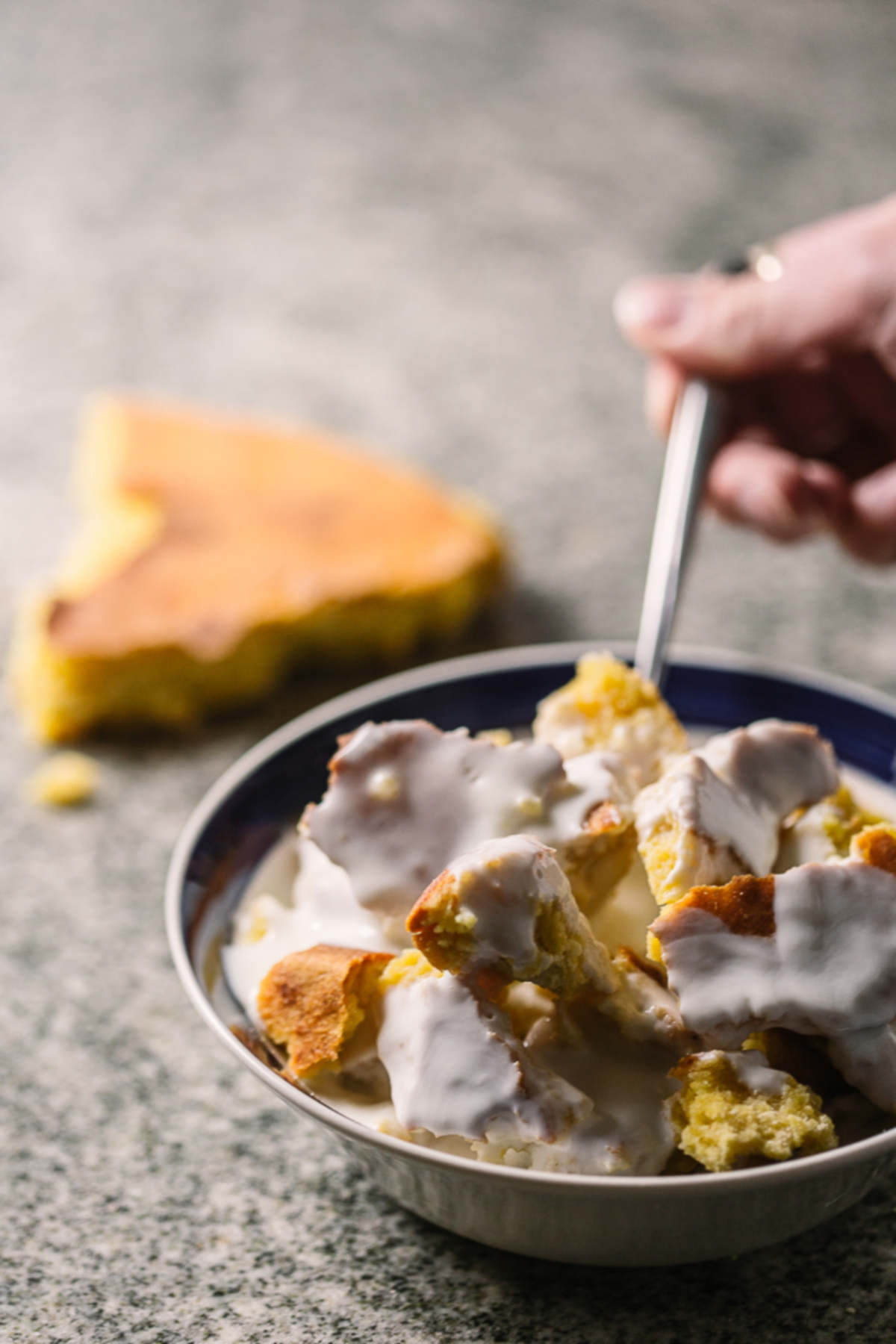 Thoughts?
If you make today's Homemade Cornbread (Proja, Kukuruza) and like it, please consider leaving a ⭐️⭐️⭐️⭐️⭐️ (5-star) rating. This will help others find the recipe more easily!
You can also leave a comment, I read EVERY one! Finally, if IG is more your thing, consider tagging us @balkanlunchbox.
Prijatno and bon appetit!
Balkan Homemade Cornbread (Kukuruza)
Kukuruza or proha (proja), Balkan cornbread, is a savory, slightly sweet, and solid traditional bread.
Ingredients
17.6

ounces

corn flour

finely ground corn meal or maize

1

egg

2.5

tablespoons

sugar

pinch

of salt

4

tablespoons

oil + a little more

13.5

ounces

of boiling water
Instructions
Heat oven to 480°F. In a large bowl, combine corn flour, egg, sugar, salt and oil.  Mix with a wooden spatula as much as the ingredients will allow. Make a dent in the middle of the mixture and start adding a little bit of water at a time and continue while working ingredients with the spatula.

When you've exhausted all the water and mixed ingredients to the max with spatula, start kneading with your hands. (The consistency of dough will be similar to wet sand.) Continue kneading a few minutes until you form a smooth dough ball. 

Transfer the dough bowl into a well-oiled, round, 9-inch pan. Flatten the dough ball and even out with your hands so that it's of the same thickness everywhere. Lightly oil a plastic scraper and make a circle with it, slightly separating the dough from pan walls. Use the spatula to smooth out any creases in the dough.

Place pan in the oven and bake for 30 minutes.* Turn the pan 180 degrees and cover with foil. Bake an additional 15-20 minutes. Use a toothpick to prick in a few places to check whether the bread is finished. If the toothpick comes out clean, the bread is done. If not, bake a little longer and repeat the test.

Take a clean kitchen towel and wet it. Squeeze out extra liquid until the kitchen towel is damp, but not dripping with water.  Take the bread out of the oven and place in the damp kitchen towel. Let it cool for 20-30 minutes.

Eat cornbread warm. Store in a plastic bag for up to 2-3 days. If eating the following day, soften in warm milk or stew. 
Notes
The recipe asks that you be precise with volumes. Use a digital scale to weigh the corn flour and use measuring cups for water. Protect your fingers while using the boiling water.
When not using it, keep corn flour (cornmeal or corn maize) in a sealed container in the fridge. (It tends to go back quicker than other types of flour.)
*Baking time (and temperature) will depend on your oven. If cornbread blushes earlier, cover it with foil at that time. Use the toothpick method to determine when it's finished. 
Nutrition
Serving:
1
of 4
Sodium:
98
mg
Sugar:
8.4
g
Fiber:
9.1
g
Cholesterol:
41
mg
Calories:
614
kcal
Saturated Fat:
2.8
g
Fat:
19.5
g
Protein:
10
g
Carbohydrates:
103.4
g
More Recipes To ❤️