Poppy seed roll potica (or povitica) is the world's greatest strudel. This perfectly stuffed pastry will imprint on your memory faster than Cinnabon did the first time you smelled it in an airport! Do I have your attention now?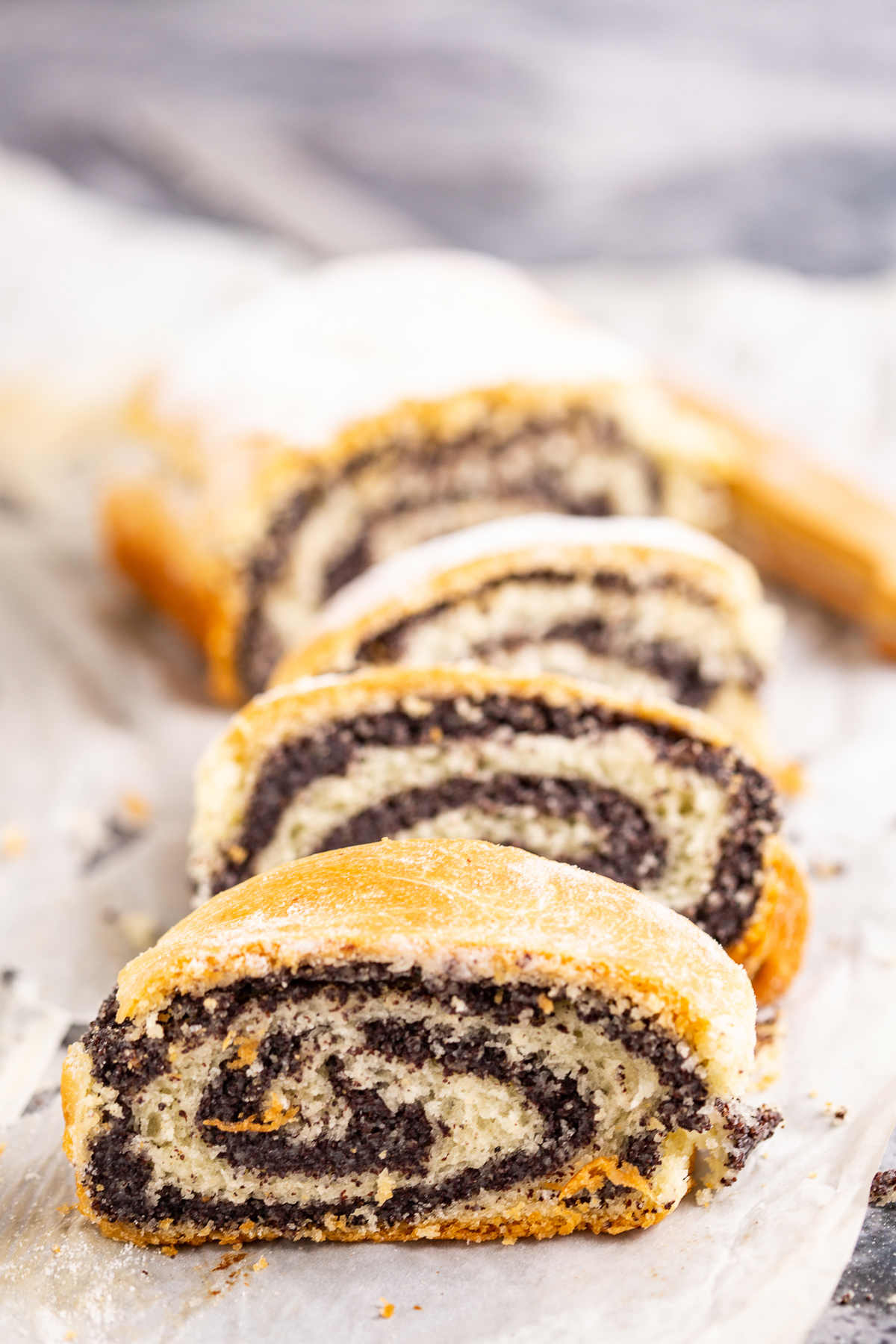 Jump to:
Potica, Povitica or Poppy Seed Roll?
(Please note potica, povitica, and poppy seed roll will be used interchangeably in the text.)
Potica is a fantastic pastry usually stuffed with either poppy seed or walnut filling. Today we're gonna stuff it with a filling made with ground poppy seeds, sugar, semolina, and milk. Potica tastes tart, gritty, and sweet at once.
Potica goes by different names in the Balkans.
In Slovenia it goes by makova potica
In Croatia by povitica or povetica s makom,
In Serbia and Montenegro this is štrudla s makom, and
In Bosnia and Herzegovina they call it makovnjača.
There are probably more names, and even the shapes can differ slightly. (For example, Slovenian makova potica is often made with thinner dough that has more layers. It's also usually baked in a bundt cake pan.)
Regardless of whether you call it potica, povitica, or poppy seed strudel, each stands for the same rich pastry overflowing with succulent poppy seed filling.
Ingredients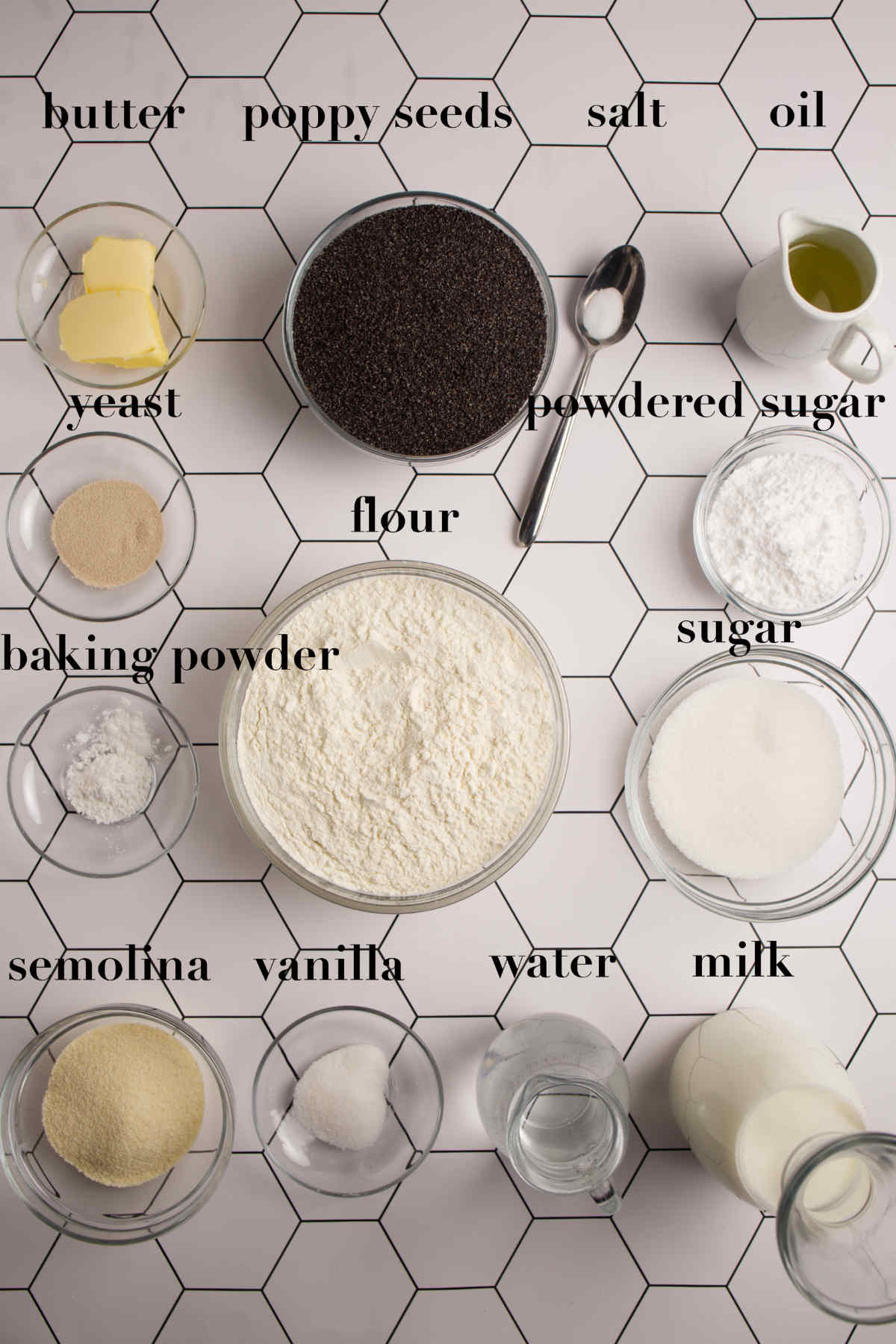 Ingredient and Method Notes
Dough:
Many pastry doughs are milk-based. It gives the final product perfect soft doughiness. However, these pastries are rock hard after a short period of time.
For this reason, we make potica dough with water, with a method for making dough similar to pita. You let the dough rest and breathe for a while, and then you can stretch it to the stars. Or leave it in the fridge until you're ready to work it.
For best results don't make any dough substitutions in the recipe.
Filling:
Potica filling is made with milk, poppy seed, semolina, sugar, and vanilla extract. If you're no fan of vanilla you can skip it. Oh, and, poppy seeds need to be finely ground!
The trick for a great poppy seed filling is not to over-fill or under-fill the roll. Potica tastes best when there is a nice ratio between dough and filling.
A good poppy seed roll requires perfect grit with perfect sweet.
How Do You Use Poppy Seeds?
Grind them! This releases their oil and intensifies the flavor. If you don't, your potica will be too gritty and bitter, regardless of how much sugar you add. Use a coffee bean or spice grinder, and grind in small batches. (Food processors and blenders aren't your friends with seeds so small.)

4:1 Ratio! If you insist on more grit in your potica, then, if you must, mix ground and non-ground seeds at a 4:1 ratio.

Unusual Filling Ingredient! In addition to poppy seeds, milk, sugar and vanilla, there is an ingredient you won't find in every poppy seed roll recipe. That's semolina! It helps the filling puff up and soften at the same time. (You probably remember our noodles where it did the same.)
Lightning-fast Instructions
(Our lightning-fast instructions are here to give you an idea of how to make potica. For more detailed information look at the recipe card below!)
1. Make the dough. Activate the baker's yeast, and add it to flour together with oil and baking powder. Add water and knead until you get a soft ball of dough and let rise for at least an hour.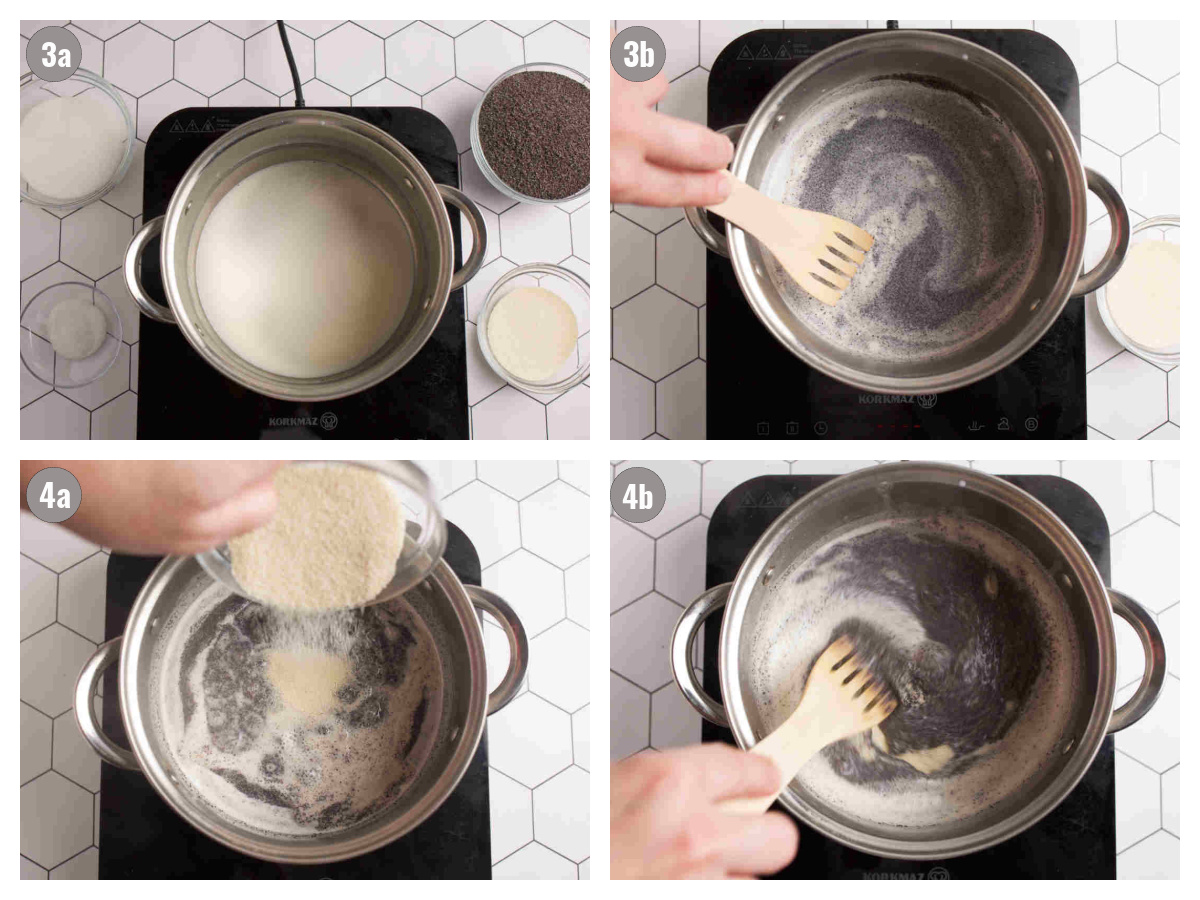 2. Make the filling. Boil milk and add sugar, vanilla extract, and poppy seeds. Finally, add semolina. Let rest and later divide it into two parts.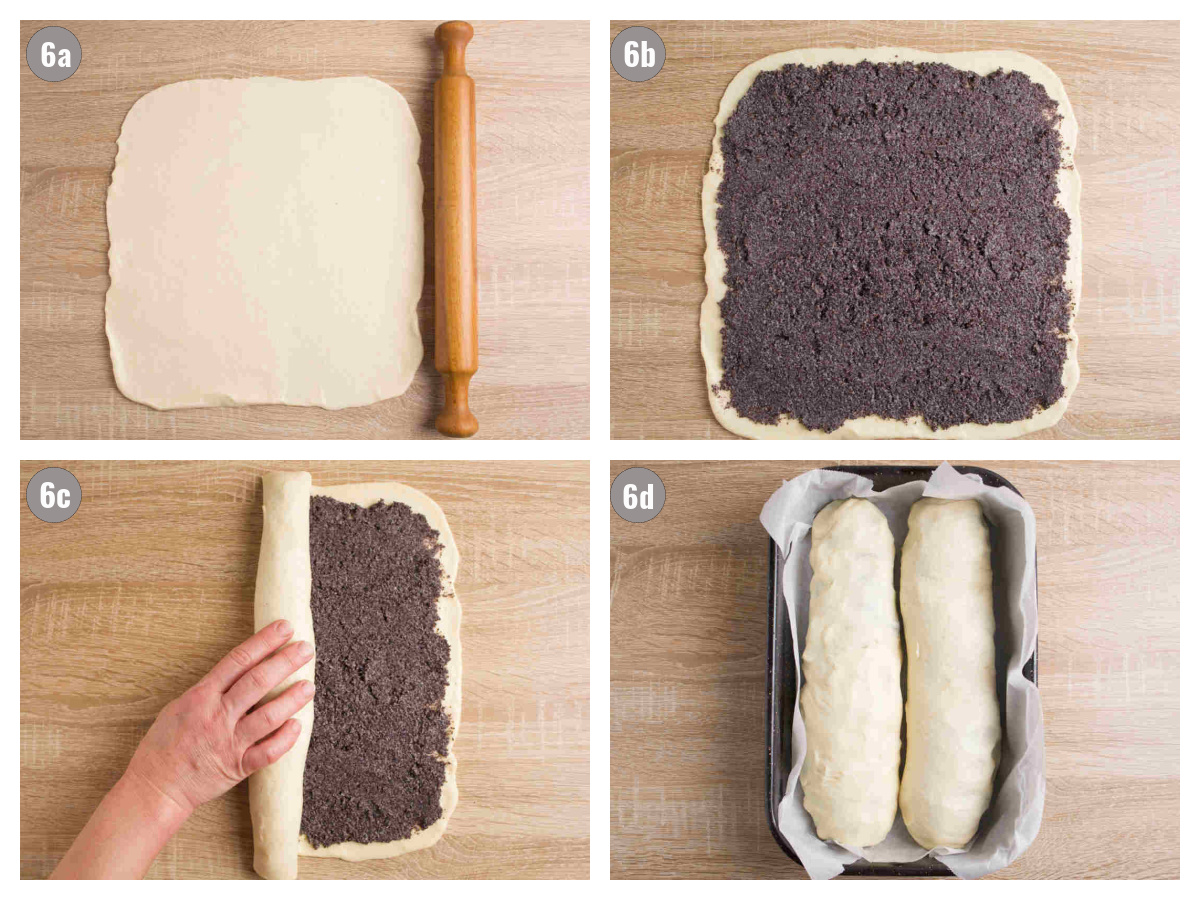 3. Combine dough and filling. Divide the dough into two parts. Roll out the first part, fill it up with one half of the filling and roll the long side up. Repeat with the remaining ingredients. Place rolls in a pan, brush with water and butter, then bake.

4. Cool down. After baking potica let it cool down and dust with confectioner's sugar.
Expert Tips
Nursing? Skip potica and make a walnut roll instead. There is a component in poppy seeds that causes colic (cramps) in babies.
Drug tested? Don't eat poppy seeds around testing time. Remember Elaine? They may contain extracts of morphine and opium as those are made from unripe poppy seed capsules.
Serving, Storing and Freezing
Serving: Although a dessert, potica can easily become your entire dinner. It's hard to stop eating it. Best if you double the recipe from start. It goes great with a warm mint tea, coffee, or a glass of milk.

Storing: If by some crazy chance you don't eat the entire strudel right away, fold it in saran wrap and leave in cupboard or bread box overnight. Reheat in oven. Potica lasts 3-4 days.

Freezing: Nope!

Recipe FAQs
What's the origin of the poppy seed roll (povitica/ potica)?
Poppy dough roll (potica, povitica, makovnjača) probably made its way into the Balkans during the Austria-Hungary years. Yet, according to some Austrian sources, the roll may actually be a Turkish sweet. It may have even been considered to be baklava's younger sister.  
Does potica (povitica) need to be refrigerated?
No. You can keep it in a dry place like a cupboard or a bread box for up to 3 days. Wrap in saran wrap first.
What is potica made of?
Potica roll is made from dough stuffed with a filling made by either a) walnuts, or b) poppy seeds. The dough is stretched, filled, then baked. The final result is a scrumptious thick roll(s) filled with a moist, fantastic filling.
More Sweet Recipes
Would You Do Me a Favor?
If you make today's Potica (Povitica) Poppy Seed Roll and like it, please consider leaving a ⭐️⭐️⭐️⭐️⭐️ (5-star) rating. This will help others find the recipe more easily!
You can also leave a comment, I read EVERY one! Finally, if IG is more your thing, consider tagging us @balkanlunchbox.
Prijatno and bon appetit!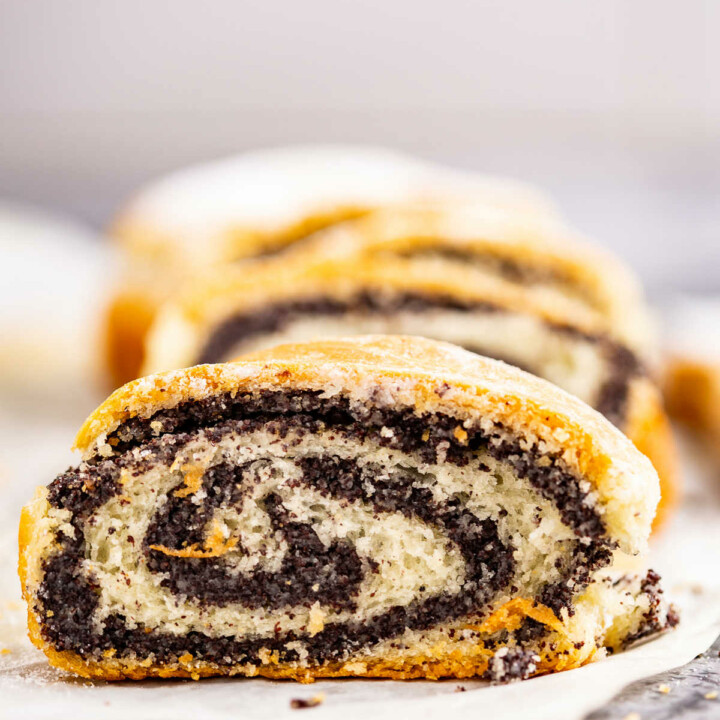 Potica (Povitica) Poppy Seed Roll
Easy poppy seed roll (potica, povitica) from the Balkans. This strudel boasts several names, and the same moist, sweet, succulent taste. It will have you reconsider chocolate!
Ingredients
Dough:
1-2

tablespoons

water

1

teaspoon

baker's yeast

2

tablespoons

sugar

17-18

ounces

all purpose flour plus a more for dusting

Pinch

of salt

1.5

teaspoons

baking powder

4

ounces

oil

8.5

ounces

lukewarm water

2

tablespoons

water

to grease the dough

1

tablespoon

melted butter

to grease the dough

4-6

tablespoon

confectioner's sugar

after baking
Filling:
15

ounces

milk

8.5

ounces

poppy seeds

very finely ground

4.5

ounces

sugar

2

ounces

semolina

2

teaspoons

vanilla extract
Instructions
Dough: In a small bowl combine 1-2 tablespoons water, baker's yeast and sugar. Mix and leave to bubble up (10-15 minutes).

In a medium sized bowl add flour, salt, baking powder and mix everything. Make an indentation and add the yeast mixture, oil and water. Knead ingredients several minutes until you get a soft ball of dough. Leave dough to rise for an hour.

Filling: (Make while dough is rising) In a medium sized pot add milk and bring to a boil on medium. Bring temperature down to low, add sugar, vanilla extract and ground poppy seeds. Mix well until integrated.

While continuously stirring, add semolina. Continue stirring and cooking another 1-2 minutes. Turn the stove off and let the filling rest. When the filling cools down divide it into two equal parts.

Assembly: Heat oven to 355°F (180°C) and dust working area with flour if needed. (Sometimes the dough is greasy enough where this isn't necessary. Your call.) The dough should be doubled now, so cut it into two equal parts.

Take one dough half and roll it out into an (approximately) 8 by 16 inches rectangle. Then take one half of the filling and spread evenly over the dough rectangle almost all the way to the sides. Roll up the long side and place in a pan (sized approximately 12 by 17 inches) lined with parchment paper. Repeat with the other halves.

Mix water and butter then brush poppy seed rolls with it.

Bake for 10-15 minutes, then turn the pan around and cover the roll with parchment paper. Bake an additional 25 minutes. (Total baking time is 40 minutes.)

Take the pan out of the oven, and let it cool down. You can cover it with a clean, dry kitchen towel. Dust with confectioner's sugar before serving.

The roll keeps up to 3 days. Keep wrapped in saran wrap in bread box. Eat leftover potica cold or reheated.
Notes
Longer rising time is even better. The sweet spot is between 1.5 and 2 hours. Also, if you can wait and let the roll rise between filling and baking, this will also add to volume and taste.
You can brush with water/butter immediately after baking instead of before.
The sugar amount for the filling is only a recommendation. Our potica runs on a less sweet side. For a sweeter taste add a few more ounces.  
Poppy seeds should be very finely ground (think flour). If you are mixing it with non-ground seeds use a 4:1 ratio (ground to non-ground).
Serving size is approximated based on the serving of 2 roll slices per person.
Nutrition
Serving:
2
slices
Sodium:
60
mg
Sugar:
27.1
g
Fiber:
4
g
Cholesterol:
11
mg
Calories:
551
kcal
Saturated Fat:
5.1
g
Fat:
26.4
g
Protein:
11.3
g
Carbohydrates:
69.8
g