Are you looking for a simple and easy Croatian or Slovenian poppy seed roll recipe? You've come to the right place! Not only is this poppy seed roulade made the same way across the region - yes, homemade poppy seed strudel recipe is prepared the same way in Bosnia and Serbia too - but some consider it tastier than chocolate! In the region it goes by the name of makovnjača, potica and more…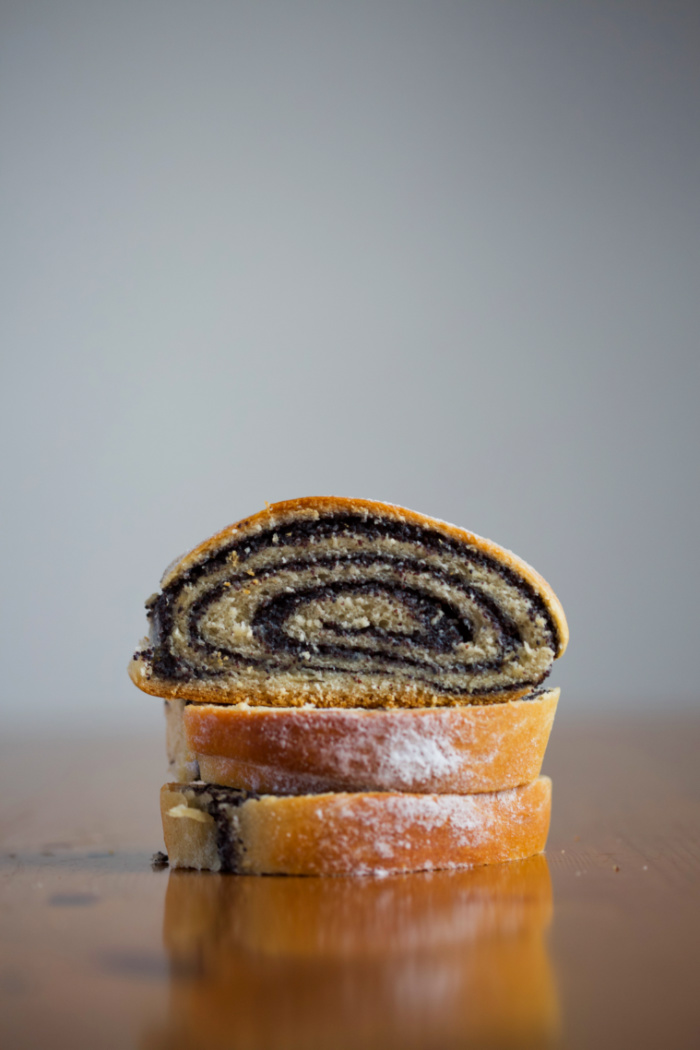 WHAT IS A POPPY SEED ROLL (POPPY SEED STRUDEL)?
Poppy seed roll is probably the best known of all the strudels. Deservingly so.
(Strudel - you guessed it - is just a fancy word for a roll. So is roulade.)
So what is this amazing poppy seed pastry?
This poppy seed dessert is simply a roll filled with graphite gray, microscopic poppy seeds ground to flour consistency and then mixed with sugar, farina and milk (this filling tastes tart, gritty and sweet at the same time), encased in the softest dough.
The roll will imprint on your memory faster than cinabon did the first time you smelled it at an airport.
I forgot about this strudel for a while.  It was challengin getting ingredients in DC grocery stores as poppy seeds aren't used much in American cuisine.
(You think I'm wrong? Try thinking of a poppy seed recipe other than the poppy seed bagel. If you can, please leave a comment! I love finding new poppy seed recipes.)
Meanwhile, Sarajevo bakeries bombarded (and spoiled) me with poppy seed infused and inspired desserts. So it never occurred to me to make the poppy seed strudel at home.
(Besides, my fridge - and I bet yours is the same - currently has at least a few preserves. Each time I think about making a pastry with a filling I feel a pinch of guilt for letting the jams just sit there, waiting to be consumed.)
But make it we did (Aleksandra did most of the experimenting for this one, with a huge tip from our cousin Anela), and you're going to love the result!

IS POPPY SEED ROLL (MAKOVNJAČA) THE SAME AS SLOVENIAN POTICA?
If you're wondering if this is the recipe for a Slovenian poppy seed roll, the answer is a resounding yes! Strudels, like many pastries, are made the same or very similar across the Balkan region.
What's the difference, for example, between the Croatian and Slovenian poppy seed rolls? The main difference is in the name. In Bosnia and Serbia this roll usually goes by makovnja

č

a, while in Slovenia it is known as potica. In Croatia this pastry is sometimes called povitica. Don't be surprised to see the names used interchangeably. Also, you will encounter differences in shape. Potica dough tends to be thinner, almost pita-like, and once rolled up it is sometimes baked in a bundt cake pan.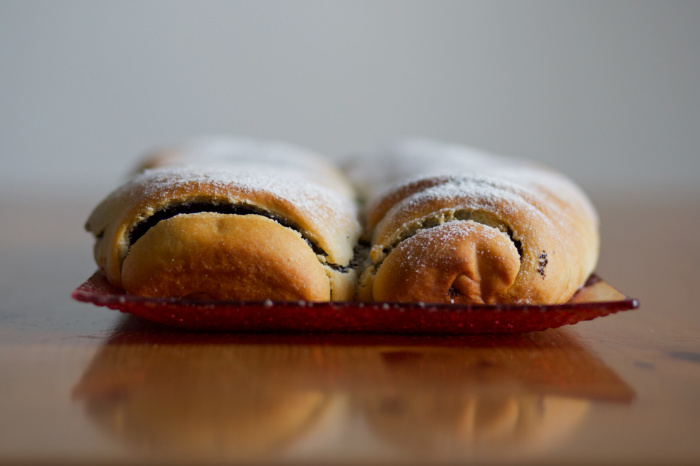 POPPY SEED ROLL (STRUDEL) IN BALKAN CUISINE
It's believed that strudel made its way into the Balkans during the Austria-Hungary period.
In fact many, many Balkan desserts and pastries (think amazing Slovenian tortes and cakes), are Austrian (and Hungarian) in origin. Yet, according to some Austrian sources, the roll may actually be a Turkish sweet.
It may have even been considered to be baklava's younger sister.  
When is the poppy seed roll made?
There isn't a particular holiday associated with this roll.
Poppy seed roll is an all-year round pastry. You can make them for the holidays, for the weekend, for today or for tomorrow. If I'm to pick a season, it really hits the spot during cold winter months.
It's just the right pastry to accompany your coffee during snowy mornings when you'd rather snuggle up inside than hit Starbucks.
WALNUT ROLL AND POPPY SEED ROLL
In the Balkans poppy seed roll is almost always made together with the walnut roll.
Why?
Preference and convenience.
Within each family some like the poppy strudel while others like the walnut one.
As poppy seed roll dough is exactly the same as the walnut roll dough (the only difference is in the filling), it's easy to double it up and have two different kinds in one bake.
Don't worry, walnut roll recipe is coming to BLB soon!
A COUPLE OF POPPY SEED WARNINGS
If you're nursing skip poppy seeds and make the walnut roll instead. There is a component in poppy seeds that causes colic (cramps) in babies. (I learned this the hard way.)
If you're required to do a drug test for work make sure not to eat poppy seed strudel around testing time. Elaine anyone? Poppy seeds may contain extracts of morphine and opium as those are made from unripe poppy seed capsules.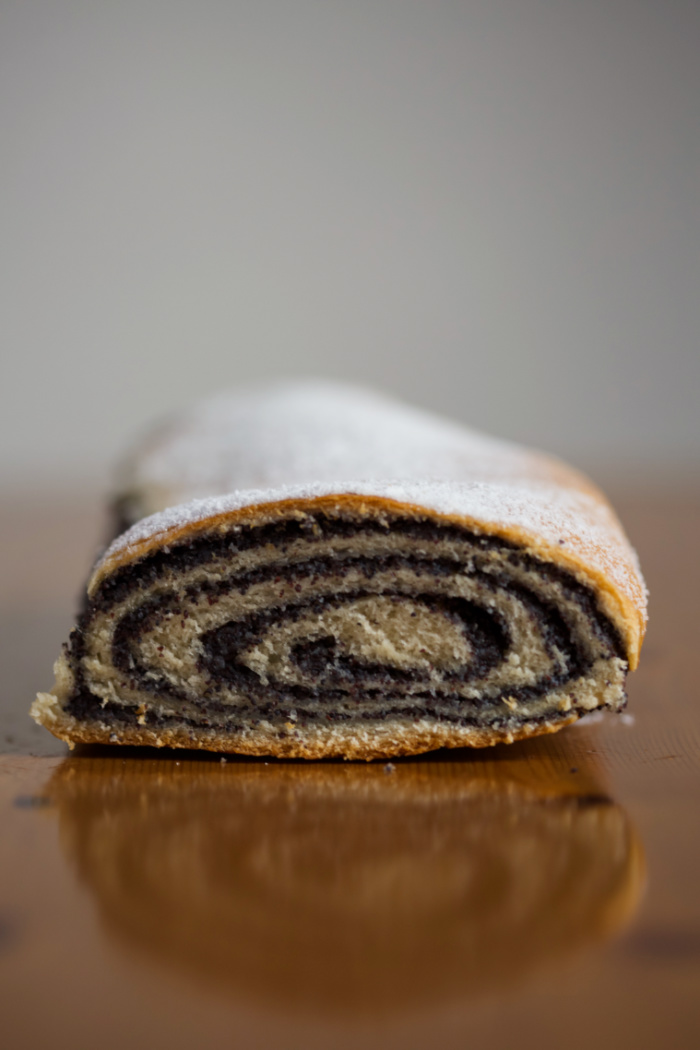 POPPY SEED ROLL (STRUDEL) DOUGH
Here are some examples of dough that we usually make on BLB, and also our recommended dough for the poppy seed roll.
So what type of dough is best to use to make a poppy seed roll?  The answer will surprise you… it's the simplest water based dough.
The idea for the dough actually came from our cousin Anela.
Anela loves to experiment until she gets a recipe just right. Especially sweets. Her strudel is the best in our family, and it's hard to only eat one piece. We were surprised to find out she used water instead of milk for rolls.
However once we tried making water based dough for strudel we were hooked.
POPPY SEED ROLL (STRUDEL) FILLING
Too much of a good thing does not equal better in the case of the poppy seed strudel filling.
The trend I see on YouTube is the excessive use of it. There is a food porn effect with enormous globs of poppy filling enwrapped in a tiny bit of crust. But the taste is all wrong.
Poppy seed roll is best when there is a nice ratio between the dough and the filling.
The charm of a poppy seed is the strength of its taste, and that strength is best when it's in small doses. Otherwise you might as well make yourself a bowl of poppy seeds and eat them like cereal.
Under-filled rolls are equally sad.
They're like burek with too little meat. As our mom is fond of saying, these are the kind of pies where you "run, run and maybe you'll get a little bit of filling."
(Everyone has a cousin that skimps on the filling. Don't be that cousin.)
I love the taste of poppy. It's smooth, rich, moist.  Combined with a good pastry, it's better than chocolate.
I love when a little of it drips on my chin and I wipe it with the back of my hand (and then lick the hand :)). At the same time, I don't want the dough part to be excluded.
So repeat after me:
a good poppy seed roll requires perfect grit with perfect sweet.
WHAT KIND OF POPPY SEEDS TO LOOK FOR
For our poppy seed roll recipe use already ground poppy seeds.
If the type you have in your grocery store isn't in flour form use a coffee bean grinder to get it down to flour consistency in small batches. A food processor isn't your friend here; you need something designed for tiny seeds.
In fact, it's best to buy non-ground seeds and then ground them at home. The flavor is at its best intensity this way.
What happens if you don't grind the poppies down? They'll be too gritty and the poppy seed roll bitter no matter how much sugar you add. Grounding the seeds allows them to express the intensity of their taste while allowing them to mix well with other ingredients.
You're welcome to mix the ground and non-ground seeds at a 4:1 ratio.
When your poppy seeds are of flour consistency you'll slowly add them to boiling milk together with vanilla extract and sugar. Once these ingredients combine you'll also add farina, a little at a time.
The farina is a new thing for me as far as poppy seed rolls are concerned. However, farina together with milk really brings out the poppy seed grit in the nicest way.
I was skeptic at first but Aleksandra made it several times. Her rolls got better and better. My husband can't stop eating it and as he's not into sweets that are not simple syrup based (like baklava, etc) I knew we hit gold.

WHAT TO EAT THE POPPY SEED ROLL WITH
Although a dessert, poppy seed roll can easily become your entire dinner. It's hard to stop eating it. You're best off doubling the recipe right from the start.
It's best served with a warm cup of mint tea, coffee, or a glass of milk.
It's a roll that never survives until the morning.
If by some crazy chance you don't eat the entire strudel right away, fold it in saran wrap and put in a plastic bag. You can leave it cupboard or bread box overnight.  When you get ready to eat it again, it'll be fresh this way.
Poppy seed roll usually lasts about 3-4 days. For the best taste consume it within a day or two.
Warm it up in an oven, instead of a microwave lest you end up with mushy roll.
HOW TO MAKE POPPY SEED STRUDEL STEP BY STEP
1. MAKE THE DOUGH by first activating baker's yeast, and adding it to flour together with oil and baking powder. Knead until you get a soft ball of dough and let rise for at least an hour. Best if it rises between 1.5 and 2 hours. 
2. MAKE THE FILLING by boiling milk and adding sugar, vanilla extract and poppy seeds. Finally, add farina. Let rest and later divide into two parts.
3. COMBINE DOUGH AND FILLING by dividing dough into two parts.  Roll out the first part, fill it up with one half of the filling and roll the long side up. Repeat with the remaining ingredients. Place rolls in a pan, brush with water and butter, then bake.
4. COOL DOWN after baking and dust with confectioner's sugar.
MORE BLB RECIPES SIMILAR TO POPPY SEED STRUDEL
Would you like to see recipes for rolls and pastries?
Print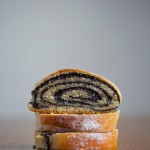 Poppy Seed Roll (Poppy Seed Strudel)
Author:

Balkan Lunch Box

Prep Time:

30

Cook Time:

40

Total Time:

1 hour 10 minutes

Yield:

10

1

x
---
Description
Simple and easy poppy seed roll recipe from the Balkans. This poppy seed roulade is made the same way in several countries. It's called potica in Slovenia, makovnjača in Serbia, Croatia and Bosnia. Regardless of the name, it is still the same, delicious poppy seed strudel that will have you reconsider chocolate!
---
Dough:
1

-

2

tablespoons water

1 teaspoon

baker's yeast

2 tablespoons

sugar

17

-

18

ounces all purpose flour plus a more for dusting
Pinch of salt

1.5 teaspoons

baking powder

4 ounces

oil

8.5 ounces

lukewarm water
(to grease dough) 1-2 tablespoons water
(to grease dough) 1-2 tablespoons melted butter
(after baking) 4-6 tablespoons confectioner's sugar
Filling:
15 ounces

milk

8.5 ounces

poppy seeds (very finely ground)*

4.5 ounces

sugar

2 ounces

farina

2 teaspoons

vanilla extract
---
Instructions
Dough:
In a small bowl combine 1-2 tablespoons water, baker's yeast and sugar. Mix and leave to bubble up (10-15 minutes).
In a medium sized bowl add flour, salt, baking powder and mix everything. Make an indentation and add the yeast mixture, oil and water. Knead ingredients several minutes until you get a soft ball of dough.
Leave dough to rise for an hour.**
Filling: 
(Make while dough is rising) In a medium sized pot add milk and bring to a boil on medium.
Bring temperature down to low, add sugar, vanilla extract and ground poppy seeds. Mix well until integrated.
While continuously stirring, add farina in. Continue stirring and cooking another 3 minutes. Turn the stove off and let the filling rest.
When the filling cools down divide it into two equal parts.
Putting it together:
Heat oven to 355°F (180°C) and dust working area generously with flour.
Cut dough into two equal parts. Take one dough half and roll it out into an (approximately) 8 by 16 inches rectangle. Then take one half of the filling and spread evenly over the dough rectangle almost all the way to the sides. Roll up the long side and place in a pan (sized approximately 12 by 17 inches) lined with parchment paper. Repeat with  the other halves.
Mix water and butter then brush poppy seed rolls with it.**
Bake for 10-15 minutes, then turn the pan around and cover the roll with parchment paper. Bake an additional 25 minutes. (Total baking time is 40 minutes.)
Take the pan out of the oven, cover with a clean and dry kitchen towel and leave to cool down a little bit. Dust with confectioner's sugar before serving.
---
Notes
* Longer rising time is even better. Sweet spot is between 1.5 and 2 hours.
**This step can be done immediately after baking also.
Poppy seeds should be very finely ground (think flour). If you are mixing it with non-ground seeds use a 4:1 ratio (ground to non-ground).
Remember to add dough rising time to total cooking time, although some of the time waiting can be spent making the filling.
Serving size is approximated based on the serving 2 roll slices per person.
The roll can be consumed up to 3 days after baking. Keep wrapped in saran wrap.
---
Nutrition
Serving Size:

2 slices

Calories:

551

Sugar:

27.1g

Sodium:

60mg

Fat:

26.4g

Saturated Fat:

5.1g

Carbohydrates:

69.8g

Fiber:

4g

Protein:

11.3g

Cholesterol:

11mg
Keywords: poppy seed roll, poppy seed bread, poppy seed strudel, eastern european strudel