You will want to do a grab and run with this stunningly luscious, Mama's chocolate and walnut cake. It's destined to become the classic you reach for when you crave a perfect blend of chocolate filling and juicy cake in each bite.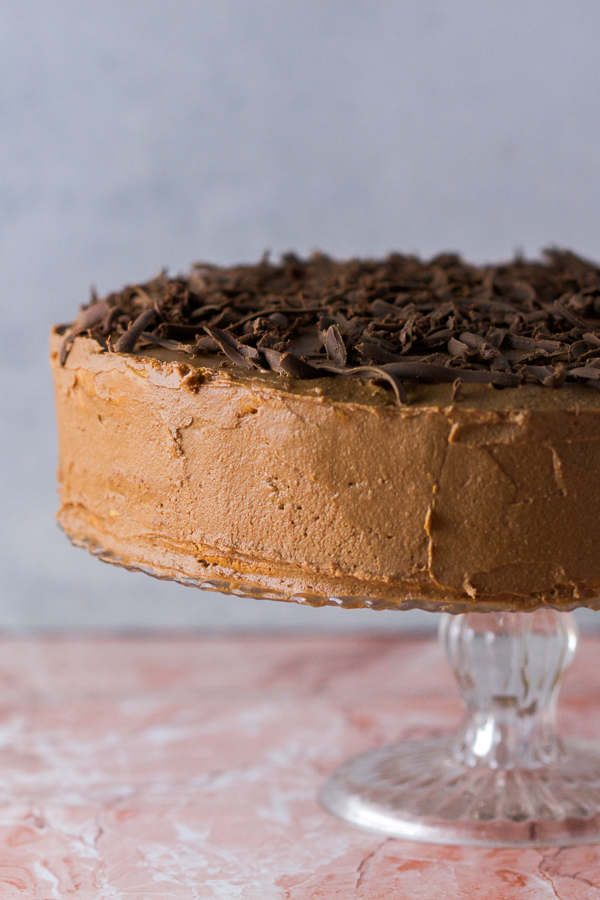 My sister is an event planner so there is always good cake around. (Strawberry cake? Check! Chocolate cake? Check! No bake cake? Again, check!)
She's worked with several different cake makers in town. At first the cakes are juicy and airy, while the filling is rich. Pretty soon though most become spongy and void of personality.
Cake quality tends to deteriorate when it's made in large quantities.
This happens with food joints too.
A new pita place opens. Everyone rushes to get it because the pita is great. Then in a couple of months this place either changes cooks, skimps on ingredients, or the attention to detail just isn't there anymore.
The magic's gone.
For this reason we only eat mom's famous chocolate and walnut cake for family occasions, holidays and birthdays. No other cake comes even close.
This cake was passed on to mom by grandma, who probably got it from her mom. In short, it's been in our family for generations so it's been tested over and over again.
It passes with flying colors each time.
The recipe is lengthy. It requires attention to detail. It's not for the weak.
But I have full confidence in you!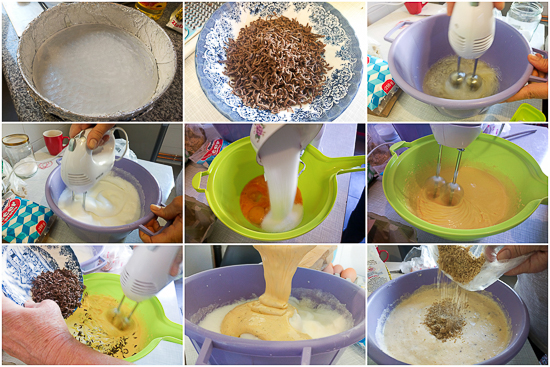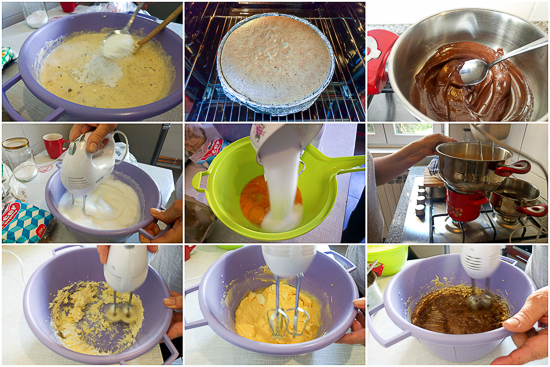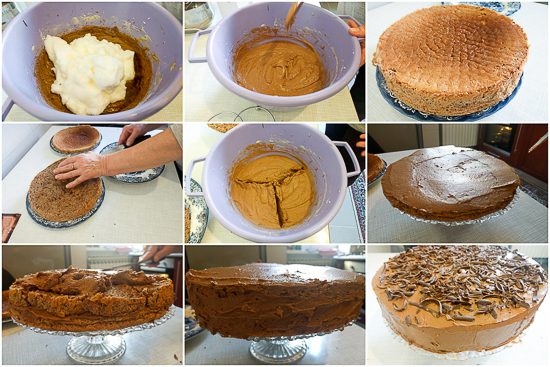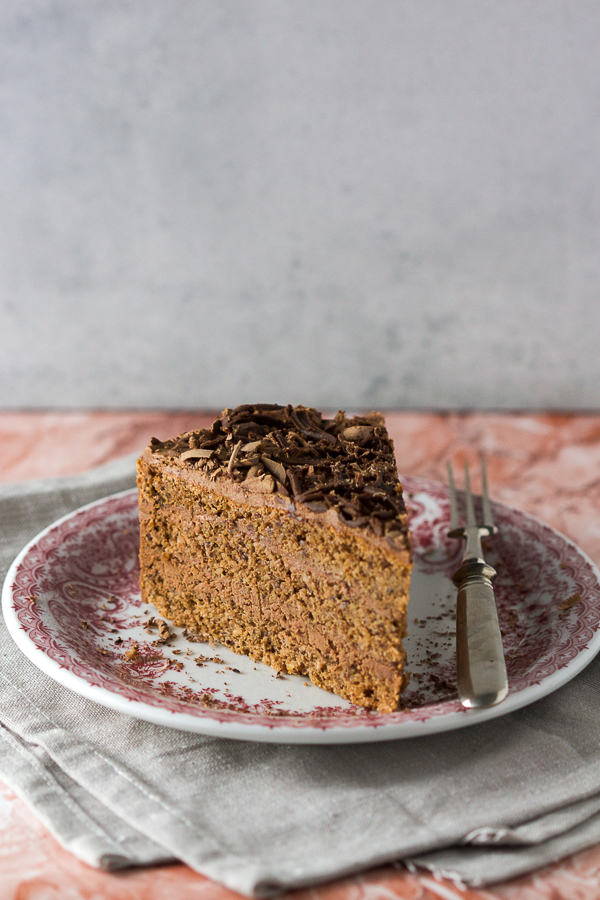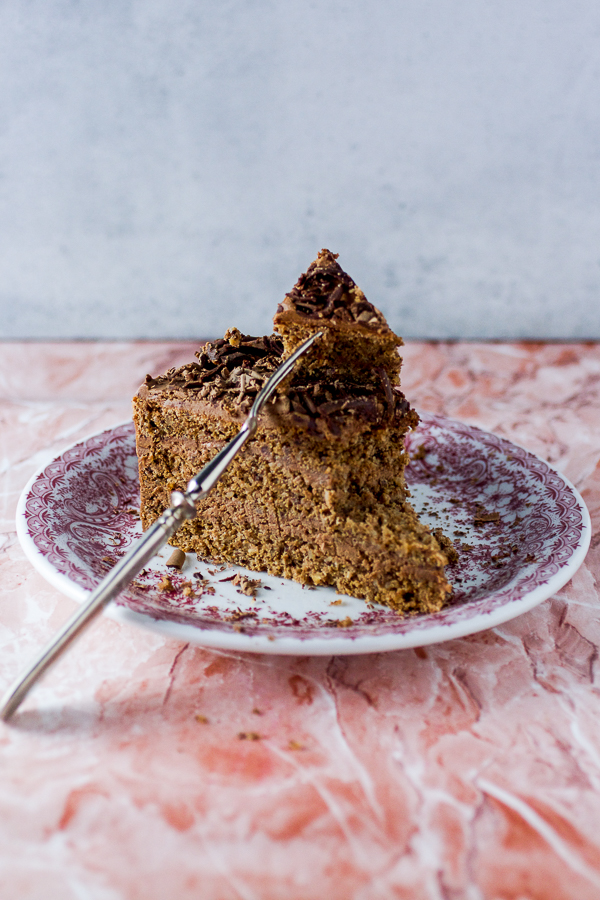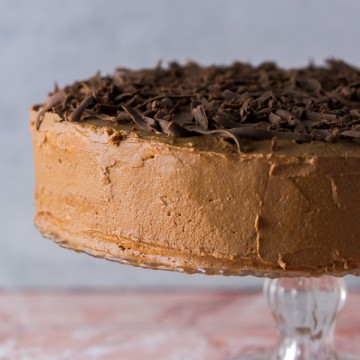 Mom's Chocolate Walnut Cake
Ingredients
CAKE BATTER:
2

ounces

bittersweet baking chocolate

10

eggs

1

cup

regular sugar

2

tablespoons

white flour plus a little more

9

ounces

finely ground walnuts

Pinch

of salt
CAKE FILLING:
7

ounces

bittersweet baking chocolate

5

eggs

1

cup

powdered sugar

9

ounces

butter

room temperature

A pinch of salt
CAKE TOPPING:
1-2

ounces

bittersweet baking chocolate

Optional chocolate syrup, m&m's, gummy bears
Instructions
CAKE BATTER:
Take a 10-inch, adjustable, round cake ring (pan), and envelop it with foil on the inside. (This will prevent cake from sticking.) Coat the ring with flour on all sides generously. Heat oven to 500F.

Shred chocolate and set aside.

Separate egg yolks from whites, and place each in a separate mixing bowl.

Add a pinch of salt to the bowl with egg whites. Mix for about 5 minutes with a hand mixer until completely stiff. (If you flip your bowl around, stiff egg whites should stay in the bowl.)

Add 1 cup of sugar to the bowl with egg yolks. Mix for 5 minutes with a hand mixer. When the mixture lightens up and toughens, gradually add ground chocolate in, and mix for another minute.

Combine two mixtures in one bowl and stir with a wooden spatula. Continue stirring while you add ground walnuts and flour in. (Batter should now be the thickness of a mousse, or thicker.)

Pour batter into the cake ring, and place in the oven. Lower oven temperature to 350F and bake for 20 minutes. Then raise the temperature to 390F and bake for another 20 minutes. During the baking, check up on the cake a few times so it doesn't burn. As soon as it starts to blush, cover with foil.

Stab the cake in several places with a toothpick to test for doneness. If the toothpick comes out clean, the cake is baked. If there are crumbs or stickiness on the toothpick, bake a couple of more minutes and repeat the toothpick check. (Total baking time should be about 40-45 minutes or so, depending on your oven.)

Take the cake out. Carefully remove from the cake ring, and place on a clean, flat surface. Leave to cool off.
CAKE FILLING:
While the cake is baking, take a small pot and fill it with water. Bring to boil on high, then bring the temperature down to lowest. Place a larger pot on top of it, and break up the chocolate into it. The chocolate is essentially melting on the steam produced by the boiling water from the small pot. When the chocolate completely melts, set it aside to cool down until lukewarm.

Separate egg yolks from whites. Place egg yolks in a larger pot, and egg whites in a mixing bowl.

Add a pinch of salt to the bowl with egg whites. Mix for about 5 minutes with a hand mixer until completely stiff. Set aside.

Add one cup of powdered sugar to the pot with egg yolks. Transfer this pot to the top of the small pot with boiling water on the stove. Mix with a hand mixer on steam for at least ten minutes.* The mixture should become completely light. After it's done, set aside and let cool until lukewarm.

Place butter in a mixing bowl and mix with the hand mixer for a minute or two. Add melted egg yolks and continue mixing for a couple of minutes. Add melted chocolate and continue mixing.

After all ingredients have become one mass, turn the hand mixer off, and add stiff egg whites on top. Stir with a wooden spatula until combined. Leave in the fridge for 20-30 minutes, to toughen.
COMBININIG CAKE AND BATTER:
With a thin, large knife, cut the cake into three equal parts lengthwise.

Take the filling out of the fridge, and divide into three equal parts with a knife.

Take one cake piece, and place on a flat surface. Take one part of the filling, and spread equally over the top. Add the second layer of cake on top of the filling, and spread the second part of the filling over the top. Top everything with the third part of the cake. Use the remaining filling to spread it over the top of the cake as well as the sides. Use a spatula or a knife to make the filling equally spread over the sides.

Grind the remaining chocolate over top of the cake.

(Optional) Add additional toppings as you wish.

Transfer cake to the fridge for an hour to toughen.
Notes
*This thermal processing of eggs yolks on steam is very important, so do not skimp on time here. As you are essentially using fresh eggs for the filling, this is the part that will prevent the egg yolks from going bad.
Consume the cake within 3-4 days.