Three layer chocolate dessert pudding cup is destined to become your go-to for a super fast sugar fix.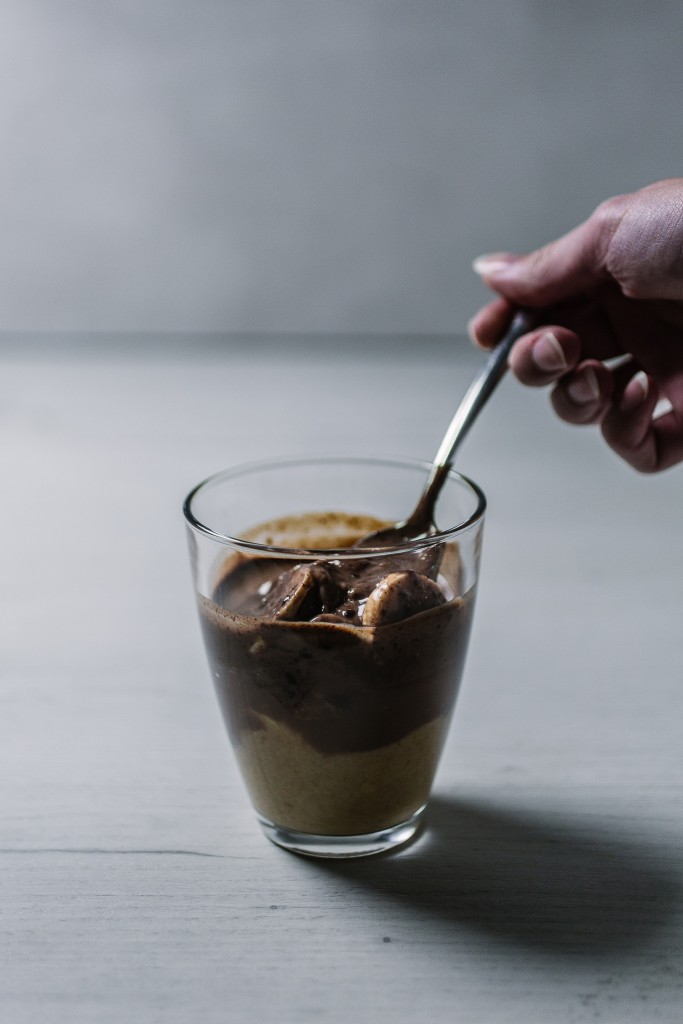 Some people have a talent for whipping up desserts from whatever they find in the pantry at a given moment. While my gifts lie elsewhere, luckily for all of us my niece is one of those people. She doesn't make a lot of desserts. She's interested in substance not form. But everything she whips up tastes great!
These chocolate pudding dessert cups are her invention.
Mind you, this isn't a dessert you take over to impress your neighbors. Nah! This is the kind of dessert you reach for when you want a tub of ice-cream. Days when you need a pick-me-up. Days you really crave something sweet.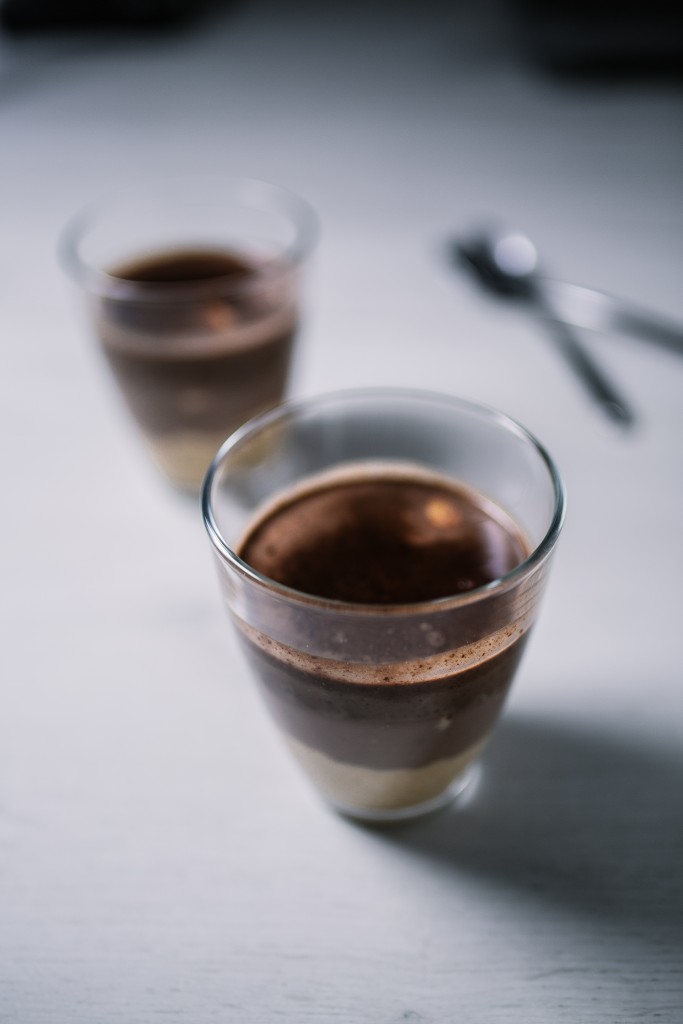 SEQUENCE FOR THE 3-LAYER CHOCOLATE PUDDING DESSERT CUPS
Cups are comprised of three scrumptious layers in between which is fruit. She usually uses bananas. Other fruit that works great are berries, kiwi and pineapple.
The bottom layer is a sturdy and semi-impermeable foundation made from cookie crumbs.
Which cookies should you use? Any cookies you want! Crumble them yourself or buy pre-crumbled ones. I recommend Petit Beurre, Graham Crackers or Plazma biscuits, if you can find them nearby. Otherwise the world is your oyster. Experiment! Any biscuit-like cookies work, but choose something plain. (This cup dessert pudding already has several sweet tastes going for it, keeping the crumbs simple assures these tastes won't enmesh.)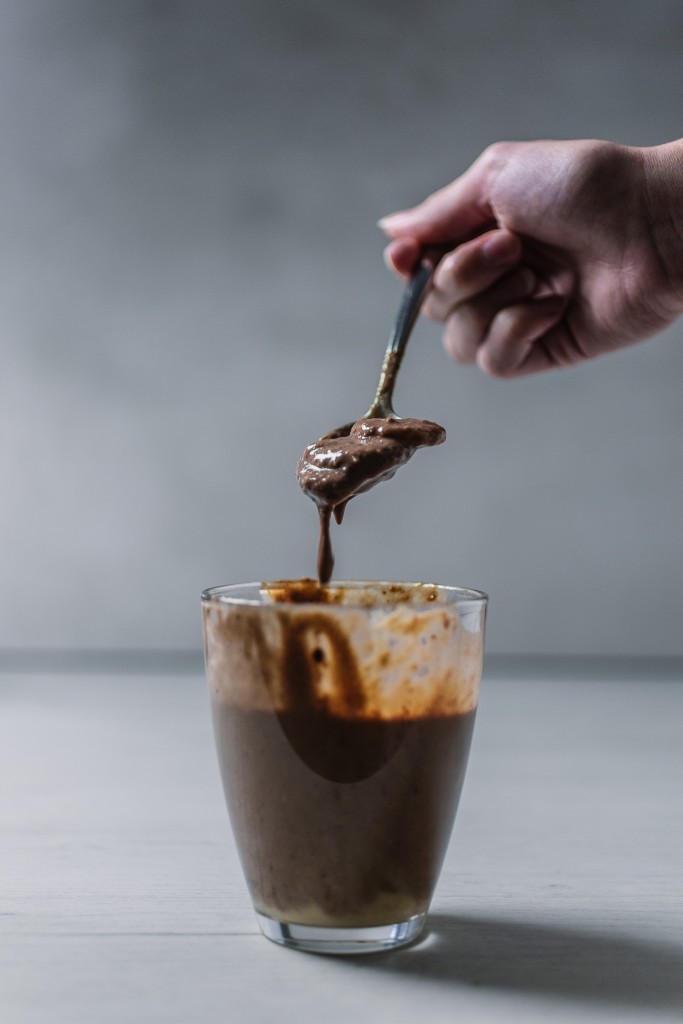 Cookie crumbs are enriched with a few drops of vanilla.
(I wondered why vanilla always finds its way into desserts. We're talking infinitesimal quantities, so why use it at all? The kitchn breaks it down; vanilla is to the sweet food is what salt is to the savory food, they say, vanilla enhances the flavor. Apparently vanilla is something you (only) need a drop of, lest you notice something's missing.)
Milk is then added to fuse the crumbs together. (Can you use almond or soy milk? Why not!) The result is a consistent wet-not-watery mass that will be your dessert's bottom layer. It's not as compact as the bottom layer of the biscuit cake from before. It's more like wet sand. Soft, but it holds form.
Naturally, a sweet called 'chocolate dessert pudding cup' has to contain pudding. Chocolate pudding that is. Choose a regular pudding mix instead of instant pudding as recipe requires you to thin the pudding out. (When you warm the milk up, add more milk than you usually would.)
Pudding will thicken anyway, but you want it to be thinner than it naturally is. Why? You'll prepare the pudding first, so you want to keep it smooth while you make the other two layers. You'll add the pudding to cups easier this way.
The third and final layer is the chocolate. Melt some baking or dark chocolate (or substitute with chocolate chips) in some milk. Once they integrate you'll add heavy cream. What you'll end up with is smooth warm chocolate liquid that will perfectly top fruit and the layers that came before it.
Choose big, wide cups to layer. Think 10 oz or more. If you have tall, thin cups you can layer ingredients twice (layer the crumbs only once, on the bottom). Let your imagination take over as this truly is a laid back dessert.
Cool it down if you can wait. I like it warm!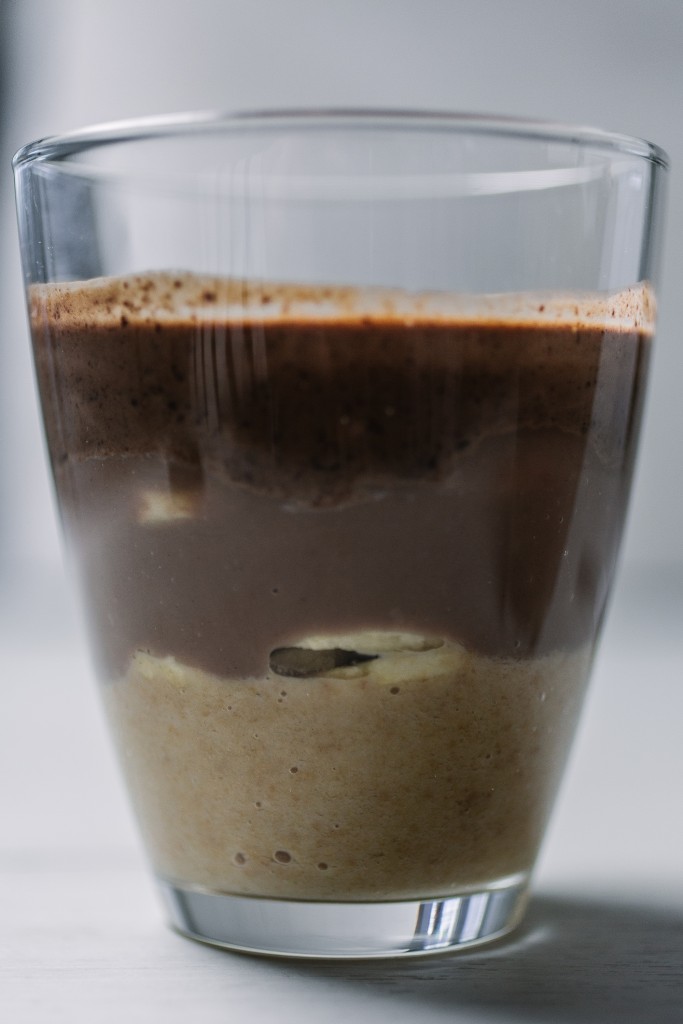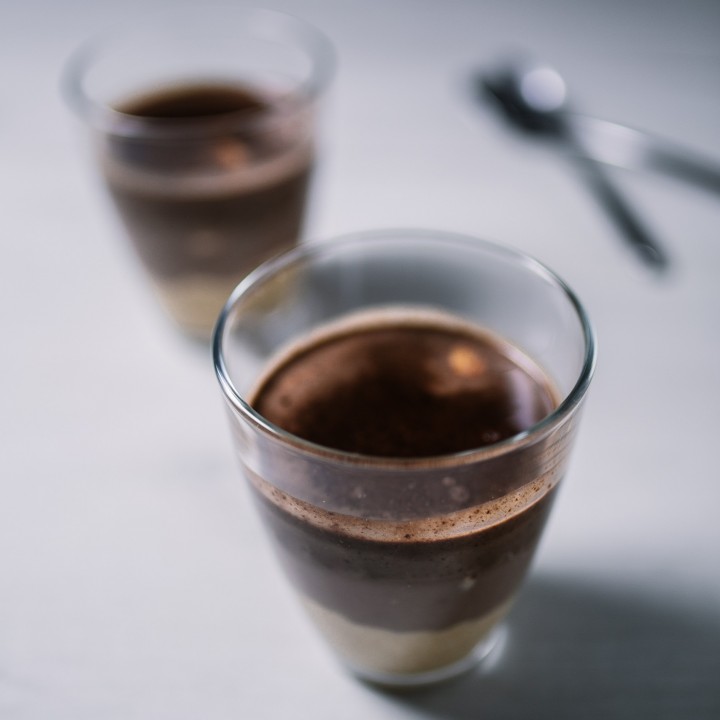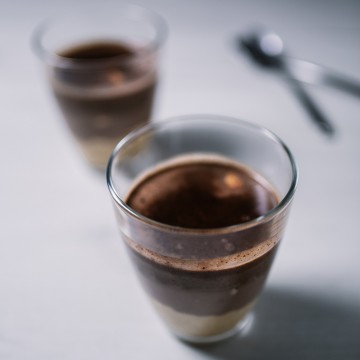 Chocolate Pudding Dessert Cup
Four layer chocolate dessert pudding cup is destined to become your go-to for a super fast sugar fix.
Ingredients
3

bananas

peeled, cut into rounds

Pudding layer

6

tablespoons

granulated sugar

2

ounces

chocolate pudding mix

2.5-3

cups

milk
Chocolate layer
7

ounces

baking chocolate

or dark chocolate or chocolate chips, crumbled

1.8

ounces

milk

7

ounces

heavy whipping cream
Cookie crumb layer
7

ounces

cookie crumbs

ground

1.5-2

cups

milk

½

teaspoon

vanilla extract
Instructions
Pudding layer: In a small mixing bowl combine sugar, pudding and 5-6 tablespoons of milk. Mix well until pudding becomes liquid. In a medium pan bring the remaining milk to a boil on high, then immediately reduce temperature to low. Pour pudding mixture into milk while stirring. Cook pudding on low for several minutes until it's smooth and thick. Stir continuously.**  Set aside.

Chocolate layer: In a small pan add milk and then chocolate. Melt on medium while stirring. Lower temperature and add heavy whipping cream. Continue stirring until everything is integrated and smooth. Set aside.

Cookie crumb layer: In a mixing bowl mix cookie crumbs with milk and vanilla extract until the mixture has a smooth and wet (but not watery) consistency.

Take out 6 larger cups and start layering in this order: 1. cookie crumb layer, 2. banana rounds, 3. pudding layer, 4. banana rounds, and 5. chocolate layer.

Eat it warm, or cool in the fridge if eating later. Cups last about 24 hours in the fridge. 
Notes
*Substitutes: berries, kiwi and pineapple; vanilla extract with rum.
**Pudding is supposed to be thinner than usual
Nutrition
Serving:
1
cup
Sodium:
398
mg
Sugar:
98.1
g
Fiber:
4.4
g
Cholesterol:
18
mg
Calories:
625
kcal
Saturated Fat:
11.3
g
Fat:
22.3
g
Protein:
52.4
g
Carbohydrates:
98.1
g