Balkan ratatouille (đuveč) is a rich vegetarian dinner dish. (Meat lover? Add grilled chicken or beef on the side.) Let this one simmer for a while… then dip in, not with utensils but with bread.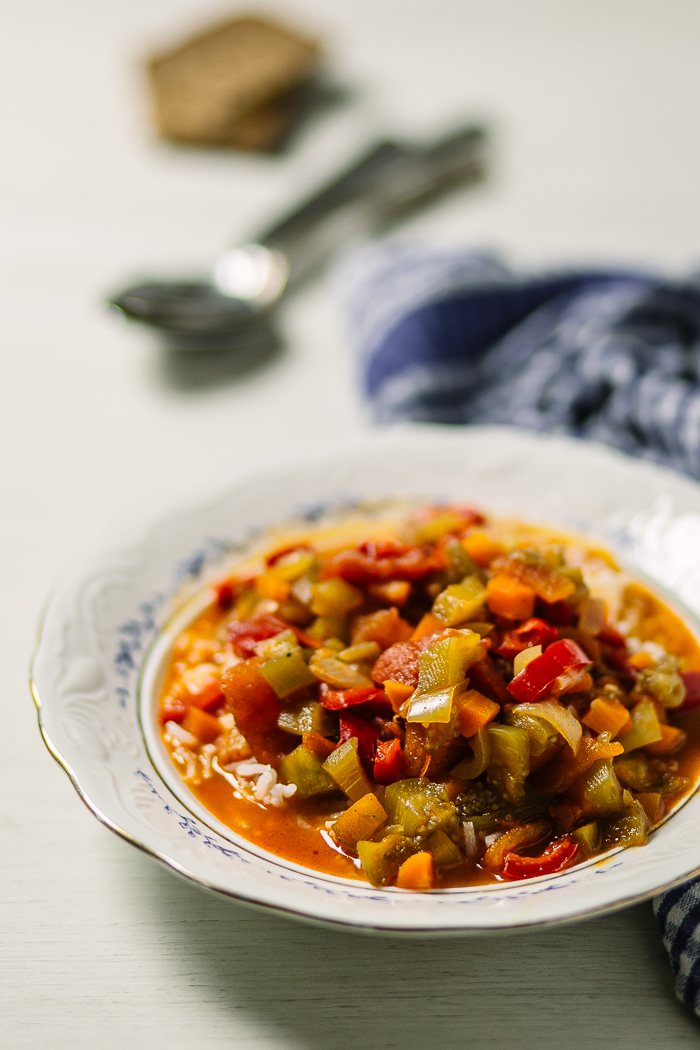 Vegetables are well represented in sauces and stews in Balkan cuisine, and this dish is no exception. It welcomes whatever you give it: onion, garlic, carrot, eggplant, zucchini, tomatoes… and the combo stews until veggies are, in Jamie Oliver's words, "reduced, sticky and sweet."
(I skip potatoes. As bland as they are when cooked, they take over and the stew becomes something else.)
The dish is called djuvech (đuveč). I like to call it Balkan ratatouille.
There are several ways of making Balkan ratatouille. Usually it involves sautéing and simmering several vegetables on low over long time and (in some cases) throwing it in the oven for a final touch. (French versions almost always involve baking at the end.)
Today's version of ratatouille involves no baking.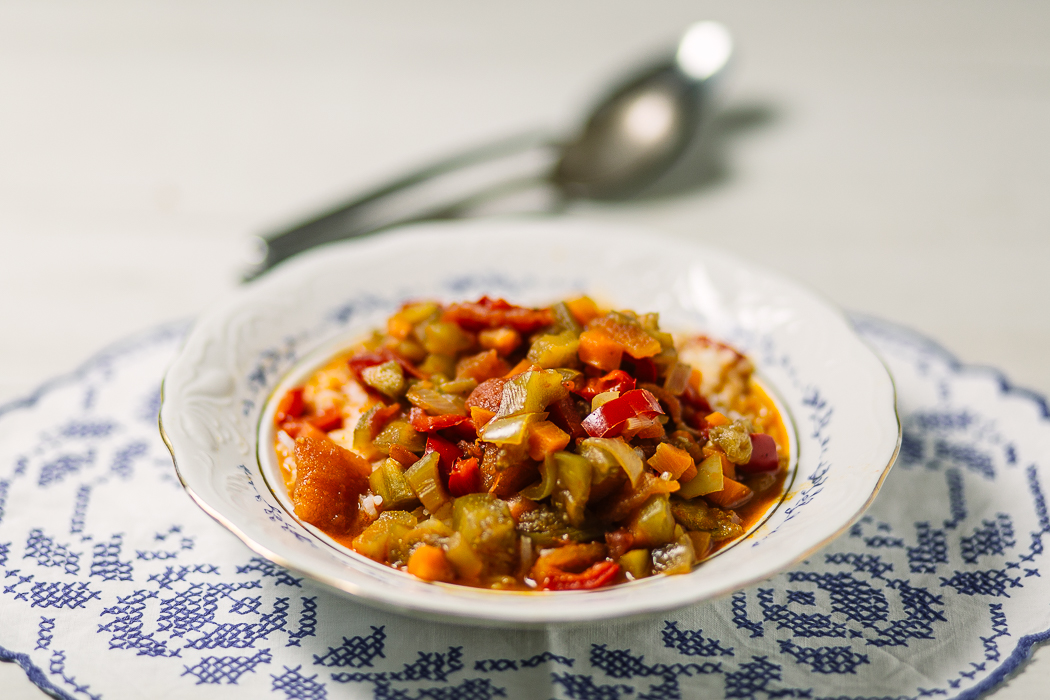 AN UPGRADE ON SATARASH
If we dissect it further, Balkan ratatouille is an upgrade on the regional stir fry satarash (sataraš). Both dishes depend on veggies sweating and softening. But where satarash ends just slightly crunchy - satarash is still soft mind you, softness is the main separator of Balkan and other regions' stir frys which usually involve less sauce and more crunch - ratatouille vegetables are simmered until almost falling apart, while forming a refreshing stew around themselves.
The amount of this stew (sauce) can easily be managed by adding water or - in case you like it thicker - letting it reduce further. As vegetables have a high water content, be mindful. Adding too much water to your ratatouille turns it into a watery mush. I like ratatouille somewhere in between, and regulate this by tasting it while it cooks.
Seasonings are a few in Balkan ratatouille, but each is powerful. Salt and pepper are added to taste, then there are the paprika and bay leaf. Last two - and particularly the bay leaf - have been known to overpower a meal. Add only a leaf or two and take them out before serving. Paprika in small doses entices vegetables to expand their flavor. But add a pinch more than necessary and the meal becomes a paprika show.
For a savory dish, Balkan ratatouille is slightly sweet. The sweetness makes it special. Memorable. It's not your everyday stew or sauce. Balkan ratatouille is all about what vegetables have to offer, about bounty the nature gifts us with.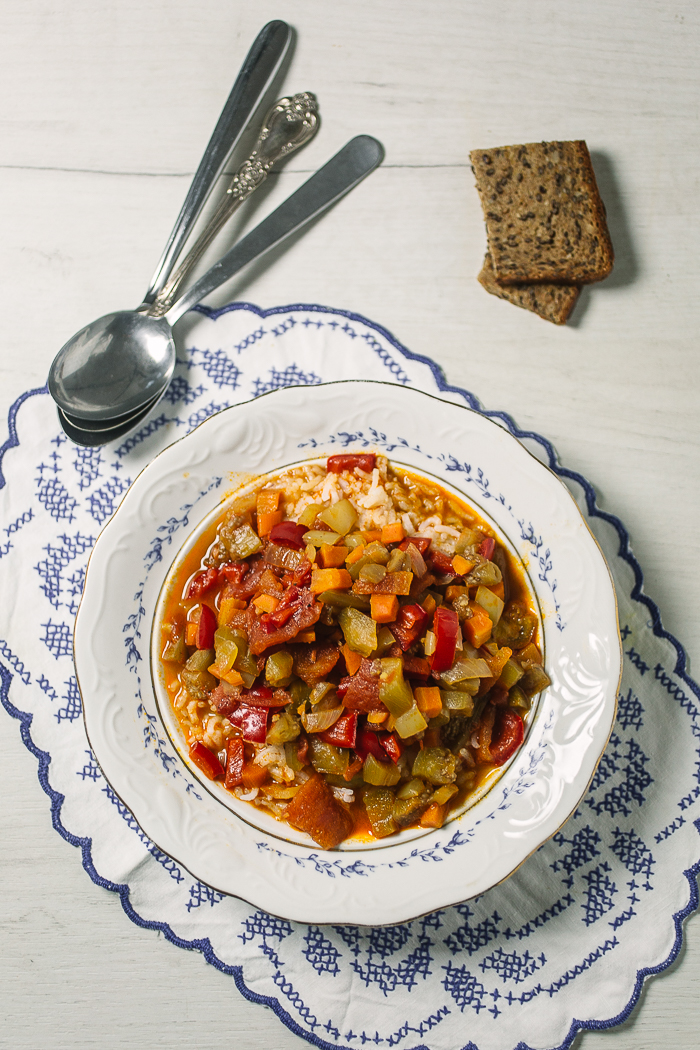 BALKAN RATATOUILLE TIPS
Mise en place. If you're like me, you're peeling, dicing and throwing food into the saucepan as the ingredients become needed. Being organized will serve you well with ratatouille. It wasn't until I started filming recipes that I learned just how helpful it is to prepare everything ahead of time. Take a few minutes in the beginning so the process can be smooth.
Meat lovers. You're welcome to add meat to ratatouille. But meat does overtake the taste to an extent. It's better to grill chicken or beef on the side and add it in later.
Side or no side? Ratatouille is perfect by itself, with a nice slice of fresh homemade bread (I know… this has become my motto). But good sides include rice and polenta. Don't do pasta. This isn't a sauce that sticks to pasta. You'll end up with a heap of spaghetti sitting on top of sauce instead of the other way around.
Loving this vegetarian option. Any others? Yes. While the cuisine admittedly is meat centric, there are plenty of vegetarian delicacies. Have you tried our sweet roasted red peppers in white sauce, crustless spinach pie or the hash brown pie? For more goodness go to BLB's recipe index and scroll down to the vegetarian section https://balkanlunchbox.com/category/vegetarian-recipes/.
Prijatno!
Balkan Homemade Cornbread From Scratch
Recipe by Samir Hajdarević.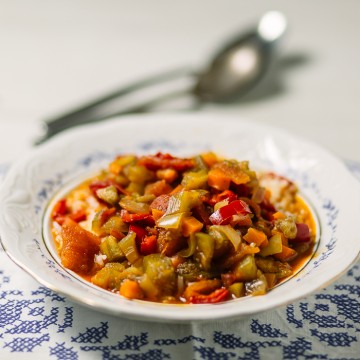 Balkan Ratatouille
Balkan Ratatouille (đuveč) is a rich vegetarian dinner dish. Meat lovers are welcome to add grilled chicken or beef on the side.  Let this one simmer for a while and then dip in, not with utensils but with bread.
Ingredients
2

tablespoons

oil

1-2

tablespoons

butter

1

yellow onion

large, peeled, diced

2

carrots

medium, peeled, diced

1-2

garlic cloves

peeled, minced

2-3 to

matoes

medium, peeled, crushed

1

tablespoon

paprika

1

teaspoon

sugar

1-2

bay leaves

2-3

cups

of water

2

yellow bell peppers

cored, diced

2

red bell peppers

cored, diced

1

eggplant

large, peeled, diced

Salt and pepper to taste

1

tablespoon

parsley

fresh, minced
Instructions
In a large, deep pan (or shallow pot) heat oil and butter over medium high. Add onion and carrots and sauté until translucent.

Add garlic, tomatoes, paprika, sugar and bay leaves. Sauté 5 to 10 minutes, then add water. Simmer 5 minutes.

Add bell peppers, eggplant, salt and pepper. Mix thoroughly. Cover (⅘ths of the way) and simmer on low for 40-50 minutes. (If a lot of ratatouille evaporates add a little more water.)

Take the bay leaves out, garnish with parsley. Serve over rice, polenta or by itself.
Nutrition
Serving:
2
-3 laddles
Sodium:
74
mg
Sugar:
15.7
g
Fiber:
8.9
g
Cholesterol:
15
mg
Calories:
233
kcal
Saturated Fat:
4.6
g
Fat:
13.5
g
Protein:
4.1
g
Carbohydrates:
27.1
g