Balkan Ratatouille (Djuveč) is a rich vegetarian dinner dish. Meat lovers are welcome to add grilled chicken or beef on the side.  Let this one simmer for a while and then dip in, not with utensils but with bread.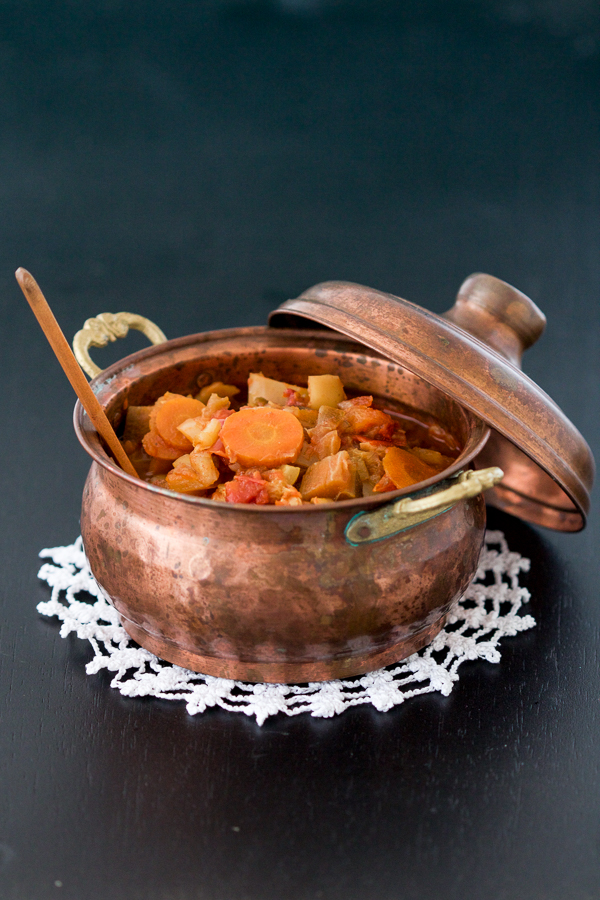 Djuveč goes by a few names, but this is the prevalent one. It's a ratatouille style dish consisting of several diced vegetables simmered together until they soften, forming a refreshing stew around themselves.
For a savory dish, this Balkan ratatouille adopts a light sweetness. If you are a meat lover, adding grilled chicken or beef on the side is a way to appease your meat cravings. Refrain from adding meat to ratatouille as it overpowers it. This particular djuveč is meant to remind us of the richness vegetables have to offer, of the bounty the spring gifts us with, and how to be satisfied with what's here in this moment.
(True, this cuisine is meat centric. But there are plenty of vegetarian delicacies as well. Some of these include the sweet roasted red peppers in white sauce, crustless spinach pie and the hash brown pie.)
Story and recipe are by Samir Hajdarević.
***
The sun was breaking through the clouds that covered the sky since early morning. They looked threatening. At first it seemed as if they categorically decided to destroy today's day. I was procrastinating while getting ready, even though I was supposed to be finished a long time ago, not knowing myself what would happen in the end. Weather forecasts, every single one I follow, predicted nice weather, but in all honesty it wouldn't have been the first time for them to play tricks.
One of my friends who lived abroad for many years causing in him a maturing wish to return to the homeland, had his wish granted and had invited me over for lunch in the open to hob nob with a small circle of shared friends. As we hadn't seen each other in a while, this would be a perfect opportunity to collect memories, retell old stories and funny anecdotes.
The day was improving, and on the way there thoughts of the past I consciously invited were multiplying into clear units. Memories of moments spent together and the questions I would ask to feed the curiosity about the time in between. There is so much one would ask people we haven't seen in a long time, but in the end, due to force of confusion and curiosity caused by seeing them again we keep quiet. That's how I supposed it would be this time too.
I met Amel in front of the house. Much time had passed since we saw each other last. Nonchalantly dressed, smiling and happy as always. Casualness and immediacy were the main lines of his character. One of those people you always know where you stand with. I always remembered him as such. I think he'll never change.
We knew each other for a long time. Maybe not deeply, but definitely long. Since the school days. Sometimes we were close, only to have life take us in different directions, to then cross our paths again somewhere. Again and again, in cycles.
This last time Amel left for the Netherlands, and now upon returning he brought a little bit of a hippy spirit along with him. That caught my eye immediately. He added a new casualness to all of his own casualness. His face revealed new restfulness and peacefulness coming from somewhere within. Gentleness and satisfaction radiating from people who brought themselves into a harmony. I always knew him as a person of untamed and adventurous spirit, but this time I couldn't read it in him anymore. Maybe he had found what he was always looking for.
The house was situated near the center of the city. Shops and other necessary things were only a few minute walk. But the somewhat hidden positioning, and the natural barriers consisting of trees it was surrounded with, made one feel a thousand miles away. What impressed me the most was a yard in the back of the house. Wild and deserted on purpose, uncultivated, untreated. With grass that reached the knees, and a lot of weeds freely growing and multiplying on all sides. It was about fifteen meters long and about that wide. At its end instead of a fake fence, a barrier consisted of a few pine trees. A wild apple tree and a few bushes of thorny roses perfectly fit into and brought upon the final atmosphere. In the center of the yard there was an improvised swing, actually it was more like a sleeping hammock made out of colorful fabric with psychedelic patterns hanging off of a metal construction.
I sank into the hammock with my entire body, until only my legs peeped through and touched the ground so I used them to push myself from one side to the other, I was looking straight ahead of myself at the sky which was now light blue with a wrinkled cloud here and there. The weather served us. My thoughts wandered. I adapted to the atmosphere very fast, and let myself stroll somewhere far away to forget the everyday. Which wasn't extremely difficult. Everything looked so Robinsoe-ish there.
During the conversation I found out many new things. Amel talked about himself, of his personal road to maturity, experiences that inspired him to change his old attitudes and form new views. And how he built a new system of values that brought him closer to himself. And that this was one of his motives for returning to Sarajevo.
The lunch was served. As I could have predicted Amel aimed for a more natural and homemade cuisine. He was a vegetarian for some time now, and although he made meals with meat for those who weren't, I decided for to go for the vegetarian option. A cooked dish with several vegetables, something we call djuveč in our kitchen.
I let Amel know I was happy he was able to line the things up the way he wanted. He said that key for finding success is finding freedom within the frame of the given circumstance. A thought obsessed me later, perhaps it wasn't so hard to create one's own refuge. There exist pockets in space into which you can fit in and flow away to some parallel universe, to an alternate world.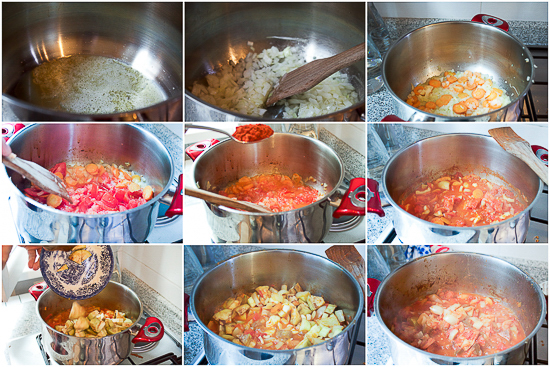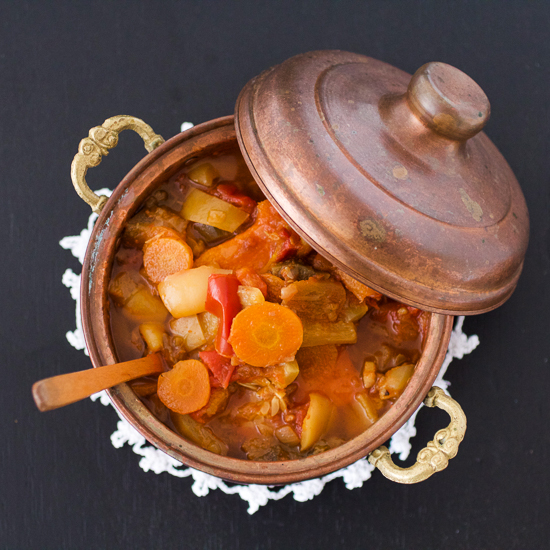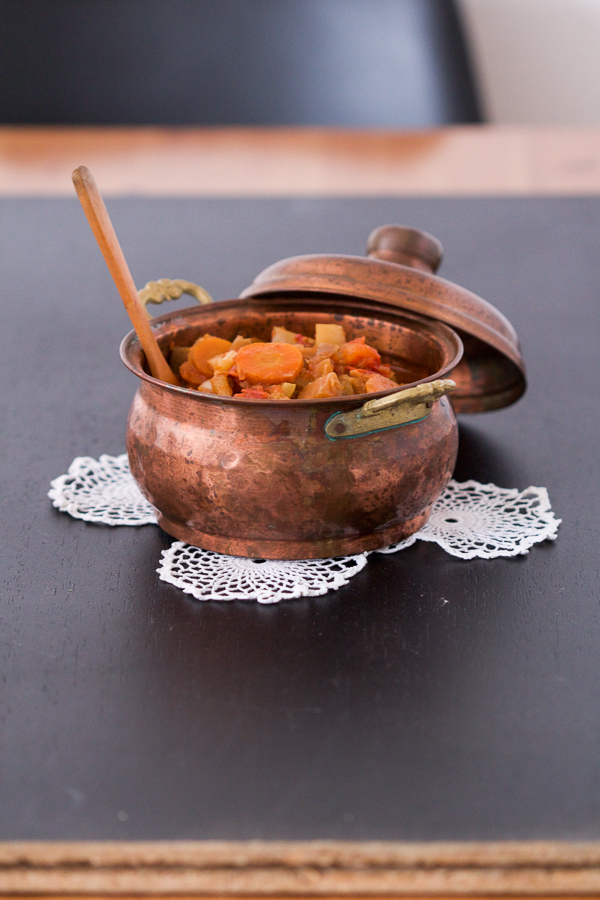 Print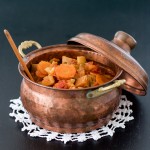 Balkan Ratatouille (Djuveč)
Author:

Prep Time:

15 mins

Cook Time:

90 mins

Total Time:

1 hour 45 mins

Yield:

4

1

x
Category:

Main Course
---
Scale
Ingredients
1

–

2

tablespoons butter

1

yellow onion (large)

1

–

2

garlic cloves

2

carrots (medium)

2

–

3

tomatoes

1 tablespoon

paprika

1 teaspoon

sugar

1

bay leaf

4

yellow or green bell peppers

1

eggplant (large)

1

zucchini (large)

1 tablespoon

parsley
Salt and pepper to taste

2

–

3

cups of water
---
Instructions
Wash, dice and peel all vegetables. Melt butter in a larger pot over medium, then add carrot rounds and diced onion. Simmer until the onion crystalizes and carrots soften (about 10-15 minutes). Add a little bit of water as necessary to prevent burning. (You'll be adding about 2-3 cups of water total throughout cooking.)
Add tomatoes to the stew and using a potato masher crush them further. Add paprika, bay leaf, and sugar. Mix well and continue simmering for another 10 minutes. Add a little bit of water at a time.
Add peppers to the stew. Give them plenty of time to soften (about 20 minutes), adding a little bit of water as well.
Finally, add diced eggplant, zucchini, and remaining spices to the pot and mix well. Let everything simmer another 40 minutes adding a little bit of water to keep the fluid level the same. (By now you should have used about 2-3 cups of water for the stew.)
---
Notes
Serve with rice, by itself, or with grilled meat.