Lacy baked crepes filled with mushrooms and topped with tartar sauce. Crepes have graduated to dinner!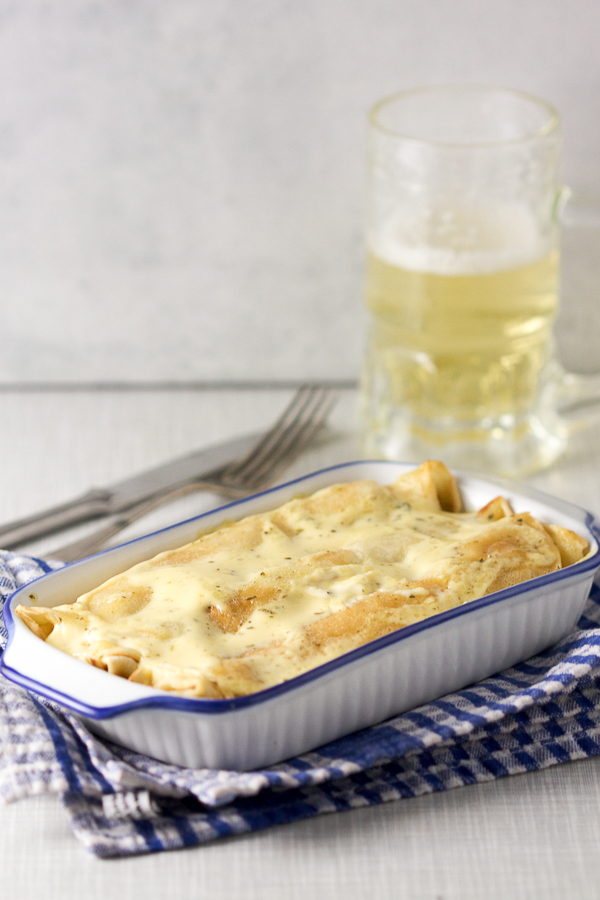 To depict how I came up with the idea for today's baked crepes with mushrooms and tartar sauce we'll travel to the near past.
I used to work in Rosslyn. Rosslyn is a part of Arlington, Va., close to DC. To give you an idea how close, just imagine crossing a bridge from Rosslyn to M Street, and there you are in the heart of Georgetown. 
For the most of its existence, Rosslyn has been strange. It was supposed to be the downtown of Arlington and/or business center of DC Metro. This development mostly happened in the 80s and 90s and left it in a weird stage of stagnation. It couldn't go back to being the traditional Arlington. At the same time, at least in those years, it never grew up to be a corporate hub. 
Now here is a fun fact if you're into history.
Due to the Height of Buildings Act, the tallest building in DC is the Washington Monument. No building is allowed to be taller. This will eventually change, I'm sure, when it becomes profitable for some developer with influence. Be as it may, because of this height restriction, DC has always had a complex. It never achieved the business downtown-ish feel you get in NYC or Chicago.
You know the feel I'm talking about. The tall, glass buildings that hide the sun, separated by the long, wide avenues. The grandeur that arrived to the world in the recognizable 'city America' of 1980s package.  Materialism. Banking. The I wear my sunglasses at night look.
To be fair, DC is DC. You can't miss it. You won't forget it. It's done a great job of differentiating itself from the rest of the US with its liberal borrowing of Roman and Greek architecture. And with its fantastic parks. And beautiful corporate buildings. And beautiful town houses. All of that is there.
But the skyscrapers aren't, and everyone wants to be what they're not. Arlington, just across the bridge, was a perfect location to try and create this business sector. Thus, Rosslyn.
Rosslyn is like the Balkans of DC Metro. At the crossroad. It's right there so you can't ignore it. Yet, as surrounded as it is with history, wealth, ideas, and culture it never developed into something specific.  Just as it starts to, another group comes with new ideas of what it needs to become next. The newest development aims to transform it into the business-plus-living center. For real this time.  In the meantime, it's a hell hole Virginians have to drive through on their way to GW Parkway. 
On Rosslyn timeline, my time there fell in between this newest development, and the failed development of before.
The building I worked in was near the metro station. It was older and in a state of disrepair. It was managed by a group of incompetents led by a woman who was more interested in caring for her nails than the building. But the offices had a fantastic view of DC.
Never before, and probably never again, will I have such a view from the office. Washington DC close enough to touch. Its buildings neatly adjusted on the a's, b's and c's of its roads. The roads themselves interrupted at 90 degree angles with the 1s, 2s and 3s. Cut sideways with slanted avenues bearing names of the US states. Shores of the Potomac, lined with cherry blossom which paints everything red during April. Its waters carrying Georgetown rowing crews early in the mornings, all the way to Alexandria and back. A sea of sleepy passengers going into the city's belly for work and school.
And an unforgettable sunrise above the most powerful city in the world.
The absolute best about Rosslyn in those days? The food!
Every midday from 11 to 2 its main street was lined with food carts and trucks. As the parking in DC is more rigorous, these businesses on wheels found Rosslyn. Encouraged by our enthusiasm, they stayed.  It's brilliant business. Prep and drive. Park.  Sell your food. Pack up. Go home.
The boss I had during that time was the best one I ever had (with the exception of being my own boss), and also an even bigger foodie than me. He was fascinated by my motivation to eat lunch at 11, when most people hadn't even had breakfast yet. When we weren't eating together, we shared intel on the best place of the day.
Very often, the best were the crepes from a cart managed by a handsome Belgian guy. He arrived at the same time every day, and always parked the cart on the same street corner. Regardless of which food establishments surrounded him, he did his thing the same way, every day. And his thing was making large, thin and lacy crepes that looked like crocheted cloths that belonged on a beautiful table rather than on a paper plate.
This Belgian who guy adamantly reminded us each time that crepes were a Belgian, not French, origination, was the first to inspire me to use crepes as a savory meal. Until him, my crepes were a Nutella fest. Now, I stuff them every which way, bake them, even fry them.
One of the ways I like crepes is the recipe below. At first, the mushrooms and onion are simmered until soft, and then used as a stuffing for crepes. (Want another mushroom recipe? How about mushroom goulash?) Everything is generously smeared with tartar sauce and baked. Just a little bit. Until the crepes blush. Until they're whatever you think they should be.
They remind me of Rosslyn.
Print
Baked Crepes with Mushrooms and Tartar Sauce
Author:

Prep Time:

40 mins

Cook Time:

15 mins

Total Time:

55 mins

Yield:

6

1

x

Category:

Main Course
---
Filling:

1

onion

16 ounces

portabello mushrooms

1 tsp

salt
Crepes:

10

–

11

ounces white flour

2

eggs

½ teaspoon

salt

2 cups

milk

1 cup

water

1 cup

oil

2 tablespoons

butter
Topping:

7

–

8

ounces tartar sauce
---
Instructions
Mince onion, and chop mushrooms. In a deep skillet, warm up a tablespoon of oil and add the onion. Simmer on medium until onion crystalizes, then add mushrooms and salt. Continue simmering and frequently stirring until mushrooms are completely soft. Set aside.
Combine flour, eggs, baking soda, salt and milk in a larger bowl. Mix the batter with a spatula for a few minutes, then turn on the hand mixer. Continue mixing with the hand mixer, slowly adding water as necessary. (You may need more or less water.) Mix until the batter is free of crumbs, and is completely smooth with a consistency (thickness) of heavy cream.
Pour oil into a small bowl. Take a paper towel and dip it in the oil, and then use the paper towel to coat the crepe pan with it. Heat up the pan on the highest until the oil is really hot.
Transfer a small amount of batter into the pan by using a ladle. Watching that the batter doesn't leave the pan, swirl it around until the batter coats the pan bottom evenly. When the crepe has slightly browned on the bottom (about 30 seconds), flip it around to the other side for another 30 seconds or so. Place the finished crepe on a plate.
Oil the pan with a paper towel. Heat the pan again, then repeat the process until you are out of batter. You should have about 15-ish crepes.
(You can do this step parallel to making the crepes.) Heat oven to 350-375F. Take a 10×15-inch pan and cut up butter into it. Warm the pan up in the oven for a few minutes until butter melts, then take it out. Take a crepe and fill it with a tablespoon or two of mushrooms, then roll it. Place in the pan. Continue filling and rolling up all crepes until they fill up the pan.
Pour and spread tartar sauce evenly over the crepes. Place the pan in the oven for 10-15 minutes, just to give the crepes a little bit of color.
Serve warm with additional tartar sauce (optional).