This is a recipe for Palačinke, Balkan crepes, stuffed with a mushroom crepe filling, topped with tartar sauce, and baked. (Don't worry, our crepe batter is super easy!) The result is a hearty entrée oozing with yummy umami flavor mixed with savory tartness. Shall we?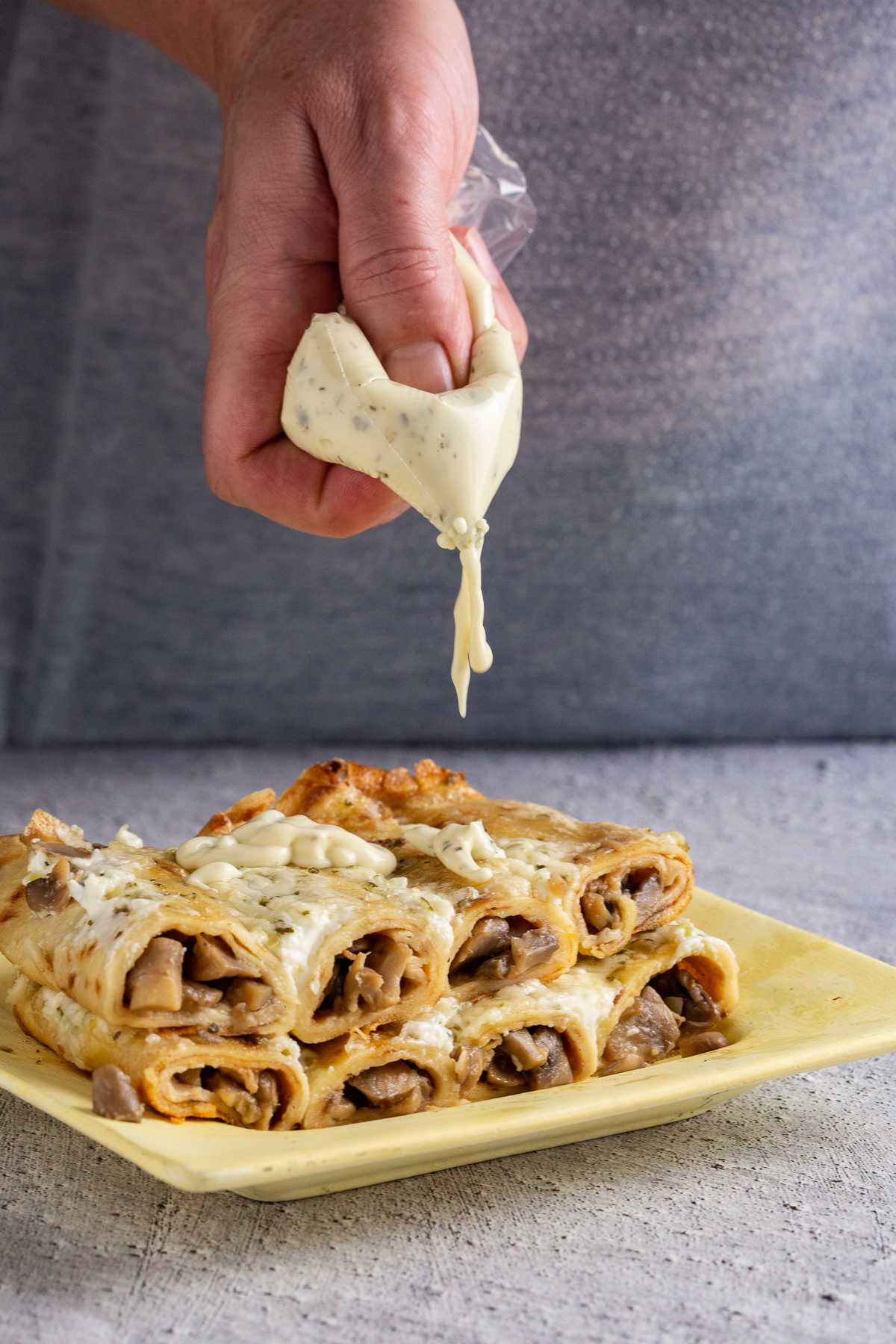 Jump to:
What Is It
Let's be honest, we couldn't call ourselves a Balkan food blog without at least one stuffed palačinke main course! Ok, ok, there are also the Breaded Ham and Cheese Crepes and the Spinach and Cheese Crepe Cake.
But to make a serious dent in the palačinke universe we needed to share a recipe with a mushroom crepe filling.
For those who are unfamiliar, palačinke (aka palatschinke) are Central and Southeast Europe's answer to crepes. In fact, they're one of the most popular area dishes.
So popular in fact, that palačinke with sweet and savory fillings are on the menu of almost every regional restaurant, from Bosnia to Slovenia!
(Please note that the terms palačinke and crepes are used interchangeably in the text below.)
Why This Recipe Works
First of all, this mushroom stuffing is the best traditional savory crepe filling. Once you make it, you'll realize why sometimes adding just one ingredient makes all the difference!

Isn't it time for palačinke to stop playing second fiddle to Nutella? Here's a great example how adding a tasty crepe filling easily transforms palačinke into a legitimate main course.

Mushrooms, whose flavor is best described as umami, taste even more splendidly when coupled and baked with the slightly sour tartar.

While making crepes can be intimidating, we share expert tips for crepe batter to help you make these thin European pancakes perfectly on your first try.

The resulting palačinke dish is so flavorful and visually pleasing it looks like you put a ton of time and effort into it. However, you and I will know it's easy as 1-2-3.
Ingredients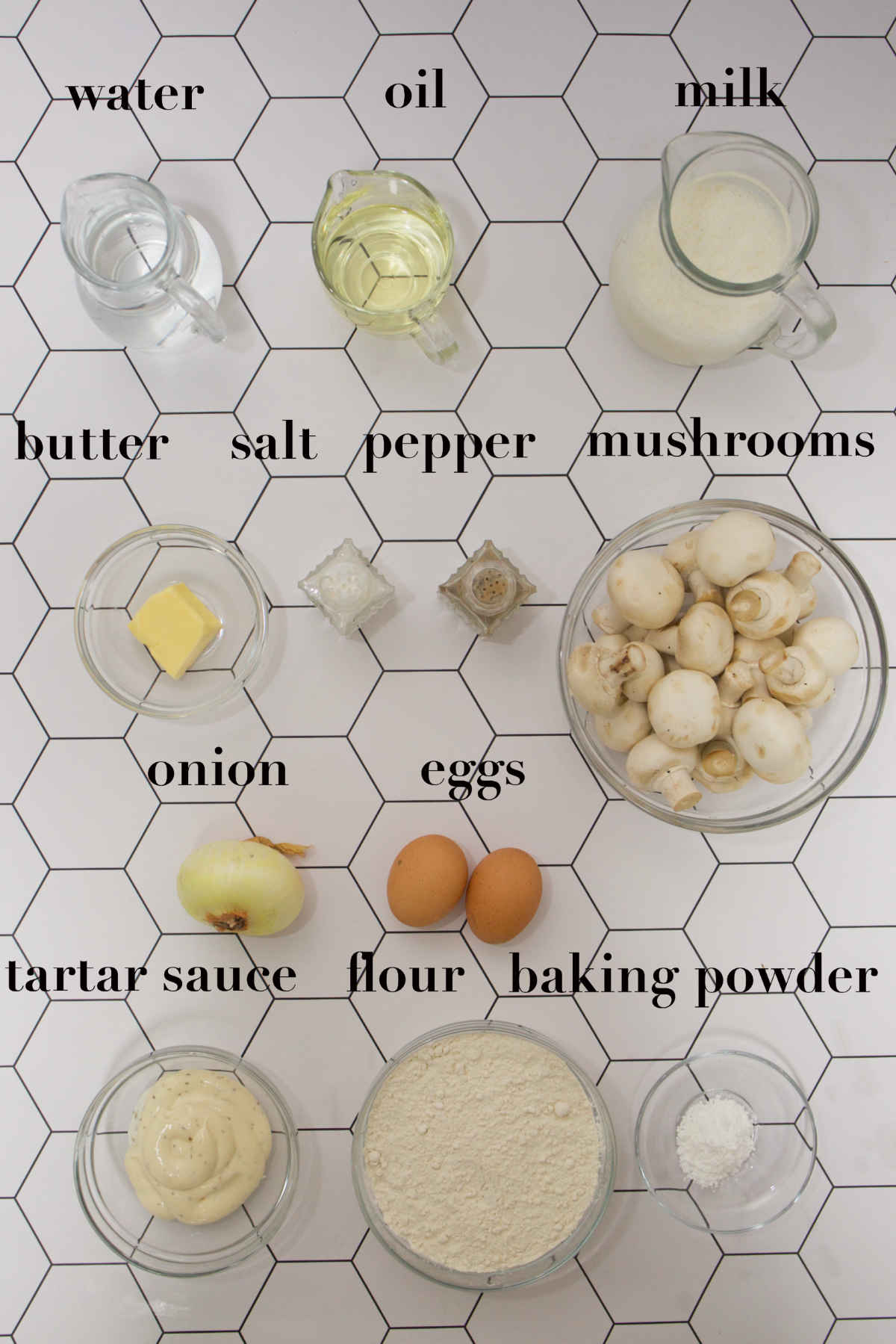 Ingredient Notes
Mushrooms: For a more 'mature' crepe filling taste, sub with portobello, cremini, shiitake or oyster mushrooms, or a mix of.
Butter: Sub with coconut oil.
(Optional) Sugar: some palačinke lovers add a teaspoon of sugar to the crepe batter for a touch of sweetness.
Tartar sauce: Sub with equal parts mayo and sour cream mix.
Lightning-fast Instructions
(Our lightning-fast instructions are here to give you an idea of how to make palačinke. For more detailed information about preparing palačinke, aka Balkan crepes, and a method for making crepe batter the easy way, take a look at the recipe card below!)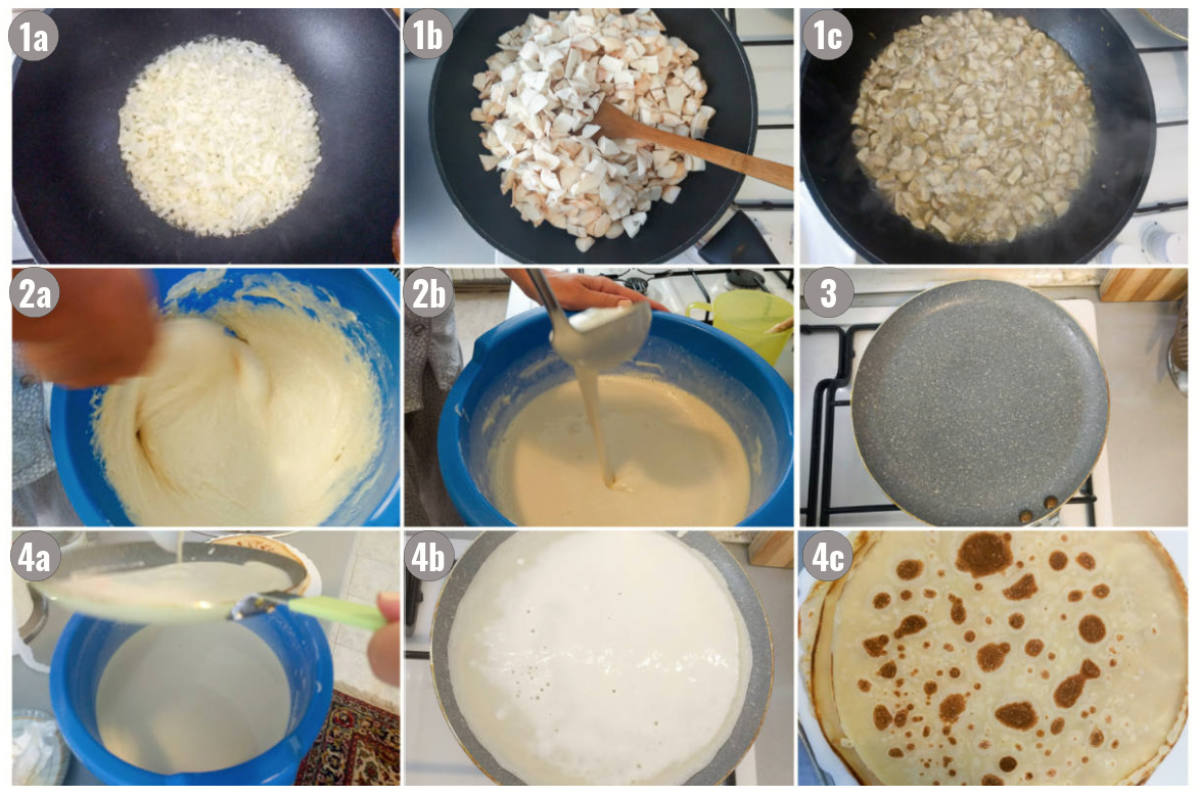 1. Cook onion and mushroom crepe filling.
2. Make crepe batter.
3. Oil the pan and heat it up.
4. Cook crepes.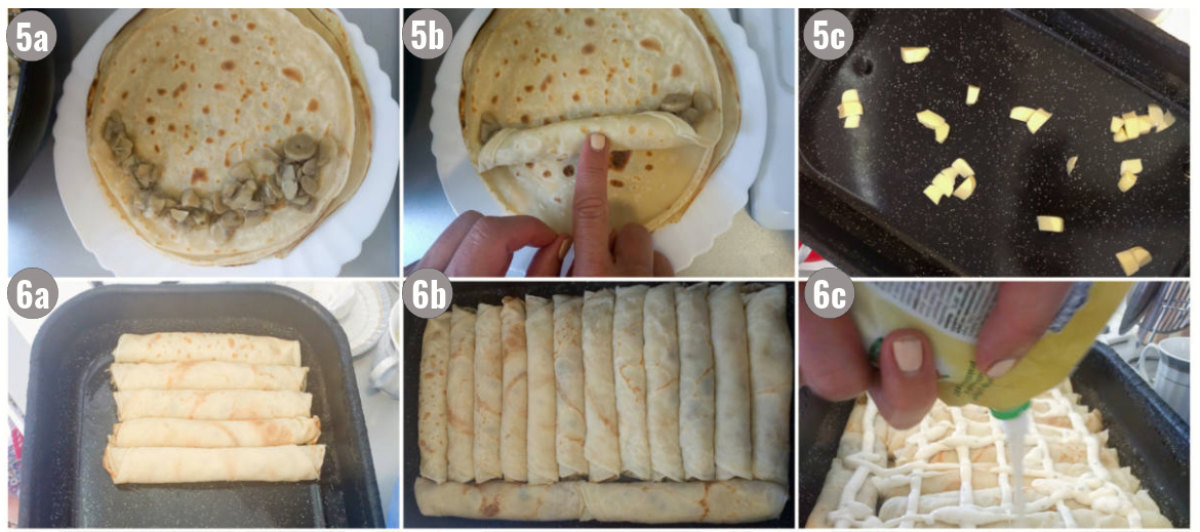 5. Stuff them. Heat up the baking pan and butter.
6. Place in the baking pan. Top with tartar. Bake.
Expert Tips for Perfect Crepe Batter
Perfect Volume: After much experimentation we found the best crepes are made in a pan that's 8-9 inches in diameter, with ½ cup of crepe batter for each one.

Oil: Instead of pouring oil into the pan, it's best to lightly coat it with a paper towel that's been dipped in oil. (Watch your fingers!) This way the crepe batter will produce palačinke that are not sticky, nor greasy. Also, it'll be easier to add the crepe filling to palačinke made this way.

Perfect Flip: For the perfect crepe flip use a knife to lightly unseal its edges from the pan. Then shake it in the pan a little bit to ensure the rest of it is not glued to the pan. Finally, hold the pan in your hand and do a slight wrist movement up and down. (The greatest mistake in flipping palačinke is thinking you need to make huge movements.)

Resting Time: Crepe batter for palačinke doesn't require resting time. This is maybe the greatest difference between French crepes and Balkan palačinke. Just whip up the batter with a mixer, blender, or by hand (spatula), and your crepe batter is ready for the next step.

More Flour/ More Water: The best palačinka batter tip we ever heard was from our very own brother. To achieve perfect batter consistency he ads a little bit of water, then a little bit of flour, a little bit of water, and a little bit of flour… until perfection. 🙂
Serving and Storing
Serving: Serve palačinke warm, or (optional) with additional tartar sauce. A side soup or salad can be added, but are by no means necessary. A tasty crepe filling like today's makes this dish perfectly satisfying.
Storing: Store crepe batter in the fridge for a few hours up to a day. When you're ready to use it, bring the batter to room temperature and whisk it. You may have to add a little bit of water to the batter as it'll thicken in the fridge. Meanwhile, store finished crepes in the fridge for up to a day. You can eat them warm or cold.
Recipe FAQs
What is a crepe and how is it different from a pancake? 
A crepe is basically a flattened European pancake. Regionally it goes by different names, like palačinke in the Balkans. Most crepes do not use a leaving agent, but there are exceptions, such as today's recipe. Finally, while in the US pancakes are usually a breakfast or brunch food, crepes are usually a dessert or a main course. The best way to make them into the main course is by stuffing them with a hearty crepe filling.
Are crepes healthy?
Crepes (palačinke) aren't unhealthy, but they're not exactly diet food. Think of crepes as pleasure food. If you are trying to eat healthier and have your crepes make sure that you don't overdo it with the crepe filling(s).
What are crepes often filled with?
Everything! Dessert crepes are often filled with Nutella, honey, walnuts, sugar, lemon, cherries, bananas, vanilla, and chocolate. Meanwhile, savory crepes can be filled with cream cheese, cottage cheese, chicken, ham, spinach, mushrooms, and other vegetables. Additionally, they can be stuffed, baked, and/or fried.
What goes with crepes for dinner?
When you find a good recipe for a savory crepe filling you won't need anything else to make crepes into a dinner that will fill you up. Today's recipe is an example. However, you can add a side of soup or salad if you're extra hungry.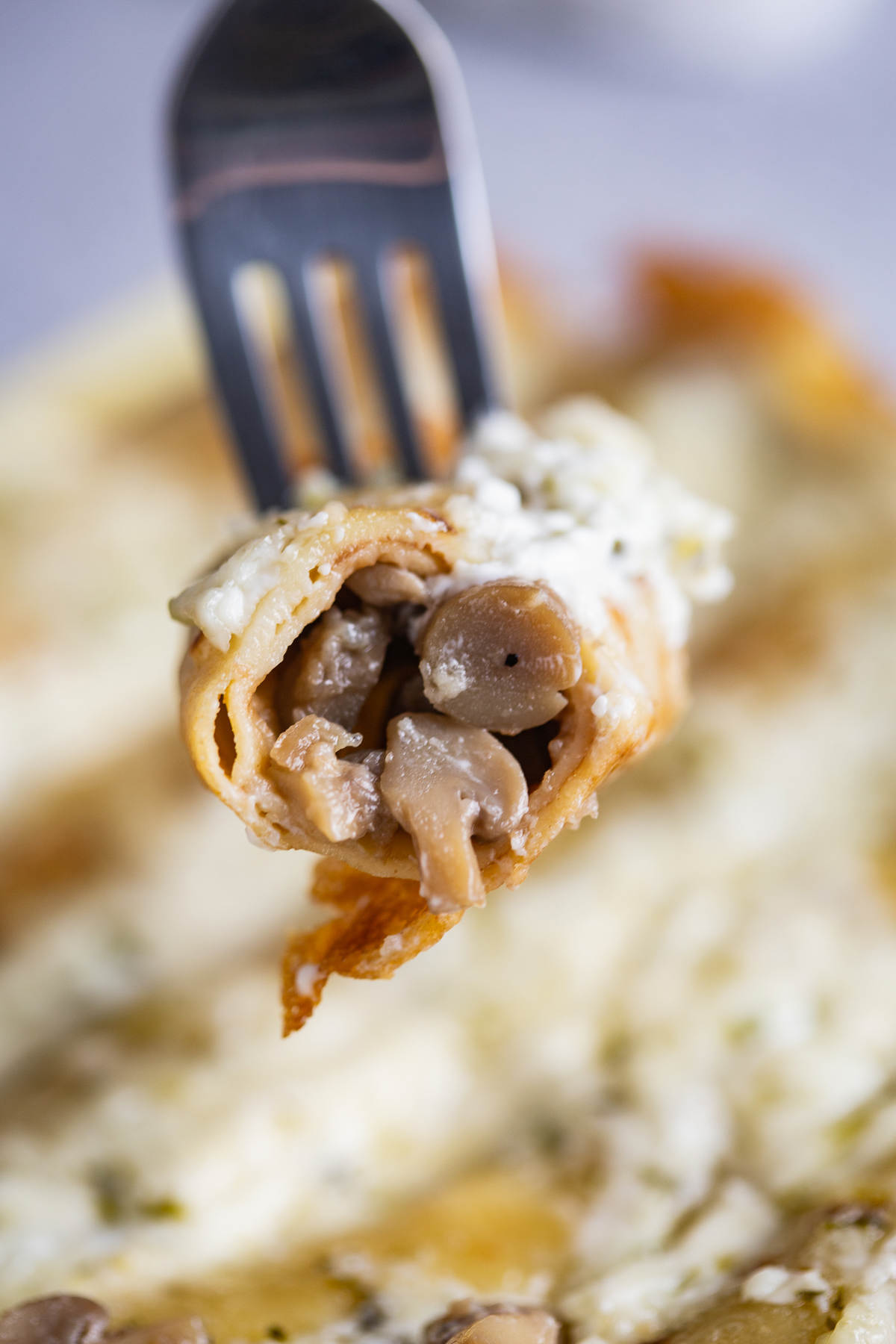 More Crepe and Mushroom Recipes
Would You Do Me a Favor?
If you make today's Palačinke, or Balkan Crepes and like them, please consider leaving a ⭐️⭐️⭐️⭐️⭐️ (5-star) rating. This will help others find the recipe more easily!
You can also leave a comment, I read EVERY one! Finally, if IG is more your thing, consider tagging us @balkanlunchbox.
Prijatno and bon appetit!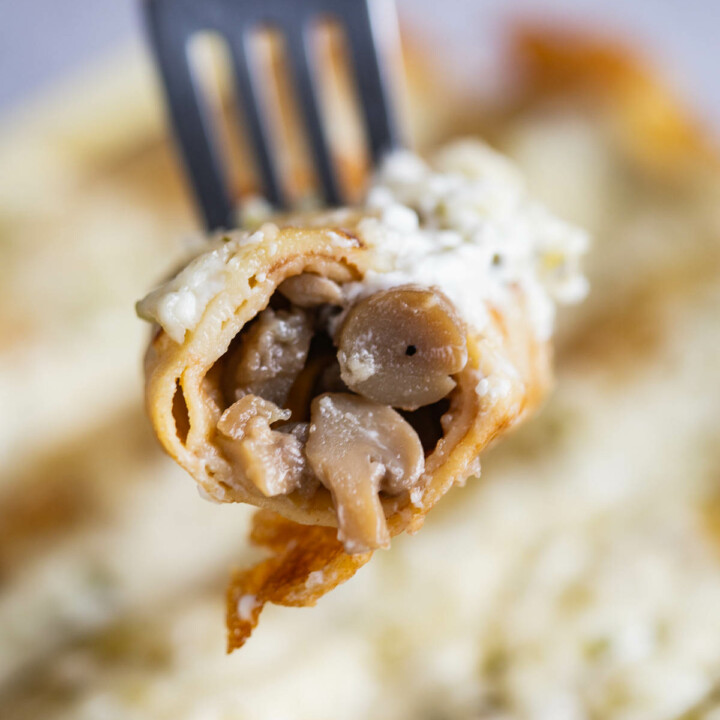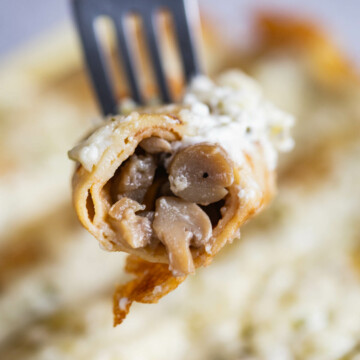 Palačinke: Balkan Crepes With Mushroom Crepe Filling
Delicious Palačinke, aka Balkan crepes, stuffed with a mushroom filling, topped with tartar sauce, and baked. Yum doesn't even start to describe it! 
Ingredients
Filling: 
2

tablespoons

oil

1

onion

peeled, minced

1.5

pounds

button mushrooms

diced small

1

teaspoon

salt

Pepper to taste
Crepes: 
10-11

ounces

white flour

2

eggs

½

teaspoon

salt

2

cups

milk

1

cup

water

plus/minus a little bit

½

teaspoon

baking powder

1-2

ounces

oil

for crepe pan coating

2

tablespoons

butter

cubed, for regular pan coating
Topping:
10

ounces

tartar sauce

store-bought or homemade
Instructions
Filling: In a large skillet heat up oil over high. Lower temperature to medium and add onion. Cook until translucent (3-5 min). Raise temperature to high again and add mushrooms and salt. Saute, and frequently stir mushrooms until they're tender and the liquid they expel has mostly evaporated (15-20 min). Set mushroom crepe filling aside.

Crepes (palačinke): (Making palačinke can be done parallel to making the crepe mushroom filling.) In a large bowl combine flour, eggs, salt, milk and baking powder. Mix batter with a hand mixer. Slowly add water to batter as you mix. Pause mixing once or twice and scrape batter from the sides of the bowl.  Crepe batter is ready when it's smooth, crumb-free, and has the consistency of heavy cream. (You may have to add a little bit more or a little bit less water.)

Take a piece of paper towel, wrinkle it up in your palm, and dip it in oil. Use this to carefully coat the crepe pan. Heat the coated pan up on highest until the oil is really hot (2-3 min). The oil may get slightly smokey. 

Grab crepe batter with a ladle (or another tool with a volume of approximately ½ cup) and transfer to a crepe pan (sized approximately 8-9 inches in diameter). Lift the pan and watching that the batter doesn't leave the pan, swirl it around until it coats the pan bottom evenly and there are no 'holes.' Return to the stove and cook the crepe 60-90 seconds on one side. Flip to the other side and cook another 60 seconds. Transfer the finished crepe onto a plate. 

Repeat step 4 until you run out of crepe batter. You should have 15-16 crepes, and it'll take about 30-40 min to cook them. Halfway through cooking the crepes (palačinke) heat oven to 350°f (175°c). Then place butter cubes into a 10x15 inch baking pan and heat it up in the oven for 3 min, or until butter melts.

Assembly: (Assembling/ stuffing the crepes with mushroom filling can be done parallel to making the crepes.) Fill each crepe with a heaping tablespoon of mushroom crepe filling. Roll them up and place them in the hot pan. Repeat until you run out of crepes and filling. Pour and spread tartar sauce evenly over the crepes. Bake (15-20 min), until crepes and tartar sauce congeal and get a blush a little bit.  

Serve crepes warm with (optional) additional tartar sauce. Keep in the fridge for up to a day. They can be consumed cold or warm. 
Notes
Be careful not to burn your fingers while coating the crepe pan with oil. Cooking crepes on highest is a suggestion. Adjust temperature based on how hot your stove runs. 
You can mix the batter manually (with a spatula), or in a blender also. 
To flip a crepe first take a knife and circle around the crepe's edge, slightly lifting it on all sides. Then shake the pan in a left-right motion to ensure the crepe isn't glued to the bottom. (You can also use the knife and underneath the entire crepe before flipping it.) At this point, flip the crepe. Flipping is easily done by holding the crepe pan in your hand while doing a slight wrist movement up and down. (Alternatively, use the dull side of the knife to flip the crepe.) 
Expect that the first couple of crepes to be 'uglier' and harder to make. This happens almost always as it takes a little while for the crepe pan to achieve the right temperature, and also for you to get a hang of 'swirling' the batter.
Nutrition
Serving:
1
of 6
Sodium:
1002
mg
Calcium:
154
mg
Vitamin C:
5
mg
Vitamin A:
298
IU
Sugar:
10
g
Fiber:
3
g
Potassium:
606
mg
Cholesterol:
67
mg
Calories:
461
kcal
Trans Fat:
1
g
Monounsaturated Fat:
9
g
Polyunsaturated Fat:
8
g
Saturated Fat:
4
g
Fat:
22
g
Protein:
14
g
Carbohydrates:
52
g
Iron:
3
mg