What Lamingtons are to the English speaking world, are Coconut Chocolate Dessert Squares aka Scruffies (čupavci) to the people in Balkans. These busy, spongecake-like squares (first they swim in chocolate, and then drape themselves in coconut), are made in under an hour. And take even less time to eat.
Do you like brownies?
I like brownies. If brownies and steak end up being my last supper I'll be good to go. And if you like brownies and you like coconut and you like spongecake, then you'll LOVE scruffies. By the way, term scruffies was made up by yours only. It's a lose translation of čupavci which literally translated means something like "the hairy ones." All due to coconut jutting out from all ends of each square. And let's face it, you probably wouldn't eat something called "hairies."
It was only later that I found out they're eerily similar to Lamingtons or the famous Australian sponge cake plus coconut goodness!
Told by several people how easy these were to make, out of laziness or fear, I never ventured into it. When I finally gave it a shot I was half expecting (hoping?) to mess it up, in which case I'd console myself eating the remaining coconut flour. (Another quick chocolatey goodness to try making are the easiest in the world chocolate squares.)
During the siege, very rarely did we get sweets. Cookies were made on an even rarer schedule. But one afternoon, my friend Irena and I decided to make a trade that would ease our different cravings for a while. She was an addict of vegeta, a delicious spice mix.  Meanwhile, I noticed a bag of coconut flour in her mom's kitchen that sat there unused. I was ambivalent about it around that time, but take sweets away from a child for two months… and they might even start to like fruit, let alone sweet, crunchy, exotic, coconut flour.
Eventually, after the war, I discovered scruffies, and it was a dream come true. To this day I can't believe how easy these are to make.
Let me know if you try these!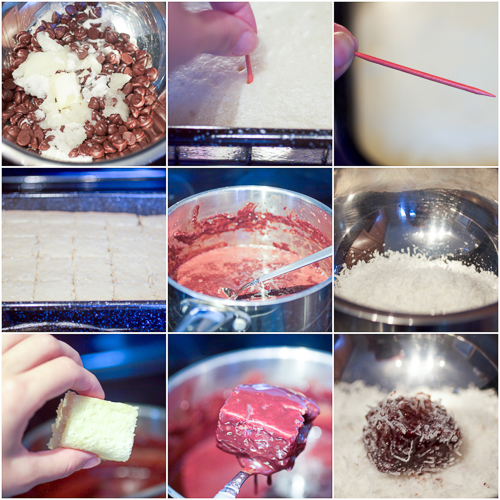 Print
Coconut Chocolate Dessert Squares aka Scruffies Recipe (Čupavci)
Author:

Prep Time:

10 mins

Cook Time:

30 mins

Total Time:

40 mins

Yield:

12

1

x
Category:

Dessert
---
Scale
Ingredients
Squares:

14 ounce

s white flour, plus a little more

2

eggs

7 ounce

s white granulated sugar

7 ounce

s milk

3.5 ounce

s oil, plus a little more

1 tablespoon

baking powder
Topping:

10.5 ounce

s milk

10.5 ounce

s dark (or baking) chocolate

5 tablespoon

s white granulated sugar

3 tablespoon

s butter

7 ounce

s shredded coconut flour
---
Instructions
Heat oven to 200°F.
Combine all square paste ingredients in a bowl. Mix vigorously with a spatula for three to five minutes. The paste should be smooth and without crumbs.
Oil the pan (sized about 8×12 inches), and dust with flour. Pour the paste in. Shake the pan to even it out and place in the oven.
Turn the heat up to 425°F. The oven will be warming up as the squares are baking. This is so they rise evenly in the pan.
Baking time will depend on your oven. If your oven warms up quickly, turn the temperature down to 355F after about 15 minutes. If your oven warms up slowly, don't change the temperature. Use the toothpick method to see if the squares are done: take a toothpick, and prick the squares in several places. If the paste stays on the toothpick, it needs more baking. If your toothpick comes out clear they're finished. (It takes about 23 to 25 minutes for baking.) Generally they turn light brown, but not always.
As the squares are baking, combine the topping ingredients (except coconut flour) in a pot. Start warming them up on low to medium, and stir frequently until they integrate.
Pour coconut into a mixing bowl.
Take the pan with square dough out of the oven, and cut into approximately 6 rows x 4 columns to get 24 squares.
By now both the squares and the topping should be finished, and still hot. Dip each little square first into the chocolate mixture and then into the bowl with coconut. Use a fork to do this to protect your fingers. If the chocolate starts to get cold before you dip all squares in, warm it up a bit and then continue.
Store on a plate covered with foil (or in plasticware), in the fridge for up to a week.
---
Notes
Following this recipe you'll get 24 squares. If you serve two each time, that's 12 servings.
Temperature and baking time will depend on your oven. Be mindful to prevent burning. Eat these hot or cold.
You can add vanilla extract or rum into the chocolate if you wish.