Today's recipe is for the Chicken Semolina Noodle Soup.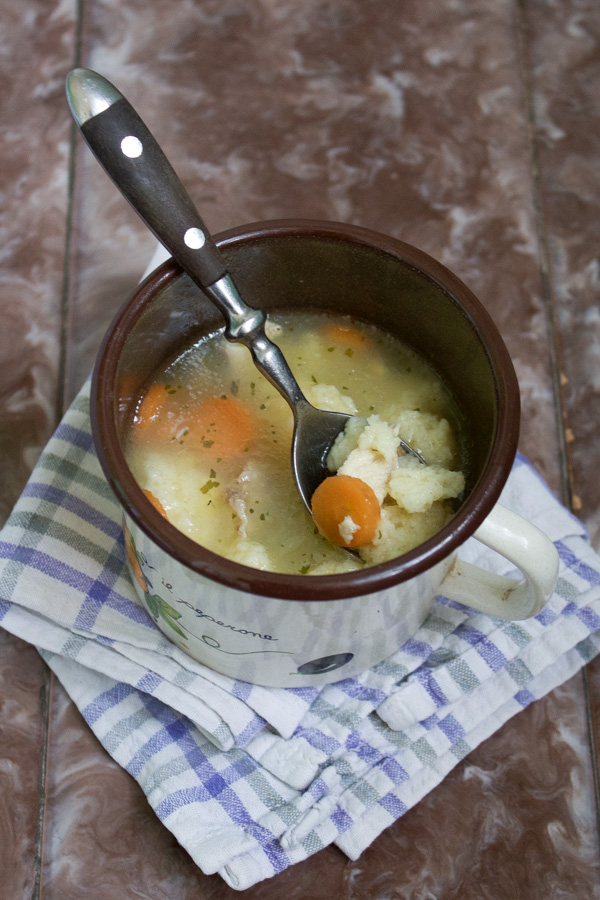 Before you exclaim "another soup, Aida?!" let me add it's been raining for the past five days, and there is nothing more comforting than a bowl of my sister's Chicken Grits Noodle Soup (pileća supica sa griz noklicama). We've already established that chicken soup is penicillin in some cultures, but my sister's soup is a cure yet to be discovered. If you were here right now, you'd eat the whole pot.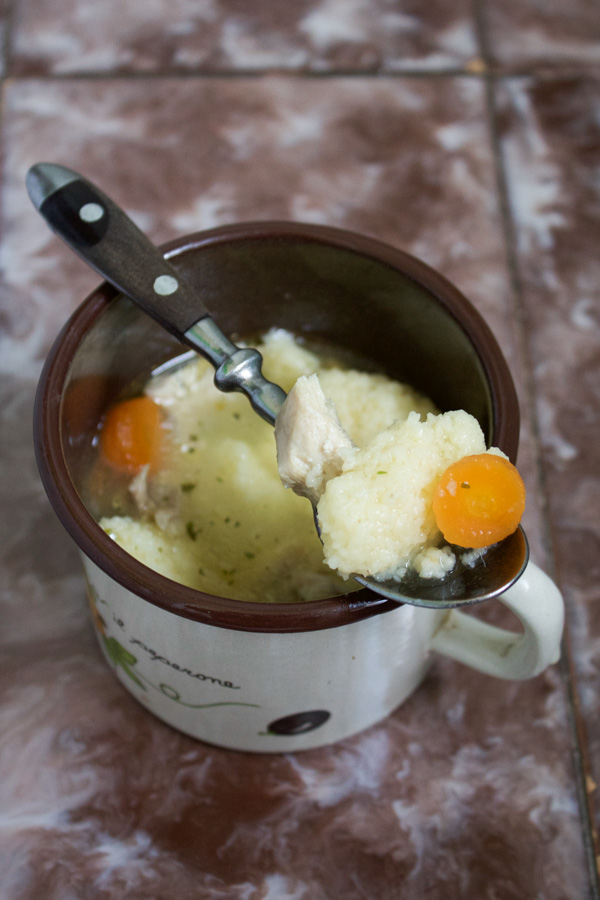 P.S. Crazy about soups, like me? Try the beef noodle soup, it'll blow your mind! Also the traditional Bey's soup is infamous in these parts and it's made with chicken, okra, and a few more soup-y goodies. Every now and then I want the simplest soup I can find, and I go for the potato soup.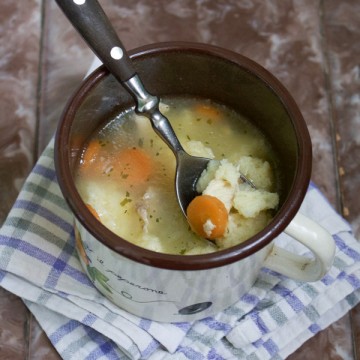 Chicken Semolina Noodle Soup
Ingredients
Chicken broth (soup)
1

medium chicken

or 3-4 bigger pieces of chicken with skin*

2-3

carrots

peeled, cut into thirds

1

parsley root

peeled

1

parsley bunch

plus a little more for garnishing

1

celery root

peeled, or 3-4 celery stalks, quartered

Optional few celery leaves

1

onion

medium, quartered

2-3

garlic cloves

peeled

(Optional) 1 chicken bouillon cube, 1 tablespoon Vegeta or 1 tablespoon stock powder

pepper to taste
Semolina noodles
1

egg

½

teaspoon

salt

½

teaspoon

baking powder

4

tablespoons

semolina flour
Instructions
In a large pot combine chicken and vegetables. Cover with water. Bring to a boil and reduce heat. Partially uncover and simmer for 2-3 hours. (Add a little bit of water throughout simmering if necessary.)

Strain chicken broth into another pot and discard remains of everything except chicken and carrots. Dice carrots and return to soup. Remove chicken skin and bones and discard. Shred chicken and return to soup. (If using a whole chicken shred half and return to soup. Use the other half for another dish.) Add seasonings (except parsley).

In a small bowl combine egg, salt and baking powder. When ingredients integrate start adding grits while continuously stirring. Noodle consistency should be similar to pancake batter (but not as smooth due to grits granules).

Using a teaspoon grab a little of noodle batter at a time and drop it into soup thus forming noodles (lightly flick each noodle into soup while not touching soup with the spoon). Dip teaspoon into soup after every fourth or fifth noodle to keep prevent grits from sticking. Let simmer 10-15 minutes until noodles expand.

Garnish with parsley and serve.
Notes
Chicken thighs or chicken legs with skin work great. If you can't find some of the vegetables, use what you have.
While making noodles drop them into broth. If you try to get the noodle mix off by dipping spoon into the broth with the noodle batter on it noodles will fall apart.
As noodles expand five or six times and absorb lot of broth make sure to form smaller noodles. Half a teaspoon of batter per noodle creates perfect sized noodles.
If your noodles fall apart add a little more grits. If they're hard, leave them in hot soup longer before serving the soup. If they're too hard use less grits the next time.
Why add chicken bouillon to stock you ask? Homemade chicken stock/broth, while fantastic, is not salty enough. Bouillon adds that extra flavor. You can use salt or Vegeta instead, or none at all.
Nutrition
Serving:
1
bowl
Sodium:
509
mg
Sugar:
3
g
Fiber:
3.2
g
Cholesterol:
68
mg
Calories:
181
kcal
Saturated Fat:
1.4
g
Fat:
5
g
Protein:
18.2
g
Carbohydrates:
16.1
g