Today's recipe is for the Chicken Grits Noodle Soup. 
Before you exclaim  "another soup, Aida?!" let me add it's been raining for the past five days, and there is nothing more comforting than a bowl of my sister's Chicken Grits Noodle Soup (pileća supica sa griz noklicama). We've already established that chicken soup is penicillin in some cultures, but my sister's soup is a cure yet to be discovered. If you were here right now, you'd eat the whole pot.
There are two types of spring rains I've experienced for years. In DC, constant humidity adds a heavy load to one's body, while the drops attempt to preemptively cool off the earth soon to be scorched by the sun. Spring rains in Washington are just a quick relief, a snack break before the hot that keeps us in most of the summer.
Sarajevo, surrounded by the mountains, gets cool, serious spring rains that send one back to the back of the closet where they've, naively, left their jackets thinking it were spring. They're heavy, and inviting. But no matter how much romance there is in walking down Sarajevo streets with an umbrella, taking in the smells of freshly baked coffee beans that spring upon one without announcement, Sarajevo rains are best experienced from the inside. On the window. With soup.
The soup, and noodles, are not too complicated. The noodles come at the end. Remember to dip your spoon in the hot stock between every few noodles. Make the noodles smaller than you think you should, just the tip of the tbsp, as they'll expand into a universe of their own. I've used instant grits, and it worked well. If you don't have it, try it with regular. Let me know how you did.
This soup is excellent for making chicken stock. In this case, just strain it and don't make the noodles, but instead keep in fridge or freezer. If you'd like to have the soup for two days in a row, just split the stock in half before you make the noodles. Then make the grits noodles for one half, and make new noodles the following day (grits or other). This soup is great for people with low blood pressure as it replenishes electrolytes. (Take that, Gatorade!) It's nature's first antibiotic and immensely beneficial for one's immunity.
Also, let's face it, when you see that little pot below, don't you just want to reach through the screen and grab it?
P.S. Crazy about soups, like me? Try the beef noodle soup, it'll blow your mind! Also the traditional Bey's soup is infamous in these parts and it's made with chicken, okra, and a few more soup-y goodies. Every now and then I want the simplest soup I can find, and I go for the potato soup.
Print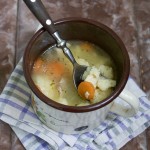 Chicken Grits Noodle Soup (Pileća Supica s Noklicama)
Author:

Prep Time:

10 mins

Cook Time:

1 hour 10 mins

Total Time:

1 hour 20 mins

Yield:

6

1

x

Category:

Appetizer
---
Scale
Ingredients
Soup:

2

–

3

bigger pieces of chicken with skin (thighs or legs)

2

big carrots (or

three

smaller ones)

1

yellow onion (medium)

1

celery root (or

3

–

4

sticks of celery)

1 tsp

seasoned salt

1/4 tsp

ground pepper

1

parsley root

1

generous handful of parsley
Noodles:

2.5 ounces

of instant grits

1

egg

1/2 tsp

salt
---
Instructions
Finely cut the carrot into small rounds. Place in a pot together with onion, celery root, parsley root, meat, pepper and seasoned salt. Add 6 cups of water. Bring to a boil and reduce heat.
Thoroughly mix egg, instant grits and salt in a bowl. Set aside while soup is simmering.
Simmer soup for 1 hr and until the meat is soft and finished. Keep adding little bit of water at the time so the soup stays at about the same level throughout.
Take out the onion, celery root, and parsley root. Discard. Take out meat, remove skin, and cut it up into smaller chunks. Return meat back to the soup.
Make noodles by adding the grits/egg mix to the soup in small batches. Take a portion of the mixture with the top of a tablespoon and drop each in the liquid by lightly flicking it into the soup while not touching the soup with the spoon at the same time. Dip the spoon into the soup after every fourth or fifth noodle to keep it hot, and prevent from sticking.
Cut up a fresh batch of parsley and add to the soup.
---
Notes
If able, find meat without bones.
If unable to find parsley root, just use an additional handful of parsley, making sure to take it out with the onion and discard. Then at the end, cut up the second handful of fresh parsley and add to the soup.
While making the noodles it's important to flick the noodles into the soup above the liquid so they drop into the liquid. If you try to get the noodle mix off the spoon while in the soup, noodles will fall apart.