YES.YES.YES! Easy to make, delicious and hearty Balkan bean soup (stew). Beans combined with meat and veggies, then thickened with a paprika based roux. Uh!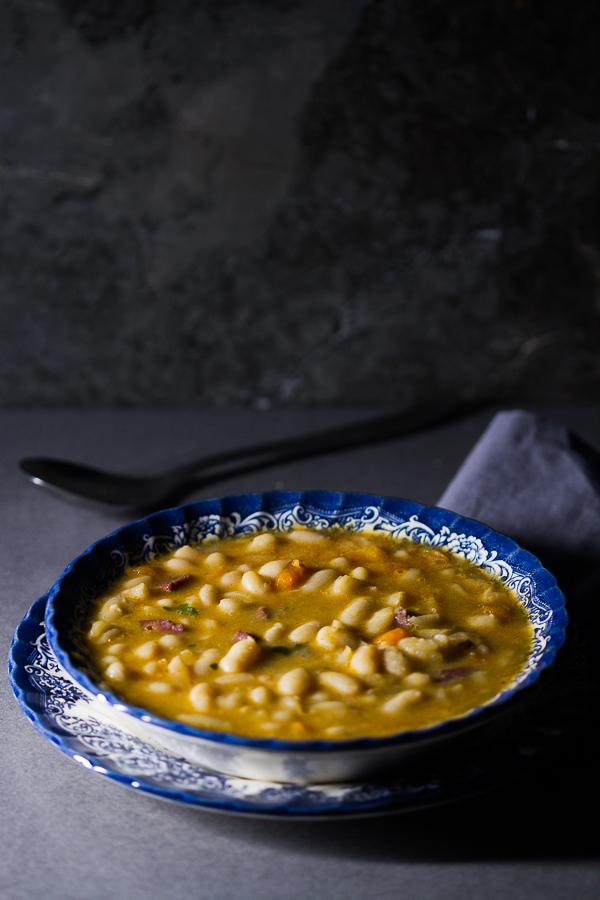 In case you didn't get that, let me repeat it one more time: we're talking about soaking beans which are added to simmered vegetables and meat, cooked over low fire, then thickened with a paprika based roux. The result is a delicious thick soup (stew) overflowing with meaty, hearty beans, processed to perfection.
If you've noticed a similarity in today's bean soup with previous bean stews we made, that's because they're different versions of the same dish. Why did I call it soup instead of stew today? For SEO.
A challenge in writing about a cuisine that's relatively unknown in the West often has to do with translating. How do I translate the taste? How do I depict it in a way that lets you know this is something worth your time in the kitchen? How do I go against what's already written, and explain that it's so much more.
Like the bean stew.
Depicted as a soup elsewhere online. But it's a lot more than a soup. A soup is not a complete meal. It's merely its beginning. Today's bean soup is its beginning, middle and end. Save for a slice of bread, and maybe a tomato sliced and salted, you need nothing else with it.
The meat gives it a heavier accent, although beans do not lack in protein. This is a hearty meal. Like most stews, it's better when you warm it up the next day. As beans are a powerful force, I advise against eating it as the last meal of your day. This is especially true for those of you with a sensitive stomach.
With that in mind, I leave you to it.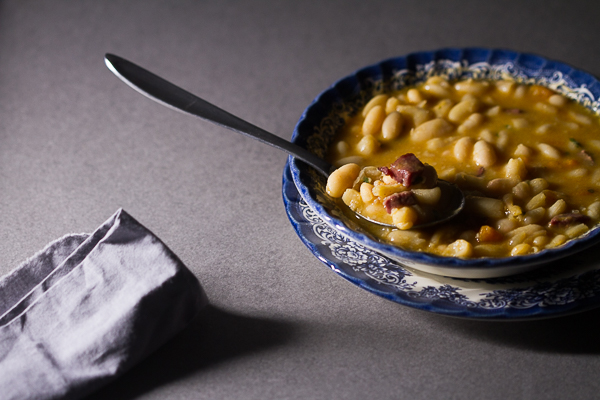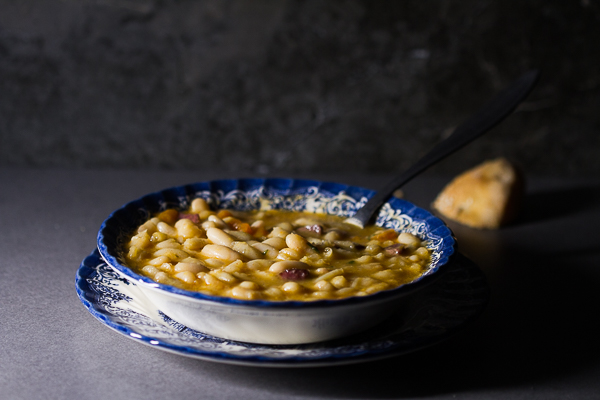 RECIPES SIMILAR TO THE BEAN SOUP (STEW) ON BALKAN LUNCH BOX
Bean stews, known as grah or pasulj are beloved in the Balkans. One of my favorites of course includes the kielbasa bean stew. Done in a pressure cooker, this one will be on your dinner table in no time (video included).
There is the vegetarian version of the bean stew which I tried, loved, and approved. It's a top secret recipe from the old Yugoslav National Army chefs. In Balkan colloquial, it's said they hid this recipe like a snake hides its legs.
Finally, I can't finish any discussion of Balkan beans without the baked beans. This one is more a side dish however you could easily make it into a full blown dinner.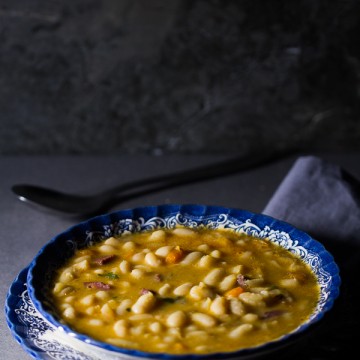 Balkan Bean Soup
Ingredients
Soup (stew):
16

ounces

dry beans

white navy, red kidney, or pinto

3

tablespoons

oil

1

onion

large, peeled, minced

2-3

garlic cloves

peeled, minced

2

carrots

medium, peeled, diced

3-4

ounce

piece of bacon or dried beef

diced

Salt and pepper to taste

Optional 1 tablespoon Vegeta

1

bay leaf
Roux:
5-6

tablespoons

oil

1.5

tablespoon

flour

1

tablespoon

paprika
Garnish:
1

tablespoon

parsley

minced
Instructions
In a large bowl cover beans with water, and leave to soak 7-8 hours (or overnight). The following day strain the beans and discard the water. Then wash and strain the beans again and set aside.

In a deep pot, heat oil over high and add onion and garlic. Lower to medium and simmer until onion crystalizes. Add carrots and meat. Simmer an additional 5-10 minutes.

Add seasonings and beans in, and cover with 5 cups of water. Mix ingredients well, cover with a lid, and raise the temperature to high until it boils (about 20 minutes). Add the bay leaf in.

Lower them temperature (low to medium), and continue cooking until the beans are tender, but not falling apart. (The length of time varies depending on the type of bean, age of bean, stove, whether you're using a pressure cooker or a regular pot. For these it took an additional 40 minutes.) Keep adding a little water at a time throughout the process to keep the level even (about 3-4 cups total).

A few minutes before you turn off the heat make the roux by warming up the oil in a small pot over high. Once the oil is heated, add flour and stir vigorously so the mixture doesn't clump. Add paprika and continue stirring for a minute or two more. Combine roux with the soup and stir everything well. Cook an additional 5 minutes.

Take the bay leaf out and discard, and garnish soup with parsley.

Serve warm.