Golden breadsticks, painted with salt, with just the right amount of crunch.
The fall has descended upon Sarajevo. A nice reprieve from the scorching summer. The clock moved, the temperatures fell. The sun, bright but farther, is lighting up the sky that the wind previously cleared so well, for a moment it may trick you to go outside without a jacket. But you shouldn't because it is fall, and it will snap back at you quickly.
There are moments during the day, like the early mornings, when the pink and purple is exchanged by a curtain of heavy fog. Or smog. Or both. For a moment it disorients you, you may feel like you're in Shanghai. But then you see shadows of a tree. It is Sarajevo. It could be no fortress to such futuristic thinking, nor hold the population.
Turn of the seasons always feels like a gift you've been waiting for. Except once you've had it for a while, you yearn for another one. The original has been seen. And played with. And now you want a different toy. Hold your horses though, for the long seven or eight months of this has just started. It will only get worse.
My time of initiation back into Sarajevo life has ended. (Although one could easily say Sarajevo provides enough initiations to last for decades.) I'm in. I feel, as they say here, "in my own, on my own." The disbelief of how the new BiH functions had reached unprecedented heights, and then subsided. Except during war, I haven't experienced the conundrums that have now become second nature (medical workers on strike so no doctors at governmental health institutions, water shortages during night and now during the day too, unrivaled incompetence everywhere, plus the most irritating, the sky high attitude with no evidence to allow for it).
The glue holding it together is humor.
Even with all these, I don't miss my old life. It was fantastic, unusual, fulfilling, no doubt about it. And yet compared to the strength of this new life, it's as if everything before it was beta testing.
The blog requires a lot of beta testing as well. Like these salty breadsticks. You'll run into them in every bakery in town. Today's recipe is similar, but with a few distinctions. Usually they're made with white flour (this recipe asks for a mix of corn and white flour), they're long (ours are shorter, but the length is your choice), and super soft (here's where the tables are really turned on you, these are way crunchier).
These are the perfect appetizer.
Ideal for those of you who like bread , but it is just not the main attraction on the table for you. Don't take this the wrong way, these are not lacking in taste. If anything, you'll want to eat one after another, after another. However, if you're controlling the amount of bread you consume, these breadsticks are your friend.
And they're just the right amount of comfort.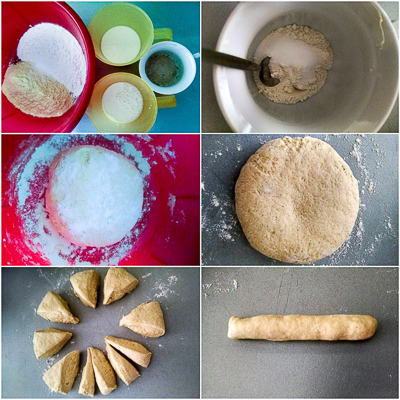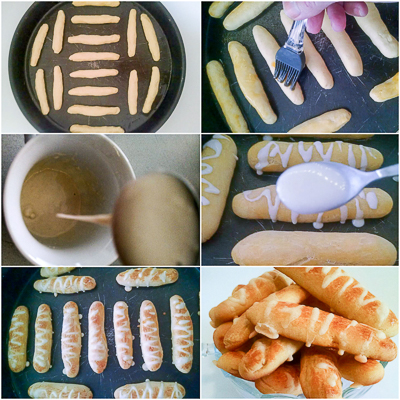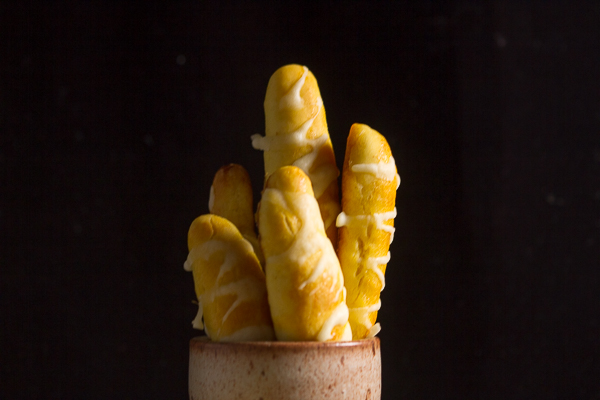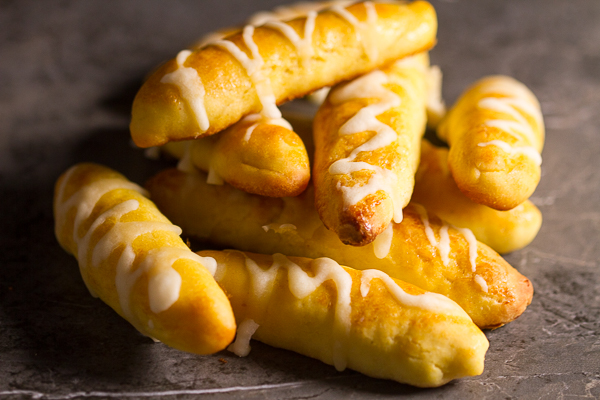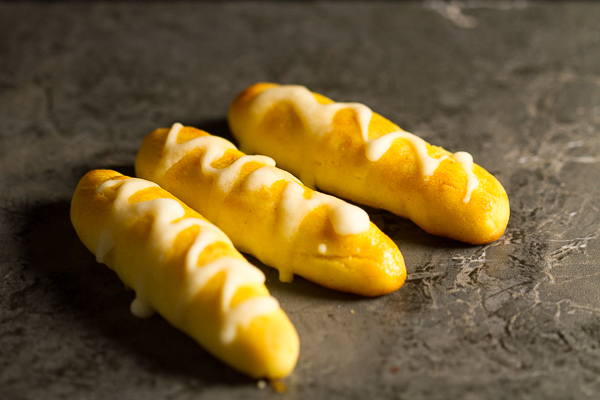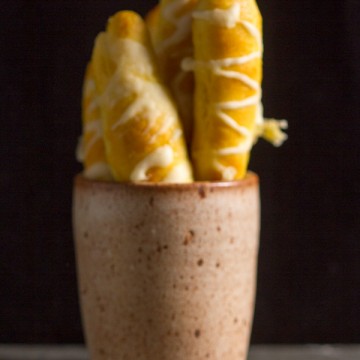 Slanci: Balkan Bread Sticks
Ingredients
Dough:
5.5

ounces

white flour

3.5

ounces

corn flour

½

teaspoon

salt

3.5

ounces

yogurt

plain Greek, smooth*

1

ounce

milk

½

packet of active dry yeast

½

teaspoon

sugar

2

teaspoons

water
Topping:
1

egg yolk

1

teaspoon

oil

1

tablespoon

white flour

½

teaspoon

salt

2

tablespoons

water
Instructions
In a cup dissolve sugar and yeast in water, and leave for 10 minutes.

In a large bowl combine white and corn flours with the yeast mixture and mix until integrated. Continue by adding yogurt and then milk, while you work the ingredients into a smooth dough ball (about 5 to 7 minutes). Set aside for 15 or so minutes.

Transfer the dough onto a lightly floured working area (if you can get away with no flour even better), and roll it out into a pizza like round the thickness of 2-3 fingers. Slice into 10-14 pieces. Roll each piece out into a stick.

Transfer sticks onto an oiled baking pan. (For the pull-apart effect place them close to each other. Otherwise, leave space between each.) Leave for 30 minutes.

Heat oven to 395°F. Before placing the pan in the oven, mix oil and egg yolk and paint each stick. Bake breadsticks for 10 minutes.

While breadsticks are in the oven, in a small bowl combine flour, salt and water until completely smooth and of the pancake thickness.

Take the breadsticks out of the oven, and decorate with a zig-zag line of salt mixture. Return to the oven and bake another 10 minutes.

Take out and wrap in a kitchen towel. Leave to rest at least 30 minutes.
Notes
* Use European type yogurt, or plain Greek yogurt (mix it until it is smooth and runny, add a little water if necessary).
Prep time includes time needed to wait for the dough to rest and rise.
Recipe yields about 10-14 sticks. Serving size is about 2-3 per person.