No bake wafer cake (oblatne, oblande) is a MOUTH-WATERING dessert made with tort wafers filled with a combination of chocolate, walnuts and ground biscuit cookies.
Easy to make? Quick? Can you prepare it ahead? Yes, yes, a thousand times yes!
(Recept na bosanskom: Oblatne (Oblande) Sa Orasima, Mljevenim Keksom i Čokoladom)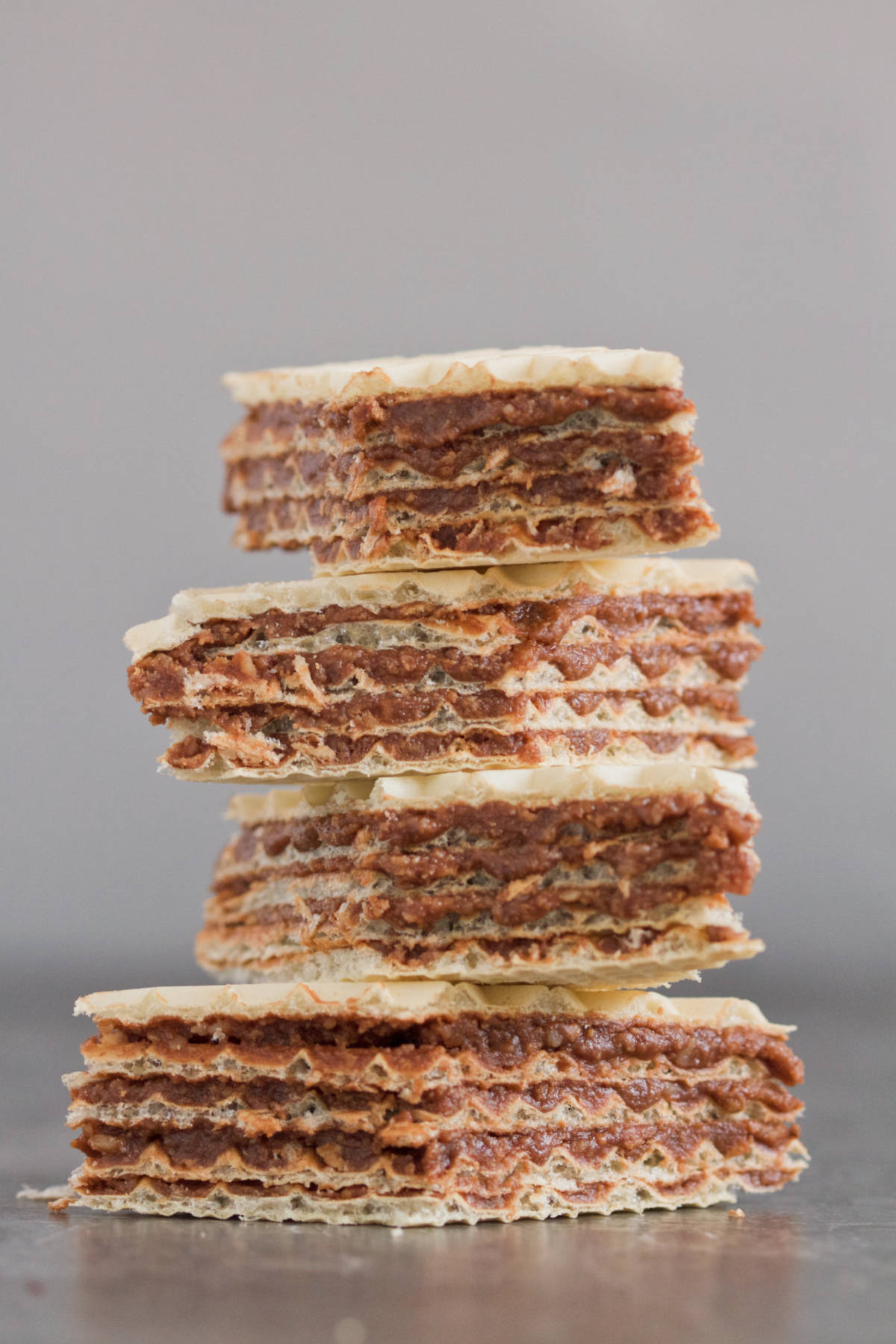 WAFFLE cake?? Shut the front door!
Today's no bake wafer cake is a beloved dessert in Central, Eastern and South Eastern Europe. You'll find it in Bosnia, Croatia, Serbia, Slovenia, Poland, Ukarine, Russia… Just name it!
In fact, you can't pass a pastry shop without recognizing these delicious layered wafer cookies made by stuffing crispy wafers with a yummy filling.
In the Balkans they call these tort wafers with a filling oblande or oblatne. Here, 99% of the time oblatne are stuffed with one of two fillings:
The first one is the magical caramel (think of it like a Balkan version of dulce de leche for wafers);

The second is a divine blend of chocolate, ground biscuit cookies and walnuts.
Today we'll be making the second filling for our chocolate wafer cake.
Why did we go with this one? Because, let's face it… caramel is GREAT. But chocolate… chocolate is BETTER!
Wafer cake is usually cut into small diamonds or squares. (Keeping that in mind, there are people who keep them in one piece, and cut just before serving.) These bites resemble small waffle cakes.
And who doesn't love a waffle cake?
Here's what I love about our no bake waffle dessert!
This no bake wafer dessert is incredibly EASY to make! You basically make the filling and spread it on wafers. That's right, no baking necessary!
The filling is INCREDIBLY RICH - it might as well be from a recipe for an old fashioned European tort (which is just a fancy name for the good ol' cake!).
Layer upon layer of crispy wafer sheets slightly soften when they soak up all that filling DELICIOUSNESS.
WARP SPEED! If you don't count the wait time, this dessert takes 30 minutes: 10 to make the filling, 10 to cool it, and 10 to spread it on wafers. The wait time is longer of course, but that brings us to #5.
This cake can be prepped 1-2 days ahead! BAM!

What are tort wafers?
Firstly, check out the photo above!
Those long, thin, large wafers or wafer sheets are tort wafers used for desserts. They come in different shapes, but for this recipe you'll need long, rectangular ones.
About 9/10 times they'll come in packs of 5. You'll need just one of these packs.
Nonetheless, wafers are fragile! Handle with care and always get 2-3 packages of wafers at the time. This way if some sheets break you'll have substitutes handy.
(Besides, once you make this recipe once, you'll make it over and over!)
Important tip! Unwrap the package only after you've made your filling. Otherwise wafers run the risk of being dry.
Crisp, fresh wafers with a filling are delicious. Dry wafers with a filling are soggy.
Where to buy tort wafers?

Unfortunately, most US grocery stores still don't carry wafer sheets. You have two choices:
An ethnic/ international food store (particularly Balkan, Russian or Polish),

Or Amazon.
Subsequently, your best bet is #1. This way you can choose the freshest, crispiest wafers.
However, I understand for some of you the only option is amazon. If this is you, here are a couple of suggestions: a 4 pack or a 3 pack.

What's a ground biscuit?
Not to be confused with Thanksgiving or other biscuits, ground biscuits are basically cookies ground to the consistency of flour. Ground biscuits are very popular in European baking. They're used for fillings and crusts.
(In UK they call these digestive biscuits.)
For instance, some of my favorites are Plazma and Petit Beurre.
On the other hand, a great substitute are the graham crackers crumbs. (Oh and here are 7 interesting facts about graham crackers!)
To clarify, you don't need to buy these cookies in crumb or ground version! Regular ones work too! Simply grind them yourself like this:
1. Place them in a zip lock bag.
2. Zip the bag.
3. Run a rolling pin over it several times.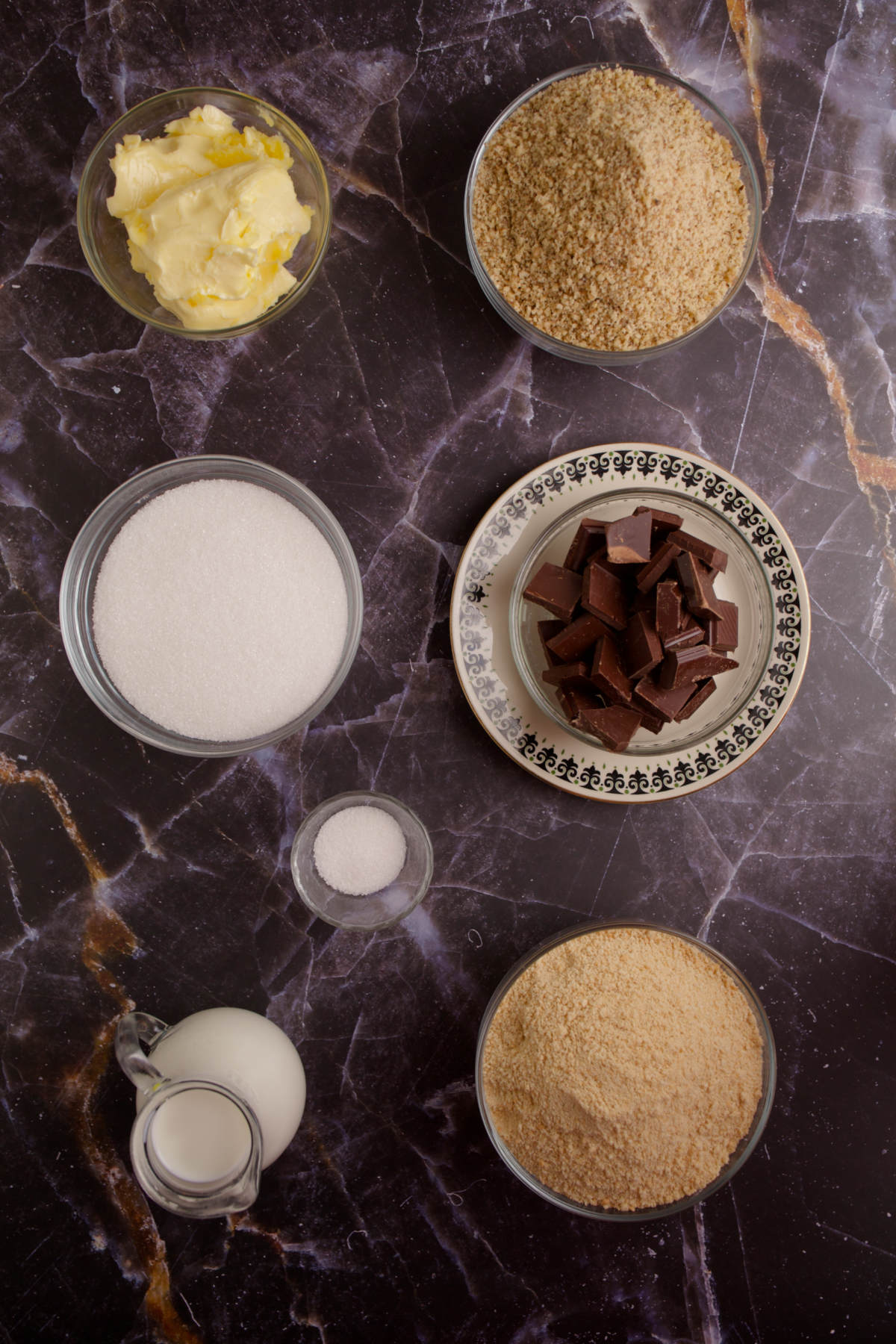 Ingredient and method notes:
Ingredients:
Ground biscuits: Tried and true brands are Plazma, Petit Beurre or Graham Crackers.
Walnuts: Sub with hazelnuts. (Moreover, biscuits and walnuts can be used interchangeably. For a more expensive version of the dessert use 21 ounce of walnuts, and the other way around.)
Chocolate: Sub with dark chocolate or chocolate chips.
Vanilla extract: Sub with vanilla sugar, or rum.
Tort wafers: Use the long, rectangular kind. Always have at least 2 packs on hand as they're fragile.
Method:
Timing: Preparing and cook time takes 30 minutes. However, the ingredients need time to congeal. (At least 6 hours, preferably overnight.)
Serving: The dessert can be prepped 1-2 days ahead. If you're cutting the dessert just before serving take it out ahead of time to allow it to adjust to room temperature.
Storing: Wrap in saran wrap and store in a cool place or refrigerator 4-5 days.
Freezing: As wafers are fragile it's best not to freeze this dessert.
Equipment:
A large tray or a pan, sized just a bit bigger than your wafer sheets.
Likewise, you'll need a large, heavy object to place on top after you assemble it.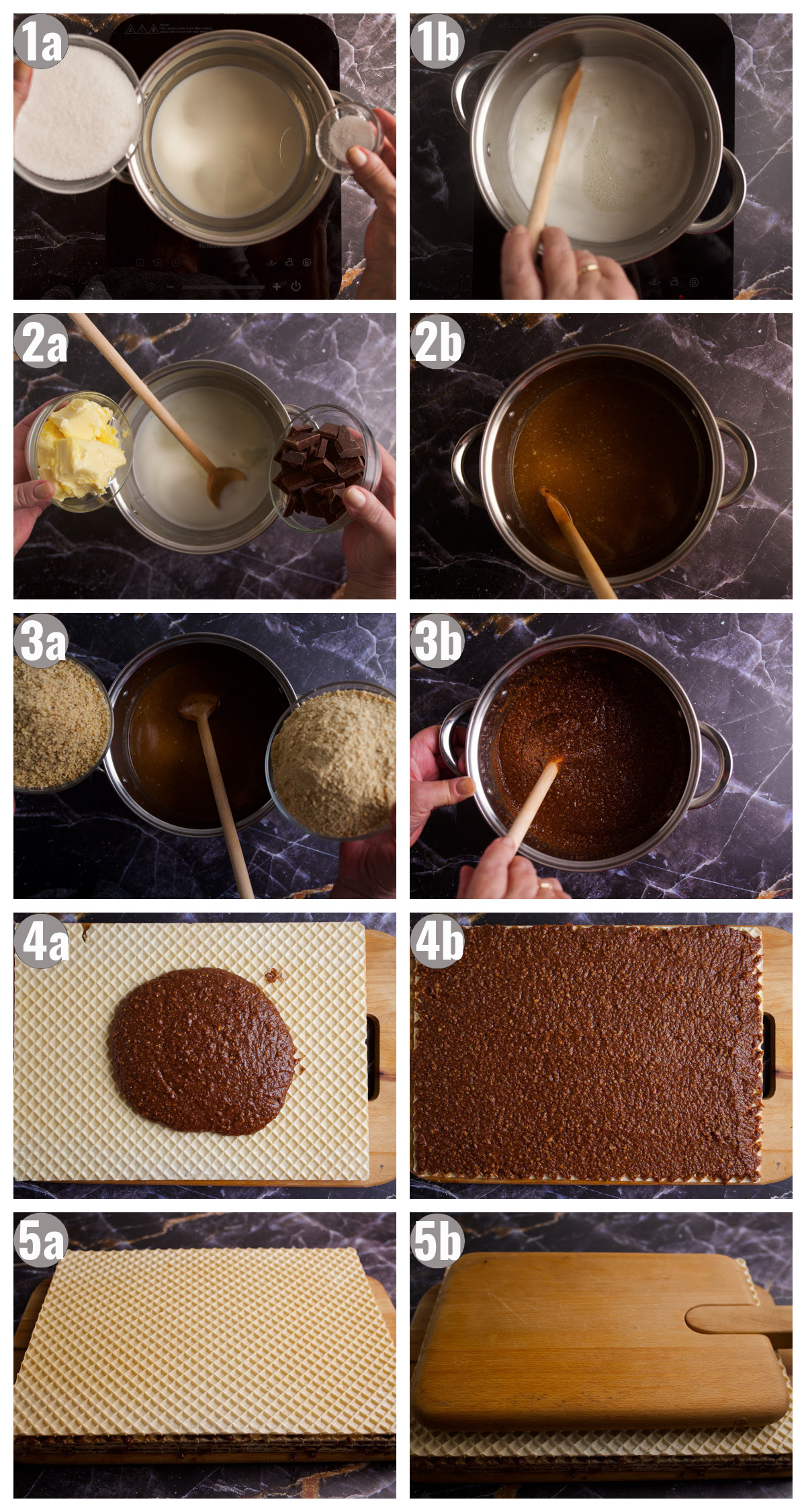 Lightening Quick Instructions for Tort Wafers:

(Note: some steps are designated with a and b to give you an idea of what the dish should look like at the beginning and the end of each step.)
(Filling) Bring milk, sugar and vanilla to boil and stir until dissolved. Remove from heat.

Add butter and chocolate. Stir until integrated.
Add ground biscuits and walnuts. Stir until integrated. Cool.

(Assembly) Place one tort sheet on a hard surface and distribute ¼ filling over it evenly. Repeat until you're out of filling and sheets. Don't spread the filling over top sheet.

Wrap in saran wrap. Cover with something heavy. Leave to congeal in a cool place 6 hrs - overnight. Cut before serving. (Cutting directions are below.)

Cutting oblatne recipe tips and tricks:
Cut the cake in half (lengthwise). Then cut each half in half to get quarters. Finally, cut each quarter in half to get eights.
Take an eight strip and cut diagonal lines every 4-5 blocks.

Repeat with all. (You'll get about 48-50 desserts this way, and serving size is 2-3.)
Inspired by chocolate and nuts? Here are a few more ideas for this divine combo:
Would you do me a favor? If you make these chocolate no bake tort wafers leave a rating, comment or tag @balkanlunchbox on IG. (P.S. I read every comment!) Prijatno (aka bon appetit)!
Print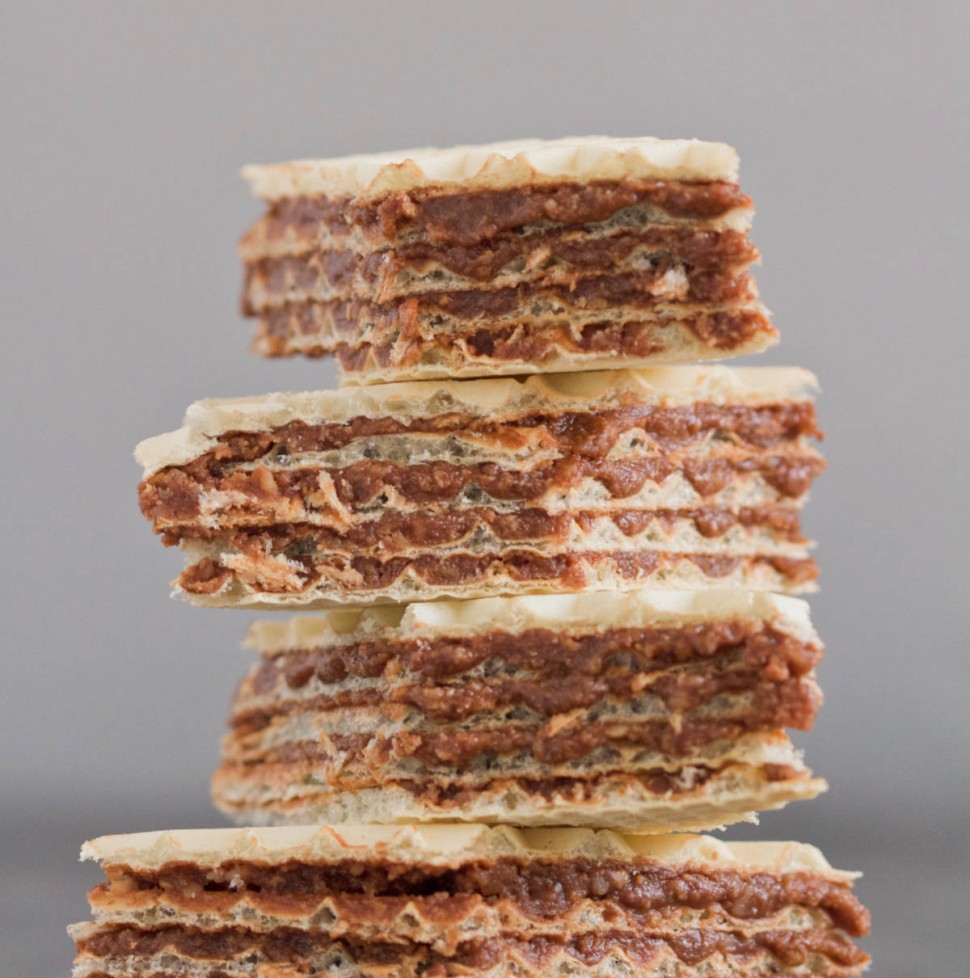 Balkan No Bake Wafer Cake (Oblatne, Oblande)
Author:

Balkan Lunch Box

Prep Time:

30 mins

Total Time:

30 mins

Yield:

15

1

x

Category:

Dessert
---
Description
A MOUTH-WATERING layered dessert made with tort wafers filled with a combination of chocolate, walnuts and ground biscuit cookies. Also known as oblande or oblatne.
---
10.5 ounces

milk

10.5 ounces

white sugar

½ teaspoon

vanilla extract (or one

10g

bag vanilla sugar)

10.5 ounces

Petit Beurre ground biscuits (or Graham Crackers, ground)

10.5 ounces

walnuts (ground)

9 ounces

of butter (room temperature)

7 ounces

unsweetened baking chocolate

1

 package tort wafers (5-6 sheets in total, sized approximately 16x13 inches)*
---
Instructions
(Filling) In a large pot combine milk, sugar and vanilla sugar. Bring to boil over medium, stirring frequently to help the sugar dissolve. Remove from heat.

 

Add butter and chocolate into the pot. Stir well until the mass integrates.

 

Add ground biscuit and stir until integrated. Add walnuts and stir until well integrated. Leave to cool for 10-15 minutes.

 

(Assembly) Carefully unwrap your tort wafer sheets. Set the best looking sheet on the side (this will be your top sheet). Take another sheet and place it on a hard surface.* Pour roughly ¼ or ⅕ of the filling in the middle of this sheet. Evenly distribute it to all sides with a knife or a spoon. Place the following wafer sheet on top of the filling and align the sides. Repeat with the filling and sheets until you are out of material. Top everything with the sheet you set aside to be the top sheet.

 

Wrap dessert in saran wrap. Then place a heavy object on top of it, covering the dessert as much as possible.* (a book, pan, cutting board, etc.). Leave to congeal in a cool place (or fridge) at least 6 hours, preferably overnight.

 

(Cutting) Cut the wafer cake just before serving. Use a very sharp knife (or an exacto knife). (If you want it in shape of diamonds) Cut the cake in half (lengthwise). Then cut each half in half to get quarters. Finally, cut each quarter in half to get eights. Take an eight strip and cut diagonal lines every 4-5 blocks.

Repeat with all strips.*

Keep leftover cake in saran wrap in the fridge for up to 4-5 days.

 
Notes
Step 4: There are usually 5 or 6 sheets in each wafer tort pack so divide your filling accordingly, keeping in mind the top sheet does not need the filling. Tort wafer sheets are fragile and easily break. Handle carefully. If they break patch them up the best you can and use in the middle of the cake. Always set aside the best one for the top. 
Step 5: Anything heavy will work: a book, pan, cutting board, etc.
Step 6: You'll get about 48-50 diamonds this way and Serving size is about 2-3. If cutting diamonds proves complicated, simply cut the cake into squares. 
Nutritional information is a rough estimate only based on a serving of 2 with 50 diamonds. Also, nutrition for the actual wafer sheets is not included.
---
Nutrition
Serving Size:

2 diamonds

Calories:

284

Sugar:

14.7g

Sodium:

159mg

Fat:

20.7g

Saturated Fat:

8.4g

Carbohydrates:

24.6g

Fiber:

2.8g

Protein:

5g

Cholesterol:

23mg
Keywords: chocolate wafer tort, no bake wafer cake, oblande, oblatne
Test test test