This easy Serbian ground beef potato moussaka is a nourishing casserole you'll learn love from the first try. This dish is truly a uniting meal, and it's made the same way in Bosnia, Croatia and Macedonia too.
(Recept na bosanskom: Musaka sa faširanim mesom i krompirom)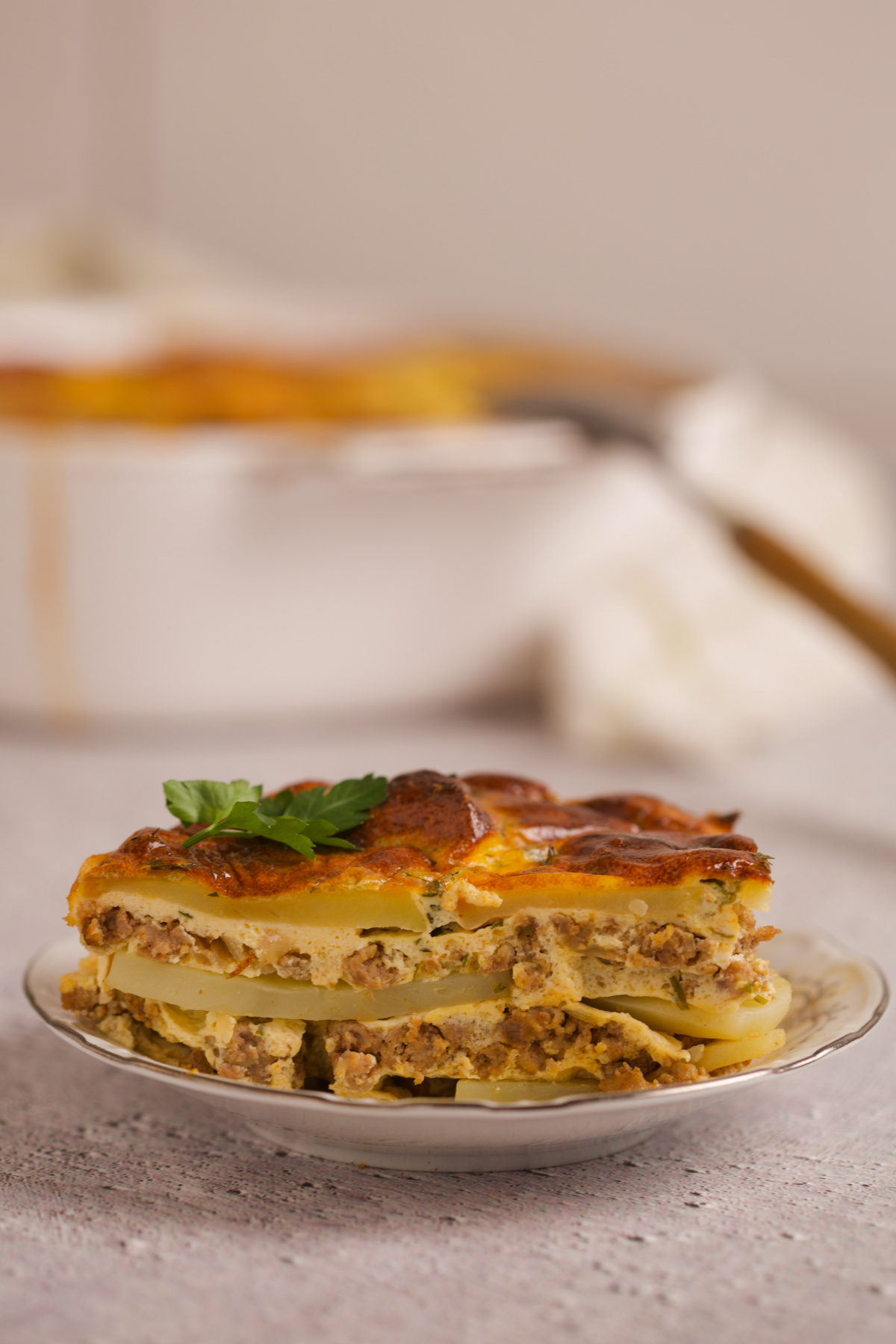 Why moussaka?
I bet when you hear moussaka it takes you to Greece. However, this amazing casserole is made all over the Balkans also (and Egypt, Lebanon and Turkey too!).
Think of today's recipe as a slimming version of the Greek moussaka. For example, Balkan moussaka usually skips eggplant and almost never use bechamel as a topping. (I told you this moussaka is easy peasy!)
Instead, potato rounds and seasoned ground beef are layered, baked, and finished off with an egg plus sour cream topping. (Milk, yogurt and heavy cream work too!)
However, this isn't to say you'll never find a Balkan moussaka with eggplant along with potatoes and minced beef. However this is usually the exception more than the rule.
If you were wondering what moussaka looks like, think of it like lasagna, if you exchanged lasagna sheets with potatoes. While they taste differently, the preparation process is similar. Except this moussaka is much quicker to make.
Ground beef and potato moussaka holds a special place in my heart. It was one of the very first meals I learned how to make. Nailing this dish made me feel I was finally grasping this cooking thing. 🙂
(By the way, Balkan pronunciation of moussaka is "moo-suck-ah.")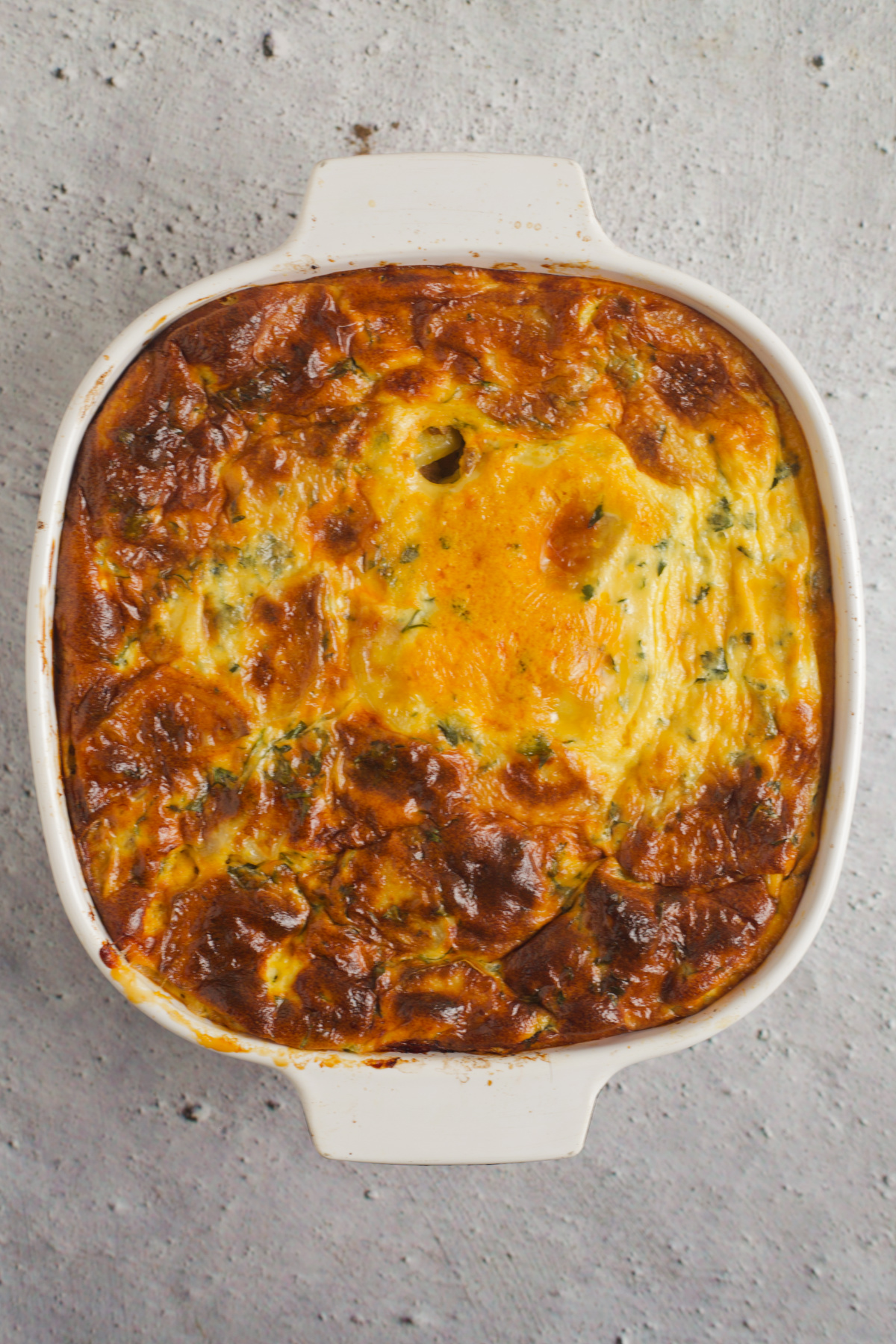 Why this recipe works?
Many, many, MANY versions of moussaka exist! You're probably wondering what makes this recipe special. Well it's two things!
The ease - two layers, repeated a couple of times, then topped. Does it get easier than that?

The taste - soft, comforting potatoes mixed with perfectly seasoned meat and a hitting-the-spot refreshing topping is a comforting combination of flavors.

Moussaka Ingredients and Method Notes:
Ingredients:
Oil: Sub with butter.
Beef: For a different taste sub ½ or all the meat with ground pork turkey or veal.
Seasonings: This recipe suggests the most used seasonings. Adjust to your own taste.
Topping: Sub milk and sour cream with heavy cream and/ or yogurt.
Potatoes: Older potatoes are better for this recipe.
Method:
Browning meat: Remove meat off heat as soon as the pink turns to brown. If you brown it too much the meat will be hard after baking.
Potato thickness: Potato rounds should be the thickness of about 8mm or ⅓ of an inch. This is an approximation with a little wiggle room. However, if you go too thick the potatoes will not be done. On the other hand, if you slice them too thin they'll shrivel up and become more like potato chips and less like a nourishing layer of potatoes.
Timing: This recipe takes about 75 minutes from start to finish: prep time 15 minutes, and 60 minutes bake time for moussaka.
Serving: Allow moussaka to rest for 15-20 minutes after taking it out of the oven.
Storing: Store leftovers in the fridge no later than 2 hours after moussaka has been baked. Simply wrap in saran wrap and store in refrigerator up to 24 hours. If you don't eat after this time, discard.
Freezing: Freezing is not recommended for this dish.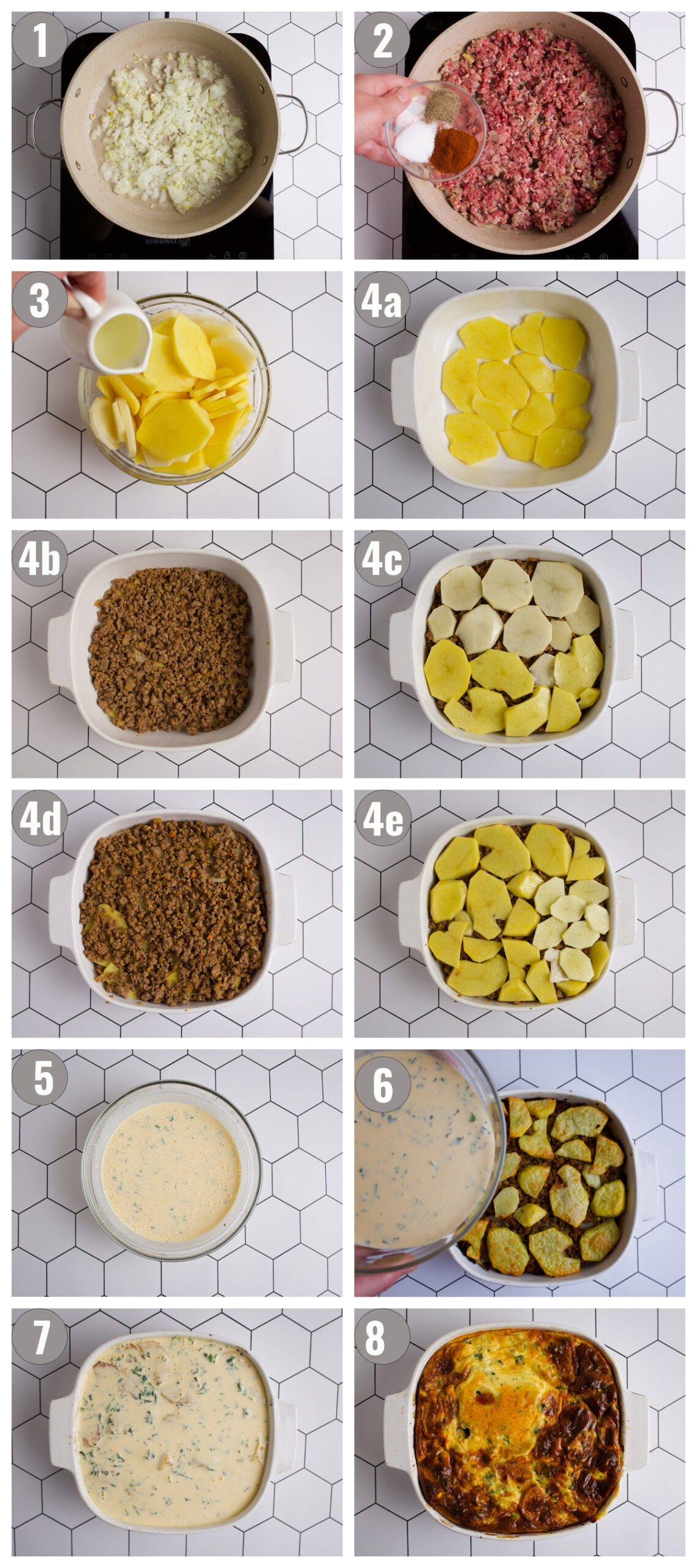 Lightening Quick Instructions:
Heat oil. Cook onion and garlic until translucent.

Add ground beef and seasonings. Brown the meat, and take off heat.

Heat oven. Oil potato rounds.
Layer potato in pan. Top with meat. Repeat few times. Bake.
Mix egg, milk, sour cream.

Pour topping over moussaka.
Return to oven for another 15-20 min.
Rest a bit, then serve.

Want more one-pan recipes like this?
Oh and... Here is another really good moussaka you'll love, via A Canadian Foodie. I particularly loved her story about visiting Bosnia after the floods in 2014, and making meals for the family after a lot has been lost in the calamity. We need so little for perfect moments.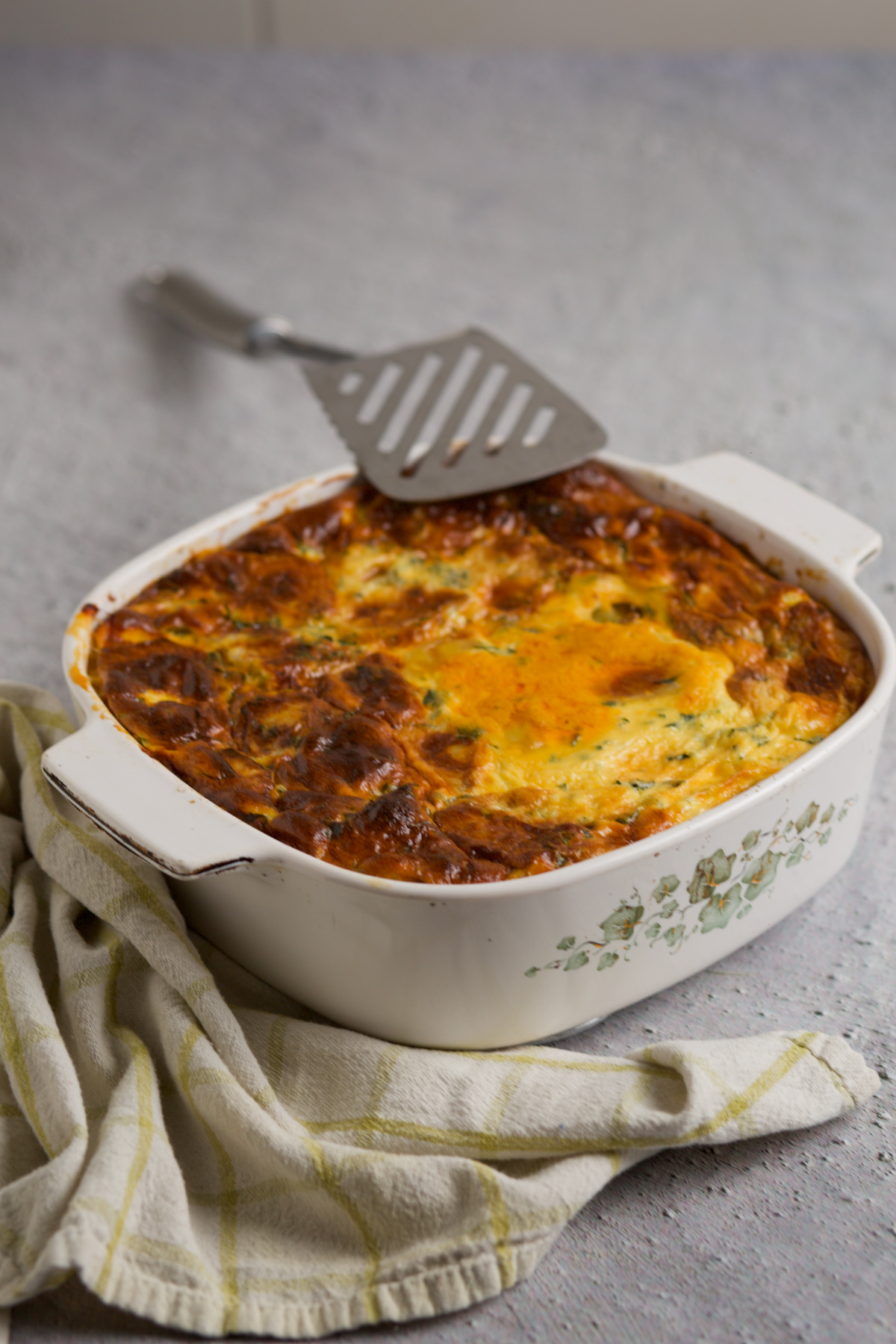 Would you do me a favor? If you make this ground beef and potato moussaka leave a rating, comment or tag @balkanlunchbox on IG. (P.S. I read every comment!) Prijatno (aka bon appetit)!
Print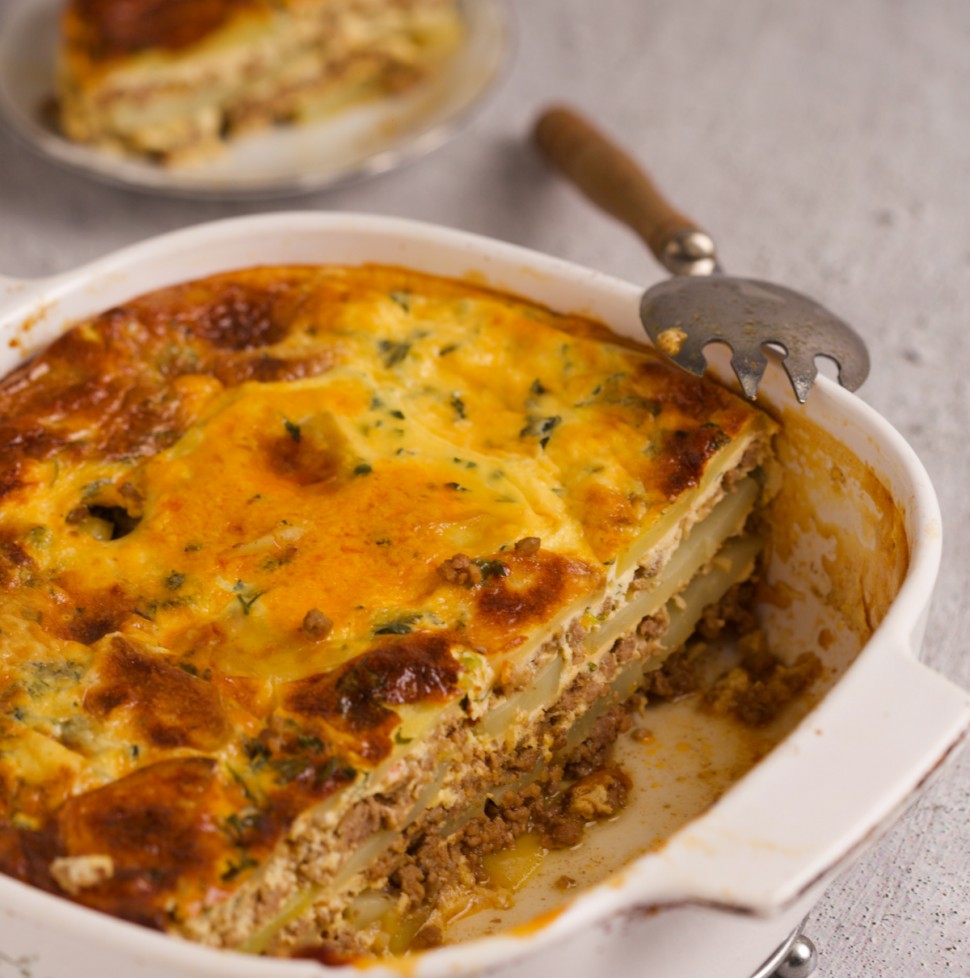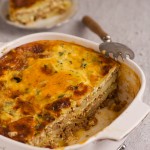 EASY Serbian Ground Beef Potato Moussaka
Author:

Balkan Lunch Box

Prep Time:

15 mins

Cook Time:

60 mins

Total Time:

1 hour 15 mins

Yield:

6

1

x

Category:

Main Course
---
Description
Moussaka is a casserole-type dish made by layering potato rounds and ground beef, which are then baked together and finished off with an egg, milk and sour cream topping.
---
Meat layer:
1

–

2

 tablespoons oil

1

 yellow onion (medium, diced)

2

 garlic cloves (minced)

1

 pound ground beef (pork, veal and turkey also work)
Salt and pepper to taste

1 teaspoon

 paprika
Potato layer: 
2

pounds potatoes (peeled and cut into ⅓-inch rounds)

3

-

4

tablespoons oil
Salt to taste
Topping:
3

–

4

 eggs

14 ounces

 sour cream

2

–

3

 ounces milk

1

–

2

 tablespoons fresh parsley (minced)
---
Instructions
Heat oil in a deep pan over medium. Add onion and garlic. Cook until translucent occasionally stirring.

 

Add ground beef and seasonings. Frequently stirring brown the meat lightly. Remove from heat.

 

Heat oven to 450°f/ 230°c.

 

In a larger bowl mix potatoes, oil and salt. Mix well with your hands until all potatoes are covered.
Evenly layer roughly ⅓ of potato rounds into a 9x13 inch pan covering bottom of the pan. Top potatoes with roughly ½ of the meat filling and spread evenly. Repeat. Top it off with one more layer of potatoes. (In total you'll have 3 potato layers and two meat layers in between.)* Place in oven and bake 40 minutes.

 

In a large bowl, whisk topping ingredients until integrated.
Take the pan out of the oven and pour the topping evenly over moussaka.
Return moussaka to the oven for additional 20 minutes or until the top gets a golden color.*
Rest for 15-20 minutes before serving.

 
Notes
Step 4: Moussaka is a forgiving dish, you don't have to follow the recipe too closely. Layers are only an approximation. Moussaka will turn out fine if you have 4 layers of potatoes and 3 of meat. However 3 layers of potatoes and 2 of meat is the minimum. 
Step 5: If at any time moussaka starts to blush too much, cover with foil. You may have to add a few more minutes to baking. 
Nutrition information is a rough estimate. 
---
Nutrition
Serving Size:

1 of 6

Calories:

566

Sugar:

3.6g

Sodium:

143mg

Fat:

35.6g

Saturated Fat:

13.3g

Carbohydrates:

29.8g

Fiber:

4.2g

Protein:

32.1g

Cholesterol:

207mg
Keywords: ground beef potato moussaka, Serbian moussaka, easy peasy moussaka