Phyllo cheese pie is a layered, 60 min, quiche-like, one-pan dish belonging to the family of Balkan pies. It's made by stuffing phyllo dough with a mixture of cheeses and eggs.
Today's phyllo cheese pie comes on the heels of other pie recipes.
We've covered a few by now. There is the ultimate green spinach pie, and the ground beef and potato pie, both of which can be made with phyllo from the store. Not to leave a stone unturned, we've also explored making phyllo from scratch when we made the potato pie.
Out of all the pies we've made and will be making, phyllo cheese pie is the easiest.
What it is, is just a pound of phyllo from a box, stuffed with a filling made with cheese(s), sour cream, and eggs. To give it the softness, each phyllo sheet is dabbed with a little bit of oil before the stuffing is smeared on. When all the layers are complete the pie is baked in a very hot oven. The finish comes in a form of a little bit of milk sprayed over the whole thing.
And there you are. A dinner in an hour or so.
You'll be ahead on time if you get the cooking spray (aka oil in a spray can). Unfortunately these haven't made their way to the Balkans yet. I don't want to think about what kind of processing makes oil work from a can, but this innovative packaging sure makes the layering go fast.
Phyllo cheese pie is what you should bring to a party next time someone asks you for a casserole. It's a great breakfast, lunch or dinner. Add a couple of sides (a soup, tomato salad or some ajvar/ ajver), or eat it just how it is. It'll fill you up.
Now on to the cheese.
When I'm in the Balkans, I complain about things like cooking spray. When I'm in the US, I complain about the cheese. The best phyllo cheese pie is made with unpasteurized soft cow cheese. Cow cheese is soft, pliant and mild. A sensible undertone to feta, or another stronger cheese you choose to combine it with.
Unfortunately it's easier to buy a cow than to find unpasteurized cow cheese in the US, so you'll have to make other choices. Ricotta is a solid alternative. Cottage cheese works also.
As for the stronger and harder cheeses, play with them until you find your own winning combo. From the comments below you can see people even use gorgonzola.
Don't worry about making a mistake here. Phyllo cheese pie is about what you like. Get creative. And if you're up for it, leave a comment below and let me know what cheese you used!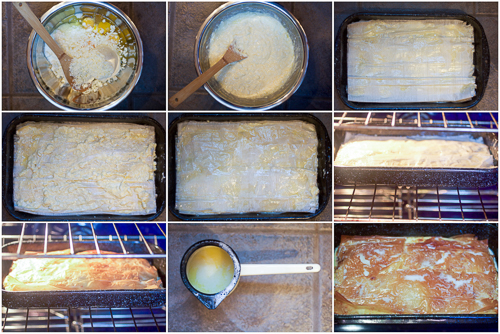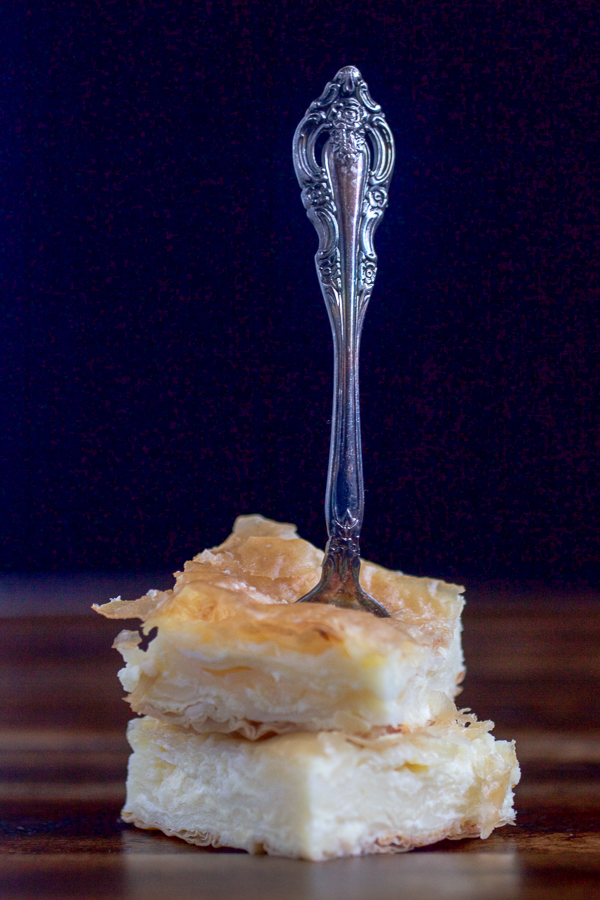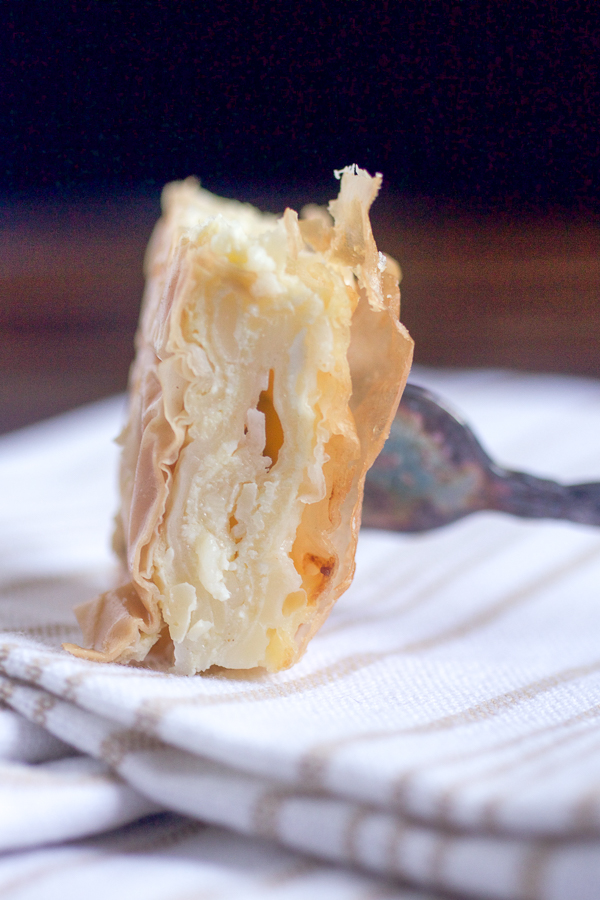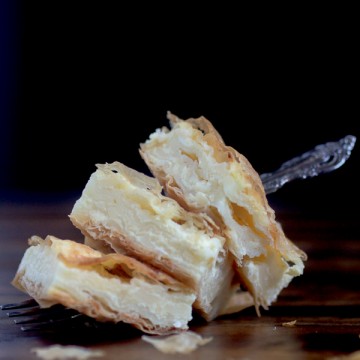 Phyllo Cheese Pie Recipe (Slagana Sirnica)
Ingredients
8

ounces

feta cheese

12

ounces

ricotta cheese

8

ounces

sour cream

4-5

eggs

1

box phyllo dough

16-18 sheets, about 1 pound

½

teaspoon

salt

½

cup

milk

Optional 1 tablespoon butter

Oil
Instructions
Combine cheeses, eggs, sour cream and salt in a large bowl and whisk until integrated.

Oil a baking pan. Layer 2 phyllo sheets on top of each other in the pan, brushing (or spraying) each with oil before adding the next layer. (If phyllo is larger than the pan, you can fold, crumple or cut it until it fits.)

Heat oven to 390F.

Grab a generous amount of the filling (about 4-5 tablespoons) and spread evenly over the top sheet. Layer 1 sheet on top of the filling, and brush (spray) each sheet with oil before adding the next layer.

Repeat until you run out of the filling and phyllo, making sure to leave 2 sheets for the top of the pie.

Brush the top of the pie with oil, and place in the oven. After about 15 minutes of baking turn the pan 180 degrees and cover with foil. Bake another 15-20 minutes

Take the pie out of the oven and spray with milk (optionally you can add butter to milk). Leave to cool for 15 minutes.

Consume warm.