Thick, hearty and easy to make potato soup. Don't let the boring name fool you; along with a thick slice of bread, this one has the potential to be your lunch and dinner!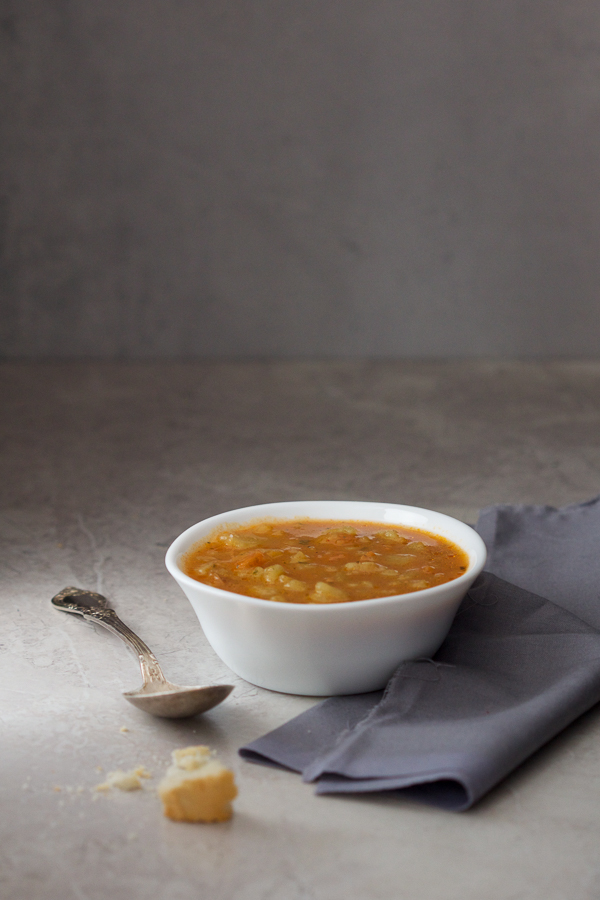 What I remember most about the summer '93 is the hunger. Deep, disturbing hunger. Thoughts of food, like thoughts of wood the previous winter absorbed everything. Absorbed the air.
We lived on humanitarian aid (may you never have to live on humanitarian aid) which included basic condiments and never ending, bland, faceless, tasteless rice. Stores were empty and closed, markets scarce in existence and offering.
If you could get yourself to one you had to be prepared to pay. But no one received salary in war, so people bartered anything precious for food. Wedding ring for a liter of oil. Diamond necklace for a kilo of flour.
Neighbors cultivated small gardens between buildings but there were problems with their botany dreams. Water was scarce and had to be brought back in plastic containers from cisterns around the city. Sarajevo was under constant shelling. Every hour, every day, every night. Every trip to get water could have been last.  For some it was. 
Even if you had water, and it was a "peaceful" day, there was a glitch in the system. Green areas hardly existed. Our lives were encased in buildings. Old and new, big and small, beautiful and ugly, perfect and clashing - they were still concrete. And the green above the city was besieged by those who bombed us.
Rarely enough to be considered a miracle we'd get an ingredient from the past. (The past was undefined, it was everything that was not of this war). Like an overly ripe banana my sister waited for hours, and then had to fight for with other equally hungry people at a UN base which she gave to me. To eat. By myself. All of it.
Or potatoes that my brother brought from a garden they had near the front line.
If you were a mom of three and a husband, yours was a cruel task. How do you feed the family with a couple of potatoes? What do you make so everyone can taste them and remember sweet taste of vegetables?
Soup was the way, of course. A naked version of the potato soup from today's entry. All of us could eat soup, it was mostly water.  And all of us could taste potatoes because they were still present, however miniscule. For a few moments we could forget that in a few moments more we'd again be hungry.
Maybe, just maybe, my devotion to soup stems from that time.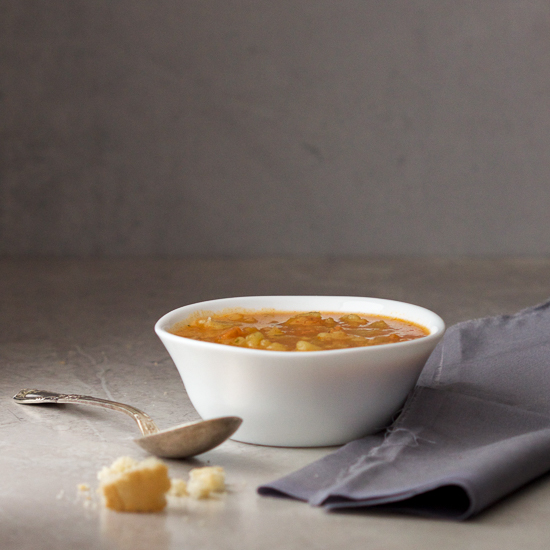 POTATO SOUP
Those potatoes, aren't they nearly perfect? Perfect as fries, perfect as hash browns, perfect in a stew?
Or a simple potato soup. Not blended, chunky.  Stewy, satisfying.
Seven-ish ingredients. Forty-ish minutes. One pot.
Want an elevator pitch? A potato, some onions and carrots get simmered, and finished off with heavy cream to seal in thickness.
You may think your potato soup is thick enough without the cream. So skip the cream. I do insist you dice potatoes into small cubes. It's a chunky potato soup, not "eat a whole potato in one bite" soup.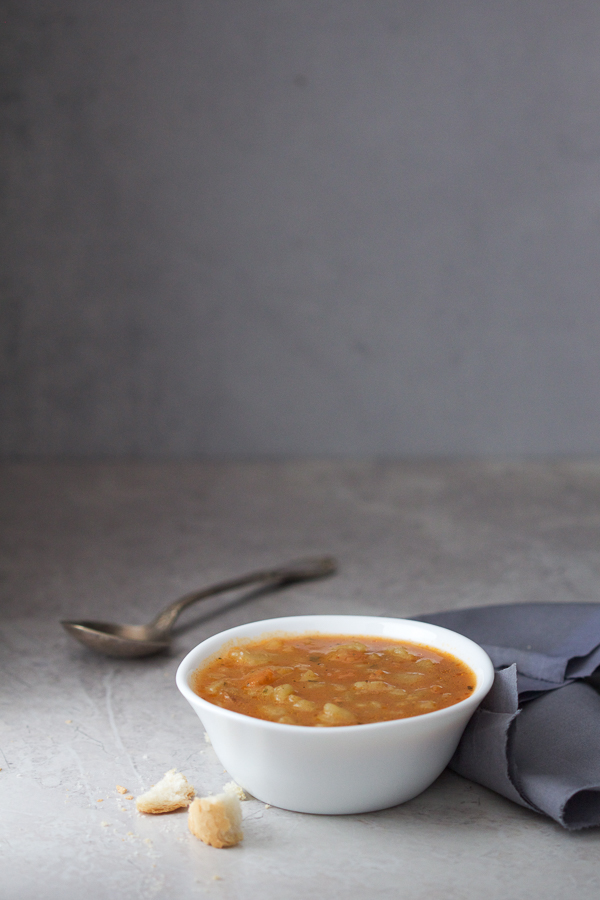 IN ADDITION TO POTATO SOUP...
My favorite soups? Probably the minestrone, Bey's soup and chicken noodle.
I've written about minestrone before. It's the recipe my mom picked up while living in the States. It is perfect.
Bey's soup is classic Bosnian cuisine. Its stock is based on okra. There's the fast version and version that's more traditional. If you're curious about okra, this is a good way to get introduced to this flowering plant. Okra is gritty and it nicely complements tenderness of the veggies and chicken.
Then there is the chicken noodle. Our family recipe calls for chicken soup to be filled with fat grits noodles soft and fluffy as a cloud.
A soup may just save your life one day.
Recipe by Samir Hajdarević.
Print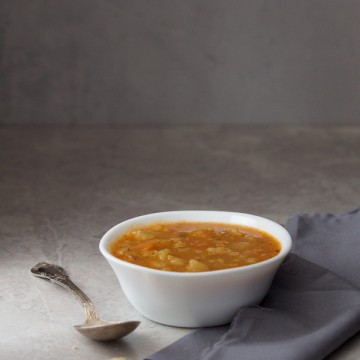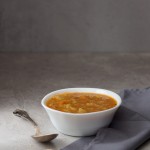 Potato Soup (Krompir Supa)
Author:

Balkan Lunch Box

Prep Time:

5 mins

Cook Time:

35

Total Time:

40 minutes

Yield:

4

1

x

Category:

Appetizer
---
Description
Thick, hearty and easy to make potato soup. Don't let the boring name fool you; along with a thick slice of bread, this one has the potential to be your lunch and dinner! 
---
2 tablespoons

oil

1 tablespoon

butter

1

large carrot (diced)

1

yellow onion (diced)

1

garlic clove (minced)

½

to

1

teaspoon salt (optional)

½

to

1

teaspoon ground pepper

½

to

1

tablespoon paprika

1 tablespoon

white flour

4

-

5

cups vegetable broth (or chicken broth)

2

large potatoes (about

14 ounces

, diced)

3.5 ounces

heavy cream

½

to

1

tablespoon parsley
---
Instructions
In a medium pot heat oil and butter over medium heat. Add carrot, onion and garlic. Saute until caramelized.
Add spices and flour. Stir for 1-2 minutes. Add broth and bring to a boil.
Add potatoes and simmer for 25 minutes on medium to high. Add heavy cream and simmer 5-10 more minutes.
Garnish with parsley. Serve and eat warm.
Notes
Consume soup the same day, and do not re-heat repeatedly. Potatoes should not be left overnight.
---
Nutrition
Calories:

321

Sugar:

4.3g

Sodium:

1586mg

Fat:

21g

Saturated Fat:

9g

Carbohydrates:

24.9g

Fiber:

4.3g

Protein:

9.3g

Cholesterol:

42mg
Keywords: potato soup, potato stew without coconut, thick soup recipe, vegetarian recipe, balkan lunch box, balkanlunchbox