Meaty Minestrone Soup is a perfect combination of vegetables and ground beef in a flavorful broth. This Italian soup chockfull of veggies is so tasty it's made its way into kitchens everywhere. Our version includes meat, which transforms it into a dish some call hamburger soup. Shall we?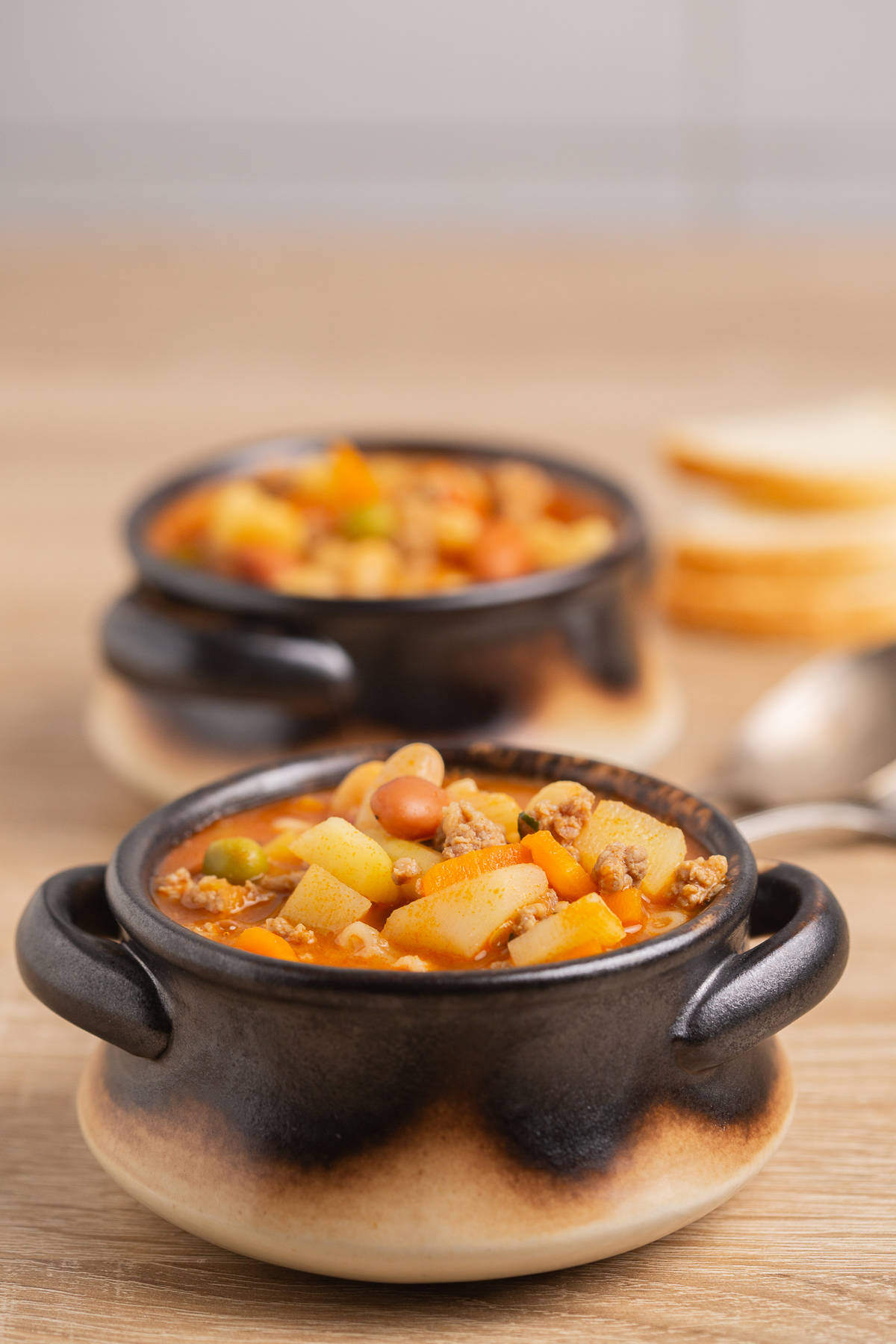 Jump to:
Quick Background
Whether from Italy, or a neighborhood Olive Garden, a good minestrone is a soup everyone loves.
This is a classic Italian veggie soup. It relies on whatever vegetables you have in the pantry or freezer. From zucchini to potatoes, everything works!
The only thing that makes this perfect broth even better is a little bit of meat.
So, today we're sharing the recipe for our meaty minestrone soup. Any animal protein will do, chicken, bacon, or sausage. Though, after making it time after time, we prepare this vegetable soup with ground beef the most.
By the way, this meat soup with veggies is sometimes called hamburger soup in the US.
Why You'll Love This Meat Soup
Can't go wrong! You can't mess it up! Trust me, I've tried! Adding fresh, canned, or frozen vegetables works. Adding or not adding legumes works. Adding or not adding pasta also works.
Meat! Our minestrone with ground beef is one unbeatable meat soup!
Great All-Year-Long! It's a perfect recipe for spring, summer, fall, and winter! As it's made with so many different ingredients, hamburger minestrone works for all seasons.
Ingredients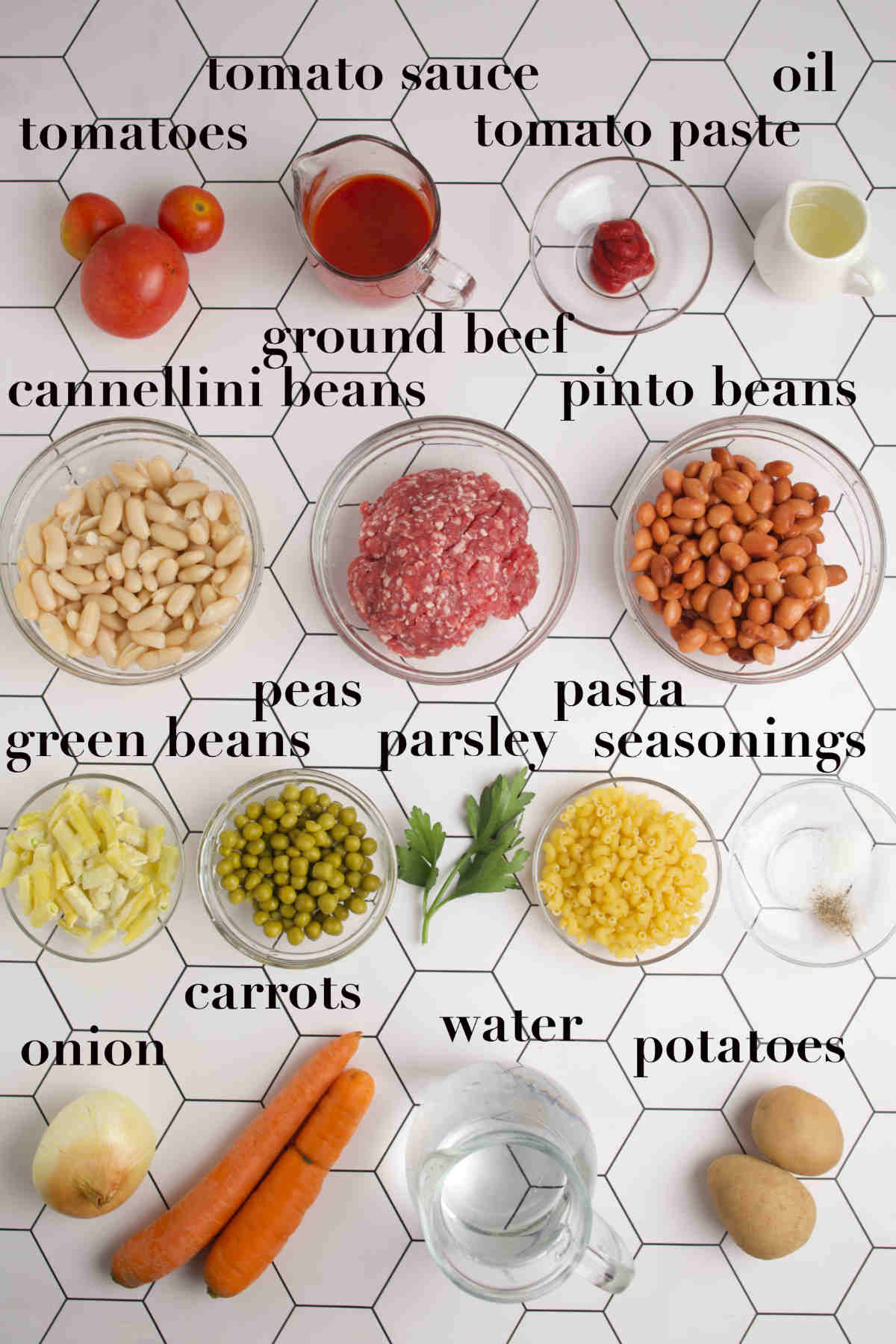 Ingredient Notes
Vegetables: You can use any and all vegetables! Customize volumes and types to your liking. Onion, carrots, zucchini, celery, potatoes, and spinach are all welcome. While we prefer to stay away from cruciferous veggies for this particular recipe, others add shredded cabbage. Your call!
Tomato: Only one vegetable is the same in every minestrone recipe, and it's the tomato. It's used in a sauce, paste, and fresh form! It gives this soup a great deep red color and a slightly sweet and tangy taste. Sub with canned, or stewed tomatoes.
Legumes: Use your imagination! Peas, green beans, cannellini, navy, kidney beans, and black beans go great.
Meat: Ground veal or beef are the best for this meat soup. Chicken and/ or sausage are also a good choice. Some versions of minestrone with meat include diced bacon or prosciutto. Don't have much meat? That's ok, you can use a handful or two, or skip it completely.
Lightning-fast Instructions
(Our lightning-fast instructions are here to give you an idea of how to make this meat soup with veggies quickly and easily. For more detailed information look at the recipe card below!)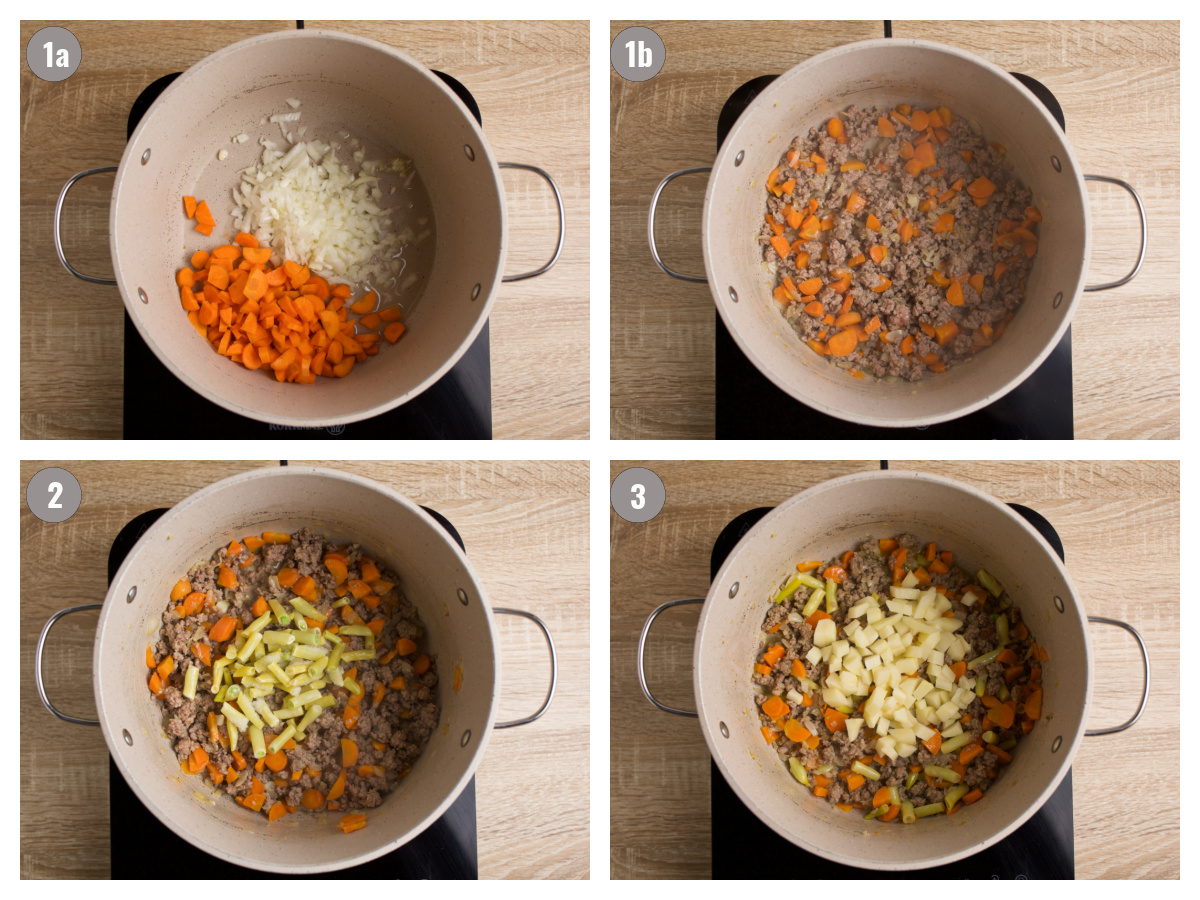 1. Heat up oil. Add onion and carrot. Cook. Add meat. Cook.
2. Add green beans. Cook.
3. Add potatoes. Cook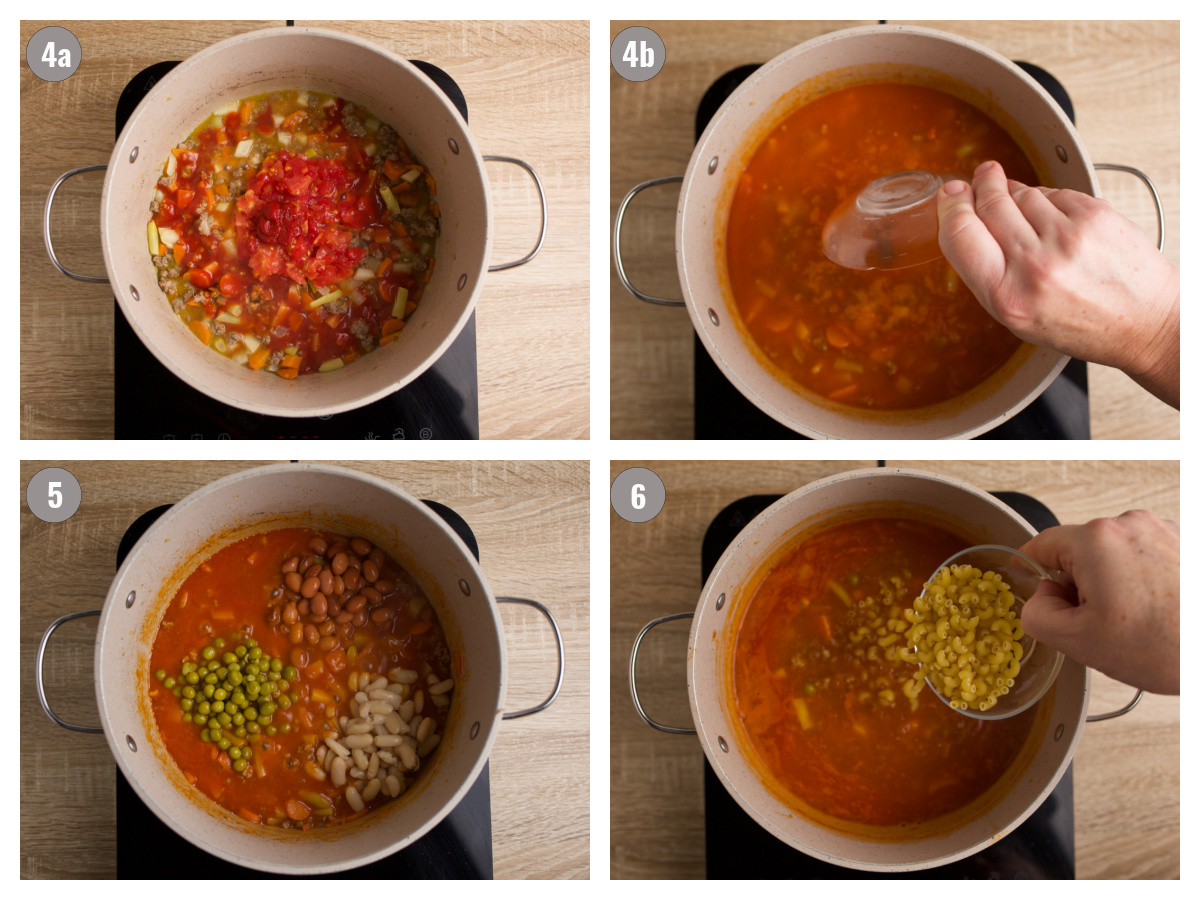 4. Add tomatoes, tomato sauce, and tomato paste, seasonings, and water. Cook.
5. Add beans and peas. Cook.
6. Add pasta. Cook. Your meaty minestrone soup is done!
Recipe FAQs
Where was minestrone invented?
Italy. Some sources say it was invented as far back as the Roman Empire.
Does minestrone contain meat?
While minestrone is most known for being a vegetable soup, some versions do include meat. Today's recipe is one of them.
How long is hamburger soup good in the refrigerator?
Three days.
What stock is best for minestrone?
Any stock you'd like, or no stock at all. While vegetable, chicken, and beef broth all work, the stock isn't necessary for our meaty minestrone soup.
Storing, Freezing, and Serving
Storing: Store the soup at room temperature for up to 2 hours after cooking it. After this time transfer to the fridge or freezer in a sealed container. Keep in the fridge for up to 3 days.
Freezing: Freeze this meat soup for up to 1-2 months. In this case, add pasta only after you thaw it while reheating the soup up. Add a little bit of water/broth as necessary.
Serving: Serve warm or hot. I love a dollop of sour cream on top of this meaty minestrone soup along with some bread. (Oh and my secret side is a cup of fermented shredded cabbage!)
More Recipes You'll Love
Would You Do Me a Favor?
If you make today's Meaty Minestrone Soup and like it, please consider leaving a ⭐️⭐️⭐️⭐️⭐️ (5-star) rating. This will help others find the recipe more easily!
You can also leave a comment, I read EVERY one! Finally, if IG is more your thing, consider tagging us @balkanlunchbox.
Prijatno and bon appetit!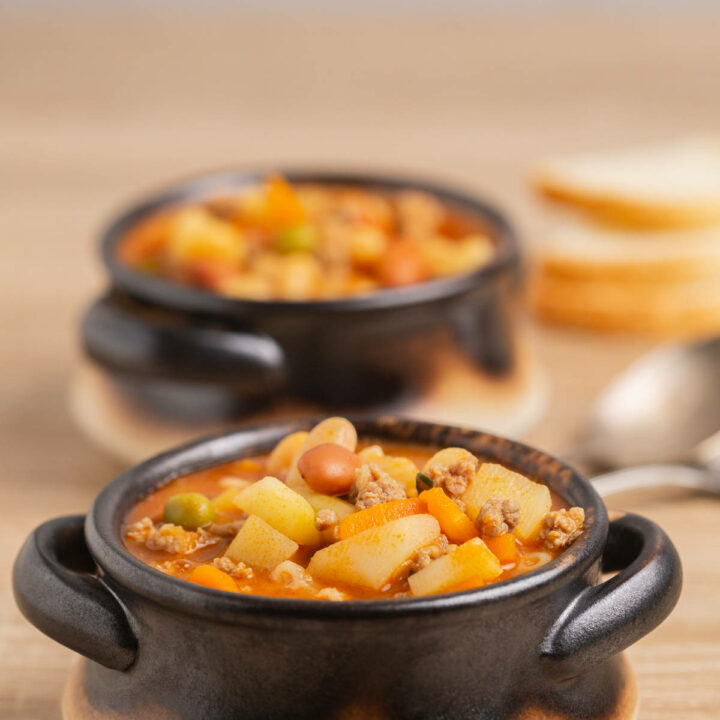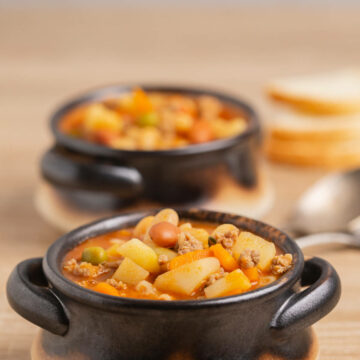 Meaty Minestrone Soup (Veggie and Meat Soup)
This easy hamburger minestrone is a great rendition of the Italian favorite. You will love the addition of ground beef to this hearty broth overflowing with veggies. This veggie and meat soup is also known as hamburger soup.
Ingredients
2

carrots

peeled and diced

1

large onion

peeled and diced

8-10

ounces

ground beef

or veal

4-6

ounces

green beans

fresh, cut into thirds

2

potatoes

medium, peeled and diced

6-8

ounces

red beans

canned

6-8

ounces

cannellini beans

canned

4

ounces

green peas

canned

4-6

ounces

tomato sauce

3

tomatoes

fresh, peeled and diced, with juice

1

tablespoon

tomato paste

1

teaspoon

sugar

2

tablespoons

fresh parsley

minced

1

teaspoon

salt

½

teaspoon

black pepper

2

tablespoons

oil

4-6

ounces

(Optional) pasta

ditalini, farfalle or orecchiette

2-3

tablespoons

(Optional) sour cream

5

cups

(Optional) chicken or beef broth if not using water

1

(Optional) beef bouillon cube

5

cups

(Optional) beef broth instead of water or bouillon cube
Instructions
In a large pot add oil and heat it up on medium (2 min). Add onion and carrot and cook until transclucent (5 min). Add beef, stir and continue sautéing until the meat starts changing color (3 min).

Add green beans, stir and continue sautéing (7-8 min). Add a little bit of water as necessary. (You'll be adding about 1 cup of water during sautéing and 4 cups near the end. Sub with beef broth if you wish.)

Add potatoes, stir and sauté (10 min). Add a little bit of water.

Add tomatoes, tomato sauce, and paste. Also, add 4-5 cups of water. Stir well, and add in the seasonings and bring the temperature up to high. Cook for 10 minutes. (Add a beef bouillon cube for additional flavor if you'd like.)

Add beans, and peas. Stir, and cook for 5-7 minutes.

Add pasta and bring the temperature down to the lowest. Simmer for another 5 minutes.

Serve hot, with sour cream (optional). Leftovers will keep in the refrigerator for 3 days or in the freezer for 1-2 months in a sealed container. When ready to eat heat up and add a little bit of water if neccessary.
Notes
Meat: Meat is optional. You can adjust the amount slightly, but don't overdo it. Chicken, veal, sausage, prosciutto, and bacon work too. If using bacon, it's best to fry it ahead of time.
Water/Broth: You can sub water with beef broth, or add a bouillon cube to the water for stronger flavor. We go easy on the seasonings and broth as we like the flavor to lean toward vegetables.
Adjust the amount of water (broth) to your liking. We recommend 5-6 cups total. If leaving the soup for later you'll probably want to add another cup before reheating. Pasta and meat tend to "drink up" the liquid. 
On the other hand, if you're only using frozen veggies you may want to add less water because they have a higher liquid content. 
Veggies: Vegetables can be customized to your taste. It's a very forgiving soup. 
Fresh, frozen, or canned vegetables can be used. Just switch the order in which you are

sautéing them.

Fresh vegetables take the longest, then frozen, and finally canned. 
Finally, adjust the addition of veggies based on how long they take to cook. (Potato takes longer than green peas so you'd add it before peas, etc.)
Nutrition
Serving:
1
of 4
Sodium:
936
mg
Calcium:
126
mg
Vitamin C:
58
mg
Vitamin A:
6670
IU
Sugar:
12
g
Fiber:
14
g
Potassium:
1479
mg
Cholesterol:
43
mg
Calories:
576
kcal
Trans Fat:
1
g
Monounsaturated Fat:
10
g
Polyunsaturated Fat:
3
g
Saturated Fat:
6
g
Fat:
21
g
Protein:
26
g
Carbohydrates:
75
g
Iron:
6
mg