Beef noodle soup.
According to the Balkan myth mill two things keep one in tip-top shape – staying away from the draft and a good (daily) soup. Staying away from the all powerful draft is questionable, and it seems to affect people based on the depth of their own beliefs regarding the draft. My sister, for example, sits near an open window for 2 minutes and the next day has a full blown migraine slash pneumonia. On the other side of the spectrum, I knew a Norwegian girl who came to class with wet hair every morning, rain, snow, apocalypse or shine, and she's still doing excellently. She squashed the myth for me forever.
The soup, however, stands! I don't experience the main meal (which can be either late lunch or early dinner in the Balkans) quite the same if it doesn't start with some type of soup. It's just too dry otherwise. Just think, what's sushi without miso soup? And what about chicken soup? It's practically penicillin in some cultures.
Only recently have I rediscovered the inimitable beef noodle soup. Whenever something strays from the usual, it looks more complicated than it is. Such is with beef soup, so I stayed away from making it for a long time.  Recipe below is mom's, the queen of soup, and everyone in the family agrees she makes IVs, not soups.
You can use pretty much any chunk of beef with a bone, ribs even. I used beef chuck. While the recipe couldn't be easier, the cooking itself takes time.  You don't have to do much but let it simmer for a while however, so if you start on Saturday morning it'll be done in time for a late lunch or early dinner. A word of advice for my readers in the West who have made an art of having just soup for lunch: beef noodle soup is a light and hearty one, so you'll want to plan something else in addition. While warm and comforting, beef noodle soup is rarely a meal in itself.
P.S. Soup alert! For great happiness, long life and good health try these immediately: chicken grits noodle soup, minestrone and the okra goodness that's bey's soup. 🙂
Print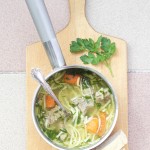 Beef Noodle Soup (Govedja Supica) Recipe
Author:

Prep Time:

10 mins

Cook Time:

2 hours 10 mins

Total Time:

2 hours 20 mins

Yield:

6

-

8

1

x
Category:

Appetizer
---
Scale
Ingredients
1

pound beef chuck

1

pound beef chuck

2

carrots (medium)

2

celery sticks (or

1

celery root)

2

handfuls of parsley

1 tsp

seasoning salt
Pepper to taste

1/2

onion

2

handfuls noodles
---
Instructions
Place beef chuck, carrots, celery sticks (root), seasoning salt, pepper, and one handful of parsley into a pot and cover with 64oz of water. Brown the onion on one side by placing it directly on a stove burner for a few minutes, and then transfer into the soup.
Bring soup to a boil. Reduce heat and let simmer for 2 hours. Add little bit of water as necessary throughout simmering to replenish water lost by heat.
Take the meat and carrot out, cut away from the bone and dice. Set aside.
Take out the celery root, onion, and parsley and discard.
Strain soup back into a different pot, add beef and carrot back in. Take the remaining, fresh parsley, dice and add to the soup. Add two generous handfuls of noodles. Simmer for another 10 minutes.
---