Baby beef noodle soup: savory, hot, light and soul enriching. All the qualities of chicken noodle, intensified.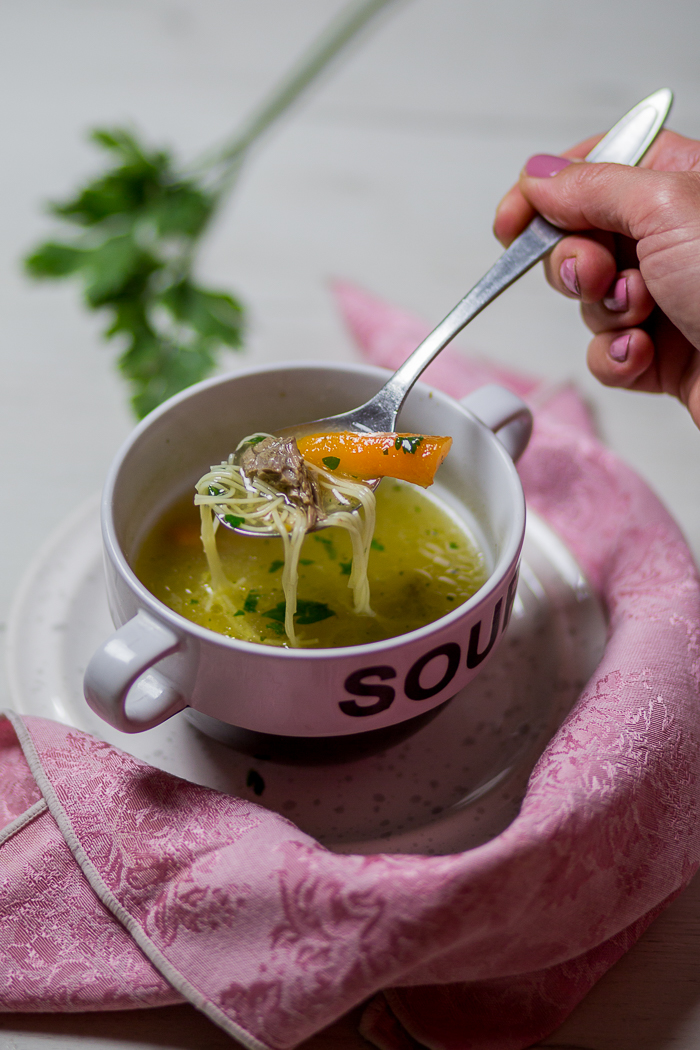 According to Balkan mythology two things keep one in tip-top shape: staying away from the all powerful wind draft, and eating something with a spoon every day.
I question the draft.
I knew a Norwegian who arrived to class with wet hair come rain, apocalypse, or shine. By draft logic half her face should be twisted, but last time I checked she was doing great.
Yet draft is such a strong part of the narrative even serious people accept it the way they accept earth moves around the sun.
If Aleksandra finds herself in the draft's way even for a moment the following day she has a migraine slash pneumonia. Her husband sleeps with a hat as his side of the bed is closest to the window. Even our brother is certain the A/C provokes his arthritis and no one can tell him differently.
I don't buy it.
But I do stand behind eating something with a spoon each day. Dinner in't dinner if I don't shower my stomach with something stew-y.
And lately this has been the baby beef noodle soup.
BABY BEEF NOODLE SOUP
What is baby beef noodle soup?
It's probably a misnomer for starters.
It's a beef soup, but if you can get your hands on a nicely sized veal chop or ribs you can use them instead.
Secondly, noodles are secondary.
Use any kind you want. Thick, thin, long, short... Use the homemade yellow egg ones or make them from grits. Buy them at your local store even.
(This time I used a thin kind sold under the name of "pasta for soup" at my supermarket.)
It doesn't matter which noodles because when it comes to the baby beef soup, it's all about the broth.

BABY BEEF NOODLE SOUP BROTH (STOCK)
Most beef soup recipes look like a stew. Goulash-like.
A Google image search pulls countless photos of beef chunk stews overflowing with so many vegetables that taking one out or adding a second in makes no taste difference and they end up all tasting kind of the same.
Today's baby beef soup is the opposite.
The broth (stock) is clear, translucent, and pulling toward beige. It isn't overwhelmed with color nor taste. It's tasty alright, but in a light, savory way. We get his by cooking meat attached to the bones, together with a few choice veggies.
Bones are the main player in beef soup.
As they stew in water, beef bones release collagen which drives that perfectly salty gulp.
When buying meat, ask for a nice cut with a nice balance of meat and bones. You can use any beef part with bones, even ribs. A veal cutlet is perfect, but as it's often problematic to buy it in the West due to the way it's raised, baby beef will do the trick.
To keep it tender as possible avoid older meat.
VEGETABLES IN BABY BEEF NOODLE SOUP
Vegetables are complementary contributors to this stock.
Celery and parsley roots are great for beef broth, if you can find them. If you can't, a stalk or two of celery will do the trick. A bunch of parsley goes in whether you have a parsley root or not anyway.
Celery and parsley awake the freshness factor. As they're discarded at the end, mince a few strands of parsley for final garnishing and set it aside.
There is also the onion. Choose a large one, and split it in half. If you are adventurous, you can grill the halves directly on the stove and then throw them in. Grilling makes it juicier. After it has given everything to the stock you'll discard the onion also.
Finally, the carrots. A quality soup (stock, broth, even stew) cannot be made without carrots. They're there at the beginning, middle and end to give beef broth a touch of sweetness.
You're welcome to add more vegetables to the stock. But anything other than what we use today is optional. What you get is more than enough to give you that perfectly light and comforting yet definite beef broth taste.
If you want to dedicate yourself to this soup you're better off on finding a good cut of meat. Taste depends on meat the most.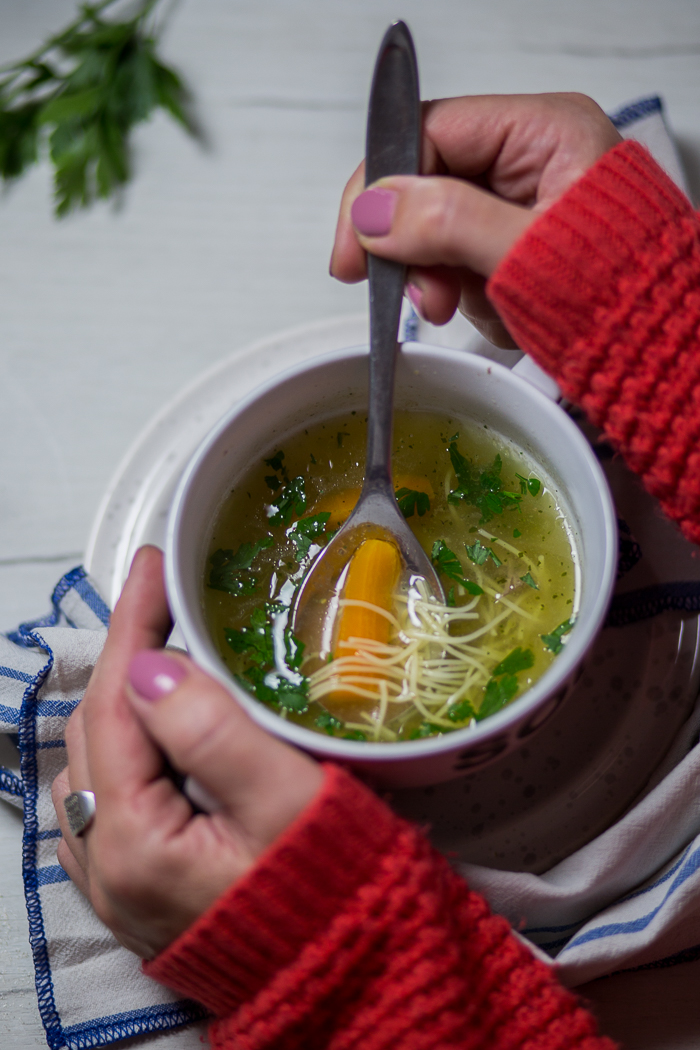 SEASONINGS FOR BABY BEEF NOODLE SOUP
As far as the seasonings go this is in your hands. Salt and pepper are the foundation upon which you can build.
For a French twist add a pinch of rosemary and thyme.
I like my beef soup to taste like beef so I add only the basics.
You can fortify the soup by making it with store beef stock or broth. Or use beef bouillon cubes. (In contrast, if you are using a lots of bones you can skip both beef stock or bouillon cubes and add more salt.)
Vegeta, light Vegeta or substitutes like seasoning mix work also.
TIMING FOR BABY BEEF NOODLE SOUP
While the recipe couldn't be easier, this soup takes its time.
You don't have to do much to put it together but do let it simmer. And simmer. Start on a Saturday morning and you'll have a soup for late lunch or early dinner.
You'll start by first bringing everything to a boil. And then it simmers on low for a long time. Couple of hours at least. Replenish with a little bit of water at a time (preferably hot). Add just enough water to replenish evaporated liquid but not enough to water down the taste.
I'm sure you probably already do this while cooking, but try a spoonful or a few throughout to see if it's to your liking. Adjust spices accordingly.
Near the end take the meat out, separate it from the bone and dice, then discard the veggies (except the carrot). You'll return the meat in, add noodles, garnish with parsley… And voila!
A perfect baby beef noodle soup.
Meanwhile, a word of advice for my readers who have made an art of having just soup for lunch: while warm and comforting, beef noodle soup is rarely a meal in itself. Plan something in addition.
I'm thinking even if the draft thing turns out to be true, at least we'll be eating heaps of delicacies over and over again.
Take that draft!
P.S. Alert! For ensured happiness, long life and good health try these immediately: chicken grits noodle soup, minestrone and the okra goodness that's bey's soup. 🙂
Would You Do Me a Favor?
If you make today's Palačinke, or Balkan Crepes and like them, please consider leaving a ⭐️⭐️⭐️⭐️⭐️ (5-star) rating. This will help others find the recipe more easily!
You can also leave a comment, I read EVERY one! Finally, if IG is more your thing, consider tagging us @balkanlunchbox.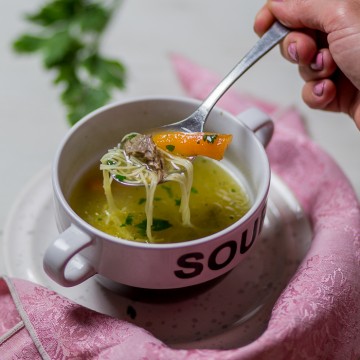 Baby Beef Noodle Soup
Baby beef noodle soup: savory, hot, light and soul enriching. All the qualities of chicken noodle, intensified.
Ingredients
1

pound

baby beef chuck with fat (or veal)

2

carrots

medium, peeled, diced

2

celery stalks

or 1-2 celery roots

1

onion

medium, peeled, cut in half

2

handfuls fresh parsley

uncut plus a little more fresh parsley (minced)

Optional 1-2 parsley root

Optional Pepper to taste

Optional Salt to taste

1-2

beef bouillon cubes

look below

12-14

cups

of water

or beef broth if not using bouillon cubes plus a little more

2

large handfuls thin soup noodles
Instructions
Place beef chuck in a large pot. Add carots, celery sticks (or roots), onion, fresh parsley and (optionally) parsley root, salt and pepper. Add bouillon cube(s) and cover with water. (If using beef broth instead of water don't use bouillon cubes.) Bring to a boil on high.

 Bring temperature to low and continue simmering around 2 hours. Add a little water at a time as necessary throughout to replenish evaporated liquid. 

Take the meat out. Cut it away from the bone and remaining fat, then dice. Set aside. 

Take out the celery root, onion, parsley, and parsley root. Discard.

Return the diced meat back into the soup. Add soup noodles. Let simmer 5-10 minutes. Garnish with fresh parsley.
Nutrition
Serving:
2
-3 laddles
Sodium:
317
mg
Sugar:
1.9
g
Cholesterol:
186
mg
Calories:
476
kcal
Saturated Fat:
8.8
g
Fat:
22.9
g
Protein:
54.7
g
Carbohydrates:
9.4
g