Russian Salad (known to the rest of the world as Salad Olivier) is a holiday staple in every Balkan home. This shapeshifter easily transforms from an appetizer into a fancy side, or, with a slice of bread, into the main course. Take away the meat and you get French salad. Substitute with fish (and fast-approved dressings) and Russian Salad becomes perfect for Orthodox fast as well. I think of it as the salad with endless possibilities.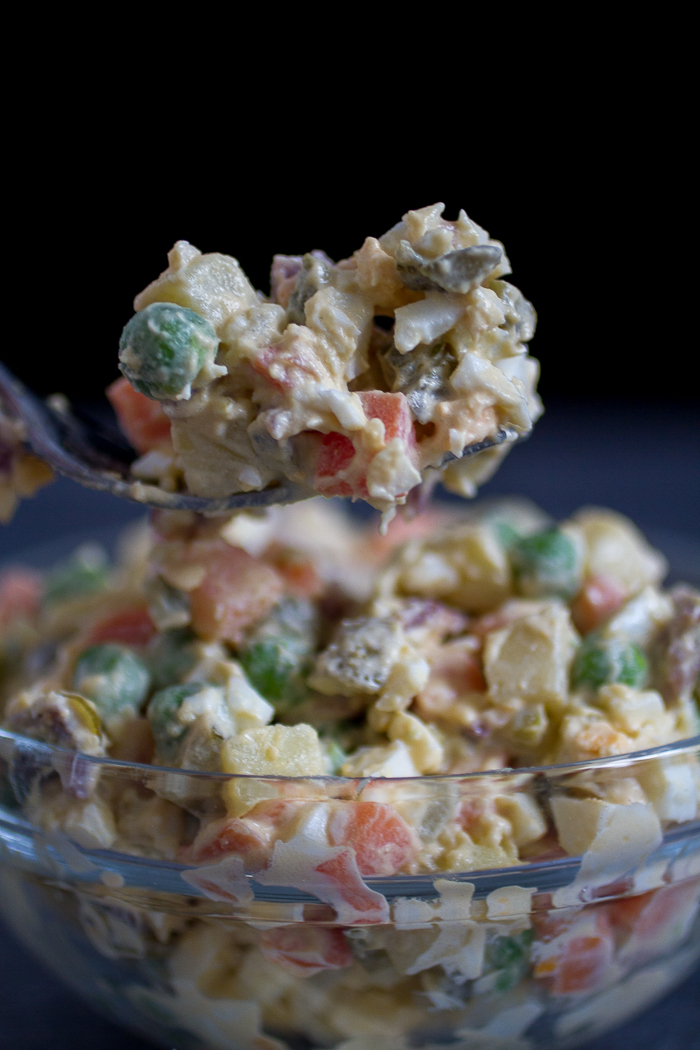 (BOSANSKI)
RUSSIAN SALAD (SALAD OLIVIER) INGREDIENTS
If I had to categorize it, I'd place Russian in the 'winter salad' category.
I'm not even sure if 'winter' and 'summer' salads exist. I came up with this categorization for myself, and it's based on ingredients; seasons don't necessarily have anything to do with it.  As an example, Russian salad is on my table year round, as is caprese, a salad that screams 'summer'.
Winter salads are heavier, their ingredients sometimes cooked, and they usually cool in the fridge for a while. Think potato salad: it's dense and easily a meal on its own.
Winter salads fill you up.
Summer salads are generally based on lots and lots of leafy greens. You really have to dress them up with protein, vegetables, seeds, dried fruits and sauces to make a meal out of them. Even then they're not particularly filling.
Qualities that make Russian salad a winter salad are heavier ingredients like meat and eggs.
Best meats for Russian salad are shredded chicken, bacon, smoked beef or ham. Fish works too if you want to make it edible for a fast. Some people prefer to use two types of meat at the same time. I like it best with smoked beef.
Russian salad vegetables, usually carrots and potatoes, are cooked and diced. Everything is layered in a large bowl, together with minced pickles and peas.
Ingredients are mixed well and dressed with mayonnaise. Salad then rests in fridge for at least few hours, preferably overnight. Some mix mayo with sour cream. It's rare that dressings other than mayo and sour cream would be used for Russian salad although lemon and mustard sometimes make an appearance.
Some use herbs like dill and parsley.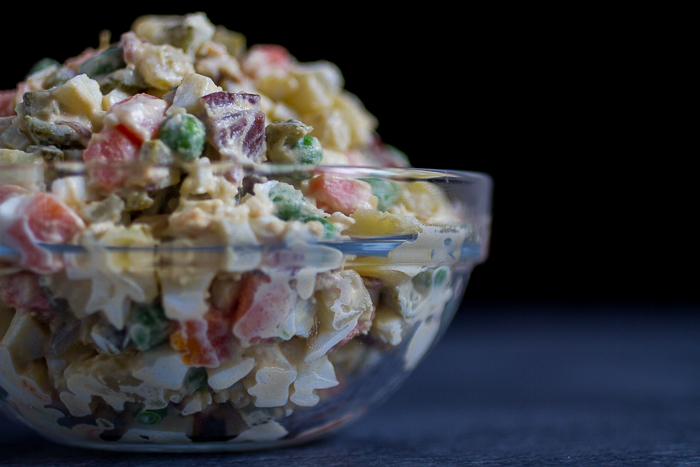 TIPS FOR BLB RUSSIAN SALAD
My Russian salad gets a lot of compliments. Here are my tips:
Eggs - more is more here. Eggs soften the salad. The more you put in, the better the salad.
Herbs - be conservative. A simple parsley garnish is best.
Mince - the smaller ingredients, the better.
Mix - mix ingredients thoroughly and continuously as you're adding layers.
The night before - the salad is best when it spends the night in fridge.
Signature Salad - there are many ways to make Russian salad, but it's one of those salads you should make yours. Add and subtract ingredients until you think it tastes perfect.
Mayo - homemade is best, but who has the time? Find a mild one, otherwise mayonnaise will hijack the taste. Also, less is more here.
(I hear mayo is well and alive in Russian cuisine. Friends of mine who recently visited Russia returned hungry. Their stories abound with quips of mayo inspired meals. Fish, steak, sandwiches… all drenched in mayo. Russia was the only place in the world (and they visited many), where they ate at local McDonald's. Russian readers, is this true about your cuisine? What are some dishes tourists  unfamiliar with your dishes should try?)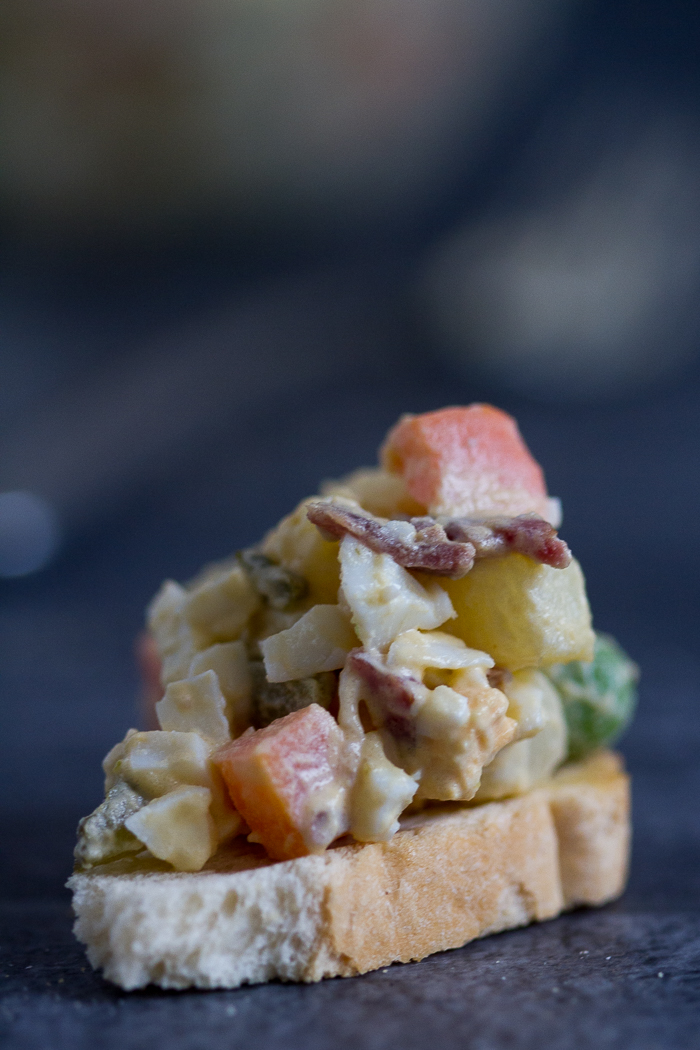 RUSSIAN SALAD (SALAD OLIVIER) ORIGINS
The following story about the origin of Russian salad (Salad Olivier) is the same one floating around the internet so I can't vouch for its accuracy. But it's as close as we'll get to the real story, so here we go.
Nineteenth century Moscow hailed great restaurants. One of these was Hermitage, featuring a fantastic Belgian chef Lucien Olivier. Olivier was known best for a salad he created, salad so tasty Olivier lived in constant fear his recipe would be stolen.
This is exactly what happened.
One night an emergency called him away from the kitchen just as he prepped salad's ingredients. As soon as Olivier stepped out, sous-chef Ivanov snuck in. Seeing the ingredients laid out Ivanov more or less figured out the Salad Olivier recipe. 
After a while Ivanov quit Hermitage and got a job at restaurant Moskva, where soon they started to offer a salad very similar to Salad Olivier.  Some recipe versions even ended up in the newspapers.  Had Ivanov not committed recipe theft it's doubtful Russian Salad would become Balkan's go-to salad that it is today. Nor would this salad, along with some Eastern Europeans, make it all the way to Argentina.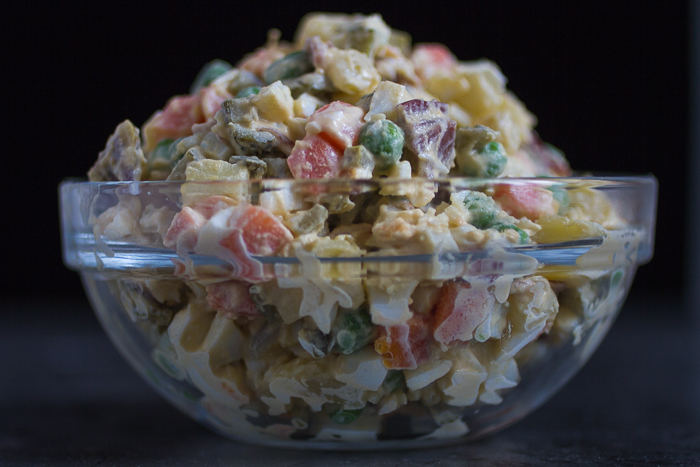 FRENCH VS RUSSIAN SALAD & OTHER VARIATIONS
As the salad spread, so did its variations. (My guess is as it made its way outside of Russia, people started calling it Russian Salad.) Olivier personally never wrote the recipe down so what we're eating today is a poor man's version of this magnificent feat.
Admittedly, original salad had some questionable ingredients for this day and age. (Crayfish tails? Veal tongue?) Today people use regionally available ingredients. I wonder sometimes whether Olivier would even consider that what we make and eat as Russian salad today as his invention.
By the way, in the Balkans you'll encounter two versions of this salad: Russian and French. French salad is the vegetarian version of Russian. Ingredients are the same, but French salad is meatless. (Lacto-vegetarians take notice!)
To make this into a fast friendly (think Orthodox fast) you'd make a stripped down version of the same (no eggs, no meat, although fish is allowed), and make sure that mayo or other dressing you're using is fast approved. If making it for Muslim or Jewish friends, use meats other than pork. 
HOW AND WHAT TO SERVE RUSSIAN SALAD WITH
Although it's usually served as a side dish, like ajvar, Russian salad is a perfect spread.
I love taking the biggest spoon I own, grabbing an obscene amount of the salad and smearing it on a pastry. If all I have is bread, I take the end piece and dip it in. End bread piece is usually crunchy and soft at the same time, and more importantly, the biggest piece. (Btw, we call it "okrajak," and everyone wants it.)
Russian salad is also great with breaded chicken, and along any meat that's on the dry side. No meza platter is complete without a little bowl of Russian salad. For a deep winter flavor, eat it with the local bean stew. I even like it in an unusual combo with moussaka. And if you ever wondered if you could eat salad with a salad try Russian with cabbage salad. It's kind of amazing.
Because there are so many flavors involved Russian salad is one of those dishes you can't describe taste-wise. Yet once you try it, you'll always recognize it. In one moment you'll feel the freshness of a pickle on your tongue, and soon after, texture of hard boiled eggs will soften the bite. There is a slight feel of mayo, however like a good butter, you shouldn't be able to taste it separately.
It's an orchestra of ingredients that perfectly merge into a melody.
A SPECIAL PLACE
Recipe for Russian salad holds a special place in my heart; I posted it on BLB early on. I remember laughing to myself after realizing one of the first recipes I put on a website about Balkan cuisine was a Russian dish.
A few years later Aleksandra nugged me to start filming videos. A huge jump from photos to video happened in food blogosphere. Tasty proliferated, as did food blogs with video recipes. This was a medium any serious blogger was a fool to ignore.
I wasn't sure. Adding another thing to a stretched schedule (grad school, work clients, blog work, new continent) seemed crazy. Meanwhile, Aleksandra persisted and insisted. I finally promised to start making videos, but only with her help.  I hoped she'd give up, but not that woman.
After taking an intensive food videography course together it was the Russian salad we filmed first.)
I'll never forget how excited we were taking the course. We got together every day and watched lessons over and over, absorbing everything but hardly understanding anything, at first.
Until that point I only knew photography. Videography is a different beast. From technical settings to setting up the scene, it was divergent territory. While photography tells the story in one perfect frame, videography requires connectivity between scenes to make sense. For the video to do what a photograph does - leave a mark, teach something, be memorable - it takes a lot more planning and a lot more work.
MOST IMPORTANT FOOD VIDEOGRAPHY TIPS FOR BUDDING FILM MAKERS:
1. Learn how to manage your light, and
2. Simplify (props, color scheme, scenes) as much as possible.
When the course ended, we mapped everything we needed and went hunting for additional equipment. This proved challenging as most things had to be ordered from outside the country. And then, when the items finally arrived, we picked them up and went for a celebratory lunch at our favorite restaurant. My personal life was falling apart, but there was optimism in that meal. Promise and pursuit of something new.
Filming that first video took hours and hours of deliberation and planning - angles, lights, design, props… It was nerve wrecking and then came editing… during which I cried. To sum it up, Final Cut Pro X seemed way out of our league.
For instance, those of you who are young won't get this, but as you get older there are periods in life when your brain feels so full of information from experience and life that absorbing even one more morsel will cause it to explode.
Yet, scene by scene, we somehow finished the big monster. Our huge, one-minute accomplishment. Today when I watch the video for Russian salad I at first cringe a little. It's technically quite bad. But, then I smile.
Consequently, this "cringe worthy" Russian salad video didn't do too bad either; between translations, on FB it has 300K + views. In addition, we've made over 200 videos some of which alone have over a million views.
This video is meaningful. It takes me back to the special time we shared. Moreover it reminds me of the work we've put into this virtual place, of the work we're putting in now, and will in the future. And it makes me proud it has inspired so many of you to make Balkan food.
P.S. One complaint we get for Russian salad video is that eggs are boiled together with veggies (salmonella fears). However, there is no way for bacteria to survive in boiling temperatures. Either way, you don't have to cook them together.
Print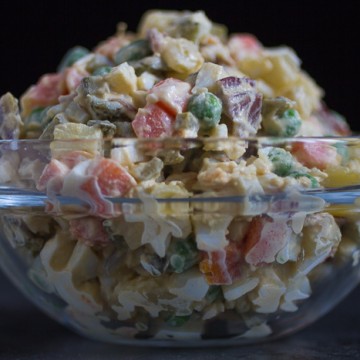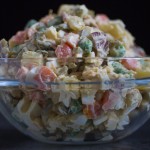 Russian Salad (Salad Olivier)
Author:

Balkan Lunch Box

Prep Time:

20

Cook Time:

30 mins

Total Time:

50 minutes

Yield:

8

1

x

Category:

Appetizer
---
Description
Russian Salad (known to the rest of the world as Salad Olivier and as ruska salata in the Balkans) is a holiday staple in every Balkan home. This shapeshifter easily transforms from an appetizer into a fancy side, or, with a slice of bread, into main course.
---
3

Russet potatoes (medium, peeled, cooked, diced small)

5

-

6

eggs (hard boiled, peeled, diced)

4

carrots (medium, peeled, cooked, diced)

12

-

14

ounces sweet peas (cooked)

12 ounces

ham (or dried/smoked beef, cooked skinless chicken or fish, diced)

4

-

6

pickles (medium, diced small)

4

-

5

ounces mayonnaise
Salt and pepper to taste
---
Instructions
In a large bowl start layering ingredients. As you're adding them mix them until they're thoroughly integrated.
Add mayo in batches, and continue stirring until integrated. Transfer salad into the serving bowl. Cover with saran wrap and leave in the fridge for at least 3-4 hours, preferably overnight.
Notes
Keep covered in the fridge for up to 4 days.
Vegetable alternatives: canned or frozen carrots and peas instead of fresh. If using canned peas and carrots no need to boil them, just wash thoroughly. If using frozen carrots and peas add them to the cooking pan as soon as eggs start to boil.
Most people overdo the mayo. Not you though! Blend in just enough mayo to combine everything, but not enough to swallow the ingredients.
For the Orthodox fast approved Russian salad use fish instead of meat, skip eggs and add fast approved dressing.
You're welcome to cook vegetables in the same pan as eggs, but you don't have to if it makes you nervous.
---
Nutrition
Serving Size:

1 bowl

Calories:

299

Sugar:

7.1g

Sodium:

1244mg

Fat:

13.2g

Saturated Fat:

3.2g

Carbohydrates:

30g

Fiber:

6.3g

Protein:

15.8g

Cholesterol:

152mg
Keywords: Russian Salad, Salad Olivier, ruska salata