Guaranteed to exchange your present tuna and egg salad recipe: fresh, infused with veggies, topped with a classic vinaigrette. Pin now so you remember to make it for lunch.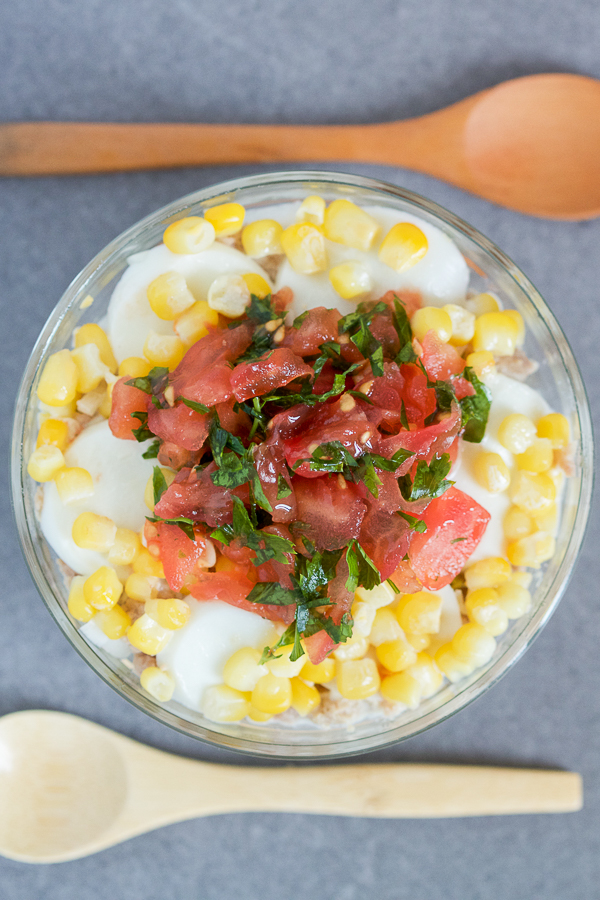 Tuna and egg salad is a light, fish salad you can take to a potluck and impress everyone with its (easy to do) arrangement. Alternatively, it's a great Saturday or Sunday option at home. Flavorful and versatile, it was made for summer.
People keep beautiful cookbooks. My sister for example. She has a sheet protector in which she keeps hundreds of loose pages, each a piece different from another. She's collected them over the years.
There is no organization to it.
She hears of a recipe and writes it down. Sometimes someone writes a recipe for her. She puts all of this in her pile. And puts the pile into the sheet protector. When she takes them out to look for a specific recipe, it's always a happy mess. Like when she looked for this tuna and egg salad. (This tuna salad was greatly inspired by the CroChef). Although she gets frustrated going through a hundred pages - where each one could be the recipe or not at all - she derives satisfaction of flipping through those chapters of her life. Her recipes are also her memories...
There is recipe for a a cake there, written just before she made it for my nephew's first birthday, nephew who is in college now. And chocolate squares which aren't allowed a moment to cool down before being devoured by a horde of hungry us.
My cookbook is this blog. I can't touch it, but I derive pleasure from looking through it, those rare times when I'm not thinking of a new recipe, or planning something just right to share with you. I love reading each of your comments, and suggestions. I like sharing stories with you, and hearing yours.
It's now been more than two years since I started this adventure. And it wouldn't have been possible without you. Thank you for being there. 🙂
(Hungry for more salads? Check out the Russian classic Salad Olivier, as well as Chicken and Veggie Salad.)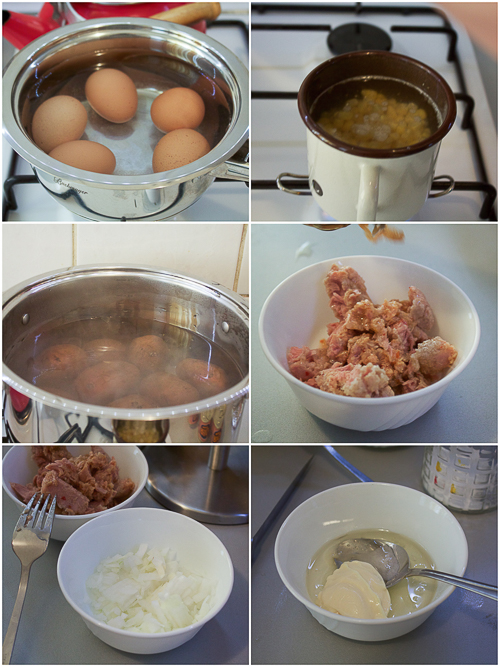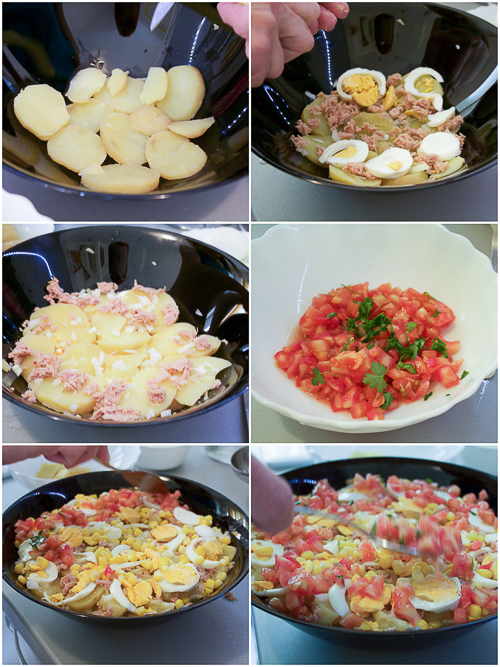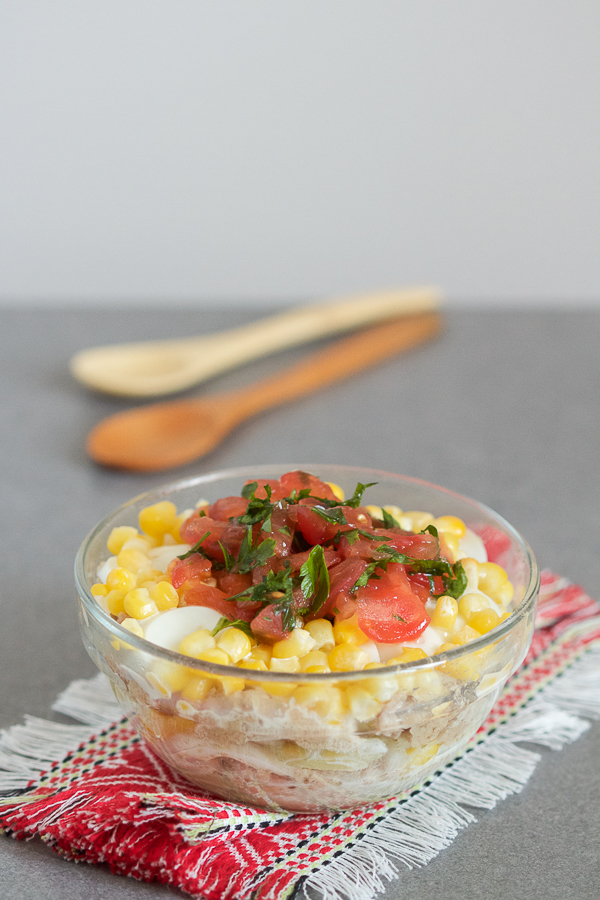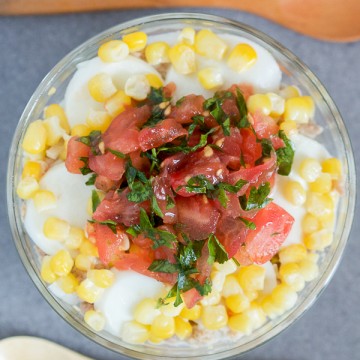 Tuna and Egg Salad
Ingredients
SALAD

5

eggs

10

young potatoes

smaller

1

cup

corn kennels

7

ounces

canned tuna

1

yellow onion

medium

1 to

mato

large

1

tablespoon

parsley

Lettuce

optional
DRESSING:
3.5

tablespoons

oil

1

tablespoon

vinegar

½

lemon

juiced

½

tablespoon

salt

½

teaspoon

sugar

1

tablespoon

mayo
Instructions
In a smaller pot, bring eggs to boil on high, then lower heat and let boil for 15 minutes. Meanwhile, peel potatoes and place in another pot. Bring potatoes to boil on high, lower the temperature and check to see whether they're done. Potatoes are ready when you can stab them with a fork easily but they are not falling apart. Finally, bring corn kennels to a boil in another small pot and remove from heat.

Drain eggs, potatoes and corn. Peel and cut eggs into rounds the thickness of 2-3 pennies stacked together. Cut potatoes into rounds the same way as eggs. Mince onion.

Dice the tomato, mince parsley, combine and leave aside for the top of the salad.

Make the dressing by combining all ingredients and whisking them well.

Take a large bowl and start layering your salad. You should have a total of two to three layers of everything. Start with potato rounds, add tuna, then eggs, corn, and onion. Then top it generously with the dressing. Repeat once or twice, depending on how many ingredients you have left. Top each layer with the dressing.

Once you are finished add the tomatoes and parsley on top.

Keep in the fridge until you are ready to eat it, and eat it the same day.
Notes
If you opt for lettuce, start with it as the first layer. Make sure to chop it up so it doesn't take over the bowl.