Shopska salad is a light, spring salad consisting of veggies with grated cheese on top. Perfect to take to a barbecue.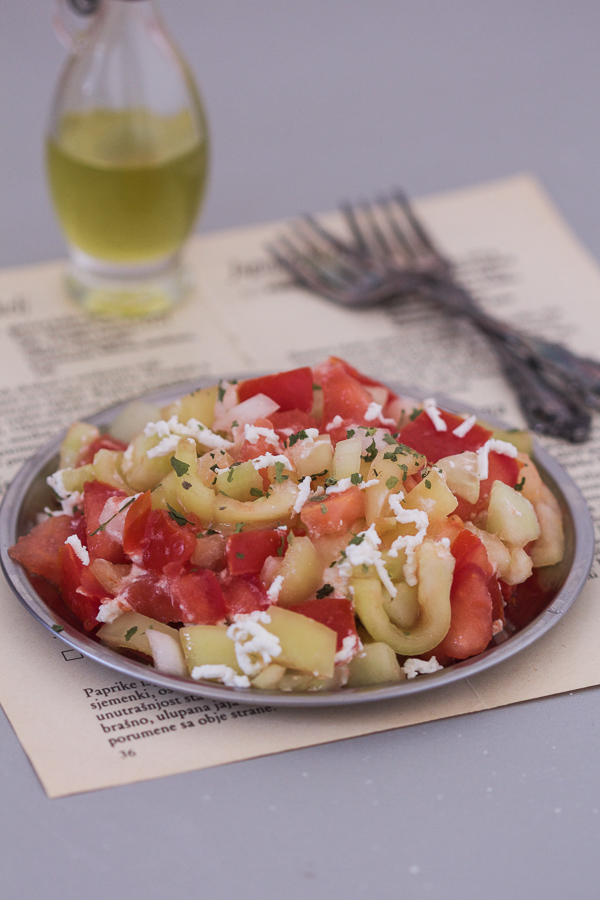 Shopska salad is similar to Greek salad. There is disagreement over who came up with it as it comes from Shopluk region populated by Bulgarians, Macedonians and Serbians.
Shopska salad consists of tomatoes, cucumbers, yellow onions, light green or yellow bell peppers all diced into cubes, combined with a olive oil and vinegar vinaigrette, and finally topped with grated cheese (feta or goat cheese). As the bell peppers in the region are spicier than most, there is generally a 3:1 oil to vinegar consistency, with some people omitting vinegar completely.
What I love about shopska salad is how easy it is to make. If you've been following this blog, you're familiar with my inability to make salads. Pies come naturally to me.  Stews and salads with practice.
I'm frank because it may inspire you to make something on your own. We've separated from our food. Cooking can be complicated. But little things are so easy. Little by little you'll grasp more, and before long you'll eat better, feel better, and have a little more energy. These benefits will multiply through time.
Ramit Sethi keeps pounding this: it's better you do something less frequently but consistently, then do something all the time for a short time and then stop. (He's a funny person to bring up on a food blog as he hates cooking, and he has a chef. Ultimately, it's all about your food being fresh, healthy and tasty.  But if you can't afford someone to make food for you, or feel it's a waste of money, then the best way to do start eating better is to make it yourself. Which reminds me of how lucky I am to have had the influence of my mom's and sister's cooking expertise for free. And how we in the Balkans don't appreciate our moms, sisters, grandmothers, and here and there an uncle with mad cooking skills enough.)
But Ramit truism can applied to salads easily. It's better to make one salad a week for a year, than to eat salads for two months in a row and then stop completely.
If you're gonna do that, shopska salad is the way to go. Shopska goes well with barbecued meats, and a little bit of rakija. Before adding cheese to the salad it's helpful to keep cheese in the freezer for 15-20 minutes before grating. This will assure it doesn't melt while you're grating it. I prefer goat cheese on shopska because it's mild. Feta can go either way, it can be just right, or downright sour.
Print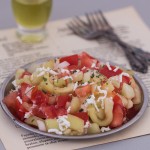 Shopska Salad (Šopska Salata)
Author:

Prep Time:

20 mins

Total Time:

20 mins

Yield:

4

1

x
---
Scale
Ingredients
2

tomatoes (large)

2

cucumbers (large)

1

yellow onion

2

yellow bell peppers

8 ounce

s cheese (feta or goat)

6 teaspoon

s olive oil

2 teaspoon

s vinegar

2 tablespoon

s parsley
Salt and pepper to taste
---
Instructions
Wash vegetables and peel the cucumbers. Dice all vegetables into small cubes, transfer to a bowl and mix. Combine olive oil and vinegar and add to the salad. Add salt, pepper and parsley and stir everything thoroughly. Top with grated cheese.
---