Do you ever wonder how to make homemade filo (phyllo) for Balkan mixed burek (meat and potato) pie? Wonder no longer as we're delving into jufka (a fancy name for the homemade filo dough), stretched into thinnest of sheets intended for making stuffed pastries (such as this meat and potato pie called mixed burek).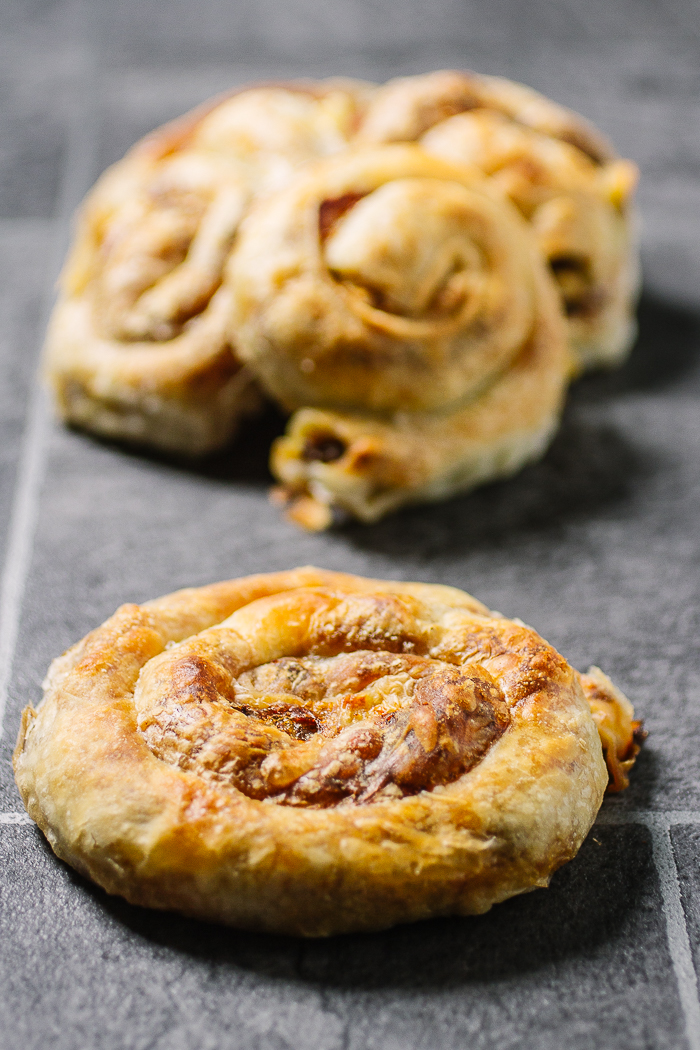 First of all, don't run away!
Secondly, if this is your first time making phyllo for pies, read my earlier how to make jufka article. It has good instructions and a bunch of helpful tips.
You don't have to, of course. But reading both will make it easier to make homemade filo and today's burek, or mixed pie with meat and potatoes.
But what if you came here for the short - albeit homemade - filo instructions?
What do you need to make homemade filo?
In that case, you'll need four things:
some sufficient working space;
a tablecloth to protect your sufficient working space;
a very thin rolling pin (if possible);
an unopened bag of flour.
(Bonus ingredient? A little bit of patience. Or a lot.)
Thirdly - jufka, kore, filo and phyllo- all mean the same thing: dough stretched out until it's thin.
Think baking paper thin. (Or between baking paper and cigarette paper thin.) Or when you blow a bubble gum balloon thin.
Scrumptious, flaky and stuffed Balkan pies (balkanske pite) are the definition of comfort food. As comforting as a good rack of BBQ ribs for some, or a thick tomato soup plus a grilled cheese for others.
There are many different types of pies. This one is called šareni burek, which translates to "colorful meat pie." To simplify the name I named it mixed burek.
(It's fun having a blog with cuisine most people aren't familiar with. I get to rename dishes in English for the first time!)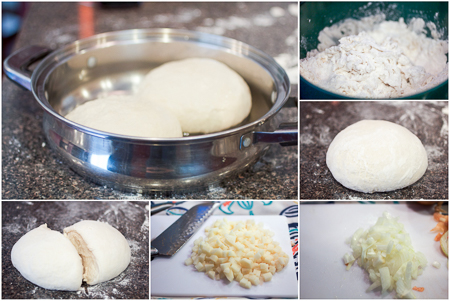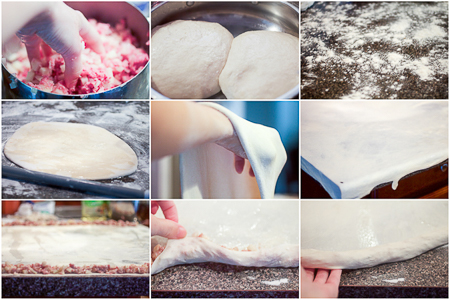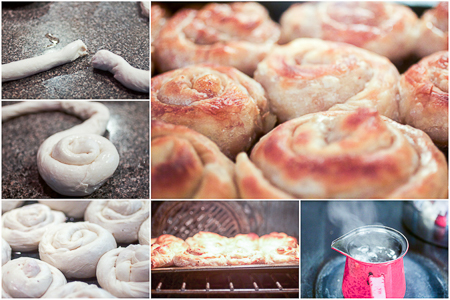 That problematic mixed burek pie!
If you've read the article mentioned above, you're now aware of the Balkan "burek" wars. Burek is a contentious word across the region.
Recap:
"Burek" comes from the Turkish word "börek." (After all, burek is an Ottoman dish.) "Börek" is the catchall name for most pies. All baked filo pastries with a filling are considered "börek" in Turkey. And the rest of Balkans.
Except in Bosnia.
In BiH, the only pie considered to be burek is the meat filled pie.
(Except one other pie, today's šareni (mixed) burek. It's the potatoes that make it "colorful." Otherwise, burek is the pie with meat.)
Burek equals meat pie. Always.
Also, in BiH every other pie has a name based on its filling. Cheese pie would not be "burek with cheese" in Bosnia. Instead it's "sirnica" as "sir" means "cheese." Meanwhile, "krompiruša" is the potato pie, as "krompir," you guessed it, translates to "potato."
Even if it's etymologically faulty, being from Sarajevo I'm on the side of burek being the meat pie only.
But I don't care what you call it. I just want you to make it!
(Naturally, if you visit my home and ask for burek with cheese I will end our friendship. Outside my home though, call every pie burek if you want.)
What burek means to the Balkans
Even if it is derived from the Ottomans, our beloved burek has long ago taken on the simplicity and straight forwardness that is the Balkan cuisine. Burek has become as Balkan as the Balkans itself.
Even Turks that visit the Balkans agree pies here have far surpassed all other filo pies.
People from the former Yugoslavia know they've arrived home when upon opening the door they're hit with the aroma of pie just taken out of the oven. The moment of recognition, starting from the first time this occurs, contains in itself an entire childhood. One immediately retreats into the safety of memories, bringing back Saturdays. Bringing back memories of mom making homemade filo pies.
The kitchen takes on a large symbolism in the familiarity of those lulled memories. There, shiny balls of dough sit on the kitchen towels waiting to be spread out.

Making Burek in America
When we moved to the US - a place where no one understood why we came, a place where also no one knew where Bosnia was; it sounded like a weird Boston in Africa), the food mom made was a type of a green card for us. Proof we indeed were good people, did things the right way, and had a history somewhere in the old world.
If it tasted good, this history was welcome to stay. By proxy, we were too.
I was a teenager then, with so many things to be embarrassed of. First the regular teenage stuff. Then the additional layers of embarrassment, amplified. Being a refugee. The accent. The world of difference in tongue placement to pronounce "d" and to pronounce "th."
And also the accent on all things making me unalike regular kids. I never felt more revealed than during that time.
Yet, I was relieved to learn American born Americans (while raised with too much optimism to have the capacity to understand our despondent refugee stories), had an affinity for foreign food. During those years, hoards of people passed through our home. All were served a little bit of this and a little bit of that.
Some liked the soup. Some salad.
But it was burek and pies they came back for. Spinach pie. Potato pie. Mixed meat pie.
There was only one occasion not even pie was able to fix.
Middle school. Lunch. I sat by a girl so hungry she spat in her fries immediately upon getting them so other kids wouldn't steal them off her tray.
It was mid 1990s. Twenty minutes away from Washington DC. And there existed kids who spat on their fries so they could eat all of them.
There were hungry people everywhere, I learned. For some school lunch was the only thing they'd eat that day.
Once, I took out a round of pie like the ones we're making. As I was getting ready to eat it, the spitting girl asked me what it was. "Flaky pastry with a stuffing," I explained.
She looked at me with a look of disgust reserved only for lowest of the low. Embarrassment engulfed me. I didn't bring pita to school again for years. And I despised the spitting girl with bottomless passion.
The thought of her pricks me even now.
If I saw her again, I'd feed her some of my pie. Force feed her if necessary.
And she would love it. Just like you will.
More Recipes to Love: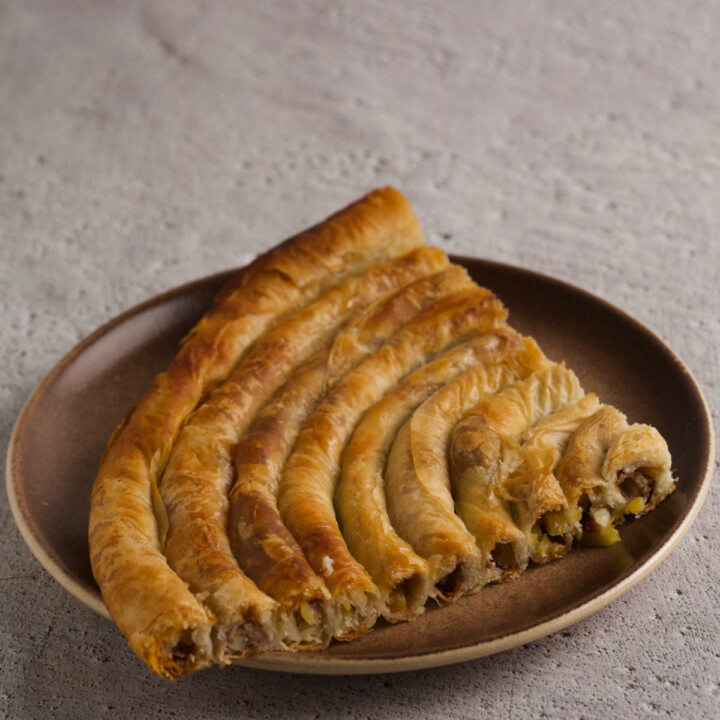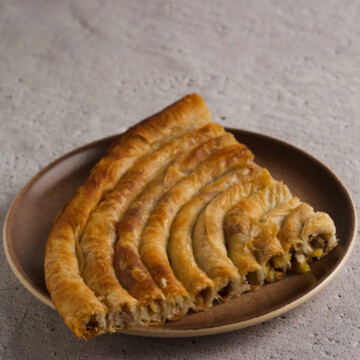 Burek
Detailed recipe for burek, delicious Balkan phyllo dough pie with a filling. (Specifically, this is the typical Bosnian burek stuffed with meat and potatoes.) You can use this phyllo dough recipe for any type of burek (pie or pita).
Equipment
Working space

(A table, island, or a space that's at least 3x3 feet (1m x 1m), with room to walk around it.)

100% Cotton tablecloth

(Larger than your working space, to protect it, used only for dough making.)

Rolling Pin

(Long and thin if you plan to use it exclusively, or regular baking pin if you want to use your hands more.)

Saran wrap

(Plastic or cling wrap.)

3-4 Kitchen towels

(Clean and fresh.)

2 Round pans sized approximately 10-inches and 15-inches in diameter (or 27cm and 38cm).

(Rectangular pans are fine too. Play around with sizes.)

An apron

Baking pans

(Preferably a round one that's about ... in dimaeter, and a couple of rectangular ones.
Ingredients
Dough (Jufka):
21-22

ounces

all-purpose flour, plus more for dusting

regular white flour works best, use a brand new bag

1-2

teaspoons

salt

3

tablespoons

sunflower or vegetable oil

or coconut oil (fluid), or butter (melted)

12.5-13.5

ounces

warm water
Filling (stuffing):
18

ounces

ground beef

or finely diced beef

20-22

ounces

Russet or yellow potatoes

peeled, diced or grated (juice squeezed), weighed after dicing

1

yellow onion

medium, grated or minced

1

tablespoon

salt

1

teaspoon

pepper

1

tablespoon

vegetable or sunflower oil

or coconut oil (fluid)

1-2

ounces

warm water
Topping:
2

tablespoons

butter or oil

for the topping

butter or oil
Instructions
Kneading phyllo dough
In a large mixing bowl combine flour, salt, and oil. Start working the flour into dough by adding a little bit of water at a time, and kneading the ingredients. Keep adding water slowly while you fold, press, knead, push and punch the mixture (just as if you were making bread or pizza) for about 2-3 minutes.  It's best if the dough is a little wetter to the touch (stickier), at first. Once you form a cohesive, messy, wetter, dough ball with your ingredients, wash and dry your hands.

Now continue to knead the dough ball vigorously, with all your strength, for an additional 8-10 minutes. (Time it if you must!) You can knead it in the bowl, or on a working space dusted with flour. As you work it, the dough will firm up but stay smoother overall. If it's too sticky, dust small amounts of flour back in as you knead, until you reach the right consistency.

The ease of the remaining process depends on how well you do this first part. Well kneaded dough ball will be smooth, elastic, and have the consistency of an earlobe. 
Resting the dough the first time
Once you achieve the right consistency, dab the dough ball with oil generously, on all sides. Cover in saran wrap, and then with a kitchen towel. Leave it to rest for at least 60 minutes in a relatively warm space, longer if you can.
Stuffing preparation
In a large bowl, combine the filling ingredients. Mix well with your hand until integrated, and set aside. 

Divide the stuffing into 3 parts, one for each dough ball (the big dough ball gets divided in the next step). You can leave it in the same bowl, or in separate ones.
Dividing & resting the dough again
Uncover and transfer the dough ball onto your working space. Cut it into three equal parts. (You can weigh them if you wish.) Lightly dust them with flour and knead each part for 2-3 minutes. Shape each part into a smaller dough ball, and place it on a tray.

Dab the balls with oil generously. Again, cover each first with saran wrap, then with a kitchen towel. Finally, leave them to rest for at least 15 minutes, longer if you can.
Rolling out and resting the dough the third time
Uncover the first dough ball. Transfer it to the working space lightly dusted with flour. Punch it gently to flatten it a bit. Then take the rolling pin and roll it out until it's about 10-12 inches (25 cm) in diameter. Repeat this with the other two balls.

You can leave the flattened dough balls on the working space or place each on a separate tray. Dab each with oil on both sides. Once more, cover with saran wrap and then a kitchen towel. Let them rest for the final 15 minutes in a warm space, longer if you can.
Choosing a stretching method
This is the time to choose whether you'll stretch the dough with the long rolling pin (as demonstrated in the video below), or the short rolling pin and your hands (as demonstrated in photographs in the article). If stretching with the rolling pin, you'll need the super thin, long rod type of rolling pin called oklagija. A regular short, fat, rolling pin will not work for this method.
Method 1 - stretching the dough with hands
Dust your working space generously. Gently lift the first flattened dough ball. Let it hang for a few seconds so that it weighs itself down and stretches a little bit. Do this for all sides by moving the dough with your fingers like a steering wheel. Now transfer it to your working space and dab it with 1-2 tablespoons of oil (or butter).

Take a hold of the dough on the left and right edges. Spread your arms gently, stretching the dough further in the process. Then do the same on the top and bottom sides. You'll now have a big circular dough shape that's thinner on the inside and a little thicker on the outside edges. You can lightly lift it, and wave the dough in a motion similar to draping the tablecloth over the table to stretch it further. Now continue to stretch it with your hands.

Move your hands (knuckle side up) under the dough gently, and continue stretching it by pulling it toward yourself. Pull in slow movements, and walk around the table (and the dough), pulling it on all sides a little bit at a time. Stretch the dough little by little, by walking in circles several times. It should be equally thin everywhere by the time you're done. The middle of the phyllo and the sides should be equally stretched.

Continue this all around until the dough is of the thinness of cigarette paper. Additionally, if at some additional point(s) during stretching you feel the dough needs more oil, dab it in again, 2-3 tablespoons at a time.

Try to avoid rips and holes as much as you can. If they do happen, work around them, or try to patch them by lightly pinching them together. (If the dough keeps ripping in a big way, read the article. You may have to start over!)

Finally, as you're spreading the dough, shape it into a large rectangle or a circle.
Method 2 - stretching the dough with the oklagija rolling pin
Transfer one flattened dough ball onto the working space and roll it out with oklagija until it's (approximately) the thickness of a couple of stacked pennies, and the size of a huge pizza. Lightly dab with 2-3 teaspoons of oil (or melted butter), and drape over the middle of the rolling pin. To do this, dust the rolling pin with flour and position it in the middle of your dough (as if you were measuring its diameter). Then drape one side of the dough over the rolling pin, and lift everything up. The dough should hang equally on both sides.

Let the dough weigh itself down on the rolling pin for several seconds. Now turn the dough around 45 degrees and let it weigh itself down on this side as well. Then, slowly and carefully start stretching the dough even further with the tops of your hands (knuckles), as far as it will go. Work ends and the middle equally, and move towards where the phyllo is thicker, so you can thin it out.

Try to avoid rips and holes as much as you can. If they do happen, work around them, or try to patch them by lightly pinching them together. (If the dough keeps ripping in a big way, read the article. You may have to start over!)

Gently transfer the dough to your working area and continue stretching it out as much as it'll go. The dough should now be coming close to the thinness of cigarette paper and the size of a super large circle (or an ellipse). If at some point(s) during stretching the dough needs more oil (or butter), dab it in again, 2-3 tablespoons at a time. (The dough needs to be well-oiled, but not "swimming" in oil at all times.) Finally, shape the dough into either an approximation of a rectangle or a circle (look at the stuffing methods).
Handling dough edges (ends)
As the dough edges are thicker than the rest of the dough you'll have to take care of this. One way to get rid of the ends is cutting them off with a knife. Only cut about 1 inch or 2 cm all around the dough. (Discard the ends, or combine them with the next dough ball.)

Another option is to stretch the ends. Lift the ends as you walk around the dough, and stretch them carefully, with your fingers.
Choosing a stuffing method
While there are many ways to stuff a burek, the most commonly used ones are what we call the rectangle, and the circle. (This is our wording.) The rectangle involves filling up two sides across from each other, and then lifting the tablecloth to let the dough with the filling roll inside. It is easier, but the burek is thicker, and slightly less tasty this way.

The circle method involves stuffing dough ends all around, and rolling the filling inside as you, again, walk around the dough in a circle. The phyllo ends up being even thinner and tastier. It takes a little more effort, but it's worth it.
Method 1 - stuffing burek phyllo dough the easier way (the rectangle)
If necessary, dab the dough with 2-3 tablespoons of oil.

Get the filling and set it nearby. Grab batches of this filling with your hands and line the edge of one long side of the rectangle with the filling. Stuff it evenly. (The filling should be the thickness of about 3-4 fingers.) You should use ½ of the filling for this side. Use the remaining filling to line the opposite side of the rectangle. (Only two sides will be filled). Now, starting at the end of any of these two rectangle sides lift the end of the dough and cover the filling completely.

At this point, slightly lift the tablecloth, and the dough will roll with the stuffing inside. (Give it a little assistance with your hands, if needed.) Once it reaches the middle of the dough, go to the other side and repeat. When the two rolls of dough with the stuffing inside meet each other in the middle, cut them apart and shape them into a burek shape of your choice.
Method 2 - stuffing burek phyllo dough the tastier way (the circle)
Get the filling and set it nearby. Now grab batches of this filling with your hands and walk around the dough lining the dough ends with the filling. Stuff it evenly. (The filling should be the thickness of about 2-3 fingers.) Starting at any point, lift the end of the dough and cover the filling completely. Do this for the entire dough circle, covering all the filling.

If needed, dab the phyllo dough with oil again (1-2 tablespoons), and start rolling the filling and the dough together. Essentially, you're rolling the dough with the filling toward the middle of the circle for a few inches and then pulling it back toward yourself carefully. (For best results use the same method as before, pulling with the tops of your hands.) Do this at the same pace all around the circle, so that all areas are equally stuffed and rolled. (What you don't want is to roll one side completely, and the other one not having enough dough so the filling is exposed.)

After a few rounds of rolling the entire dough, it will tear in the middle, or it will have several rips and tears. Keep on rolling the dough until most of the middle is torn. (Alternatively, you can cut it with a knife.) When you decide that all the circle's ends have had about the same amount of dough you can cut the remaining middle dough part out. (You can stuff this part, discard it, or roll it in on a thinner end of your burek.) You should now be left with a large hula hoop-shaped dough stuffed with filling.
Shaping burek phyllo dough (spiral, rounds, or columns)
Rounds: a burek round or a "zvrk" is just a mini spiral. Instead of one big pie, you'll cut several small pies one by one. Columns: usually done in a rectangular pan, all you're doing is making parallel lines with your burek until you fill the pan up. Layering: this type of burek shaping is most often used with store bought filo. It involves layering sheets of phyllo with the stuffing in between.

Preheat oven to 450°F (220°C).

Shapes most often used for burek are a big spiral, small spirals or rounds, and columns. You can also do a combo.

Spiral: generously grease a round baking pan. Starting in the middle, circle the burek around itself until you fill the pan up. (If you have more burek left over, make small rounds and bake them in a different pan.) Dab it with oil on top, then bake.

Rounds: instead of making one large spiral, make a small one (we call these "zvrk" or rounds), and cut it. Proceed to make rounds until you use up all the stuffed dough. Transfer to a generously greased pan and dab the burek with oil on top evenly.

Columns: generously grease a rectangular pan, and using the stuffed dough, line the pan up and down, as if you're drawing parallel lines out of one big line. Dab the burek with oil on top evenly.
Repeat the previous steps for the remaining 2 dough balls
Baking burek
If wanting to play it safe, lower the temperature to 400°F (200°C) and bake the burek for 30-40 minutes. (Turn the pan 180° about halfway through baking.) If it starts to blush too much on top, cover the burek with baking paper for the remainder of the baking.

If you prefer a burek that's more "blushed," continue baking at 450°F (220°C) for 10-15 minutes, then lower the temperature to 400°F (200°C) for the remainder of the baking. (You can turn the pan about 180° at this point.) If it starts to blush too much, cover the burek with baking paper for the remainder of the baking.

As each oven is different, always rely on your experience. If it's blushing too much, cover the burek with parchment paper and lower the temp. If it's not baking fast enough, up the temperature.
Adding the topping
A few minutes before the burek is done baking, boil about 2 cups of water with 3-5 tablespoons of butter. Once the burek is finished, sprinkle it very generously with the water and butter mixture. Then, cover it with a kitchen cloth, and leave it to rest for about 20 minutes.
Serving, storing, reheating, freezing
See notes for detailed information.
Notes
Redo nutrition information and how much volume is needed for what...
Redo freezing.
Recipe Notes:

If you want an easier, quicker recipe for burek, take a look at our burek with store-bought phyllo recipe. This recipe is for those individuals who want to learn the old-school way of preparing burek. 
If this is your first time making burek, or you're a beginner, you'll benefit from reading the accompanying article.

 Don't be discouraged if your first burek doesn't come out well. This is not a beginner's technique.
If you plan to make burek more than once, take notes. Every oven is different, every rolling pin is different, and every palate is different. Once you have the basics down, everything else becomes a testing ground for your individuality. Burek is as yours as you make it!
The video demonstrates making burek with the method of going in a circle and making small rounds of burek. Ingredient volumes were different as well. (More in the article.)
Burek Volume Information:
With this volume you'll get about two round pans worth of burek (15-inch and 10-inch in diameter). You can play around with shapes of burek and sizes of your pans. If you make small rounds you'll get about 10-15 with this amount of ingredients.  
This is a rough estimate! It will depend on how much you eat. We calculated it based on 4 very generous servings.  
Butter: can be used instead of, or mixed with, oil. The taste will be heavier, but some prefer it.

 
Other fillings: although only meat pie is considered burek in Bosnia, in other Balkan regions all pies are called burek. The preparation process is exactly the same, but the fillings can be made with other ingredients (cheese, spinach and cheese, pumpkin, etc.). You can use this burek phyllo dough recipe with any of these fillings.
Meat: Bosnian burek is made with either ground beef (preferably ground twice), or a lean cut of beef (think shoulder steak, rump roast, tri-tip roast, sirloin, even veal, etc). If you can choose, go for the second option, and finely dice (really important!). Substitute with ground pork (not diced pork!), if you eat it. 
Seasonings: salt and pepper to taste are the best options. Substitute with one crushed bouillon cube or 1 tablespoon of Vegeta.

 
Tops of fingers or hands? 
When it comes to stretching the dough, once you get some experience you'll naturally decide if it's easier for you to do one or the other. The point is to stretch the dough with minimal breakage. How you do this is up to you.
Tear-Free Phyllo Dough Tips: 
Use a brand new bag of flour each time;
Let the dough rest in between steps;
Knead for at least 10 minutes;
Add water slowly as you knead/ make dough 'wetter;'
Stretch with the top of your hands; and
Free hands of jewelry, watches, long nails, etc.
More tips in the article!
Pinch smaller holes and tears together, or add a little bit of flour over them. (Eventually, the dough will have to be cut, or will rip on its own anyway.)

 
If large tears happen salvage what you can, and throw away the rest of the phyllo dough. Then read the article for tips for the next time.

 
Serving/ Storing/ Reheating/ Freezing:
Serving: it goes great with salad and/or soup, and plain yogurt.

 
Storing: if planning to eat burek within 24 hours, it can stay in the (turned off!) oven overnight, but just that first night. Cover it with saran wrap or a kitchen cloth.
Reheating: for the best, crunchy, fresh taste, reheat in the regular oven for a few minutes at 300°F/ 150°C. If you prefer the softer, chewier texture, heat it in the microwave.
Freezing and unfreezing directions are in the article. 
Nutrition
Sodium:
391
mg
Sugar:
1.1
g
Fiber:
9
g
Cholesterol:
44
mg
Calories:
387
kcal
Saturated Fat:
2.6
g
Fat:
10.3
g
Protein:
20.5
g
Carbohydrates:
51.5
g