Meringue cake is the perfect marriage between (Pavlova-like) crunchy-but-soft egg white based cake and smooth filling made with whipped cream, butter, egg yolks and hazelnut. If you learn to make one cake in your entire life, make it this one!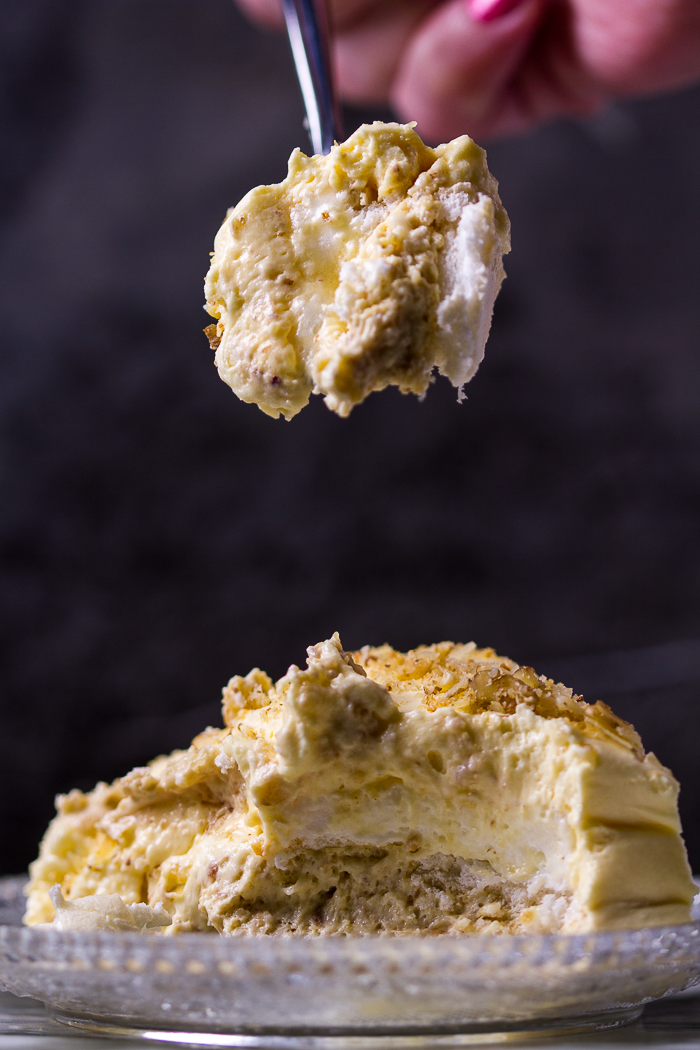 I mentioned this already.
Back in the day worth of a dessert was measured by the cost of its ingredients. Number of eggs. Grams of walnuts. Sugar.
Expensive was the cake with lots of eggs - so it had to stand the test of time. Prove itself. This unwritten rule is why certain sweets were made only on special occasions.
In many households this is still the case. Eggs are more available of course, but walnuts hold their ground.
If I had a garden I'd say fuck you to leafy greens and plant a walnut. My cooking philosophy is similar.
It took me a long time to prepare food well. So I don't care about making avocado ice cream. Robert Greene's advice to writers is to write classics or to write entertaining books. There is no third option. Apply this rule to anything and you'll succeed.
This is why on Balkan Lunch Box the focus is - almost always - on classics. It's how you learn to make good food.
Same with baking. Get a few oldies under your belt. That's the whole trick.
Making food is a compound interest endeavor. Everything you make gets stored somewhere. Morsels of knowledge pop up at the most opportune time.
So if you're investing the time learn the most important thing.

THE ONLY TWO CAKES YOU NEED TO KNOW HOW TO MAKE: CHOCOLATE WALNUT CAKE AND MERINGUE CAKE
I am no Martha, but for a food blogger I bake decently. I slay two classic cakes.
Here's the thing tho. I learned everything by first making good dough for bread.
(Which, when conquered, will help you make strudel, pizza and phyllo for pies, pastries and crescents. You can then move to intricacies like sweet and savory dumplings.)
This shouldn't even make sense as these two cakes are not exactly flour based.
The first cake I'm talking about is the chocolate and walnut cake. It's the walnut cake my mom makes for everyone's birthday. The recipe is several generations old. Mom learned it from grandma. Grandma watched great-grandma do it.
This cake is a traditional dessert. Three layers of - mainly eggs, sugar, chocolate and flour - cake plus three layers of frosting and filling - of the same material as cake plus lots of butter - for the grand finale.
It's the prototypical regional chocolate walnut cake recipe. I know this because when we shared it in Balkan food groups on FB almost everyone who commented said the same thing: it was the cake their grandmother made.
You're almost obligated to love it.
My (very close) second cake is today's meringue cream cake. This meringue cream cake is sort of like Pavlova…
…if Pavlova had babies with a billionaire.
Salivating yet?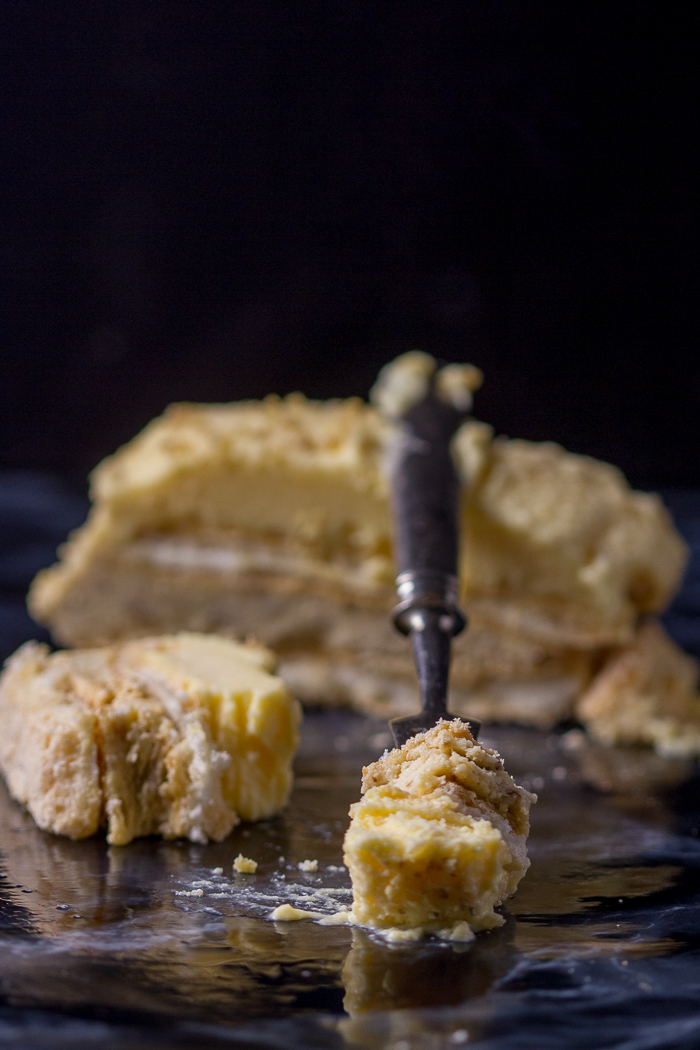 MERINGUE CAKE… MERINGUE DESSERT…
Meringue is what we call an egg-white based dessert. It's what you get when you whisk the hell out of egg whites (along a pinch of salt and lots of sugar) and dry them in the oven. At low temperatures, over long period of time.
(Not all meringue is made this way. Italian meringue way, for example, asks that simple syrup be added to egg whites.)
Crunchy and chewy. Soft and hard. Dessert and a dessert base. Meringue is fundamentals of desserts.
Making a meringue dessert means creating mini snow mountains. As you whisk, the egg whites will transform from liquid into foam. As you continue, they'll stiffen.
There are two levels of stiff: soft and hard peaks.
Soft peaks (called so due to resembling soft mountain peaks) are achieved as egg whites first turn from liquid to solid. This is the moment to add sugar. In How to Cook Everything Mark Bittman explains that sugar helps eggs retain moisture while cooking so "it's less likely to fall and leak water."
(Confectioner's sugar is recommended. But we use the regular, granulated kind for this meringue cake with no problems.)
Hard peaks happen after a few more minutes of whisking. (A mixer will prevent you from injuring your hand.) Sugar dissolves. Peaks become stiffer. The substance becomes translucent and glazed.
Bittman says you'll recognize hard peaks "when you remove your whisk, it [the mixture] will not fall over." Another way to test for meringue hard peaks is to take the mixer out and flip the mixing bowl upside down. Everything should stay in the bowl.
Now on to Pavlova.
You've probably heard the name. Pavlova is the best known type of meringue dessert. (A delicate, delicious one!) Few layers of meringue are filled with cream. Then topped with fruit for dramatic effect.
Named after Anna Pavlova, this meringue evokes silhouette of a ballerina dress as it moves through space.
Today's meringue cake is better than Pavlova.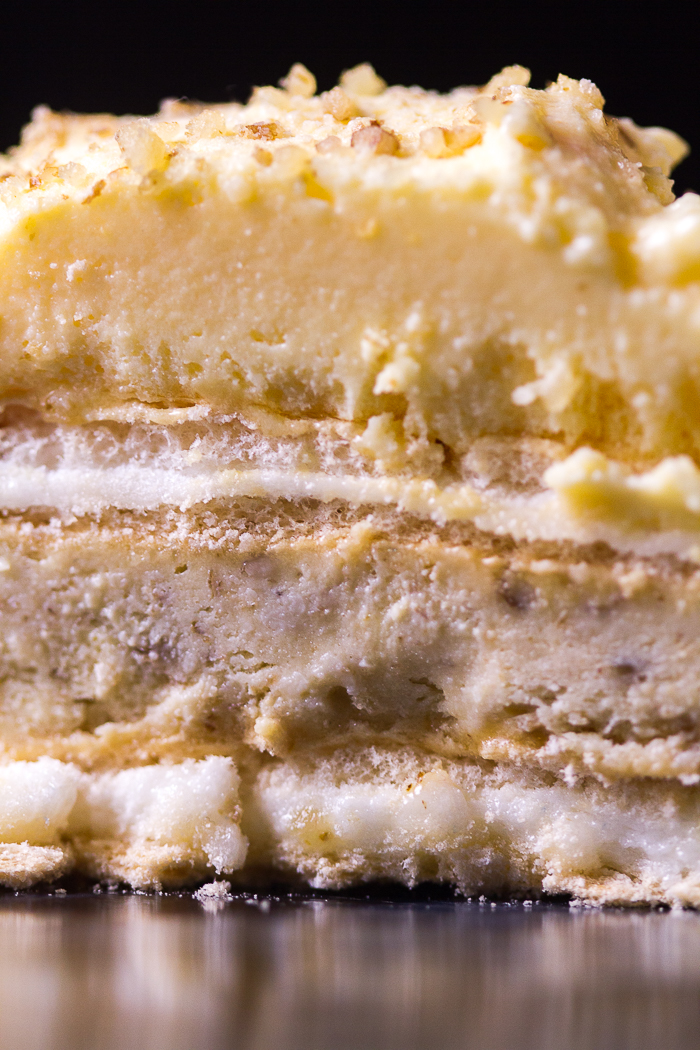 WHAT MAKES THIS MERINGUE CAKE BETTER?
Do me a favor before reading the rest of this article. Scroll down to watch the video! It's worth a thousand pictures.
This meringue recipe is different than what you're used to. But you'll get used to it fast.
(Sidebar: do you ever wonder what happens to egg yolks left over after meringue is made? If you do, then today's meringue cake will pacify the OCD demons.)
When the whisked-into-submission egg whites are drying in the oven, we turn to the egg yolks. (Well, just ahead of that we whip some whipped cream and leave it to cool.)
Egg yolks are mixed (with sugar) over a water bath. When they reach the desired consistency, flour and milk are added in.
After processing the yolks, we remove them from heat and add butter in. Later, we combine them with whipped cream. Half of it is further enriched by ground walnuts. (What else! Wait, hazelnuts work too.) The other half is the frosting.
Then these reconfigured egg yolks and egg whites make love.
The result is a meringue cake intertwined with layers of soft filling for the softest, melt-in-your-mouth, taste you've experienced.
It's easy to get used to better.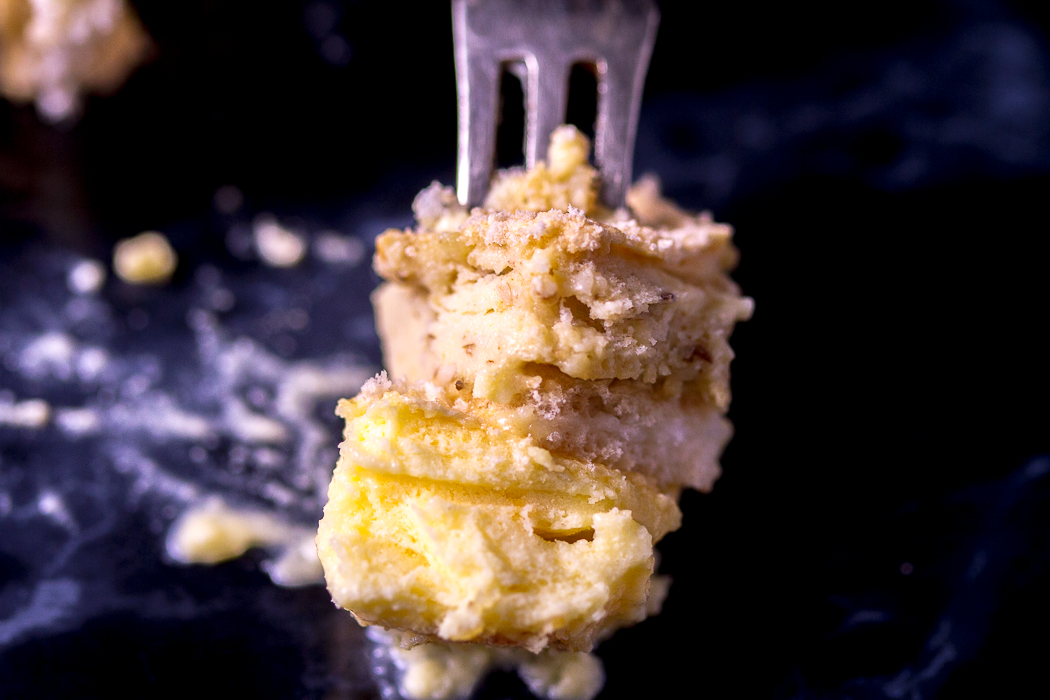 HOW TO NAIL MERINGUE EVERY TIME
Three things work for me.
The most important skill in nailing meringue each time is patience. Enthusiasm is great. Experience is better. (You might fail even after at first making perfect meringue several times. Patience will get you through the failure.)
How is the weather today? Hot? Or worse, humid? Don't bother! Air-conditioning doesn't help. Wait for a cooler day.
Like baklava meringue is dried, not baked. This means low temperatures. This means a long time.

(Don't overdo it either. I've heard of famous chefs drying meringue overnight at 60°C. You don't have time for that shit. One to two hours at 130°C-150°C will do just fine.)
Questionable advice I've read includes keeping the utensils and mixers clean. Is it a common occurrence to prepare food with dirty utensils? (Message to the one person in the world that doesn't clean their equipment before baking/ cooking/ handing food: you're disgusting. Stop it!)
Another advice I don't always agree with is to add sugar incrementally in between mixing. For this meringue cream cake I add it in just one somewhat slow swoop between soft and hard stiff phases and have never had a problem.
Meringue has became this worshipped and feared dessert du jour. (The way cupcakes, froyo and macaroons used to be.) But there is room neither for devotion nor terror here.
Meringue is a good dessert. Nothing more nothing less. You don't need special powers. You can make great meringue just as you are in this moment.
Trust me.
THIS MERINGUE CAKE IS REALLY MAJDA'S CAKE
I never met Majda in person. I heard about her from my sister.
Aleksandra is in the event planning, she knows every cake maker in town.
Of those, Majda's cakes were the best. When offered a choice, people chose Majda's.
I too was a lucky recipient of Majda's cakes. I really liked this one pudding cake of hers. A really simple cake. The kind you whip up with Petite Beurre cookies and chocolate pudding. It had a soft consistency. It was a cake to eat while you're reading a good book.
(Another great thing about Majda was that she shared her recipes freely. I asked Aleksandra to ask for the recipe several years ago. Majda emailed me right away. I won't lie, I never got around to making it.)
But the best cake Majda made is called 'Spanish Wind.' (I renamed it for the English text only. 'Wind' does not have the same colloquialism in Bosnian/ Serbian/ Croatian.) Everyone loves this cake.
A few years ago Majda got cancer. Fast one.
She stopped making cakes. She stopped taking calls. She disappeared in a manner of many cancered. Quickly. Violently.
I remember her husband's FB post that day, a link to a song by a local band named aptly "I don't feel like parting from you." I understood him. Few months before this I experienced the same.
Like those that go, she left behind a lot. A young son. Loving husband. Family and friends. They sit around their dinner table, and she's there. She never left. In thoughts. In photos. In stories. In memories.
What they don't expect is that she's walked through many of our conversations too. Each time one of us ate a good dessert the discussion easily turned to Majda.
And each time it was a short conversation. "No one will make cake the way Majda made cake," was how it started and ended.
Not that we didn't try to find the recipe for her cake. It's a well-known regional cake. Something about hers though.
It was like a mature woman who knows her worth. She needs no extra trinkets. Rich, but you wouldn't know it unless you sink your teeth in. She's sensual and soft. But to grasp that you have to feel her smoothness in your mouth. She's a minimalist. But her entire substance is pure gold.
Even as the years put a clear division between Majda and us, our neurons were forever stamped by a memory of her hands' work.
A few months ago, Aleksandra, mom and I were again reminiscing about cakes. Inevitably Majda came up. There would never be another cake like hers. There would never be another Majda.
I suddenly remember the email she sent me years ago, the one with the recipe for the pudding cake. It was a consolation prize, I knew, but comforting that at least we could make something of hers.
I pulled it up and started to read. The more I read, the more excited Aleksandra and mom got. I didn't have as much experience in cakes. But even I noticed there was no mention of Petit Beurre nor the pudding.
Majda confused the recipes and sent me the wrong one. Her confusion left behind a fortune. In my inbox was the recipe for the cake!
The email was a glimpse into her prowess. It was written to someone who - she supposed - had made a few cakes in their life. Written the way a doctor scribbles a prescription having full confidence that the pharmacist would decipher it and make the right concoction.
Even as an email it was evident it was a cake she'd done thousands of times before.
She couldn't have known that at the time she sent the email I had very little experience in cookery. She couldn't have known that the email would fall down under the weight of other, 'more pressing' emails of the time.
She wouldn't have known back when she sent it that several years later, several years after her, one evening we'd cry collectively after we made it and it was her meringue cake.
Several years ago Majda closed that email with "goodbye from the cold Sarajevo."
Hello from a warm September Sarajevo evening Majda. And thank you very much darling!
(Dedicated to Majda Hašimbegović)
Meringue Cake
Meringue cake is a perfect marriage between (pavlova-like) crunchy but soft, egg-white based cake, and smooth filling made out of whipped cream, butter, egg yolks and hazelnut. If you learn to make one cake in your ENTIRE life, this is it.
Ingredients
Cake: 
7

egg whites

Pinch

of salt

14

ounces

white sugar

1

tablespoon

white vinegar
Frosting & Filling: 
4-5

ounces

whipping cream powder

about 3 bags or 135 grams

16

ounces

milk

4

tablespoons

white flour

14

ounces

milk

7

egg yolks

5

ounces

white sugar

9

ounces

butter

7

ounces

walnuts

or hazelnuts, ground + a little bit more
Instructions
Cake: 
In a medium (non-plastic) mixing bowl start mixing 7 egg whites plus a pinch of salt with a mixer of choice. When the mixture becomes frothy - or in a soft stiff phase - (somewhat slowly) add sugar and continue mixing. Finally, add vinegar and mix some more until ingredients are whipped into stiff peaks. (To check for readiness flip the mixing bowl upside down. Everything should stay in the bowl.)

Line a baking or sheet pan (approximately 13x17 in, or 33x43 cm) with parchment paper. (Optionally, turn the pan upside down and line with parchment paper.) Leaving about 1-2 inches of space in between layers, use the ingredients to create two equal rectangles the thickness of ½-1 inch.

Bake, or rather dry, on 300°F (150°C) for 30 minutes. Lower to 265°F (130°C) and bake/ dry another 30 minutes. (Meanwhile, prepare the frosting & filling.)

Set aside to cool completely. Once cooled, carefully separate from the parchment paper so that it doesn't break.*
Frosting & Filling: 
In a large mixing bowl combine (16 ounces) milk and whipping cream powder. Work with a mixer of choice for several minutes (or until ingredients stiffen into soft peaks). Set the whipped cream aside in a cool place or fridge.  

In a medium mixing bowl mix flour with (14 ounces) milk with a spoon. Start mixing small amounts until flour is dissolved and crumb-free. Only then add the remaining milk and continue mixing until completely integrated. Set aside.

Make a water bath (bain marie). Fill a large pot ⅓ with water and bring to boil on high. Lower to medium and place a smaller pot with egg yolks into it. (The smaller pot needs to be touching the water in the larger pot.) Add sugar to yolks and start mixing with a hand mixer. Mix for several minutes.

When eggs and sugar integrate, turn light yellow and start separating from the pot walls, add milk and flour mixture. Raise temperature to high and continue mixing. Mix for several minutes more until the ingredients are of pudding thickness. Turn the heat off. Take the small pot out of the big one and set aside. Cool for 10 minutes.

Add butter into the smaller pot and mix with a hand mixer until integrated. Cool off for 10 to 15 minutes. Finally, add whipped cream and mix until integrated.

Divide in two, and transfer half of the mixture into a different bowl. Set aside for at least 15 minutes in a cool place or fridge. (This half is the frosting.)

Add ground walnuts to the second half it and mix with a spatula until integrated. Set aside for at least 15 minutes in a cool place or fridge. (This half is the filling.)
Combining Cake, Frosting & Filling:
Place the first cake half onto a long cake platter. Empty the filling onto it and spread evenly with a spatula. Lightly place the second cake half on top of the filling. Empty the frosting onto it and use a spatula to evenly spread it on the top of the cake and its sides.

(Optionally) Decorate with a few handfuls of ground walnuts spread on top.

Leave cake in the fridge to cool off and tighten for at least 2 to 4 hours, preferably overnight.
Notes
*If the cake breaks patch it up the best you can. If it breaks completely? Eat the crumbs and make the meringue again.