Here is a recipe for Balkan minced meat dumplings, a Balkan version of ravioli and manti dumplings.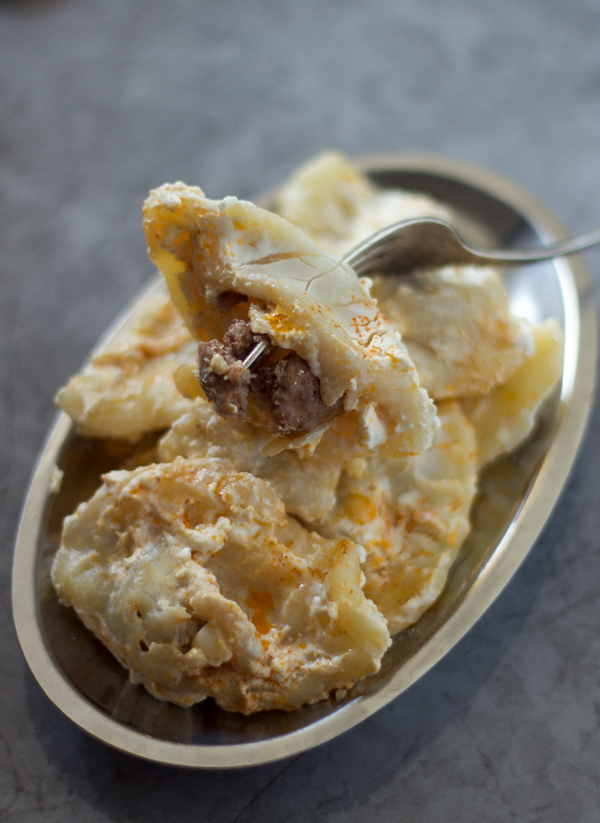 Today I am bringing you a recipe for something very special - Balkan traditional dumplings called klepe. Klepe, like ravioli, can be filled with cheese but the most basic recipe usually calls for the meat stuffing. My grandmother made great klepe dumplings, but since she hasn't been with us for more than a decade I went to someone who makes them just as good, Ms. Ifeta.
P.S. Want more recipes with dough and stuffing that use similar techniques like Balkan dumplings klepe? Traditional pita (Balkan pie) is one, and this recipe has step by step instructions for dough (jufka) making. Sarajevo pizza is another way to practice your dough making skills, as are different breads and pastries.
Klepe are not the easiest to make, however, just like ajvar (ajver), they're well worth the invested time.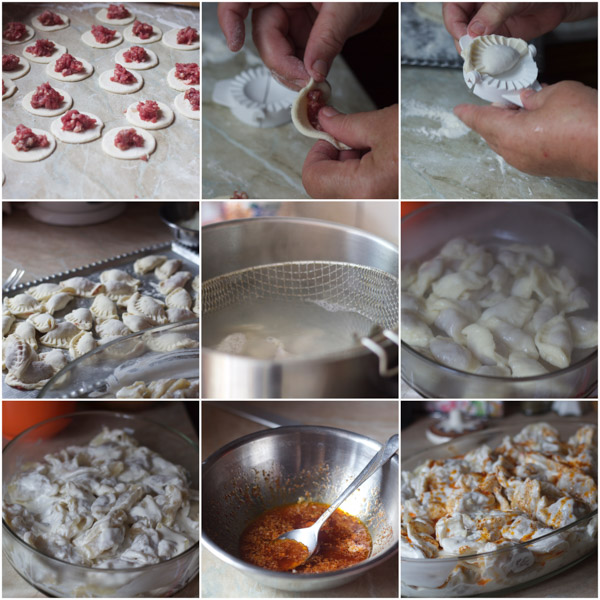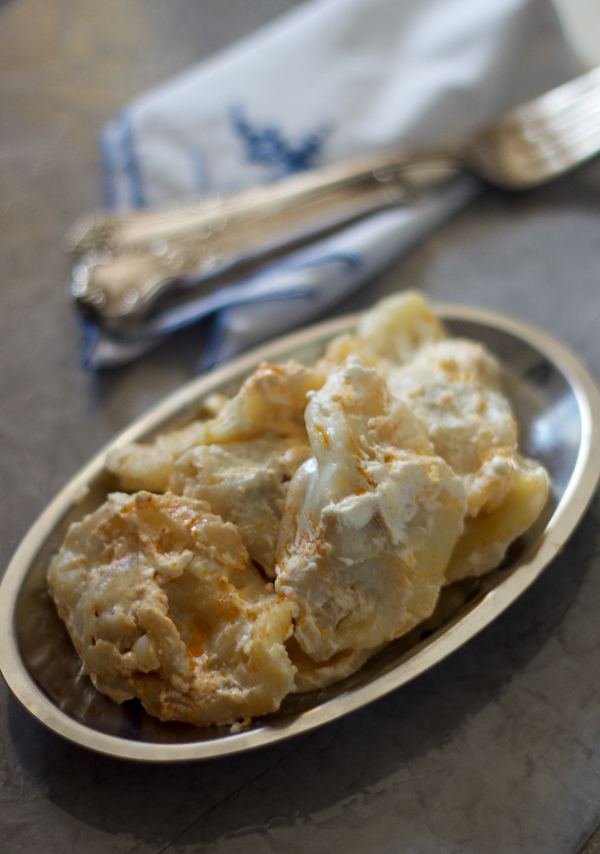 P.S. If you're not using a ravioli stamp, here is the link to how to make the dumplings with a fork and a glass.
Bosnian Minced Meat Dumplings Recipe (Klepe)
Klepe, traditional Bosnian ground beef dumplings (ravioli). 
Ingredients
Dough

1

pound

flour

plus more for dusting

½

teaspoon

salt

12-14

ounces

warm water

approximately

Filling

1

pound

ground beef

1

onion

minced

½

teaspoon

ground pepper

1

teaspoon

seasoned salt

or Vegeta

Sauce #1

14

ounces

sour cream

16

ounces

heavy cream

Sauce #2

3-4

garlic cloves

minced

1

teaspoon

paprika

3

tablespoons

butter

melted
Instructions
In a large bowl combine flour, water (a little at a time), and salt and start kneading it, first with a spatula and then your hands. Be careful as you are adding water not to over-or-under do it. Dumpling dough should be a little softer than the dough for bread, and also smooth and elastic. The longer you knead it, the easier it will be to work with it. Once you have a dough ball ready, wrap it in saran wrap and leave to rest about 30 minutes (the longer, the better).

In a small bowl combine filling ingredients and mix until completely integrated.

Put about 6 quarts of water to boil in a big pot. Clear off a working surface, and dust with flour very generously as you'll be rolling out your dough here. Divide dough into 3 equal dough balls. (It's best if you have a table cloth designated for making dough.)

Take one dough ball and knead it for about 10 minutes, then roll it out with a dusted rolling pin until it's the thickness of two-three stacked coins. Take a glass (3 inch in diameter or so), or a ravioli stamp and cut out circles in the stretched dough close to each other. Each dough ball, when kneaded and rolled out, should make about 30 dough circles (or 30 dumplings, or 3 servings).

Fill each dough circle with about 1 smaller teaspoon of filling. Close the dough circle by taking half of it and flipping it over the meat, until it meets the other half and press the edges together. (To make a half-moon shape.) If working with a ravioli stamp place each half-moon in the stamp and close it. This will seal it together and make little ridges on the edges. If not working with a stamp, after closing each dumpling and pressing the edges with your fingers take a fork and form ridges on the dough. (See video!)

Drop the first batch of dumplings into the boiling water and lower the temperature to medium high. (Best to use a strainer in the pot, that way you can take all of them out at the same time.) Leave in for 10-12 minutes, (they'll start popping up after a little bit). Meanwhile, take the second dough ball and make the second batch of dumplings by repeating steps 4 and 5. Heat stove to 400°F.

Take out the first batch of dumplings and place in a large glass bakeware. Then put dumplings batch number two to cook. Repeat steps 4, 5 and 6 for the third batch of dumplings.

After all three batches of dumplings have been cooked and placed in the glassware, combine ingredients for sauces 1 and 2, separately. Pour evenly over the dumplings, one sauce at a time.

Place glassware on medium rack in the oven for 15-20 minutes. Take out. Enjoy while it's hot!
Notes
Dough rules: Too sticky add more flour. Too hard add more water.
When rolling out the dough make the circles right next to each other as to use up as much dough as possible.
You can freeze some of the dumplings for later. After forming dumplings (before cooking them) place them on a tray that's generously dusted with flour. (This is to prevent sticking.) Place them separately from one another. Put in the freezer for 10 minutes so they stiffen a bit. Take them out of the freezer and place in a freezer bag, and return to freezer. When ready to use take them out of the freezer and drop them into boiling water. The rest of the process is the same.